4 Legger Dog Shampoo Review (2023 Update) – Pros, Cons, & Final Verdict

Review Summary
Our Final Verdict
We give 4 Legger Dog Shampoo a rating of 4.5 out of 5 stars.
Using organic ingredients and essential oils, 4 Legger Dog Shampoo offers soothing comfort and nurtures naturally healthy skin, plus it is USDA-certified organic to exacting standards leaving your dog's coat looking and feeling healthy and shiny. It is also biodegradable and with this truly non-toxic shampoo, you can wash with peace of mind knowing that there are no synthetic chemicals within.
4 Legger is perfect for a range of skin types, even those with dry, itchy, or allergy-prone skin. As an added bonus, it will not remove any topical treatments for fleas and ticks. Although it is quite runny, its highly concentrated formula also means you only need to use a little to get a good lather. 4 Legger offers nine USDA-certified organic shampoos that are all mild enough to shampoo puppies with.

4 Legger Dog Shampoo Review  – A Quick Look
Certified organic by the USDA
Contains no harmful additives
Foams easily
Quite a runny consistency
Specifications
| | |
| --- | --- |
| Manufacturer: | 4Legger |
| Fragrance: | Various, including lavender, peppermint, eucalyptus, aloe vera, lemongrass, and coconut |
| Features: | Organic, hypo-allergenic, pH balanced, good for sensitive skin, biodegradable, USDA Organic, all-natural |
| Volume of Liquid: | 16 fl oz |
| Active Ingredients: | Natural oils and essential oils |
Pure Natural Cleansing
Using organic coconut oil, organic lemongrass essential oil, and soothing aloe vera, 4 Legger organic dog shampoo is made in small batches using all-natural ingredients. It won't take much to get rid of those intense doggy smells with this concentrated dog shampoo—a little goes a long way. This shampoo is safe to use on puppies too and will not harm your pet.
An Itch Relief That is Gentle
4 Legger's dog shampoo is made with essential oils to moisturize and promote a smooth, shiny coat without the sulfates and parabens that add unnecessary chemicals to your dog's bathtime. With no synthetic ingredients, this shampoo clarifies and adds shine to your dog's coat using only natural and organic ingredients. Because of this, 4 Legger is safe, even for newborn pups and senior dogs. It's also detergent free with no petrochemicals.
Certified Organic
Although many products make claims of being all-natural, few truly are. 4 Legger is one of the few pet shampoos USDA certified organic to human food standards. USDA certification means it has been evaluated and approved by an independent, federal government-accredited, and trusted organization. The certification process includes inspections of the manufacturing facility and testing of the product itself.
Vegan & Cruelty-Free
4 Legger Dog Shampoo is vegan and cruelty-free. This means that the shampoo does not contain any animal products or byproducts and that it has not been tested on animals, plus the shampoo contains only plant-based ingredients like coconut oil, hemp seed oil, and lavender oil. These ingredients are beneficial for dogs' skin and fur without causing other animals any suffering.
Runny Formulation
Some people like the runny formulation of this shampoo and find it easy to use, however, others found it hard to control the application of this product and wound up using more than was necessary. The shampoo is formulated to be gentle on the skin, yet it produces a rich, lather that helps to cleanse the coat and remove dirt and debris. The product is watery because it doesn't have artificial petroleum-based thickeners. If skin safety and planet-friendly ingredients are important to you, this watery consistency is just something you have to accept.

FAQs
Is This Shampoo Tear-Free?
Here's the deal: unfortunately, it's not tear-free, but, if you accidentally get 4 Legger shampoo in your dog's eye, they may feel uncomfortable for a few minutes, but the shampoo won't harm their eyes in the long run. 4 Legger themselves claim that safe, tear-free shampoo does not exist. They say that to hide the stinging caused when soap is in contact with the eye of a dog or a human, other product manufacturers add a numbing chemical to their tear-free products and that the chemicals they use to produce the numbing have been linked to the destruction of proteins necessary for pups to develop their vision and to adult dogs developing cataracts.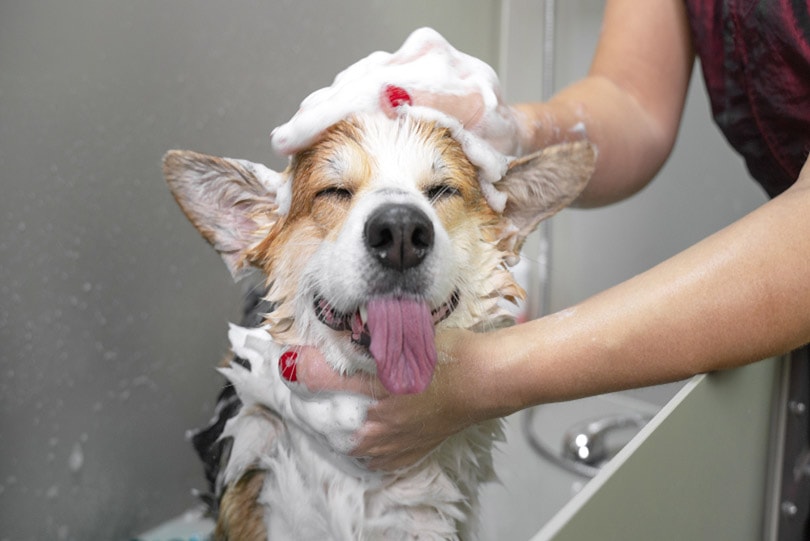 Is it OK to Add Other Essential Oils to This Shampoo?
Some users like to add additional essential oils to 4 Legger shampoos, and the manufacturer states that this is fine, as long as the essential oils in question are extremely high grade—think therapeutic, medical, or food-grade—and only a tiny amount is added. People might typically want to add tea tree oil, as an antiseptic.
4 Legger recommends mixing your formulation in a small batch instead of adding it to a full-sized bottle. Once it's in, you can't take it out! Just a few drops of essential oils should suffice since they are very strong. Since the added oil may separate, be sure to shake it well between uses.
What Does it Smell Like?
Most people describe these products as having a light, refreshing smell. Most have a hint of coconut, some citrus, and an herbal undertone. Some people say that the fragrance is overpowering and unpleasant, although even people who are sensitive to the smell say it doesn't seem to linger on a dog's fur.

What the Users Say
We have read various reviews and checked out forum discussions to find out what other users think about this product. We've already mentioned that many users choose this product for its organic certification and natural ingredients, which is why online reviews are overwhelmingly positive.
As some users mention, the watery formulation is somewhat lacking in comparison to other products. Some of them report that the product spills out of the bottle too easily, so it's easy to waste product if you're not extremely careful. Some people find the various product scents overwhelming, whereas others love them and can't get enough. It's just a matter of personal taste when it comes to fragrance.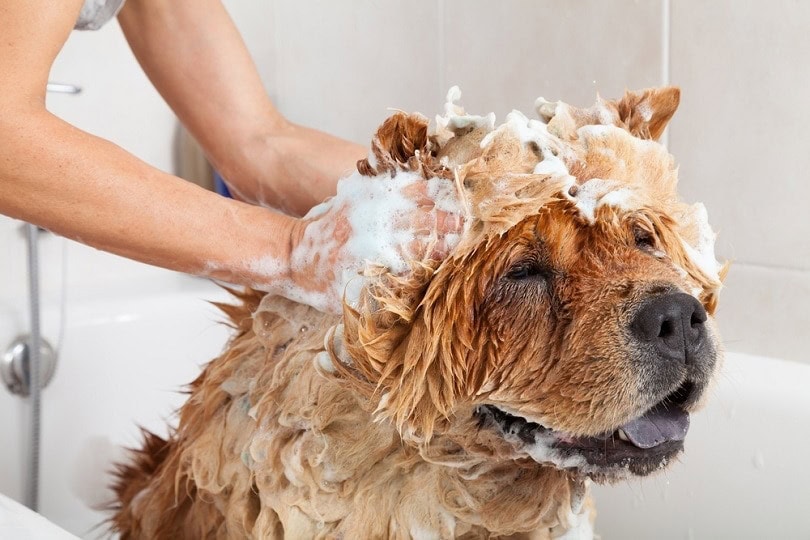 Conclusion
In conclusion, 4 Legger dog shampoo is a great choice for those looking for an organic and all-natural option. The shampoo is made with high-quality natural ingredients and is free of harsh chemicals, sulfates, and parabens. It is made with natural ingredients It also helps to relieve itching and inflammation, making it a great choice for dogs with sensitive skin and leaving dogs' coats feeling soft, shiny, and healthy. So, if you're looking for a safe and effective dog shampoo, be sure to check out 4 Legger.
---
Featured Image Credit: Chewy