4Health Cat Food Review 2023 – Top Picks, Pros & Cons

Review Summary
Our Final Verdict
We give 4Health Cat Food a rating of 4.3 out of 5 stars.
Introduction
4Health is a pet food company owned by Tractor Supply Company, a home and ranch company based in Tennessee. This company started in 1938 as a mail-order tractor part supplier. However, they have now grown to sell several products. A large part of their company involves pet food and supplies. Therefore, the 4Health brand is one of their major selling products. They are marketed as a premium brand. Their foods regularly include premium ingredients, like probiotics and antioxidants.
At a Glance: The Best 4Health Cat Food Recipes:
Rating
Image
Product
Details

Our Favorite

4Health All Life Stages

Plenty of added nutrients
High in protein
For all life stages
Check Price

4Health Grain Free Indoor Cat Food

Meat as the first ingredient
High in protein and fat
Uses animal-based fats
Check Price

4Health Untamed Glacial Stream Recipe

Salmon as the first ingredient
Grain-free
Added omega fatty acids
Check Price

4Health Grain-Free Canned Food

Probiotics included
High levels of meat and protein
Fish included for increased DHA
Check Price

4health Special Urinary Tract Formula

High in protein and fat
Free from artificial flavors
Lots of added nutrients
Check Price
4Health Cat Food Reviewed
4Health is fairly good cat food. It uses high-quality ingredients for the most part, though the quality decreases as you move further down the ingredient list.
Who Makes 4Health and Where Is It Produced?
Tractor Supply Company owns the 4Health brand, and it is their store brand. However, it is made by Diamond Pet Food, which is based in the USA. The company also makes several brands, including Canidae and Taste of the Wild. Diamond Pet Food owns five facilities across the United States.
All the foods they make are crafted in the United States at their facilities. However, they source ingredients from other countries. Most of their ingredients are sourced from France or New Zealand. However, they get some of their vitamins and minerals from China, including folic acid and taurine.
Which Types of Cats Is 4Health Best Suited For?
4Health is pretty average cat food. Most recipes include meat in the first few ingredients. However, the following ingredients are typically veggies. Peas are a fairly common ingredient, which isn't optimal for obligate carnivores.
We don't recommend it for cats with health problems or special dietary needs. Some purebred cats may not find this food suitable either. If the breed is prone to various health problems, this brand is likely not the best option.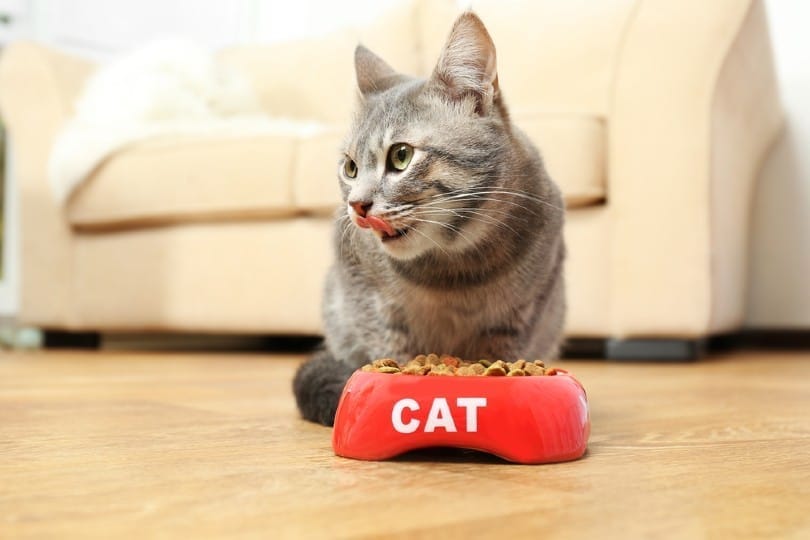 Which Types of Cats Might Do Better with a Different Brand?
If your cat has health problems, you may want to find a higher quality brand or one specifically made with their health problem in mind. 4Health can't accommodate health problems. Furthermore, if your cat is more prone to health problems, you may want to choose a different food. However, Smalls provides six recipes to treat specific health problems.
Our Favorite Cat Deal Right Now

40% OFF at Smalls Fresh Raw Cat Food
Use Code Hepper2023 at Checkout
Discussion of the Primary Ingredients
Luckily, most of the recipes start with meat. The exact type of meat depends on the recipe. Typically, chicken recipes include chicken as the first ingredient. However, sometimes, salmon recipes include chicken high on the list as well. Many of 4Health's recipes include refined grains high on the ingredient list.
As you might imagine, they are not ideal for your feline. While some grains are okay, you typically don't want to choose refined grains. They have had much of their nutritional content eliminated, providing very little reason to add it directly to a cat's food. Some low-quality veggies are included as well.
For instance, peas are very high in protein and are often included in their recipes. This raises the protein content of the food, but the protein is plant-based. However, omega fatty acids are often included, which keep your cat's skin and coat healthy. Taurine is included to improve the cat's heart and eyes. Antioxidants are also included to enhance their overall health.
Macronutrients
4Health's recipes are often high in protein and fat. However, much of the protein comes from peas and other plant-based ingredients. This protein isn't always high in the amino acids that cats need. As you might imagine, this leads to a lower-quality muscle mass. Most of 4Health's meals are quite low in carbohydrates. Carbohydrates aren't particularly necessary for cats, though low levels provide highly digestible energy that cats need.
While providing our feline companions with high-quality food is paramount, selecting the right food and water bowl is equally important. The modern yet practical design of our Hepper NomNom Cat Bowl combines cat-catered features, like whisker-friendly shallow dishes and slight elevation, with a contemporary style aimed at protecting your floors from messy eating and drinking. The NomNom is entirely dishwasher safe and was thoughtfully created with your cat's health and well-being in mind. 
A Quick Look at 4Health Cat Food
Meat as the first ingredient
High in protein and fat
Free from artificial flavors, preservatives, and colors
Uses animal-based fats
Lots of added nutrients like taurine and fatty acids
Higher in grains
Contains peas
Middle-range in terms of ingredient quality
Recall History
4Health has two past recalls. It appears that the recalls are due to their manufacturer, Diamond Pet Food, as other Diamond Pet Food brands were affected at the same time. The first occurred in 2012 when some foods were recalled for potential contamination with salmonella. The foods were crafted in the Diamond Pet Foods' South Carolina branch.
The recall was entirely voluntary, which means that the company recognized its problem when recalling the food without the FDA needing to order the recall. 4Health was recalled again in 2013 for having low levels of thiamine. Again, other Diamond Pet Foods were also affected, so it seems to have been a problem with their production facility.
Reviews of the 3 Best 4Health Cat Food Recipes
To get a better idea of how 4Health's cat food stacks up, let's take a look at three recipes.
1.

4Health All Life Stages
The 4Health All Life Stages formula is the brand's "default" recipe. It isn't designed to do anything in particular except provide your feline with a high-quality diet. It includes real chicken as the first ingredient, followed by chicken meal. Both are high-quality protein and fat sources for your feline.
However, ground white rice is the third ingredient. While grains aren't necessarily bad, you should aim for whole grains when possible. Like many of their recipes, this one also includes a variety of ingredients. For instance, various antioxidants are included, such as zinc, selenium, and vitamin E.
Taurine is added for their heart and eye health, and they've included probiotics to support your feline's digestive health. As the name suggests, you can feed this recipe to adults, kittens, and seniors. It meets the AAFCO guidelines for all life stages. This formula includes several veggies and fruits.
Some of them are a bit higher on the ingredient list than we would like. For instance, peas are the fourth ingredient. While a few peas can provide extra nutrition and fiber for our cats, they are also very high in protein and inflate the protein content of the food.
Plenty of added nutrients
High in protein
For all life stages
Chicken as the first ingredient
Includes refined grains
High in peas
---
2.

4Health Untamed Glacial Stream Recipe
4Health's Untamed line is specifically designed without grains. On the outside, it looks like a pretty solid grain-free food. However, you aren't paying for more meat. Based on the ingredient list, it appears that the company has replaced grains with inexpensive veggies, like lentils and peas, instead of adding more meat to the formula.
The first two ingredients are fish-based. The first one is salmon, and the second one is an ocean fish meal. These are high-quality ingredients and are highly recommended. However, lentils, chickpeas, and peas appear as the next three ingredients. While a few veggies are okay, these appear in excessively high amounts.
They are all very high in protein but don't include all the amino acids your feline needs to thrive. Therefore, they are generally considered to provide lower-quality protein. Lentils and peas are not specifically better than grains by any means. On the other hand, this formula includes quality additives.
For instance, omega-3s and omega-6s are added to improve your cat's skin and coat health. They may also help with arthritis and similar joint problems.
Salmon as the first ingredient
Grain-free
Added omega fatty acids
Antioxidants included
High levels of peas and lentils
Lots of plant-based protein included
---
3.

4Health Grain-Free Chicken and Whitefish Dinner Canned Food
The ingredient list of
this recipe
includes various high-quality animal products. The first ingredient is chicken broth, which adds nutrients and moisture to the cat food. Chicken and organ meats are included as well.
In fact, most of the ingredients are animal products. As you might imagine, this recipe is quite high in protein due to its heavy use of meats. This macronutrient is exactly what your feline needs to thrive. Probiotics are included to support your cat's digestive system and immune system.
As far as wet foods go, this is an extremely high-quality recipe. We recommend it for those who need to add some extra moisture to their cat's diet or who prefer to feed their cat wet food. Compared to other brands on the market, this wet food is also relatively affordable.
Probiotics included
High levels of meat and protein
Grain-free
Fish included for increased DHA
Less accessible than dry food
What Other Users Are Saying
Many users found this food to be high quality for the price. There are several reports of owners switching from more expensive brands to this one. Other owners switched to 4Health products for their finicky cats that had trouble accepting other brands. To read reviews from real customers, check out these reviews on Amazon.
Conclusion
4Health is a decent cat food that provides dry and canned food. Their recipes include high amounts of meat, with meat-based protein always appearing as the first ingredient. However, inexpensive veggies like peas and lentils often appear in the ingredient lists. If you purchase grain-free food, you aren't getting more meat, for instance.
Instead, 4Health switches out the grain for peas and lentils. Although it's had a few recalls, it's cheaper than other premium brands. It isn't the best out there, but you get a lot of bang for your buck.