4Knines Dog Car Seat Cover Review 2023: Our Expert's Opinion
Our Final Verdict
We give 4Knines Multi-Function Split Rear Car Seat Cover a rating of 4.75 out of 5 stars.
Quality: 5/5
Durability: 5/5
Installation: 5/5
Care/Cleaning: 4/5
* Free shipping On All Orders.

What Are 4Knines Car Seat Covers? How Do They Work?
4Knines makes a dog-centric range of car, truck, and SUV seat covers and other pet accessories backed by a 100% satisfaction-guaranteed pledge. Their product selection includes front seat, rear seat, and truck seat covers, cargo liners, and door covers, and each category has several styles and size options to choose from. The seat covers are designed to protect your seats and collect all the junk your pup tracks into the ride.
The company strives to make seat covers that embody the grace of simplicity: easy to install and simple to clean, made with heavy-duty fabric and well-stitched seams. The cover fits nicely and doesn't subtract from the overall aesthetic of your car. 4Knines website (and packaging) have a 'fit guide' for sample vehicles, so it's easy to ask, will this cover will fit my car? You'll find the answer in the product description, fitting guide, and/or FAQs on their website.
I was fortunate enough to receive a Multi-Function Split Rear Seat Cover (fitted, without hammock) from 4Knines, for use in my (new to me) Toyota Camry.
To continue the theme of simplicity, the package arrived, I removed the seat cover from a plastic casing, walked to my car, opened the rear doors, unfolded the seat cover, draped it across the seats, looped the headrest straps, tucked the anchors into the seat crevasse, folded the apron into the seat/door frame, and stood back to admire the handiwork. The cover fit as close to perfectly as you can hope, and the whole process took less than one minute, door to door.
I repeat: One minute. From package to car seat.
My dog Milo is a 1-year-old Husky mix with boundless energy and a lust for local dog parks. He's also on the slightly destructive spectrum—he doesn't realize it, but he does quite a bit of damage to most anything in his path. He jumps, he pounces, he scratches, and he paws. This spells disaster for a car's interior.
As advertised, the split seat cover is doing a fantastic job of catching and collecting all of Milo's hair and detritus, and standing up to his abuse. The upholstery and I are exceedingly grateful.
If this car seat cover has a downside, it's in the Cleaning & Care section.
* Free shipping On All Orders.
Where to Get 4Knines Car Seat Covers?
Browse and shop on 4Knines website, which also contains a cool blog page with helpful articles on road tripping with your dog and charity spotlight events.


4Knines Multi-Function Split Rear Car Seat Cover – A Quick Look
Super easy installation
Great durability
Fair price
Not an eyesore
Very difficult to completely rid the cover of dog hair without laundering
4Knines Multi-Function Split Rear Car Seat Cover Pricing
The pricing tier for rear seat covers goes from $59.99 for the standard rear seat cover with hammock to $89.99 for the XL version. The multi-function split rear seat cover starts at $89.99 and $109.99 for XL. The front seat covers appear to be priced in-line with the current trends.
Valuewise, 4Knines is neither the least nor most expensive car seat cover on the market. In fact, I'd say it's squarely in the middle of the Good Value Zone.
What to Expect From 4Knines Multi-Function Split Rear Car Seat Cover
If you're a pet owner and you travel frequently with your pet in the car, seat covers have probably come up in conversation, especially if you have active and heavy shedding dogs. Not to mention all the dirt and debris that gets tracked into the car, sometimes soiling the seats, upholstery, and carpets. You might already own a car seat cover and need something hot, fresh, and new.
Choosing the right car seat cover can be fraught with uncertainty. 4Knines eliminates the ambiguity of the experience.
The Multi-Function Split Rear Car Seat Cover works with many standard small compact sedans (Audi A3, Tesla Model 3, Ford Focus, Mazda 3, Honda Civic, Toyota Prius, Subaru Impreza, Kia Soul, etc.), standard large passenger sedans (Audi A6, Tesla Model S, Chevrolet Impala, BMW 6-Series, Toyota Avalon, Chrysler 300, Toyota Azera, etc.).
Expect an easy purchase and installation, plus a good-looking seat cover that protects your seats from your dog. I hate to phrase it that way, but with a dog like Milo, it really is an on-going battle!
4Knines Multi-Function Split Rear Car Seat Cover Contents
Multi-Function Split Rear Seat Cover; Regular (54"W), Black, fitted without hammock
Quality
The seat cover is well-designed and proudly manufactured by people who care about making top-shelf products that improve the lives of pets and in this case, pet owners! It was a little heavier than I expected, which inspired confidence. Once in my hands, it felt like a heavy-use quilt found in auto body and welding shops. "It's not flimsy," I said to myself. "That's a good sign."
The patented design allows easy access to seat belts and the fold-down center console. The fabric is free of harmful chemicals and AZO dyes, and the cover has a unique waterproof bottom (K9-SHIELD™) and non-slip backing. I didn't find any weak stitching or questionable clips, zippers, or openings. The embedded anchors and headrest straps keep it snugly in place. It's a solid performer.
With a lifetime warranty (for defective workmanship) and 100% guaranteed customer satisfaction, the quality of the product speaks for itself. This seat cover will outlast the lifespan of my car, and it's likely to withstand anything my dog can think of doing—except chewing it. The company makes it clear that the car seat cover is not chew-proof. So, if you've got a super destructive dog, this seat cover might not be for you.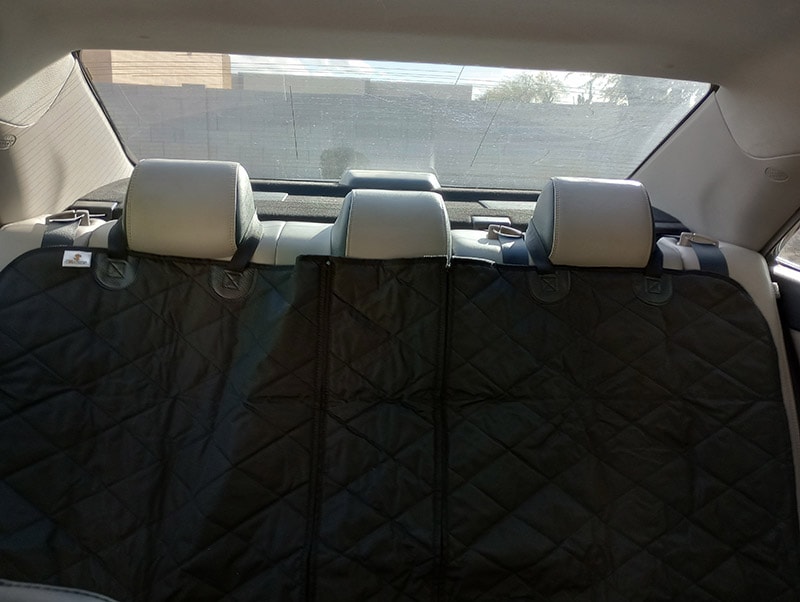 Durability
Aside from installation, I was concerned with the seat cover's durability. Milo is a 50-pound growing boy who loves sticking his head out the window and prowling around the back seat like he's in a holding cell. He does very little "sitting" on the seats. Within the first two weeks of our relationship, he mauled the front center console with his nails and made the back seat look like the floor of a bus station restroom. He trashed that car before I got the 4Knines rear seat cover.
It's only been a month, but the seat cover isn't showing any signs of wear.
Installation
Fitting the seat cover in my car was dumbfoundingly simple, and I had to laugh at myself for thinking there was some fancy trick to the task! Removing the seat cover for cleaning is just as easy. I could not have asked for a better hassle-free experience.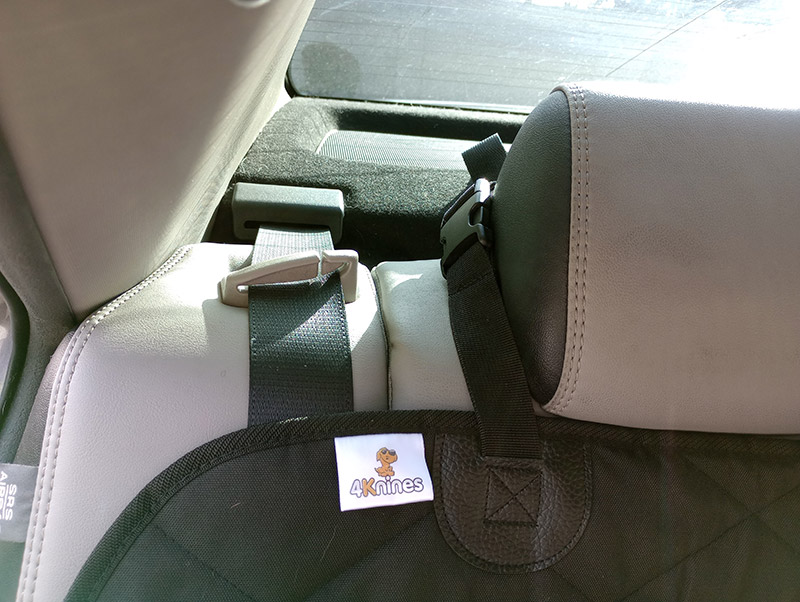 Care & Cleaning
The sand, dirt, leaves, rocks, twigs, etc., just brushed right off. The few mud cakes were no match when I removed the cover and shook it out. It was almost as good as new. The problem: Dog hair, which we all know is one of nature's most stubborn substances when it meets any surface with properties of attraction (clothing, carpets, and car upholstery—or any fabric, really).
My local car wash has strong vacuums, like pulling-a-tooth strong. Most of the dog hair was easily removed, but for anybody with even a smidgen of OCD or a strong fondness for their first new car in many years, almost is the bane of our existence. So, I tried duct tape I had in the trunk. I even used a pressurized air blower (usually reserved for filling tires), but the incredibly stubborn stragglers remained. I'd either have to use tweezers—or—put it in the washing machine.*
*I live in an apartment with shared laundry, so I don't think my neighbors would appreciate the use of our appliances for my dog car seat cover.
Ultimately, it doesn't bother me that much, and since Milo's in my car every single day, what difference does it make? A vacuum and a car wash once a week is good enough. The muddy paw prints eventually fade. Maybe someday, I'll take the seat cover to a local laundromat and see if I can get away with washing it there.
Is this 4Knines's fault? Not really. Does it mean the seat cover isn't a 5-star product? No. It just means I had petty stuff to complain about.
* Free shipping On All Orders.
Is 4Knines Multi-Function Split Rear Car Seat Cover a Good Value?
You're probably expecting a long-winded response, but my verdict is: Yes! No question. And if you're ever thinking about the Blue Book value of your car for sale or trade-in, that $89.99 will pay dividends in the long run.


FAQ
Can I still access the seat belts with the cover in place?
Yes, but…the middle rear seat belt is only accessible with the split seat cover option.
What about the warranty?
Lifetime warranty for manufacturing defects or poor workmanship.
Is the car seat waterproof?
4Knines' seat covers are constructed from waterproof material, and the K9-SHIELD protects your seats from wetness. However, the zippers, seams, and Velcro fittings aren't watertight.
Can I get it with the hammock?
Yes, and at no extra cost.
My Experience With 4Knines Multi-Function Split Rear Car Seat Cover
We get a fair number of products to review, and for the most part, my job is to match the products with one of our writers. Although many attractive products have come around, I haven't been compelled or even tempted to review anything—until now.
In August 2022, I was neither a car owner nor a dog owner. A major upheaval took place in my family and I had to relocate to Phoenix, Arizona, which is the kind of place where you must own a car. I've been living in major metropolitan areas of South East Asia for the last 15 years, where having a car is an expensive, tedious, and dangerous proposition. So, when in Phoenix…I bought a used Camry.
Two months later, I was introduced to a rescue situation with Milo. Soon after that, we adopted him, and the daily dog park trips started.
Dog parks are inherently dirty places—filthy in some cases—but we've found a couple of wonderful off-leash dog parks with fairly decent maintenance. Regardless, if it rains, any dog park is going to be a mud bath. But that doesn't matter to Milo, or me, for that matter.
It's been a wet fall and winter for Arizona and the West Coast in general. As I mentioned, Milo trashed my car in the first two weeks, so I was scouting for a rear car seat cover when Caitlin Sweeney, our partnerships manager, asked about a writer for the 4Knines car seat cover. I jumped at the opportunity.
As described above, my experience with 4Knines and the rear seat cover has been overwhelmingly positive. Milo can get as dirty as he wants at the dog park and I've no qualms about letting him into my ride after he's quite literally rolled in the mud. Thanks to this seat cover, I know that my rear car seats will no longer be subject to degradation, and when it's time to get rid of the car, nobody will know I owned a dog.
* Free shipping On All Orders.


Conclusion
4Knines Multi-Function Split Rear Car Seat Cover is a smash hit across the board. Even with my petty complaints about a few stubborn dog hairs, this is the seat cover I never knew I needed until Milo came along. Thank you to everyone at 4Knines for making such a thoughtful product, and based on this experience, I'll be looking to buy some of their other accessories. Even if you're not in the market for a car seat cover, you should check them out!