Acana Dog Food Review 2023: Recalls, Pros, and Cons

Our Final Verdict
We give Acana dog food a rating of 4.8 out of 5 stars:
In a world where premium dog food labels are constantly being bought and sold by large conglomerates, it can be hard to know where your hard-earned money is actually going. All too frequently, pet owners who want to support independent companies are left without many options (and even fewer that fit into a reasonable budget).
Acana is a Canadian dog food brand offering a variety of dry dog food formulas, many of which are designed for a grain-free diet. While Acana dog food isn't sold in most supermarkets, this premium label comes at a competitive price while still utilizing a wide range of high-quality ingredients in its formulas.
Due to recent legal troubles and the FDA's scrutiny of grain-free diets as a whole, Acana has seen better days. With that said, the brand's continued research and introduction of grain-inclusive dog food is an excellent step toward balanced nutrition for all dogs.

At a Glance: The Best Acana Dog Food Recipes:
Although Acana recently released a grain-inclusive line of dog food, its grain-free, and limited-ingredient formulas remain its most popular. Here are a few of Acana's top recipes at the moment:
Rating
Image
Product
Details

Our Favorite

Acana Kentucky with Wholesome Grains

Grain-inclusive formula
High in animal protein
Formulated with live probiotics
Check Price

Acana Regionals

Contains live probiotics
Suitable for dogs with grain sensitivities
Wide variety of fruit and vegetables
Check Price

Acana Singles

Formulated with probiotics for digestion
No wheat
potatoes
rice
or tapioca
Includes muscle
cartilage
and organs
Check Price

Acana Puppy Junior

High in protein
Grain-free
No gluten
potato
or tapioca
Check Price

Acana Free-Run Poultry

Loaded with free-run Cobb chicken
Tom turkey and whole nest-laid eggs
Infused with freeze-dried chicken liver
Check Price
Acana Dog Food Reviewed
The Acana brand is built on providing high-quality dog food with fresh, biologically appropriate ingredients, something that every pet owner can get behind. It also promises to never outsource the production of its pet food to a third party, ensuring that everything that goes into your dog's kibble is carefully monitored by Acana itself.
Unfortunately, most dog food companies make similar claims but fall short in practice. So, does Acana actually live up to its wholesome brand image? Or is it all just marketing?
Who Makes Acana and Where Is It Produced?
Acana is one of two dog food labels owned and manufactured by Champion Pet Foods (the other being Orijen). Champion Pet Foods started in Canada but now also maintains a U.S. factory in Kentucky. Since 2016, all Acana products officially sold in the United States were made in the Kentucky factory.
Although Acana does appear to use imported ingredients in its formulas, Champion Pet Foods emphasizes the use of locally-raised animal meat in its products.
Which Types of Dogs Is Acana Best Suited For?
Acana dog food uses high-quality ingredients with a focus on animal-based proteins, making it a great option for most healthy dogs. It also offers a few specialty recipes, such as its Puppy & Junior Formula or Light & Fit Formula.
While Acana's biologically appropriate original line of dog foods was built around a grain-free diet, the label now offers several grain-inclusive formulas. Though these recipes aren't as popular as the brand's grain-free offerings, grain-inclusive recipes are generally recommended for dogs without grain sensitivities. We encourage you to speak with your vet to determine which formulation is best for your pooch.

A Quick Look at Acana Dog Food
Uses sustainable and local meat sources
Made in the U.S.A.
Owned by a small pet food company
No history of product recalls
Offers "biologically appropriate" recipes
Manufactures grain-free and grain-inclusive formulas
Excellent ingredient transparency
History of class-action lawsuits
Not available in all pet food retailers
No wet food options
---
Recall & Class Action History
As of our dog food review, Acana has not been subject to any product recalls. The same is true for Champion Pet Foods as a whole.
However, Champion Pet Foods has been the target of a few class-action lawsuits throughout its operations. In these lawsuits, consumers claim that Acana and Orijen dog foods contain heavy metals and BPA. Most of these claims were quickly dismissed, but at least one case is still ongoing.
Champion Pet Foods has released multiple statements on its website about these lawsuits, which you can read here.

Reviews of the 3 Best Acana Dog Food Recipes
Since the ingredients and nutritional breakdowns of Acana dog foods are so important to the brand, let's take a closer look at three of its most popular recipes:
1.

Acana Kentucky Farmlands With Wholesome Grains Dry Dog Food
As you can guess from the name, the Kentucky Farmlands with Wholesome Grains recipe is one of the formulas offered in Acana's new grain-inclusive line. While this formula does feature grains, it is still gluten-free.
This formula is made with 70% animal-based ingredients, half of which are used in a fresh or raw form. In order, these animal protein sources include chicken, turkey, duck, and eggs. Along with muscle meat, Acana also uses the organs, cartilage, and other sources of key canine nutrition.
As always, we want you to be as informed as possible when choosing a new food for your pup. You can read the Amazon customer dog food reviews for this product here.
Grain-inclusive formula
High in animal protein
Made in the U.S.A.
Formulated with live probiotics
Gluten free
Uses raw and fresh ingredients when possible
Some dogs won't eat it
Kibble is too large for some dogs
---
2.

Acana Meadowland Dry Dog Food
The Acana Meadowland Dry Dog Food is one of the most popular grain-free recipes from its Regionals product line. Acana's Regionals line is designed around different areas and ingredients local to its Kentucky-based U.S. factory — the Regionals recipes manufactured and sold in Canada are slightly different in honor of the ingredients local to the Alberta factory.
Within the Meadowlands recipe, 70% of the ingredients are from animal sources. In order from highest to lowest concentration, these sources are chicken, turkey, freshwater catfish, eggs, and rainbow trout. Since Acana relies on whole animal sources for its products, your dog will also benefit from nutrients found in the organs, cartilage, and more.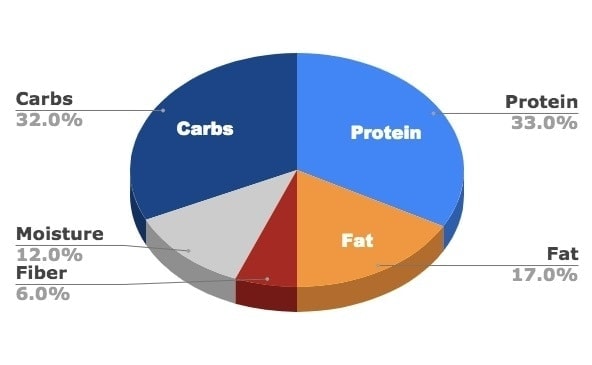 To learn what other dog owners have to say about this formula, you can find the Amazon reviews here.
High in meat-based protein
Made in the U.S.A.
Contains live probiotics
Suitable for dogs with grain sensitivities
Wide variety of fruit and vegetables
Half of animal ingredients are raw or fresh
Relies heavily on lentils
Not ideal for dogs not requiring a grain-free diet
---
3.

Acana Singles Limited Ingredient Diet Duck & Pear Formula Dry Dog Food
Since Acana's target market includes many dogs with food sensitivities and allergies, it makes sense that the brand would offer a specialized limited-ingredient line of food. The Singles Limited Ingredient Diet Duck & Pear Formula is one of these recipes, providing protein from a single animal source: free-run duck.
While 60% of this formula is comprised of duck (half of which is raw or fresh), this food also relies heavily on pea protein. Unfortunately, many dogs with food sensitivities have trouble digesting pea protein and other plant-based ingredients in this recipe, making it less-than-ideal as a true limited-ingredient food.
If you're curious about what other dogs and their owners think of this limited-ingredient formula, you can read the Amazon reviews here.
Animal protein comes from a single source
Made in the U.S.A.
Suitable for dogs with grain sensitivities
Formulated with probiotics for digestion
No wheat, potatoes, rice, or tapioca
Includes muscle, cartilage, and organs
Includes pea protein
Not ideal for a true limited-ingredient diet
---
What Other Users Are Saying
As with any purchase that affects your dog's health and well-being, the more information at your disposal, the better. Here are comments from other reviewers who have taken a deep dive into Acana and its product lines:
Dog Food Network: "With all fresh ingredients and Kentucky-based state of the art kitchens, Acana dog food is proving itself as a reliable brand for healthy dog food for all types of breeds."
Woof Whiskers: "ACANA has, arguably, some of the highest quality ingredients in the entire industry, striving to get their products from field to factory in less than 48 hours."
Dog Food Insider: "[The Duck & Pear Formula is] one of Acana's Singles, with a single source of protein – in this case duck. The food may have a single source of meat protein but it is far from being a limited ingredient formula."
TreeHouse Puppies: "For dog owners looking for a high-protein kibble made with natural and safe ingredients, Acana is without doubts a great choice."
DogFoodAdvisor: "When you consider the protein-boosting effect of the multiple legumes, this looks like the profile of a kibble containing a moderate amount of meat."

Conclusion – Acana Dog Food
As a dog food brand, Acana offers several dry formulas made with high-quality ingredients and decent nutritional profiles. While Acana was originally a grain-free company, it has now released a line of grain-inclusive formulas, as well as following the FDA's statement on the potential health risks of a grain-free diet.
The one concerning thing about Acana is its recent involvement in a few class-action lawsuits. However, at this time, nothing has been officially substantiated, so these claims aren't enough to make us completely avoid Champion Dog Foods product lines.
After our dog food review, Acana offers well-rounded nutrition at a reasonable price. The Acana brand is owned and manufactured by a small dog food company, rather than a large conglomerate, and all of its products are made in the U.S. or Canada. While Acana is not perfect, it is one of the best dog food options currently available on the market.