Acana vs Fromm Dog Food: Our 2023 Comparison

Picking out the right food is key to your pup's health, and it is far from easy.
Certainly, you have had this experience: you go to the store or shop online, and you are bombarded with so many choices that you feel like your brain might explode. There are grain-free options, gluten-free options, and some that promote ingredients you don't even know the meaning of.
Every pet owner wants what is best for their dog, but this ocean of options makes it difficult to determine the best option. That is why we have taken the time to pick two premium brands from the chaos and compare them. Today, we are examining Acana and Fromm, giving you all the information you need and selecting our favorite candidate.
Which one is the best? Keep reading and find out!
Click to skip ahead:
A Sneak Peek at the Winner: Acana
Both brands strive for excellence, but Acana is the one that stands out the most. Acana's nutritional value beat Fromm's by a margin, while their lack of recall history compared to Fromm's truly set them apart.
Three Premium Options
Our research turned up three recipes that outshine the others.
Rating
Image
Product
Details

ACANA Wholesome Grains Red Meat Recipe Gluten-Free Dry Dog Food

First three ingredients are animal-based
No legumes or potatoes
Inclusion of minerals and fatty acids
Check Price

ACANA Singles + Wholesome Grains Limited Ingredient Diet Duck & Pumpki

Limited ingredients
No legumes or potatoes
Check Price

ACANA Red Meat Recipe Grain-Free Dry Dog Food

First three ingredients are animal-based
Inclusion of minerals and fatty acids
High protein
Check Price
Fromm's recipes are also hard to beat, but they couldn't meet the standard of Acana's (more details on that later).
About Acana
Acana was founded in the farmlands of Alberta, Canada, which inspired its name. Now, it operates from several kitchens across the globe.
Acana's Food Philosophy
As pet food became more industrialized and mass-produced, Champion Petfoods, the owner of Acana, grew concerned with the trend toward convenience and away from quality. He noticed that many mass-produced brands were straying away from what nature intended for dogs to eat in favor of cheaper, easily accessible ingredients.
Therefore, Champion Petfoods strove to create pet recipes that served the needs of dogs rather than people so that the dog's well-being would not be trumped by mere convenience. Champion wanted their recipes to reflect the biological needs of dogs, meaning higher protein and fewer carbohydrates.
This resulted in recipes that nourished dogs with a balanced variety of the nutrients.
Acana is Passionate about Ingredients
Champion Petfoods is an award-winning developer of pet food. They have been producing Acana food since their establishment in 1985. From its conception, Champion Petfoods has always valued the importance of sourcing the finest ingredients for its dog food recipes. They collaborate with various premium farmers, ranchers, and fisheries to gather quality ingredients.
They source lamb from New Zealand, fish from Scandinavia, and their eggs locally in the United States. Each ingredient is deliberately selected for quality of taste and nutrition. Champion works closely with suppliers who have been providing them with top-notch ingredients for decades.
Fairly Expensive
With such dedication to sourcing and serving prime ingredients, it is only natural that Acana is a bit on the pricey side.
However, it is less expensive than Champion Petfoods' other brand, Orijen, making it slightly easier for pet owners to get their hands on the excellent quality that Champion Petfoods boasts with their recipes.
Fresh or raw ingredients
First two ingredients are always from animal sources
High in protein
Each recipe contains vegetables, fruit, botanicals, and nutrients
---
About Fromm
Fromm has a long history, as they sold their first bag of dog food in 1949. Today, Fromm sells online and in local stores in six countries.
It's a Family-Run Business
Fromm Family Pet Food is a 5th-generation family-owned and operated business. Their company was founded in the 20th century as Federal Foods, Inc. It has remained in family hands ever since, regularly launching new products.
The pet-loving legacy of Fromm Family Pet Food is an impressive one. A manufacturing plant, established in 1925 and geared toward producing nutritional recipes, is still in operation today. It is located in Mequon, Wisconsin, and serves as a research center for developing new foods and treats for dogs.
In 1995, Federal Foods, Inc. was renamed Fromm Family Foods, displaying the importance of family values within the company.
Fromm is Invested in the Health of Pets
Ever since 1904, the Fromm family has been pioneering and developing new ideas to secure and promote the well-being of pets. For instance, in the 1930s, they were instrumental in the production of the first canine distemper vaccine. In the 1970s, they began to experiment with lifestyle-specific recipes for pets.
This dedication to canine health is reflected in their dog food recipes. Their food uses no artificial preservatives, and many of their recipes have large quantities of meat and vegetables. Each bag of food is manufactured in their two facilities, ensuring that Fromm has total control over the condition and quality of their products.
Fairly Expensive
Like Acana, Fromm is rather expensive. However, Fromm is slightly cheaper than Acana, though not by much.
That being said, Fromm is a high-quality dog food brand, so the price is understandable.
High meat and vegetable content
Food is closely monitored from start to finish
---
3 Most Popular Acana Dog Food Recipes
ACANA Wholesome Grains Red Meat Recipe Gluten-Free
The first three ingredients are all animal-based. That's a good start! They aren't the only ingredients sourced from animals, which is why this recipe's protein content reaches 27%. That's a pretty decent amount of protein for your pup.
Another bonus to this recipe is that it contains no legumes or potatoes. Potatoes are not great for a dog's diet, and they can cause adverse health effects. Likewise, legumes may be linked to canine heart disease.
There is also a good balance of fat and fiber as well as a number of minerals and fatty acids to bolster the nutrients in this recipe.
First three ingredients are animal-based
No legumes or potatoes
Inclusion of minerals and fatty acids
---
ACANA Singles + Wholesome Grains Limited Ingredient Diet Duck & Pumpkin Recipe
This is another recipe from Acana that has a lot to offer. The protein content is at 27%, and the fat and fiber are likewise up to par. It also doesn't include any legumes or potatoes. However, the part that truly makes this recipe stand out is that it uses a limited amount of ingredients.
The only major downside to this recipe is how expensive it is. It is by far the most expensive choice listed so far.
Limited ingredients
No legumes or potatoes
---
ACANA Red Meat Recipe Grain-Free
This recipe has the previous ones in one area: it has a higher protein content. While the others were not bad, this recipe boasts a minimum protein content of 2% higher than the first, coming in at 29%.
Along with the protein content, the fat and fiber levels are also impressive. This recipe contains the same minerals and fatty acids as the first, but there is one area that makes this recipe a bit more questionable.
It has lentils (which are in the legume family). As stated before, lentils are believed to have adverse health effects on dogs. It is also grain-free. Despite the grain-free craze that has been recently popularized, grains are still an important part of a healthy dog's diet. It is not good to eliminate them entirely from your dog's meals unless your dog has an allergy. Before making this switch, check with your vet to decide whether or not a grain-free diet would benefit your dog.
First three ingredients are animal-based
Inclusion of minerals and fatty acids
High protein
---
3 Most Popular Fromm Dog Food Recipes
Fromm Gold Adult
Gold Adult is off to a good start by leading with three ingredients sourced from animals. Unfortunately, this doesn't make the protein content all that high: the percentage in this recipe falls at 25%. This isn't an inadequate amount, but it isn't an impressive one, either. The fat content is at the same level as the other recipes, but the fiber content in this one drops to 5.5%.
Another less than stellar part of this recipe is that it includes potatoes. But other than that, the ingredients used are wholesome and bolstered with probiotics that assist digestion.
First three ingredients are animal-based
Includes salmon oil to promote a healthy coat
---
Fromm Classics Adult
The Fromm Classics Adult is essentially a more affordable version of the Fromm Gold Adult. It lacks some of the wholesome ingredients that the Fromm Gold contained, but it's still a quality recipe. In fact, it is missing one ingredient that actually makes this meal potentially more beneficial: potatoes.
The protein content is much lower than the others, coming in at 23%. The fat is a little lower at 15%, and the fiber is at 4%, which is definitely something to keep in mind when considering this brand.
First two ingredients are animal-based
No potatoes
---
Fromm Dog Four Star Chicken AU FROMMAGE
If you think this recipe sounds fancy, you'd be right: it is inspired by French cuisine.
The first two ingredients for this recipe are sourced from animals. The protein content is 26%, the fat content is 16%, and the fiber content is 6.5%. This option also hosts a variety of fruits and vegetables to balance the meal. Unfortunately, it also contains potatoes, lentils, and peas.
This recipe happens to be rather expensive as well, so be sure to review the ingredients carefully to weigh the benefits before making a purchase.
First two ingredients are animal-based
Contains assorted fruits and vegetables
Extremely expensive
Contains potatoes, lentils, and peas
---
Recall History of Acana and Fromm
Acana has never had any brand recalls.
Fromm, on the other hand, has a history of recalling products. In March 2016, Fromm recalled three of their canned recipes from their Fromm Gold line: Chicken Pâté, Salmon & Chicken Pâté, and Chicken & Duck Pâté. This recall was due to an excessive amount of Vitamin D, which can lead to vomiting, drooling, and weight loss.
In 2018, Fromm voluntarily recalled their Four Star Shredded Entrée line once again due to an over-abundance of Vitamin D.
Thankfully, it appears that no dogs were harmed from this. Still, Fromm's recall history is something to keep in mind when making a decision on what to feed your dog.

Acana VS Fromm Comparison
To make things short and sweet, we're going to look at Acana and Fromm in several key categories to see which comes out on top.
Taste
Both brands have similar flavors and rely on wholesome, animal-based ingredients to make their dog food.
However, Acana tends to have more ingredients directly sourced from animals than Fromm does. With more yummy meats and proteins in their recipes, Acana wins this category.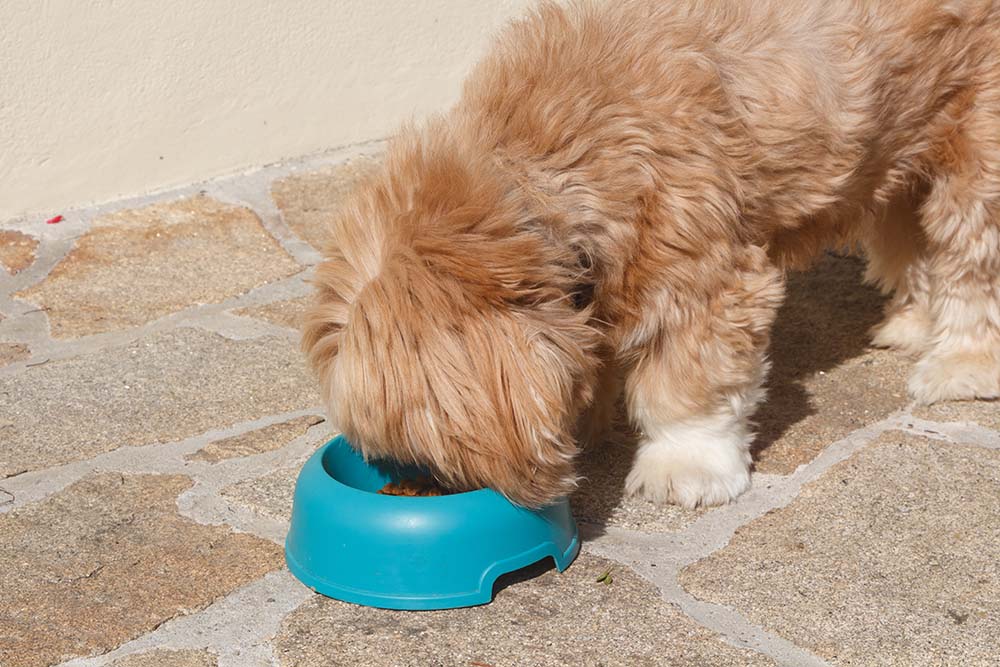 Nutritional Value
Both brands make use of vital minerals. They also include a balanced proportion of vegetables and fruits. They are made with quality ingredients with the dog's well-being in mind.
However, Acana's recipes are generally higher in protein, fat, and fiber content than Fromm's. So, Acana wins in nutritional value, too.
Price
This one will go to Fromm. Fromm isn't cheap, but when compared with Acana, it is more of a bargain. Acana's bags are smaller and higher-priced, whereas Fromm's bags are a little bigger and a little cheaper.
Selection
Fromm has been creating dog food since 1949, and they have had plenty of time to come up with new lines. Their selection outpaces Acana's and gives pet owners plenty of options to choose from.
Overall
Both brands have high-quality recipes, but in the end, Acana is our favorite. The nutritional quality of their recipes beats Fromm's, and their lack of a recall record is comforting.
Conclusion
Acana and Fromm are premium dog food makers for a reason: they provide high-quality nutritional options for your pet
When it comes to price and selection, Fromm is the winner. They offer several lines of great products at a high, but warranted price, which is still lower than Acana's prices.
In terms of taste, nutritional value, and confidence in safety, Acana is the clear choice.