Acana vs Orijen Dog Food: 2023 Comparison

As we learn more about proper nutrition for ourselves, many dog owners have also taken a good look at what they're feeding their pets. This trend has led to many independent premium dog food brands gaining a cult-like following — often for a good reason.
Acana and Orijen are two of the most respected dog food brands. While neither brand is widely available in all retailers, their use of quality, regional ingredients and well-balanced nutrition have carved out a corner of the market for these two product lines.
When it comes to choosing between these two brands, however, which is right for your dog? What are the differences between Acana, Orijen, and their various dog food formulas?

A Sneak Peek at the Winner: Acana
Choosing between Acana and Orijen is difficult, especially since these two dog food brands are incredibly similar. While Orijen's formulas offer more animal ingredients and protein on average, we ultimately chose Acana as the winner because of its wider range of products, grain-inclusive options, and more affordable price point.
The winner of our comparison:
About Acana
Acana is a premium dog food that is built on using biologically appropriate, regional ingredients whenever it can. Currently, Acana's U.S. catalog can be broken into three core product lines.
Originals
As the name implies, Acana's Originals line is where it all began. Alongside standard flavors like red meat or poultry, this is where you'll find the brand's Puppy & Junior Formula and Healthy & Fit Formula.
Regionals
Acana's Regionals line is designed around local ecosystems and the natural protein sources found within. While the Regionals line sold in the U.S. is based around Kentucky, the Canadian line features Alberta-inspired ingredients.
Singles
The Acana Singles recipes are designed with just one source of animal protein per formula. Combined with a somewhat limited list of plant-based ingredients, these formulas are designed for dogs who require a limited ingredient diet due to sensitivities or allergies.
Along with traditional kibble, the Singles line also includes several types of freeze-dried dog treats.
+ Wholesome Grains
Originally, all Acana dog food products were formulated to be entirely grain free. With the introduction of its + Wholesome Grains products, however, Acana has added two grain-inclusive formulas to each of its three main product lines above. Since these recipes rely on oats, not wheat, they are still gluten free.
A Quick Look at Acana Dog Food
Offers grain-free and grain-inclusive options
Made in the U.S. and Canada
Based on fresh, regional ingredients
Independently owned and manufactured
High in whole animal proteins
Competitive pricing for a premium brand
Not widely available at all retailers
Not ideal for true limited-ingredient diets
No senior or small breed formulas available
---
About Orijen
Like, Acana, Orijen is also formulated with regional, biologically-appropriate ingredients. However, the biggest difference between these two dog food brands is that Orijen tends to use up to 15% more meat and animal-based ingredients in its formulas. Right now, Orijen offers a limited selection of dog food varieties:
Dry kibble
Orijen's main product line includes several types of grain-free kibble. Along with a few regular, adult formulas, you'll also find specialized recipes for puppies, seniors, different breeds, and weight management.
Freeze-dried
Along with the regular kibble recipes, many dog owners turn to Orijen because of its variety of freeze-dried dog foods and treats. These recipes contain up to 90% animal ingredients that are freeze-dried to preserve nutrition and flavor without the mess or shortened shelf life of a wet formula.
Like Orijen's kibble formulas, all of its freeze-dried meals and treats are entirely grain free.
A Quick Look at Orijen Dog Food
Extremely high in animal proteins
Ideal for dogs on a grain-free diet
Made in the U.S. or Canada
Relies on fresh, local ingredients
Offers unique freeze-dried meals and treats
Owned by a small, independent company
Limited product range
No grain-inclusive options
More expensive than some competitors
Not available in all pet supply retailers
---
Who Makes Acana & Orijen?
Both of these pet food brands are owned and manufactured by the parent company, Champion Pet Foods. Champion Pet Foods is a Canadian company that has existed for over 25 years.
All Acana and Orijen products are made in one of Champion Pet Foods' two independently operated factories. Products made for the Canadian market are made in the Acheson, Alberta, factory. Since 2006, all U.S. products have been made in the Auburn, Kentucky, factory.
Recall history
As of our review, Acana, Orijen, and Champion Pet Foods have not been included in any public pet food recalls.
Consumer relations history
In the past couple of years, multiple consumer lawsuits have emerged regarding Acana, Orijen, and Champion Pet Foods. These lawsuits have claimed that Champion Pet Foods and its labels have sold products containing detectable levels of heavy metal and BPA.
Most of these lawsuits have been legally dismissed. However, according to our research, it appears that at least one case is still in progress.
Champion Pet Foods has made several brief statements regarding these legal issues on its website, which you can read here.

The 3 Most Popular Acana Dog Food Recipes
While we can't take a deep dive into Acana's entire dog food range, we've broken down three of our favorite formulas:
1.

Acana Kentucky Farmlands With Wholesome Grains Dry Dog Food
The Kentucky Farmlands with Wholesome Grains formula is one of the newest products from Acana, filling the brand's gap in grain-inclusive offerings. Although this formula does include carbohydrates from whole grains, it is entirely gluten free. The Kentucky Farmlands formula is part of the Regionals line, featuring whole animal protein sources like chicken, turkey, duck, and eggs.
High in whole animal ingredients
Features protein from raw and fresh sources
Made in the U.S.
Grain inclusive and gluten free
Formulated with probiotics
Pieces are too big for some small dogs
May be hard to find in stores
---
2.

Acana Meadowland Dry Dog Food
While we prefer Acana's new grain-inclusive formulas for most dogs, the brand offers many grain-free recipes as well. The Meadowland Dry Dog Food is another Regionals formula, including WholePrey ingredients like chicken, turkey, freshwater catfish, eggs, and rainbow trout.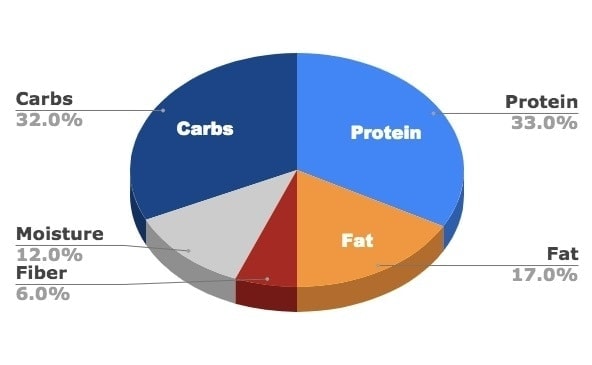 Ideal for dogs with grain sensitivities
Made in the U.S.
Formulated with local Kentucky ingredients
Contains probiotics for digestion
High in animal protein
Grain free and gluten free
High concentration of legumes
Not available in all pet food retailers
---
3.

Acana Singles Limited Ingredient Diet Duck & Pear Formula Dry Dog Food
The Singles Limited Ingredient Diet Duck & Pear Formula is designed with a single source of animal protein and a shortened list of plant-based ingredients. This particular recipe uses duck as its primary ingredient, half of which is used in a raw or fresh state. While this formula is advertised for dogs with sensitivities or allergies, it does contain some ingredients that are likely to trigger reactions.
Uses a single source of animal protein
Made in the U.S.
Grain free and gluten free
Limited list of ingredients
Formulated with live probiotics
Contains pea protein
Not ideal for a true limited-ingredient diet
Difficult to find in some stores

The 3 Most Popular Orijen Dog Food Recipes
Compared to Acana, Orijen's dog food product range is much more limited. Here are three of the most popular formulas currently being offered by the brand:
1.

Orijen Original Dry Dog Food
As Orijen's flagship recipe, the Original Dry Dog Food is made with whole animal ingredients like chicken, turkey, wild fish, and eggs. Since Orijen uses meat, organs, cartilage, and bones in its formulas, your dog gets all of the key nutrients it would get from hunting in the wild. This particular formula contains 85% animal ingredients, two-thirds of which are used in a raw or fresh state.
Ideal for dogs on a grain-free diet
Made in the U.S.
85% animal-based ingredients
Contains freeze-dried liver
Uses fresh and raw meat sources
More expensive than some other options
Not available from all pet food suppliers
Grain-free formula may not be ideal for all dogs
---
2.

Orijen Puppy Dry Dog Food
The Orijen Puppy Dry Dog Food is similar to the brand's other kibble recipes but with additional nutrition to support your dog during its first one or two years. This recipe includes meat, cartilage, bones, and organs from chicken, turkey, fish, and eggs.
If your dog is a large or giant breed, Orijen also offers a Large Breed Puppy Dry Dog Food that will help support slow and steady growth.
Formulated for small and medium breed puppies
Made in the U.S.
High in animal protein
Ideal for dogs with gluten or grain sensitivities
Made with raw and fresh ingredients
Not ideal for large or giant breeds
Not widely available in all areas
Not all puppies require a grain-free diet
---
3.

Orijen Senior Dry Dog Food
On the other end of the spectrum, the Orijen Senior Dry Dog Food formula is designed for older dogs and their unique nutritional needs. This recipe is high in protein to support muscle mass and discourage unhealthy weight gain with increased age. Like the rest of Orijen's product range, the Senior formula contains 85% animal ingredients.
Designed aging dogs of all sizes
Made in the U.S.
Formulated with raw and fresh animal ingredients
Supports lean muscle mass
Grain and gluten free
May not be available in all pet supply stores
Not ideal for dogs on a grain-inclusive diet
---
Acana vs. Orijen Comparison
Since both brands are owned and manufactured by the same company, comparing Acana and Orijen reveals few differences. Still, there are factors to consider when selecting a new dog food for your canine companion:
Pricing
While exact pricing may vary slightly between retailers and individual product lines, Orijen products tend to cost more than their Acana counterparts. If you're on a budget, Acana offers near-comparable quality for a more affordable price.
Ingredient quality
There may be slight differences between the ingredients used by Acana vs. Orijen, but we believe that these potential differences are negligible when looking at the big picture. Since both Acana and Orijen are manufactured in the exact same factories, there's a good chance that they also use the exact same ingredients.
Instead, the primary difference in ingredient quality between these two brands is how much of each ingredient is used.
Nutrition
The biggest difference between Acana and Orijen is that Orijen products are formulated with a higher concentration of animal protein.
At the same time, Orijen has yet to release any grain-inclusive formulas. Yes, a large portion of Orijen's customer base prefers a grain-free diet, but this does exclude many dogs from trying out the brand. If your dog does not require a grain-free diet, Acana is your only option at the moment.

Final Thoughts
After reviewing Acana and Orijen, there is really no clear winner. Because these two pet food brands share the same parent company, factories, ingredients, and overall mission statement, the final products offered by each label are nearly the same.
With that said, we recommend Acana for most dogs and their owners. However, if your dog requires a grain-free, high-protein diet and you can afford the higher price tag, Orijen technically offers slightly better nutrition.
Acana and Orijen are two of the highest-quality dog food brands currently on the market, so you can't go wrong trying one of these formulas with your own pets.