100+ African Dog Names: Unique & Exotic Ideas For Male and Female Dogs

Africa is a diverse continent with an incredible cultural heritage. It's also home to quite a few dog breeds, including the Rhodesian Ridgeback, Azawakh, and Basenji. Whether or not you own one of these breeds, why not consider an African name for your new best friend?
The first names that likely come to your mind are those from the Lion King, like Simba, Mufasa, Rafiki, or Sarabi. But African names are so much more than this wonderful Disney movie. 
We've put together this comprehensive list of over 100 African dog names, ranging from the familiar (Safari) to the more exotic (Xolani), to help you make the exciting time of selecting a name for your pup easy and more enjoyable for you both. Keep reading to find your furball's interesting new name!

Female African Dog Names
Safari
Titi
Neema
Aaliyah
Kwini
Benya
Sabra
Pula
Kanzi
Nata
Fayola
Sonto
Adanna
Oba
Sarafina
Abena
Siti
Ama
Ami
Eshe
Kali
Asha
Ode
Maha
Jambo
Zula
Bonolo
Jina
Buhle
Alika
Mosa
Nala
Jamila
Reta
Sarabi
Sassandra
Ramla
Ada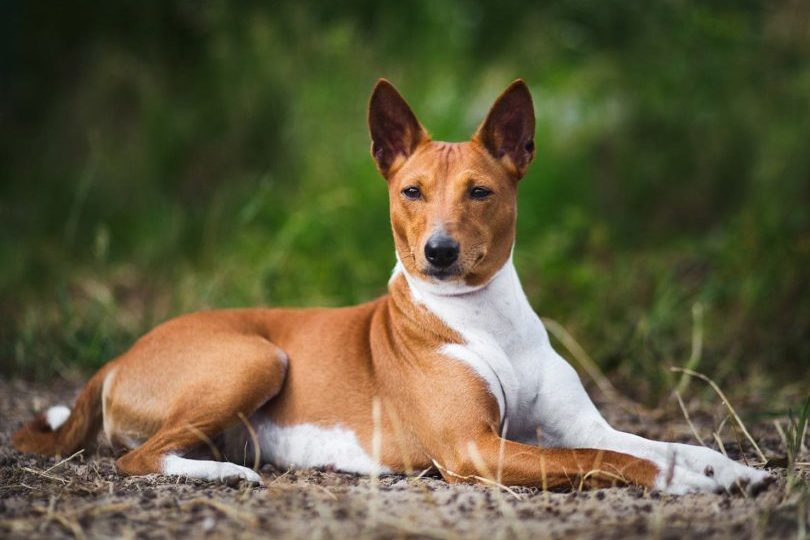 Male African Dog Names
Akeen
Cebo
Kayin
Chike
Zibu
Roro
Jaafan
Mandla
Ade
Dada
Chana
Jengo
Leki
Timon
Roho
Isa
Mufasa
Delani
Sipho
Jama
Shenzi
Rafiki
Barack
Menzi
Oringo
Bobo
Masozi
Kasim
Limbani
Moyo
Ogbo
Zazu
Cebo
Kendi
Moriti
Faa
Farai
Banzai
Kgosi
Dumi
Kafi
Pumbaa

South African Dog Names
South Africa is both a country and an African region, and the area's colonial history has resulted in a unique language (Afrikaans) and a set of popular names. There are many incredible options stemming from this area of the world, and one might be perfect for your pup. Scroll down, let's take a look!
Mandla
Rudo
Kaya
Arno
Imka
Yamikani
Tumbelo
Xolani
Retha
Thabo
Pulang
Tapiwa
Simba
Lerato
Nontle
Neo
Tau
Annika
Zikomo
Palesa
Zodwa
Jabulani
Zola
Luan

Finding the Right African Name for Your Dog
When you're considering African dog names, why not go beyond the characters in Disney's Lion King? There are plenty to choose from, but that may be a bit overwhelming. Trust your instincts on it, because ultimately, you're the only one who needs to love the name. Your pup will love whatever you give to them. 
Before making your final decision, practice saying the name aloud a few times to see if it rolls off the tongue nicely. You'll want to be sure it is a name you can say during training and during loving cuddle time. And, if you have kids at home, be sure they can say the name too – otherwise, your pup may be confused with all the different pronunciations of his own name.
We truly hope this list of unusual and beautiful African names has helped you find your puppy's new name. If you weren't able to decide on just one – maybe our tips below could help you out!
Stick to One or Two Syllables. It might seem like a no-brainer, but it truly makes training your pup so much easier. Not only that, having multiple syllables may be confusing, and hard to say when you need your pup's immediate attention.
Test a Few Options on your Doggo. We can bet that your pup's reaction will give you a clear idea of names they love, and ones they would rather pass on. Positive indications could be a wagging tail or a few puppy kisses. On the other hand, negative signs may be a sharp bark or whine.
Determine What Nicknames Could be Created by Your Choice. Often our pups end up with nicknames, usually some form of their original name. Test out different variations or shorter versions of your favorite options. You might be surprised at what you come up with and the names you truly end up loving!
Above all, have fun! Your pet will enjoy whatever name you give them as long as you always show them how much you love them!
Check out the latest gear for your pup: 
If you still found the list above to be a bit overwhelming, or none of the names stuck out for you, we have many other names for you to consider. Check out one of our posts below for additional inspiration:
---
Featured Image Credit: du_weist_schon_wer, Pixabay