American Journey Cat Food Review 2022 — Top Picks, Pros & Cons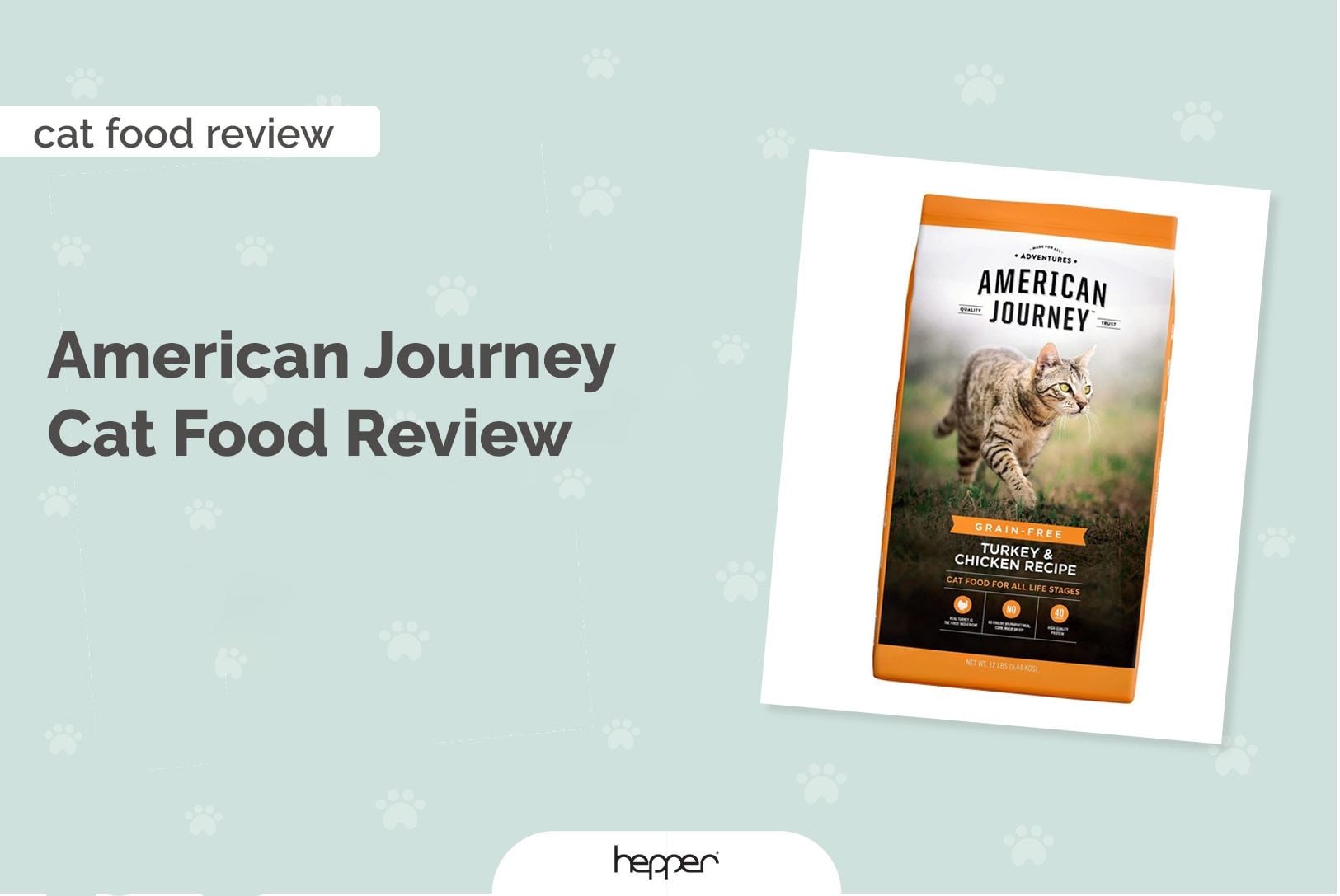 Review Summary
Our Final Verdict
We give American Journey cat food a 4.7 out of 5 stars.
Introduction
American Journey is Chewy.com's exclusive brand. It was originally launched in 2017 and is mostly only found on its website. Compared to other foods out there, American's Journey offers great quality for the price. Since Chewy.com both manufactures and sells the food, it can cut out the middle man and save quite a bit more money, which then gets passed to the consumers. This brand offers a variety of different foods for cats, including both dry and wet food options. Their foods come with nearly every protein source and flavor available.
At a Glance: The Best American Journey Cat Food Recipes:
Rating
Image
Product
Details

Our Favorite

American Journey Turkey & Chicken Recipe Dry Cat Food

High in protein
Omega fatty acids included
Plenty of animal ingredients

American Journey Minced Salmon & Tuna Recipe Canned Cat Food

Grain-free
High moisture content
High in animal ingredients

American Journey Landmark Tuna & Tilapia Canned Cat Food

Added taurine
Mostly animal ingredients
High in protein and moisture

American Journey Chicken Recipe Dry Cat Food

No corn, wheat or soy
Contains essential amino acids
Supports the immune system

American Journey Salmon Recipe Dry Cat Food

Contains antioxidants
No poultry by-product
Wholesome fruits and vegetables ingredients
American Journey Cat Food Reviewed
American Journey specializes in higher quality, grain-free food. While its recipes are often much higher quality than some other brands out there, they aren't that expensive. This brand offers great value for what you pay. This brand didn't launch until 2017, so it is relatively new. However, its owner, Chewy.com, is a bit older.
Who Makes American Journey, and Where Is It Produced?
Technically, Chewy.com owns this brand. It is its "store brand," so to speak. That said, it doesn't actually own the producing facilities. Instead, the food is produced by an unnamed manufacturer in Kansas. All the foods are made at this facility, which technically means that they are "American made." However, American Journey uses ingredients from around the world. While many of these ingredients come from places like New Zealand and Switzerland, ingredients from Mexico and China are also utilized.
Our Favorite Cat Deal Right Now

33% OFF at Smalls Fresh Raw Cat Food
Use Code Hepper2022 at Checkout
Which Types of Cats Is American Journey Best Suited For?
American Journey is a moderately priced cat food. Therefore, we recommend it for those who have a bit of extra money to spend. It is not a budget option, despite the high value that it provides. Due to its high-quality ingredients, American Journey is recommended for practically any healthy cat. That said, it does not provide any disease-specific lines, so cats that are suffering from specific health conditions will need to look elsewhere. Most of the formulas are for all life stages. Therefore, you can start one food with a kitten and continue to feed them that food as they grow.
Which Types of Cats Might Do Better With a Different Brand?
American Journey is quality food at a moderate price. It offers great value, but it still isn't a budget option. If you need cheaper food, your best bet is something from the Purina One line, such as the Purina One Tender Selects Dry Cat Food. While this brand does not include the same high-quality ingredients, it does provide decent nutrition at a low price. Furthermore, cats with specific health conditions will need to look elsewhere. American Journey does not offer any recipes formulated for chronic diseases. Speak with your vet in this circumstance to determine what your cat should be eating.
Discussion of the Primary Ingredients (Good and Bad)
All American Journey recipes start with some sort of meat. In fact, most have a meat among the first few ingredients. Often, deboned meats and meat meals are utilized. Both of these are high-quality options for your feline. They provide the fat and protein that your cat needs to thrive. On top of the primary meat, American Journey food often includes a variety of other animal-based products. For instance, eggs are commonly included in most recipes, which are packed full of protein and provide tons of different nutrients. That said, these recipes also use a high quantity of peas. For the most part, small amounts of peas are fine. However, many of the recipes include more than just a small amount. Peas are high in protein, which is why they are often chosen for cat food. However, this is plant-based protein, which may not include all the amino acids that your feline needs to thrive. The extra carbohydrates may also contribute to obesity. Therefore, just because the brand's dry foods often have 40% protein, that doesn't mean all of it is from meat.
Macronutrients
The macronutrients in your cat's food matter. Cats are obligate carnivores. Therefore, they should be consuming plenty of proteins and fats to thrive. They need few carbohydrates in their diet, though that doesn't mean that they shouldn't be consuming any carbs at all. Without the proper amounts of proteins and fats, cats may develop an array of health problems. For instance, obesity is rather common in felines and may be tied to a carb-rich diet. On top of being important for nutrition, macronutrient content also affects the taste of food. Cats will often limit their intake of carbohydrates but eat more foods that are high in protein. Therefore, if your cat isn't eating much, it could be because the food is too high in carbohydrates.
A Quick Look at American Journey Cat Food
High-quality ingredients
High in protein and fat
Crafted in the United States
Variety of recipes available
Not widely available
Uses ingredients from many different countries
Heavy use of peas in dry foods
Recall History
This brand has not gone through any recalls. However, it is only a few years old, so this is to be expected. There isn't enough data yet to determine if it is a safe brand or not. However, so far, so good!
Reviews of the 3 Best American Journey Cat Food Recipes
Now that we've looked at the general brand, let's look at three different recipes that it produces.
1.

American Journey Turkey & Chicken Recipe Dry Cat Food
The ingredients in American Journey Turkey & Chicken Recipe Dry Cat Food are stellar. The first five ingredients are mostly meat products, including deboned turkey and chicken meal. Eggs are included as well, which add extra nutrients to this cat food. Peas and pea protein both are high on the list, though. These veggies aren't bad for cats in low amounts, but they do appear to be in a high concentration in this recipe. The protein level is quite high at 40%. However, much of this protein comes from the peas, not from the meat provided. Don't confuse high protein content to mean high meat content. This food is completely grain-free and contains no corn, wheat, or soy. It is manufactured in the United States, like all of American Journey's food, but it does use ingredients from around the world. We did like the extras included in this cat food, such as taurine and antioxidants. These provide your cat with extra support and may improve their overall health.
High in protein
Plenty of animal ingredients
Manufactured in the United States
Extra nutrients, like omega fatty acids, included
---
American Journey also makes a variety of wet cat foods, which are often more palatable and provide extra moisture. While all the recipes are good, we reviewed the in particular. This recipe starts with salmon, which is then followed by many other meat sources. Fish broth is used instead of water, which adds extra nutrients and protein to the formula. This formula has 9% protein, which is rather high for wet food. It does include peas as the only veggie in the formula. However, these appear lower on the list, so they are likely not as much of a problem as they are in the dry food. The protein added by the peas will be minimal based on their spot on the ingredient list. The moisture content is extremely high in this food. In fact, it's higher than most wet foods out there. For this reason, we particularly recommend it for cats that have trouble consuming enough water on their own. This formula is grain-free and doesn't include any artificial flavors, colors, or preservatives. It is also packed in a BPA-free can for safety.
High in animal ingredients
High moisture content
Grain-free
No artificial flavors, colors, or preservatives
---
is a bit different from the other canned foods that this brand offers. It includes solely animal products, including tuna, fish broth, and seabream. It doesn't include peas, fruits, or veggies like many of this brand's other formulas do. Therefore, it is much more concentrated in protein. The crude protein level is at 12%, which is significantly higher than most other brands on the market. All this protein comes from a meat source because there is no plant-based protein included in the ingredients. Moisture content is high at 82%, as you would expect from canned food. Due to the higher-quality ingredients, this food is quite expensive. You can expect to pay quite a bit more than you would for American Journey's other lines. This formula is completely grain-free. It is also free from corn, wheat, soy, and peas. It does include a variety of added nutrients, such as taurine.
Mostly animal ingredients
High in protein and moisture
Free from grains, corn, wheat, soy, and peas
Added taurine
What Other Users Are Saying
Many users reported that their cats loved American Journey's food. While taste is dependent on the cat, it seems that the high protein in this formula makes it quite palatable. For instance, one user said: "My kitty isn't particularly food motivated — when I put out his wet food, he often just sniffs it, walks away, and grazes throughout the day. He is OBSESSED with this stuff — it's the only food I've ever seen him finish in one go, and the only food that makes him jump around my feet when he smells me carrying it to his food spot." Many also liked the smaller size of the dry food kibble, which made the food easier for older and younger cats to eat: "My cat is older and fussy. The last dry food I purchased took forever for her to eat. She did not like it at all. The size of the morsels is perfect and must be very tasty."
Conclusion
If you're looking for food that offers great value, American Journey is worth looking into. Its foods are substantially less expensive than those of equal quality. Chewy.com both produces and sells the food, which is likely why it can keep the cost so low. That said, the food isn't perfect. Some of the ingredients come from China, though the food is manufactured in the United States. The fact that the manufacturer isn't named is also a bit of a red flag. However, the recipes are extremely high in protein and utilize quality meats. The wet foods, in particular, are quite meat-heavy, though the dry foods are also more meat-heavy than some other brands on the market. Overall, we do recommend this brand as one of the better options on the market. However, it is only available at Chewy.com and PetSmart, which may make it more difficult for you to purchase.
Related Reads: