Answers Dog Food Review 2023: Recalls, Pros & Cons
Review Summary
Our Final Verdict
We give Answers dog food a rating of 4 out of 5 stars.
The only fermented raw food on the market, Answers dog food eliminates the need for high-pressure processing or dehydrating because the fermentation process controls pathogens naturally. Answers' Detailed line features AAFCO-certified complete and balanced recipes formulated for dogs of all ages. Answers also offers a limited diet, fermented cheese, fermented pig's feet, and meals for cats. We like the idea of fermenting dog food because it naturally preserves your dog's meal while boosting their gut with prebiotics and probiotics.
However, we're only giving Answers four stars because there are a few potential issues. While they've never had a recall, Answers became embroiled in a company scandal in 2019, and most of their staff shortly resigned afterwards. Coupled with COVID-19 supply shortages, the past few years have been rough for this pet food company, and it's sometimes hard to stock their recipes. Additionally, not all of their meats are organic, and some are even by-products.

At a Glance: The Best Answers Dog Food Recipes
Rating
Image
Product
Details

Most Popular

Detailed Raw Chicken

First four ingredients are chicken products
Organic chicken & vegetables make up most of the ingredients
The most inexpensive Answers formula
Check Price

Detailed Raw Beef

First five ingredients are real beef products
Fermented with kefir
Vitamin E supplement
Check Price

Detailed Raw Turkey

Organic turkey is featured as the first five ingredients
Fermented with kefir
Vitamin E supplement
Check Price

Detailed Raw Duck

Organic whole duck
No antibiotics
No preservatives
Check Price

Detailed Raw Pork

Sustainably raised pork
No added hormones
No synthetic vitamins
Check Price
Answers Dog Food Reviewed
Who Makes Answers Dog Food and Where Is It Produced?
Originating as a family-owned company, Answers is manufactured in Pennsylvania from mostly American-sourced ingredients (with the exception of the cinnamon and green tea in their treats). Lystn, LLC., is listed as their distribution company. Answers has recently shifted management due to the resignation of most of their corporate members in 2019, including Vice President Roxanne Stone and Jacqueline Hill. Answers Pet Food Nutrition Science Director Billy Hoekman also resigned stating, "I no longer support the direction Answers Pet Food is moving in." The company is run by President & CEO Keith Hill, and they now have a completely new staff as of 2021.
Which Type of Dog Is Answers Best Suited For?
The Details line is made for every dog. AAFCO-certified for all life stages, so you can feed Details to a puppy, adult, or senior of any breed. We should note that Answers contains more fat than some other dog foods, so they aren't the answer for a dog needing a low-fat diet, such as elderly dogs or canines with pancreatitis. If you have a dog with special needs, Answers makes a Limited Ingredient line with products merely consisting of meat, whey, and sea salt. While this isn't considered a complete meal, it provides a nutritious base that you can supplement with appropriate ingredients.
Which Type of Dog Might Do Better with a Different Brand?
All of Answers recipes are grain-free. A few years ago, veterinarians noticed the rise in dog allergies and recommended grain-free foods as a way to counter the supposed rise in gluten intolerance. However, it's now believed that dogs' immune systems are more likely reacting to protein, such as chicken or beef. A grain-free diet may not be helpful, and a 2019 investigation by the FDA reveals it might actually cause harm. There's a correlation between grain-free diets and cardiomyopathy in dogs; however, the jury is still out on whether this connection stems from the use of peas as a grain substitute, taurine deficiency, or the lack of grain itself.
If you don't want to chance it with grain-free, we recommend feeding your dog a raw diet that includes some heart-healthy grains such as brown rice or oatmeal. Stella & Chewy's Wild Red Raw Blend is a good alternative that doesn't skip the grains or skimp on meat.
Discussion of the Primary Ingredients (Good and Bad)
For this article, we'll mostly discuss the ingredients in the Detailed line since we're specifically reviewing those products.
In general, we like how the meats in the food are raised without antibiotics and some are organic. Our favorite recipe, Detailed Raw Chicken, contains organic meat. However, note that the Detailed Raw Beef says it's 100% grass fed beef, but doesn't mention anything about being organic. Therefore, we can conclude that it's not. Similarly, the Detailed Pork recipe claims to be GAP-raised but doesn't say anything about being organic. We only find this interesting because Answers often advertise their food as organic, but it doesn't appear that all of their recipes qualify.
How Does the Fermentation Process Work?
All of the Detailed diets are preserved by fermentation through kefir. This dairy-free drink is made from goat's milk, which is easier for digestion than cow milk. Kefir provides your canine's gut with beneficial prebiotics and probiotics which helps them develop a strong digestive system.
It's important to note that the first few days of feeding your dog probiotics may result in messy stool. Your dog's body may undergo a detox process where the good bacteria in the probiotics attack the unhealthy bacteria that have built up in your dog's gut over time. While detox can have temporarily unpleasant results, they should subside within a couple weeks and your dog's health should experience an overall improvement.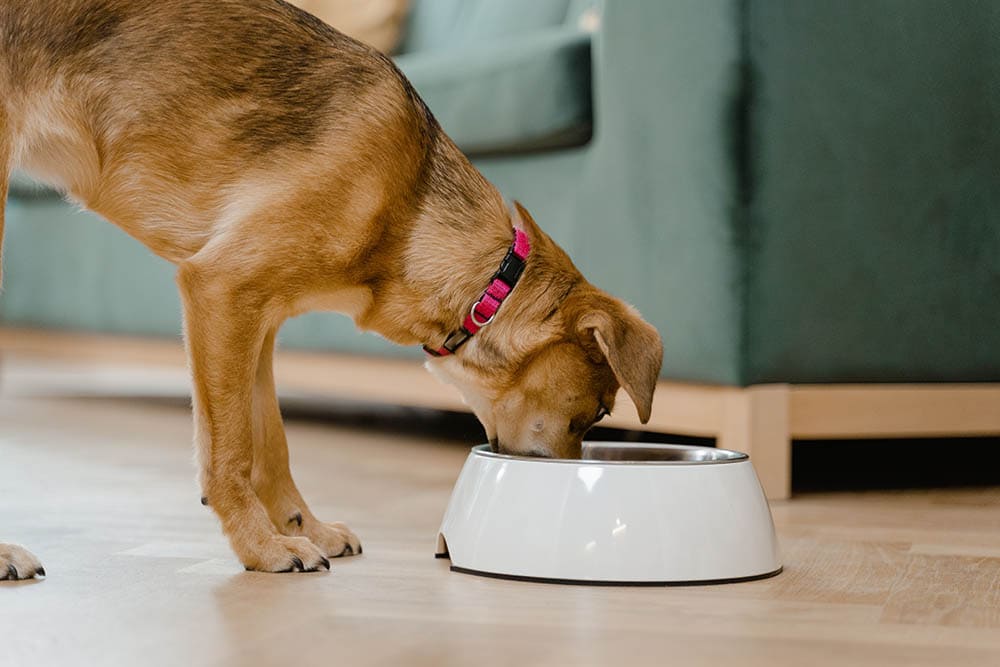 Are Fermented Products Safe? Do They Contain Salmonella?
Trace amounts of salmonella are actually allowed in human food, but the FDA has a zero tolerance policy for the bacteria in pet food.
This law makes it difficult for raw food manufactures to function since their food technically does contain trace amounts of bad bacteria. However, the good bacteria found in kefir controls the bad bacteria through the fermentation process that's been preserving food since ancient times.
Long story short, fermented raw food is most likely safe, but nonetheless, Answers includes a warning on all of its raw food labels clearly indicating that their recipes are not for human consumption, and urging pet parents to wash their hands and utensils after use.
What Is Montmorillonite?
If you look further down the ingredients list, you'll see montmorillonite, which is a somewhat unusual ingredient. This is actually volcanic ash that functions as a natural non-caking agent. In case you're curious, it's allowed in your food, too.
Does Answers Contain Meat By-Products?
Technically, yes. While Answers is a health-conscious food, some of their meats are actually by-products. Meat by-products are the humanly non-edible parts of slaughtered meat, including some organs and ground bones. However, Answers is still a better choice than other food brands who don't list where their meat originated from.
If you see "Meat By-Product" on an ingredient list, you should know that it could legally include any animal, and few parts are off limits. All of the meat by-products used in Answer's Detailed line are clearly and thoroughly labeled "chicken," "beef," or "pork," as well as meticulously identifying which part, such as putting "ground chicken bone" on the label instead of "chicken by-product."

A Quick Look at Answers Dog Food
All of the recipes in the Detailed line are fermented through goat kefir
Contains real meat
Not all of the meats are organic
All of the recipes are grain-free
Reviews indicate that the quality diminished in the newer stock following company resignations
The Detailed recipes are high in fat
Recall History
Starting in 2019, Answers products came under fire when the FDA accused them of allowing salmonella in their food. However, there were no reports of illness, and no recall ever took effect. In fact, Roxanne Stone, who was the Vice President at the time of the report, disputed the claim on multiple grounds. She said it wasn't the FDA who supposedly found the salmonella. Instead, the Nebraska Agricultural Department claimed to find salmonella on their sample, and the FDA then issued a warning to pet parents urging them not to purchase the food without verifying.
When Answers obtained a sample to test in their own facilities, the results came back negative. Ms. Stone and the staff on her team suggested that the offending samples might have experienced cross-contamination in the lab and denied the claims. Curiously, when the FDA accused Answers of containing salmonella, they never indicated how much.
Since then, most of the staff from Answers have resigned. While that may seem suspicious on the surface, a letter from President and CEO Keith Hill revealed that the reason was due to his divorce from Jacqueline Hill, who was the vice president and one of the first to hand in her resignation.

The 3 Best Answers Dog Food Recipes
1.

Answers Raw Chicken
| | |
| --- | --- |
| Main Ingredients: | Organic chicken, Organic chicken heart, Organic chicken liver, Organic ground chicken bone, Organic carrots |
| Protein: | 13% |
| Fat: | 13% |
| Calories: | 2,390 kcal/kg |
Organic chicken and vegetables give your dog healthy fuel for their day. Answers Raw Chicken is preserved and fortified by fermented raw goat milk whey, a good source of prebiotics and probiotics.
The main drawbacks to this food are problems in all of the recipes in the Detailed line. Like the other choices, this is a grain-free food that's high in fat. We also question if there are enough supplements because it's missing common additives such as taurine and certain vitamins. On the plus side, Detailed Raw Chicken is the cheapest Answers recipe.
First four ingredients are chicken products
Organic chicken & vegetables make up most of the ingredients
The most inexpensive Answers formula
Grain-free
High levels of fat
Few supplements
---
2.

Answers Raw Beef
| | |
| --- | --- |
| Main Ingredients: | Beef, beef heart, beef liver, beef kidney, ground beef bone |
| Protein: | 13% |
| Fat: | 13% |
| Calories: | 2,390 kcal/kg |
With real beef products as the first five ingredients, Answers Raw Beef is a hearty beefy treat that serves as a meal. As with the other formulas, we're not sure that we approve of such a high concentration of fat, and we wish it wasn't grain-free. Contrasting with the organic chicken, the label says this detailed recipe contains "Grass-fed beef," but doesn't claim to be organic. We can assume that it probably isn't.
Like the other recipes, we appreciate how this food is preserved by fermented kefir, but we wish it included more vitamins, and wasn't grain-free.
First five ingredients are real beef products
Fermented with kefir
The beef isn't necessarily organic
High fat concentration
Grain-free
Missing some common supplements
---
3.

Answers Raw Turkey
| | |
| --- | --- |
| Main Ingredients: | Organic turkey, Organic turkey heart, Organic turkey liver, Organic turkey gizzards, Organic ground turkey bone |
| Protein: | 13% |
| Fat: | 13% |
| Calories: | 2,390 kcal/kg |
Your pup will think they're feasting on Thanksgiving dinner everyday with Answers Raw Turkey. We appreciate how all of the meat products are organic, and the first five ingredients are all turkey.
Like the other products, we're shocked at the high levels of fat, especially given that turkey is a leaner meat than beef.
Organic turkey is featured as the first five ingredients
High fat content, especially considering it's a turkey formula
What Other Users Are Saying
Following the controversy with the FDA and the subsequent pandemic which created a supply chain shortage, Answers pet food entered a crisis from which they still haven't fully recovered. Enthusiastic Answers consumers faithfully supported the company through the turmoil with numerous claims that the food had nourished their sick dogs back to health. They practically begged the company to continue producing the food. However, a short time later, many pet stores stopped carrying Answers following growing consumer complaints of diarrhea and their dogs' sudden distaste.
Answers is still available for purchase, but we've concluded that the quality diminished after the change in leadership based on reviews.

Conclusion
If you're interested in fermented raw foods for your dog, the Answers Detailed line is the perfect answer. We especially like their Detailed Raw Chicken formula because it's organic and not quite as pricey as their other recipes. Answers is the only company that manufactures fermented foods as of yet. The main reasons they didn't score a higher rating is because not all of their meats are organic, most recipes contain by-products, and every recipe is grain-free, which may not be beneficial in light of recent studies. It also appears from customer reviews that the quality has greatly diminished following changes in leadership over the past couple years.
While fermented food is generally safe, it does come with risks, so be sure to follow the directions for storage, and wash your hands after feeding your pet any raw food.
See Also: Evolve Dog Food Review
---