Are Money Trees Toxic to Cats? Vet-Approved Facts and Safety Guide
Keeping houseplants is an enjoyable hobby for many people. However, finding safe plants for cats and creative ways to keep them out of your houseplants may be harder than caring for the plants! Cats can be curious and sneaky, and many cats love to chew on plants, which can lead to toxicity in some cases. It's important to know if the houseplants you're keeping are safe for your cat or not.
Money trees are a popular houseplant in many homes, luckily they are not toxic to your cat but let's find out more!
Are Money Trees Toxic to Cats?
No, money trees, also called money plants (Pachira aquatica), are not toxic to cats!
In fact, they often pop up on lists of safe houseplants for cats. Obviously, you don't want your cat snacking on the plant, if for no other reason than the sake of the plant. While it is safe for your cat to chew on a money tree, they can still get mild vomiting, nausea, and diarrhea. 
Will Anything Happen if My Cat Chews on My Money Tree?
It's highly unlikely that your cat will suffer any ill effects from chewing on or eating parts of a money tree. However, cats may exhibit mild nausea, vomiting, and diarrhea from chewing on plants in some cases. These signs are typically mild and resolve quickly on their own. It's not ideal for your cat to be snacking on your money tree. If you find that your cat has been chewing on your money tree and shows any signs of digestive upset, contact your veterinarian for advice. Kittens, senior cats, and adult cats with underlying problems can get dehydrated and ill quickly if their digestive signs are left untreated. 
Obviously, the chewing negatively impacts the plant. The other big thing to note is that money trees provide your cat little to no nutritional value. Your cat may chew on the plant out of boredom or curiosity, but the plant itself offers no nutrition to your cat and is a wholly unnecessary part of any cat's diet.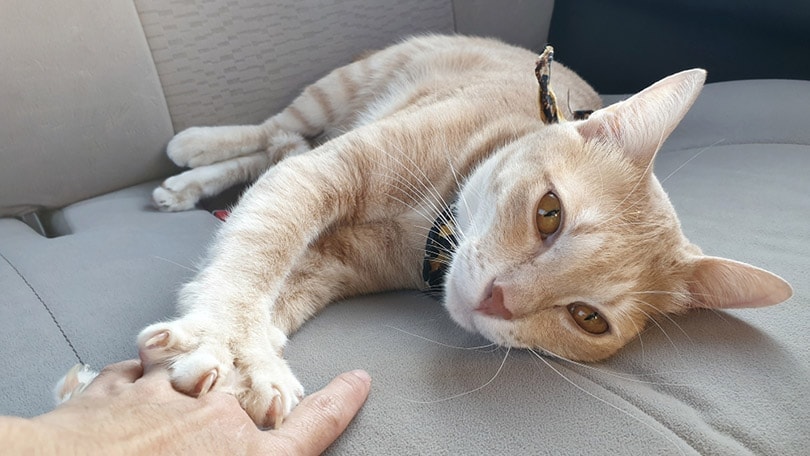 Why Are Money Trees So Popular?
On top of being pet-friendly, money trees are easy to care for. They are often considered a great plant option for beginner houseplant keepers due to their low maintenance nature. They don't have overly special soil needs, only requiring a well-draining houseplant soil that retains some moisture. They require medium lighting and prefer indirect lighting, so it's a good option for homes with lots of indirect lighting.
Money trees also regularly put out pups, giving you more plants every time. Some people even successfully sell their plant pups, making the money tree pay for itself many times over. They're also cute plants that are pleasing to look at.
In Conclusion
For those with concerns about houseplants and cats, you're safe with money trees. Avoid knowingly letting your cat chew on the plant since this can damage the plant and may lead to mild digestive issues for your cat. However, this plant is non-toxic and poses no risk of permanent or severe harm to your cat. As with all houseplants, it's ideal to keep the plant out of reach of your cat. This will ensure your plant's health and keep your cat safe from their own curiosity.
See Also:
---