Are Pomeranians Smart? Breed Intelligence Explained
Pomeranians are tiny dogs with huge personalities. They are known for being fearless and personable dogs, along with being completely adorable dogs that resemble a ball of fluff on legs. If you ask most people what the most intelligent dog breeds are, though, they're unlikely to mention the fancy Pomeranian.
Oftentimes, people associate small dogs with being less intelligent than larger dogs, and most people automatically think of breeds like Golden Retrievers, Border Collies, German Shepherds, and Labs when they think about intelligent dog breeds. Are they underestimating Pomeranians, though? Believe it or not, Pomeranians are very intelligent dogs!


Are Pomeranians Smart Dogs?
A Pomerania's intelligence, friendliness, and desire to please make them relatively trainable dogs. They can be taught to perform tricks and participate in sports. Although they can be quite independent and may be stubborn, the Pomeranian is often a strong competitor in obedience competitions.
Pomeranians are high-energy dogs, especially when young. This can make training somewhat more difficult since you might be dealing with a stubborn streak, but they tend to mellow with age, making them more trainable and attentive. They are generally intuitive dogs that are in touch with the feelings of the people around them.
Are Pomeranians Smarter Than Most Dog Breeds?
Pomeranians aren't going to beat out the top dogs when it comes to intelligence. Border Collies, Poodles, German Shepherds, Golden Retrievers, and Doberman Pinschers usually round out the top five most intelligent dog breeds. There are a handful of small dogs in the list of the top most intelligent dog breeds, with all sizes of Poodles coming in at number two, Shelties sitting at number six, and the elegant and fun Papillon being the eighth most intelligent dog breed.
Even though they aren't the smartest dogs on the block, Pomeranians are considered to be of above-average intelligence. They are fast learners and quite social, which can increase their trainability.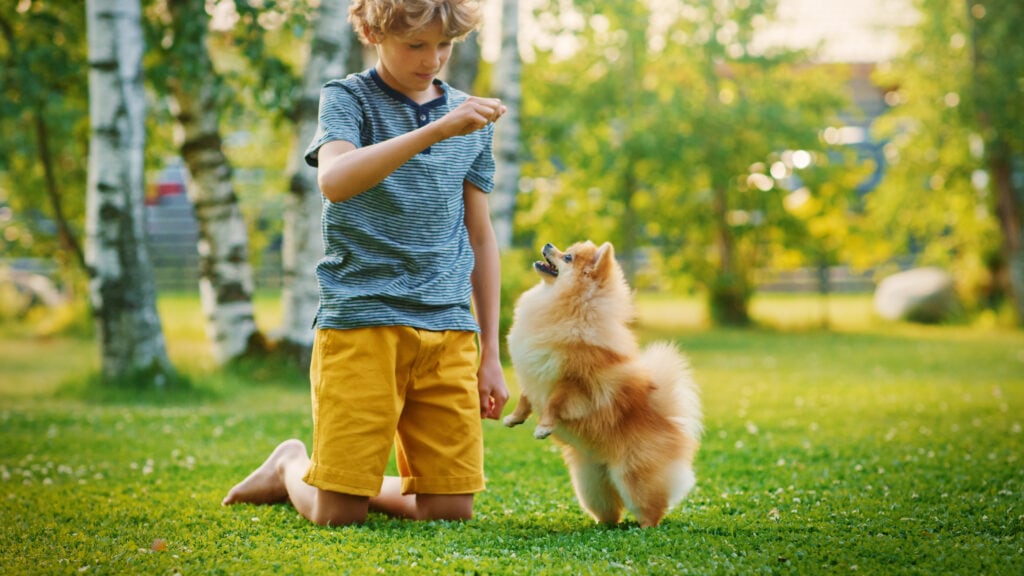 Pomeranians Can Be Willful
One thing that can create challenges when it comes to training the intelligent Pomeranian is their tendency to be quite willful. These mischievous pups might push back when it comes to training, especially if they don't feel like they are being engaged enough. Keep training sessions short and engaging to have the best success with training your Pomeranian and avoiding their stubbornness as much as possible.
In Conclusion
Although not the most intelligent dog breed, the Pomeranian ranks as the twenty-eighth most intelligent dog breed, placing them well above the majority of dog breeds. They are intuitive and smart dogs that are highly trainable, but they do have quite the stubborn streak, which can make training a challenge.
Making training sessions entertaining and full of positive reinforcement can help to bypass the willful temperament of the Pomeranian, but dealing with some stubbornness is a reality with this breed.
Stubbornness aside, the Pomeranian shows a great deal of both mental and emotional intelligence, making them wonderful companion dogs.
See also: Can Pomeranians Be Left Alone at Home? The Interesting Answer!
---
Featured Image Credit: KristinaSh, Shutterstock