Arm & Hammer Dog Shampoo Review 2023 – Pros, Cons & Final Verdict
Review Summary
Our Final Verdict
We give Arm & Hammer Dog Shampoo a rating of 4.5 out of 5 stars.
Arm and Hammer offers several different varieties of dog shampoo to meet your needs. These shampoos include baking soda to help neutralize and eliminate odor while removing dirt, soothing dry skin, and conditioning your dog's fur. While the shampoos aren't "all-natural," they are free from harsh chemicals and artificial additives and won't interfere with topical medications. This budget-friendly shampoo from Arm and Hammer seems like a great buy. To ensure that you get what you're paying for, we conducted a thorough review of Arm and Hammer dog shampoo to determine if it's everything that it seems.
Arm and Hammer Dog Shampoo — A Quick Look
Low price tag
Eliminates odors
Moisturizing ingredients
Smell doesn't appeal to everyone
Overwhelming smell for dogs with sensitive noses
Not for dogs with skin allergies
Specifications
| | |
| --- | --- |
| Scent: | Vanilla Coconut, Cucumber Mint, Kiwi Blossom, Coconut Water |
| Formula:  | Gentle cleansing, two-in-one shampoo and conditioner, deodorizing shampoo, deodorizing spray, dry shampoo, tearless puppy shampoo |
| Uses:  | Washes off dirt, soothes dry skin, eliminates pet odor, conditions the fur |
| Chemical:  | Free of harsh chemicals |
| Safety with topical flea and tick medications:  | Safe to use with flea and tick products |
| SLS:  | None |
| Parabens or Phthalets:  | Paraben and phthalate free |
Cleaning Effectiveness
Arm & Hammer Dog shampoos have a gel-like consistency, which means you don't have to use much of the product for effective cleaning. Even for extra-large dogs, a little goes a long way. Regardless of which variety you choose, it lathers well and effectively removes dirt, dander, and odor.
For young puppies, we recommend Arm & Hammer's Tear-Free Puppy Shampoo. This shampoo doesn't lather quite as well as the adult-formulated shampoos, but it is extra gentle for your puppy's sensitive skin. You will need slightly more to get the desired effect, but we think that it's worth it because it is safe for sensitive pups.
Arm & Hammer also makes a dry shampoo for quick freshening between baths. It won't remove visible dirt but leaves your dog's fur soft and smelling great.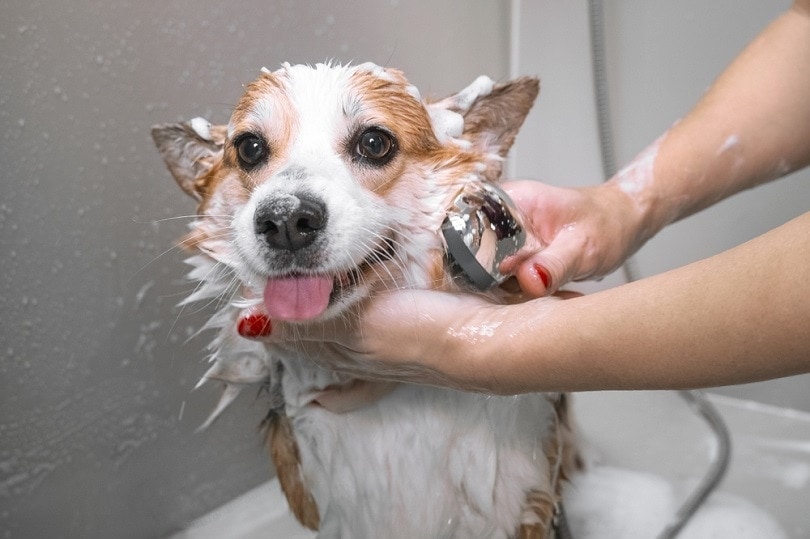 Smell
Arm & Hammer has several different options, ranging from citrus to floral scents when it comes to fragrance. If strong scents trigger you or your dog, though, you probably won't love this shampoo. There is no neutral ground for liking scented shampoo; people either love it or hate it. If you have allergies triggered by strong fragrances, the smell of Arm & Hammer dog shampoo is overwhelming.
Deodorizing Properties
One would expect that a shampoo made by Arm & Hammer would have good deodorizing properties due to the inclusion of baking soda. Arm & Hammer dog shampoo meets those expectations and does a fantastic job of neutralizing nasty smells and keeping your dog smell free for days. For extra long-lasting results, it is recommended that Arm & Hammer dry shampoo be used to remove odors in between bathing sessions.
FAQ
Is this product made in the United States?
Arm & Hammer Dog Shampoo is not made in the United States; it is manufactured in China.
Is this shampoo cruelty-free?
All Arm & Hammer products are cruelty-free and are not tested on animals. There are no harsh chemicals, and the shampoo is made from all-natural ingredients.
Does the product lather well?
Most customers report that Arm & Hammer dog shampoo lathers and cleans well. Since it doesn't contain any sulfates, it may not lather as well as some other chemical-containing shampoos. Sulfates are the ingredient in shampoo that creates excess lather.
What the Users Say
Here's what customers have to say about Arm & Hammer dog shampoo:
Light, clean scent
Overwhelming fragrance
Great at relieving dry, itchy skin
Soothing
Lathers extremely well
Effective at dirt and odor removal
Leaves fur clean and soft
Cost-effective dog shampoo
Budget-friendly price tag
Great for neutralizing odor
Conclusion
Overall, Arm & Hammer dog shampoo is an effective product available at a budget-friendly price. The biggest downside to this shampoo seems to be the smell, but the reviews on this are mixed. This won't be the ideal shampoo for customers who are sensitive to fragrances or looking for an odor-free shampoo. It's important to note that Arm & Hammer makes no claims that its shampoo is hypoallergenic or odor-free. If you or your dog has allergies, you would be better served with a hypoallergenic product. If you are looking for a dog shampoo that leaves your dog clean and smelling great, though, we highly recommend Arm & Hammer Dog Shampoo.