How Much Does an Aussiedoodle Cost? 2023 Price Update
Who's that doggy in the window with gorgeous blue eyes and a stunning curly coat? Why, an Aussiedoodle, of course! We don't blame you for falling completely head over heels for this lovely hybrid breed. These spunky, adventurous dogs make fantastic pets and will awe onlookers with their beauty.
If you really are thinking about bringing one of these dogs home, you might wonder how much you will spend on them upfront and annually after that. We have all of the answers for you, and we hope this article gives you an excellent base for your budget. To give you a short answer, you can adopt an Aussiedoodle for approximately $250 or get it for $1,500 on average from a breeder, with monthly costs ranging from $170 to $600.
Bringing Home a New Aussiedoodle: One-Time Costs
Whenever you bring home a new pet, there are automatically going to be costs associated with it. First, you will have the initial cost of the dog, along with all of the supplies necessary to get you started.
Here is a little breakdown of what you can expect.
Free
It isn't very likely that you will find an Aussiedoodle for free, but it's not entirely impossible. Circumstances can arise where it's feasible. For example, you might have a friend or family member who can no longer take care of their pets due to death or life circumstances.
In these cases, you could obtain an Aussiedoodle for free. Once the dog is in your care, you must ensure they have all appropriate settings, including vaccinations, parasite prevention, and other standard care.
So while you might not have to pay anything to bring them home, vet care is essential after that.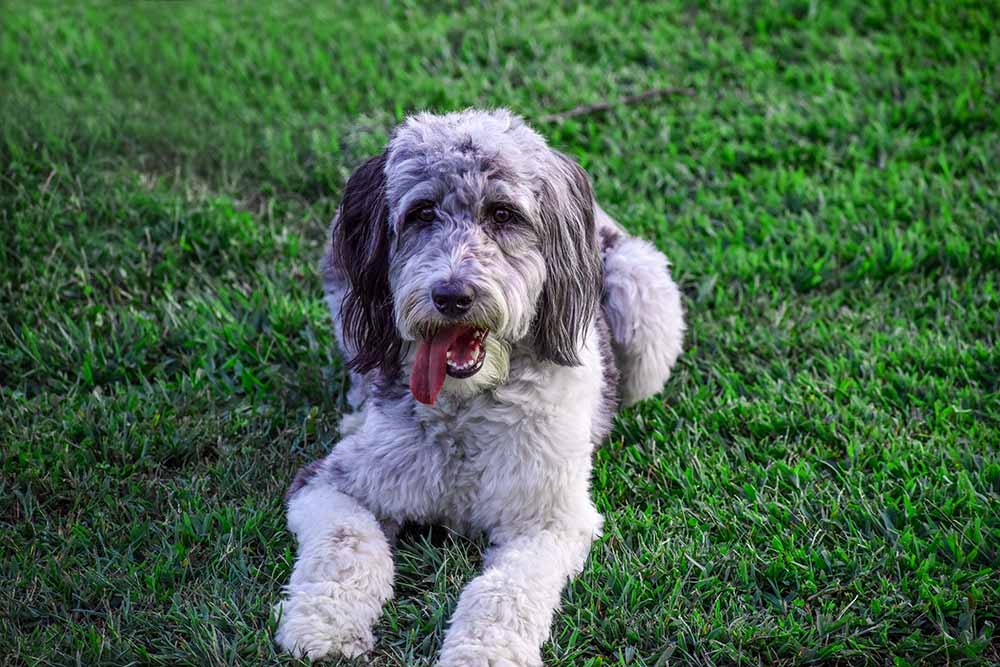 Adoption
It's fabulous news if you have found an Aussiedoodle to adopt at a local facility! Not only are you giving a dog a second chance at life, but most of the hard work has already been done for you.
Pets from rescues and shelters typically have all the appropriate vetting done, including spay or neuter surgery. While you might not have spent the earliest moments with your Aussiedoodle, it is certainly financially beneficial.
Adoption prices can vary based on the facility, and popular breeds are often more expensive.
Breeder
Buying from a breeder is certainly the most expensive route to welcome an Aussiedoodle into your home. However, some families find bonding with a puppy significant early on.
When choosing a breeder, it is imperative to ensure they are completely ethical and experienced. Also, you have to keep in mind that quality speaks volumes. While most Aussiedoodles fall in this price range, they can be much more.
Any Aussiedoodle for show or with specialized training can be well over $5,000—so keep that in mind if you want a trained dog when you buy.
Initial Setup and Supplies
The biggest cost you will spend on any supplies will be in the first few weeks to months. You'll need to get size-appropriate colors, harnesses, leashes, and a bunch of other items for daily care.
Also, items like kennels and crates are essential in the first few stages of the relationship to help with behavior, control, and potty training.
List of Aussiedoodle Care Supplies and Costs
| | |
| --- | --- |
| ID Tag and Collar | $15 |
| Spay/Neuter | $145 |
| Microchip | $45–$55 |
| Kennel/Crate | $100–$300 |
| Coat Clippers | $100 |
| Nail Clipper | $7 |
| Brush | $8 |
| Toys | $30 |
| Carrier | $40 |
| Food and Water Bowls | $10 |
| Harness | $25 |
| Leash | $15 |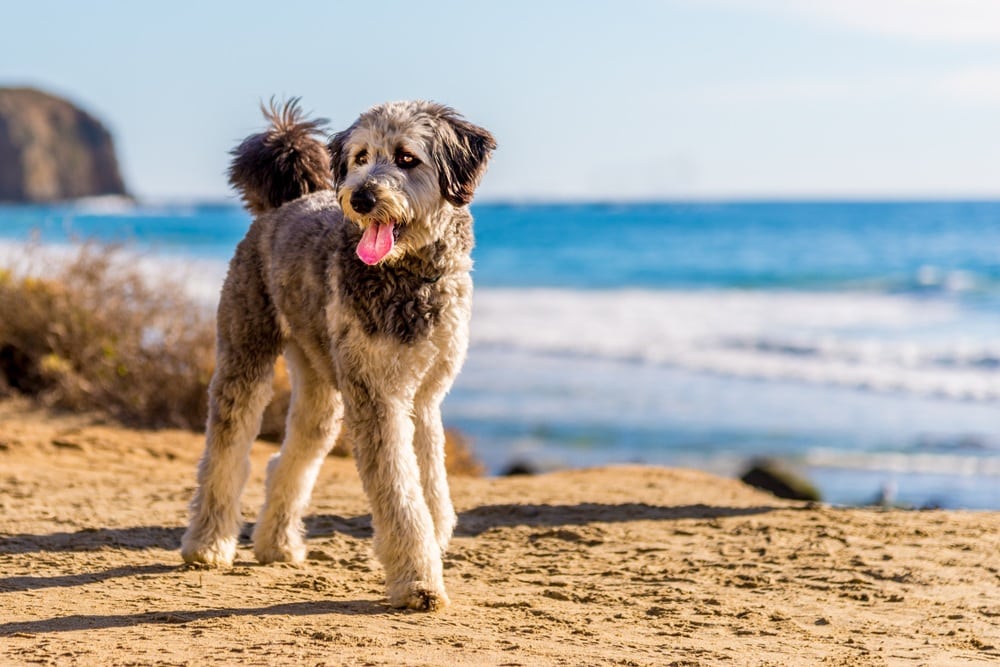 How Much Does an Aussiedoodle Cost Per Month?
Owning an Aussiedoodle can pose a modest or extreme cost per month. Ultimately, it depends on your choices and your pup's standing health. These figures are just estimates—and hopefully, we can give you some money-saving tips to take away.
Health Care
Health care is a crucial aspect of owning an Aussiedoodle. Luckily, apart from the basics during the first year of care, you shouldn't have too many monthly costs relating to health care.
However, things can get pretty expensive if your pet requires any monitoring or medications. It's hard to determine exactly how much because health can be a versatile subject.
Food
Food is one of the primary recurring expenses for your Aussiedoodle. Because Aussiedoodles are high-energy dogs, they require a protein-rich, nutrient-dense dog food, no matter what type you choose.
While canned wet food and dry kibble are still the most prevalent options on the market, things are changing in the pet food industry. People are gravitating toward healthier options without added dyes, preservatives, or fillers.
Many parents are switching to fresh food options for their dogs. Often, these companies offer a subscription-based service to deliver timely meals to their door monthly. Ultimately, prices per month can vary depending on the diet option you choose.
But we highly recommend never cutting corners regarding nutrition, so dollar-store pet food probably isn't the best option to keep your pal healthy.
Grooming
Aussiedoodles have long hair that can be wavy or curly. It requires regular brushing and general maintenance, slightly higher than standard breeds. You can pay to send your doggy to a professional groomer once every 4 to 6 weeks, or you can learn to do it at home.
Once you have all of the general supplies, grooming will be cheaper if you do it at home. However, many people like the convenience and atmosphere of sending your dog off for a spa day.
Keep in mind that you will need some supplies at home, like shampoo, conditioner, nail clippers, and toothbrushes—but these are really one-time expenses.
Medications and Vet Visits
Medications and vet visits can be up in the air. However, it's hard to say when certain health issues will crop up. Naturally, you'll want to attend the annual check-up after their first year of life.
So you could spend as little as zero dollars or as much as several hundred per month depending on your Aussiedoodle's underlying issues.
Pet Insurance
If you ask most pet parents, pet insurance is an awesome investment. It has a layer of protection for your pets to cover unexpected expenses, so you weren't paying so much out of pocket.
Different pet insurance companies offer various coverage aspects, so it ultimately depends on the policy you choose. Many insurance companies cover emergencies and injuries, but many also have options to add on coverage for preventative care.
With the ever-expanding growth, you can research all of the top companies to see which one offers the best coverage for your particular pet.
Remember that once your pet is diagnosed with a health issue, insurance companies will consider it a pre-existing condition if you opt for coverage. Getting a policy earlier is way better to avoid uncovered expenses in the future.
Environment Maintenance
Luckily, there are only a few recurring environmental maintenance charges to add to the list. However, if you live in a place that requires cleanup, you might need poop bags. Also, during potty training, you should keep up with pee pads as needed.
| | |
| --- | --- |
| Poop Bags | $5/month |
| Pee Pads | $0–$15/month |
Entertainment
Entertainment can vary based on your lifestyle and your pup's preferences—but here are a few areas to consider when it comes to cost.
Subscription Boxes
Subscription boxes are always a fun thing to try out. Many subscription boxes come with 5 to 7 toys and treats for your dog to sample. It's a terrific way for you to get a feel for what your dog likes best.
Every month, your dog can look forward to getting new goodies, and you don't have to worry about the hassle of ordering each thing individually.
Dog Parks
Many dog parks are free of charge. However, if you live in certain city limits, dog parks might have fees to join or charge to enter upon arrival. There are other requirements, too—like your dog needing to be up to date on vaccinations, fixed, and microchipped.
So, always check about pricing and rules at your local dog parks before attending to factor it into your budget.
Toys
Dogs can be very different, just like us, when it comes to entertainment. Some love a good mental challenge, while others just want a challengingly durable ball to destroy. Early on, it would help if you had a good idea of what really makes your pup happy.
It all depends on your pup! You might spend more money monthly than other owners if you have a particularly destructive dog. However, some gentler dogs might keep the same toys for months on end without needing replacements.

Total Monthly Cost of Owning an Aussiedoodle
So now you know that owning an Aussiedoodle is comparable to owning many dogs of the same size. Most of the time, adding a canine companion to your home is completely manageable for many budgets.
However, it's also a big commitment that you should be ready to take on before making any final calls.
Additional Costs to Factor In
Emergencies—$300+
Part of having any dog is expecting the unexpected. You never know when something unexpected is going to happen. Emergency visits can be very pricey whether your dog gets sick or injured. It's crucial to be prepared beforehand.
Damage—$150+
Dogs can be destructive, sometimes, especially if they've been left or their own devices. If your dog chews up any of your personal belongings or property, replacing or repairing what they've done could be quite costly.
Pet Sitting/Boarding—$100+
We all have to go out of town sometimes. Vacations, family emergencies, and other outings can interrupt the daily care we can provide for our animals. Luckily, pet sitting and boarding is available to pet owners everywhere. However, this does treat an extra expense to think about.
Professional Training—$750+
Training a dog can be quite a challenge. If you aren't experienced or you want to try more advanced training techniques, professional trainers are there to help out. With professional training, you can send your dog off to start its learning journey or go alongside them for certain programs.
Ultimately, it depends on what is best for you and your dog. Keep in mind that training is a joint effort. All your dog learns in training will stick only because of your continued learning at home.
Professional training can be expensive, depending on what you want your Aussiedoodle to learn. If you're looking for a service animal, these numbers can go up astronomically, as it requires much more intense and lengthy training.

Owning an Aussiedoodle on a Budget
If you're a little tight on funds and worry if you can afford a dog, there are plenty of ways to save money. As long as you meet your dog's basic needs, you can save money in certain aspects. Here are a few.
Mobile Clinics
Mobile clinics are designed to be extremely affordable to pet parents. Not everyone has the same budget, but everyone deserves to have a pet. These clinics offer discounted spaying, neutering, vaccinations, parasite treatments, and other services.
Coupons/AutoShips
Keep your eye out for options to save money on frequently bought products or services. Often, if you choose AutoShip options or watch for coupons in your email, you can knock a few dollars off frequent purchases.
Self-Training Courses
Rather than having a professional trainer teach your dog obedience, you can take it upon yourself. There are tons of resources online that are entirely free of charge.
You can also buy training courses that include videos and modules to help you understand how to do the work at home.
Secondhand Supplies
You don't always have to buy everything new. Many people are looking to make a couple of dollars on the marketplace or other online platforms where you can purchase secondhand items for your dog.
Granted, this is not feasible in all categories, but it can be beneficial for certain things, like kennels, crates, enclosures, leashes, etc.

Conclusion
Owning an Aussiedoodle doesn't have to be a costly endeavor. However, it is very hard to foretell some of the things that will go wrong when we have our pets.
As long as you have savings set aside for the unexpected and try to save money where you can, it's likely possible for you to own a lovely Aussiedoodle of your own. Remember—you should get pet insurance early to avoid paying outright for pre-existing conditions later!
---