Authority Grain-Free Dog Food Review: Recalls, Pros & Cons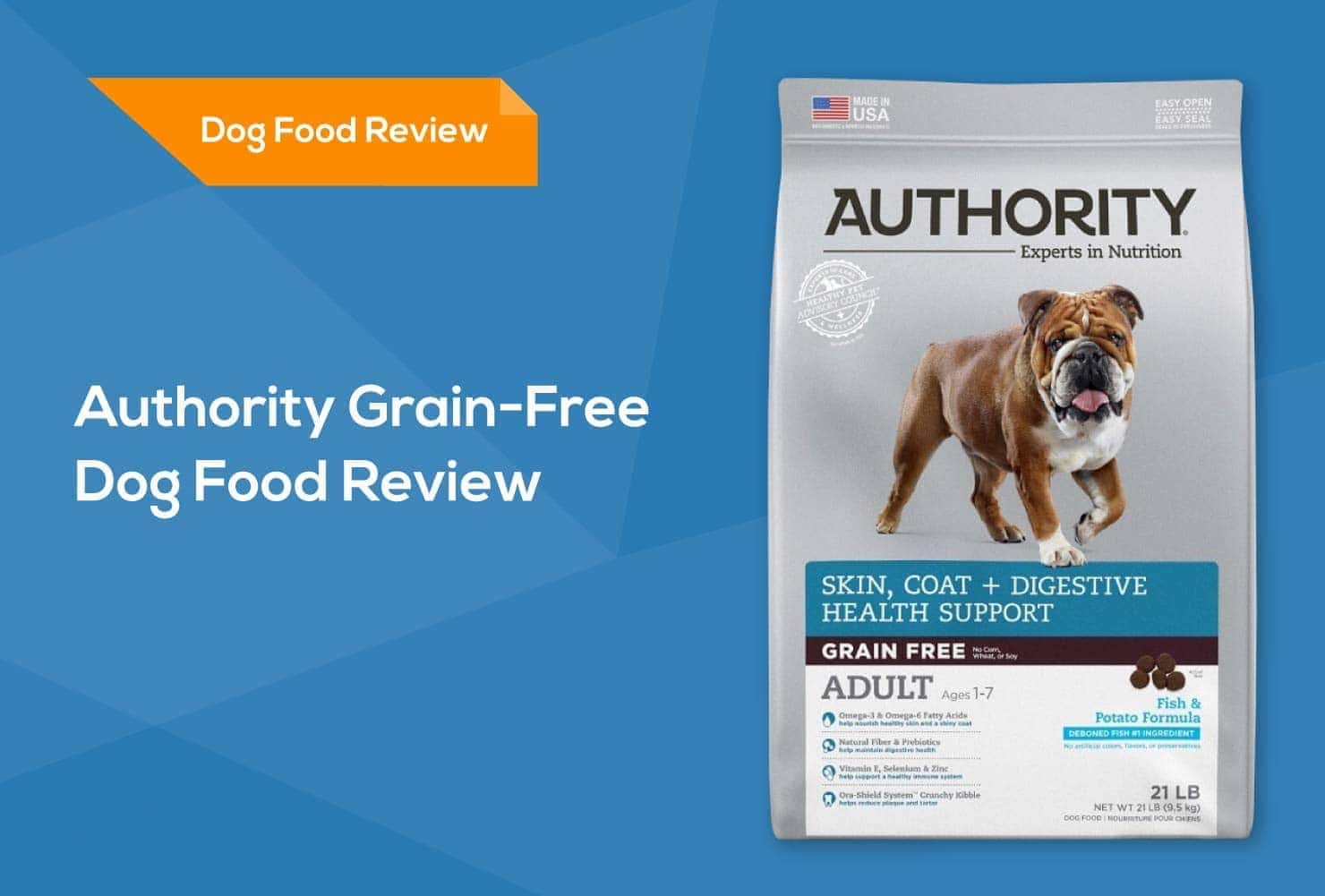 Our Final Verdict
We give Authority Grain-Free dog food a rating of 4.5 out of 5 stars.
Introduction
The Authority brand was started by the pet store chain PetSmart. It was created to give dog owners an affordable way to give their pups healthy, natural food.
Each bag proudly claims to be made in the USA, but there's no information offered as to where, exactly, it's made. The company is headquartered in Phoenix, Arizona, but it's unlikely that the food is made there; instead, it's likely manufactured in processing plants across the country.

At a Glance: The Best Authority Grain-Free Dog Food Recipes
Rating
Image
Product
Details

Our Favorite

Authority Skin, Coat & Digestive Health Support

Very high amount of omega fatty acids
Good amount of fiber from sweet potatoes and beet pulp
Kale adds a wide range of nutrients
Check Price

Authority All Life Stages

High amount of protein
Has chicken cartilage for joint support
Good amount of fiber
Check Price

Authority Everyday Health Large Breed

Lots of glucosamine and chondroitin for joint health
Uses all parts of the chicken
Has inulin to aid in digestion
Check Price

Authority Everyday Health

Made with high-quality protein
Help nourish healthy skin and a shiny coat
No colors
flavors
or preservatives
Check Price

Authority Everyday Health Small Breed

Encourage healthy immunity
Has Ora-Shield System to help reduce tartar and plaque
Grain-free recipe
Check Price
Authority Grain-Free Dog Food Reviewed
Who makes Authority Grain-Free and where is it produced?
Authority Grain-Free is made by PetSmart, a giant pet store chain. It's not known for certain where the food is produced, but the packaging proudly states that it's made in the USA.
Which Types of Dogs is Authority Grain-Free Best Suited For?
This food is ideal for animals with allergies or sensitive stomachs, as it omits grains, which are notorious for causing digestive issues.
It's also suitable for animals that are trying to shed a few pounds, as grains are generally filled with empty calories.
Which Types of Dogs Might Do Better with a Different Brand?
With the exception of their High-Performance foods (of which there aren't many), most of these don't have the protein necessary to fuel active dogs, such as working pups.
For them, we'd recommend something like Bully Max High Performance Super Premium Dog Food.

Discussion of the Primary Ingredients
The primary ingredient is deboned whitefish, which is low in calories, high in protein, and packed with omega fatty acids. It's also filled with important nutrients like niacin, phosphorus, and selenium.
There's also fish meal inside, which is kind of a mishmash of all the internal organs of various fish. This may not sound appetizing, but your dog should love it, and more importantly, it has nutrients that you can't find anywhere else.
The next two ingredients are dried potatoes and dried sweet potatoes. We like the sweet potatoes, as they're full of fiber and other important nutrients, but the dried potatoes do little more than add bulk. They're also a high-glycemic food, so they can cause your pup's blood sugar to spike.
After that, there's canola oil. That may seem like a strange ingredient for a dog food, but it's included because it's loaded with omega fatty acids. Think of it like a fish oil.
There are a few other ingredients we love — dried kale, for example — and others we could do without (dried egg product, which can act as an allergen). However, most of these are far enough down the list that there's not enough of them in the food to get worked up over.
Authority Grain-Free Nixes Cheap Fillers
Grains like wheat and corn are often included in dog foods to bulk them up, but they offer little nutritional value. Worse, they're full of empty calories, and many dogs have problems digesting them.
By going grain-free, this Authority line ensures that just about every calorie is useful, while also increasing the chances that your dog will process the food with ease.
There's a Heavy Emphasis Placed on Omega Fatty Acids
Omega fatty acids are a wonder food, and it's easy to see why: they can aid in the development of your dog's brain, eyes, and immune system, they reduce the risk of heart disease, and they can fight inflammation.
Authority Grain-Free is filled to the brim with these nutrients, as in addition to the fish, it has canola oil and flaxseed meal.
Authority Dog Foods are Specially-Designed to Clean Teeth
The company uses a proprietary processing technique to create their Ora-Shield System, which basically means that their kibble is more abrasive than most other dry foods.
While this may not sound like a good thing, it means that the kibble does a good job of scraping away plaque, tartar, and other gunk from your pup's teeth and gums. That reduces the risk of periodontal disease later on in life.
There are Still Quite a Few Potential Allergens Inside
Most grain-free foods are created to reduce the risk of upsetting dogs' stomachs, and Authority Grain-Free is no exception. That doesn't mean they eliminated every single potential issue, however.
Many of the recipes include potatoes, which can cause gas. They also use eggs and chicken in some of their flavors, both of which are common irritants.
While it's impossible to anticipate every single problematic ingredient, it's surprising to us that they would choose to include foods that are known to cause so many issues.
A Quick Look at Authority Grain-Free Dog Food
Ingredient Breakdown:
Uses no cheap fillers
Packed with omega fatty acids
Special kibble cleans teeth while dogs eat
Still includes many common allergens
Only has an average amount of protein
---
Recall History
The Authority brand has only been involved in one recall. Along with over 100 other dog food brands, it was part of the great melamine recall of 2007, in which a lethal chemical found in plastics somehow made its way into pet foods.
Thousands of pets were killed from eating tainted food, but we don't know if Authority was the cause of any of those deaths.
However, the fact that this company has only been part of a single recall is encouraging.

Reviews of the Three Best Authority Grain-Free Dog Food Recipes
Authority's Grain-Free line has several different recipes to choose from, and in the section below we took a deep dive into three of our favorites:
1.

Authority Skin, Coat, & Digestive Health Fish & Potato Formula Grain-Free Adult Dog
The fish in this food ensures that it's packed with omega fatty acids, and the company goes one step further by including a generous amount of canola oil. If your primary concern is giving your dog plenty of antioxidants, this kibble will be tough to beat.
There's a fair amount of fiber as well, thanks to the sweet potatoes and beet pulp. We also like the inclusion of kale, which is jam-packed with just about every nutrient you can think of.
We only have a few minor quibbles with this food. White potatoes are high on the ingredients list, and they don't bring much to the table, nutritionally-speaking (although they can cause  noxious gas).
Also, dried egg product adds some protein, but many dogs have issues digesting eggs, so that extra meat was probably better left on the factory floor.
Very high amount of omega fatty acids
Good amount of fiber from sweet potatoes and beet pulp
Kale adds a wide range of nutrients
White potatoes have little nutritional value
Many dogs have issues digesting dried egg product
---
2.

Authority Turkey, Pea, Duck, & Salmon Formula Grain-Free & High Performance
Just looking at the name of this food tells you it has a little bit of everything in it. The first ingredient is deboned turkey, then chicken meal, followed by dried peas, turkey meal, and chicken fat.
That's quite an interesting list of foods.
They're all very nutritious, though, and packed with protein (the food itself clocks in at about 30%). They tout the salmon on the bag, but it's low on the list, so we question just how much is in it.
They do add salmon oil, though, so your dog should get plenty of omega fatty acids. We also like the inclusion of flaxseed meal for omega-3s, chicken cartilage for joint support, and beet pulp for fiber.
We could do without the lentils and dried potatoes, though, both of which can spike blood sugar without offering much in return. Also, there's a lot of salt in this food.
Overall, though, this kibble is denselypacked with nutrients, and should be more than capable of powering the average dog.
High amount of protein
Has chicken cartilage for joint support
Good amount of fiber
Lentils and potatoes can elevate blood sugar
High in salt
---
3.

Authority Chicken & Pea Formula Large Breed Grain-Free Adult
Intended for big dogs, this formula is packed with chicken and chicken parts. It has lean chicken, chicken meal, and chicken fat, all of which bring different important nutrients to the table.
The manufacturers clearly realize that bigger dogs must lug around more weight, and therefore put more stress on their joints. That's why they included dried chicken cartilage, which is rich in glucosamine and chondroitin, two very important nutrients for joint health.
We also appreciate the inclusion of inulin, which helps their gut break down and digest the food they eat. This helps them absorb more nutrients from their food (and hopefully creates less waste for you to pick up).
There's a slightly below-average amount of protein in here, and more salt than we'd like. Both of those are bad news for bigger dogs, who need lean protein to keep the pounds at bay and low-sodium food to prevent water weight.
Lots of glucosamine and chondroitin for joint health
Uses all parts of the chicken
Has inulin to aid in digestion
Less protein than we'd like
Has lots of salt
---
What Other Users are Saying
HerePup – "Not only are they some of the least expensive foods on the market, but they also have healthy protein sources as the main ingredients."
Dog Food Guru – "Authority dog food is ideal for high-energy dogs, as well as other dogs with health-conscious owners."
Chewy – As pet owners, we always double-check with Chewy reviews from buyers before we buy something. You can read these by clicking here.

Conclusion
This food is made with healthy ingredients, including lean proteins, foods high in omega fatty acids, and nutrient-rich vegetables. It also eschews cheap fillers like wheat and corn, which are full of empty calories and little else.
The kibble isn't perfect, as it uses a few questionable ingredients, but overall, you can see how the manufacturer placed an emphasis on healthy foods. If they would swap out some of their dodgy ingredients for nutrient-rich alternatives, this could quickly become one of our favorite brands.
While Authority Grain-Free isn't quite at the same level as other premium grain-free foods, it's certainly close, and it manages to be competitive with those brands despite being much less expensive. That makes it an excellent choice for health-conscious pet owners on a tight budget.
See Also: Authority Puppy Food Review