BarkBox Dog Subscription Review 2022 – Pros, Cons & Verdict
Review Summary
Our Final Verdict
We give Bark Box a rating of 4.9 out of 5 stars.
Quality: 5/5
Value: 4.6/5
Customer Service: 4.8/5
Customization: 4.5/5
These days, you can get practically anything as a subscription box. With a press of a button, you can get everything from bacon to makeup to stickers delivered to your door each month – and now, with Bark Box, you can get a set of doggie goodies too!
Bark Box provides curated toys, treats, and other doggie items to your door each month.
If you're tired of taking trips to the pet store for new toys, this box may be precisely what you're looking for. There are different options available, allowing you to adjust your box based on your needs.

Bark Box – A Quick Review
High-value
Great customer service
Quality treats and toys
Customization options available
Accommodating for dogs with allergies
Unique toys
Toys aren't necessarily designed for tough chewers
Quick Facts:
| | |
| --- | --- |
| Price: | Starts at $23/box |
| Frequency: | Ships Monthly |
| Contents: | Two toys, two bags of treats, and a chew |
| Allergies: | All treats are free from corn, wheat, and soy |
| Scout's Honor Guarantee: | If your dog doesn't like something, they replace it. |
| Manufacture Location: | Treats are from the USA and Canada |

Bark Box Contents
Every month, Bark Box sends their customers five different products:
Two unique toys crafted by the company's own designers.
Two bags of treats from the USA and Canada.
One chew that is also made in the USA or Canada.
All their treats are free from corn, wheat, and soy. They do allow you to tailor the contents somewhat, and they work with food allergies.
However, what exactly you get in each box is a mystery! That's part of the fun.
Bark Box does have a theme each month, usually based on the season or a holiday. Most toys and treats are curated around this theme each month.
Their items do seem to be high-quality. Most of their treats would easily fall into the "premium" category. Most of them are organic, for instance.
They only get their treats and toys from trusted vendors. Most of their toys are designed in-house, so you can't find them elsewhere.
Plus, they offer a guarantee. If your dog doesn't like something, Bark Box will replace it with something else.
---
Bark Box Value
The cost of a Bark Box depends on what subscription you choose. If you commit to a whole year, you end up paying less – for instance.
Based on several actual box samples, what you get in your box is usually worth more than the price of the box. Therefore, if you're already spending $22 a month on toys and treats, you'll get more for your money by investing in a Bark Box subscription.
However, much of the items included are premium. The treats are organic, and the toys are carefully curated.
If you don't usually pay for premium items, you may end up spending more than usual.
Month-to-month subscriptions will likely cost about the same as the value of the toys and treats instead. Therefore, if you want to save substantial amounts, you'll need to choose a 6-month or yearly subscription.
Overall, the value is there – if the premium treats and toys are what you're looking for.
---
Bark Box Customization
You cannot choose what items you get in each box. However, Bark Box does allow you to tailor your box somewhat.
After you receive your first box, you can tailor your box to fit your needs. All toy boxes and all treat boxes are available, should you only need one category for your canine.
Switching your box around is easy and can be done online through your account. You don't have to contact customer service.
There is no price difference for choosing a toy-only box. However, there may be an increase in price for the treat-only box, as the treats tend to be more expensive than the toys.
You can also contact them about any dog allergies you're looking to avoid. They can accommodate some allergies. However, some customers have found switching to a toy-only box the easiest option. They may be unable to accommodate dogs with very severe allergies.
Bark Box offers three different sizes that accommodate your dog's size. Smaller dogs can get a smaller box, which includes smaller toys. And bigger dogs can choose a box with larger toys.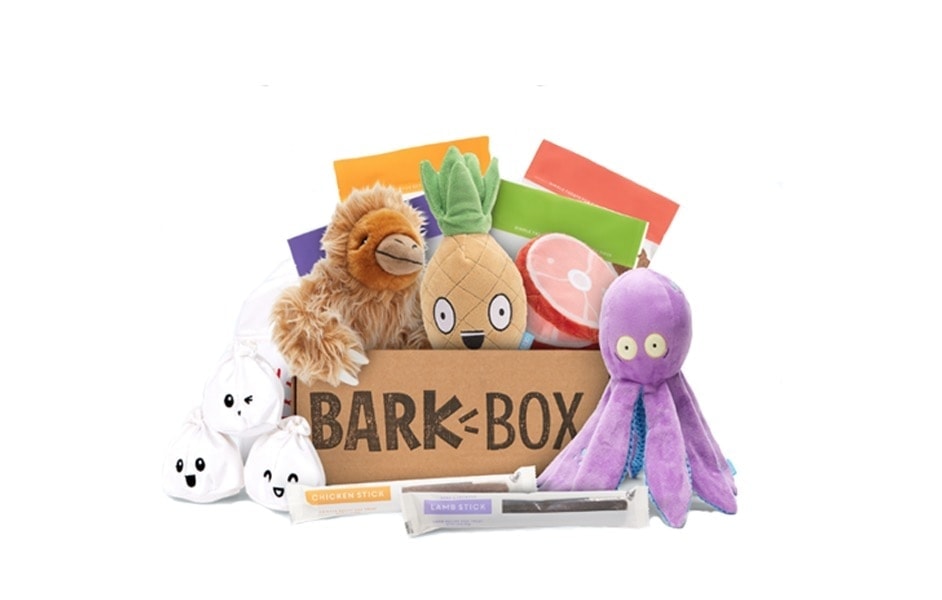 FAQ
What size Bark Box should I get for my dog?
Bark Box offers three different box sizes:
Small: for dogs under 20 pounds
Medium: for dogs between 20 and 49 pounds
Large: for dogs over 50 pounds
You can also contact customer service for the tiny box option, which is suitable for dogs under 9 pounds.
These sizes may not fit your canine exactly, though. You can always contact customer service to change the size after you've tried a box.
If you have a heavy chewer, consider sizing up
How durable is a Bark Box toy?
Every dog is different. Some toys are better able to stand up to certain dogs than others. If your dog is a heavy chewer, they will probably go through toys faster.
Bark Box knows this and has a few policies to compensate. If your dog is a heavy chewer, you can request an upgrade to the More Durable Classic plan. This upgrade is completely free.
This upgrade adds extra liners to all of the plush toys in the box, making them stronger. The toys will still be plush, but they may stand up to heavier chewers for longer.
For dogs with extra-strong jaws, you may want to consider the Super Chewer box. It's made by the same company as Bark Box, but the toys are extra-durable and never plushy.

What the Users Say
Many users were impressed by Bark Box's customer service team. We read many reviews praising the company's many guarantees and free toy replacements.
Plus, many users also stated that their dogs loved the toys and treats included. Most reviewers agreed that this box was a great option if you're looking for high-quality toys and treats.
Many negative reviews were involving the company's year-long subscription. If you select the 12-month subscription plan, you are locked in for the whole 12 months. If you think you may need to cancel within the year, we recommend getting the monthly subscription as well.
Many reviewers did not read the fine print and were upset to realize they were locked into a year-long subscription.
There were also some complaints about the shipping quality. Some users stated that their box came damaged or didn't include all the items they were supposed to. However, this does not seem to be a widespread problem (and is likely a problem with the mailing service – not Bark Box itself).

Conclusion
Bark Box is an excellent option for dog owners who want high-quality, natural products without having to visit the pet store every month. Their items easily fall into the "premium" category.
This box is also great for those who want to spend less time picking out toys and treats for their pup. Instead of you need to curate your dog's toys, you can pay the people at Bark Box to do it for you.
Plus, you will receive a discount by choosing this subscription. Overall, the toys in the box are worth more than you'll pay for your box.