Super Chewer Dog Subscription Box by BARK Review 2023: Is It a Good Value?
Our Final Verdict
We give Super Chewer by BARK a rating of 4.75 out of 5 stars.
Quality: 5/5
Variety: 4.5/5
Ingredients: 4/5
Value: 4.75/5

What Is Super Chewer by BARK? How Does It Work?
BARK is a subscription company that provides a month's supply of dog toys and treats through creatively themed boxes. The Super Chewer box is a specially made service that sends items curated for heavy chewers. Super Chewer toys can withstand rough play and last at least until the next delivery arrives.
We've tested out the Super Chewer toys to see if they're really up for the job, and in short, they didn't disappoint when it came to durability. With that being said, the Super Chewer box is definitely meant for dogs that can easily chew and claw through a regular plush toy in minutes. The box contains heavy-duty toys that not all dogs will enjoy. So, there are going to be a lot of cases where the classic BarkBox will be a better fit. Here's everything you need to know before signing up for a Super Chewer subscription.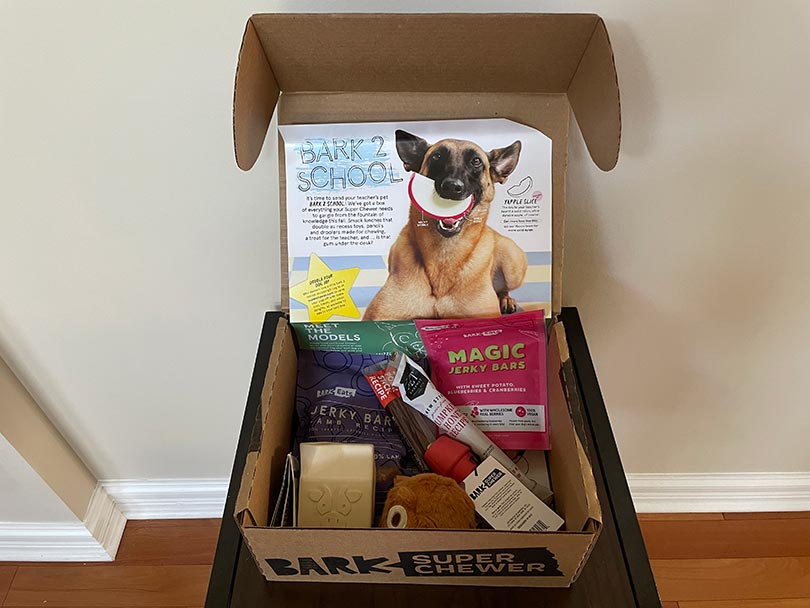 How to Sign Up
Signing up for Super Chewer by BARK is quick and easy. All you have to do is go on the website and complete a simple questionnaire. The questionnaire will request basic information on your pet's age, breed, and size. Then, you can provide information on any applicable food allergies. After you put in your billing and shipping information, you'll receive a confirmation email and shipping update email. Then, you can expect to receive your first Super Chewer box in about a week.
Super Chewer – A Quick Look
A unique collection of high-quality toys
Highly customizable boxes
Numerous promotions and discount opportunities
Not a lot of variety in the material of toys
Favorite toys may not always be available
Super Chewer Pricing
Super Chewer by BARK has different prices depending on subscription plans. You can choose to pay month-to-month or subscribe for a 6-month or 12-month plan.
Here are the current pricing for each plan:
Monthly Subscription Plan: $40/box
6-Month Subscription Plan: $30/box
12-Month Subscription Plan: $25/box
BARK also offers discounted prices if you buy boxes or gift cards in bulk. You can contact their customer service team to request more details on bulk discounts.
What to Expect from Super Chewer
Once you complete the Super Chewer questionnaire and submit your first payment, BARK will ship your first box within 2-3 business days. Deliveries made within the 48 contingent states will arrive within 2-8 business days. It will take between 8-12 business days for deliveries to be made to Alaska, Hawaii, and other US Territories. These boxes can also ship to Canada, and people can expect those deliveries to also arrive within 8-12 business days after they've been shipped.
After you receive your first box, you can make adjustments through your online account. You'll be able to change your mailing information, make a few customizations to your box, and temporarily pause shipping.
BARK Super Chewer Contents
| | |
| --- | --- |
| Toys: | 2 tough toys per box |
| Treats: | 2 bags per box |
| Chews: | 2 chews per box |
| Customizations: | Food-allergies, toys-only box, Lite version |
High-Quality Toys
The Super Chewer subscription has an impressive selection of durable dog toys. Most toys are made with pet-safe nylon and rubber, and you can find some plush toys with a rubber core. A good selection of toys is multi-functional, so you can find some that work as great chew toys while also being treat dispensers.
Customization Options
One of the great benefits of Super Chewer is that it offers many customization options. You can request customizations made to boxes after you receive your first box. These customizations can be made by selecting options on your online account or contacting BARK's customer service.
Many of the Super Chewer toys are made with rubber, so if your dog prefers softer material, you can mix your toys with regular BarkBox toys or add a bonus toy to your box for an additional fee.
If you find that you're receiving too many toys, you can switch to a Super Chewer Lite box after your first box arrives. This box contains one toy, one bag of treats, and one chew.
Discount Opportunities
BARK offers a lot of discounts and free product opportunities. The company has been known to include high-valued items to initial subscription purchases, including dog beds, dog apparel, and other fun and useful pet equipment and accessories.
If you already have a subscription, you can participate in BARK's referral program. You'll receive a unique code that you can share with friends and family and will get a $20 BarkShop credit for every purchase made with your referral code.
Military and veteran discounts are also available. In addition, BARK sends occasional promotions and discounts that are exclusive to current customers.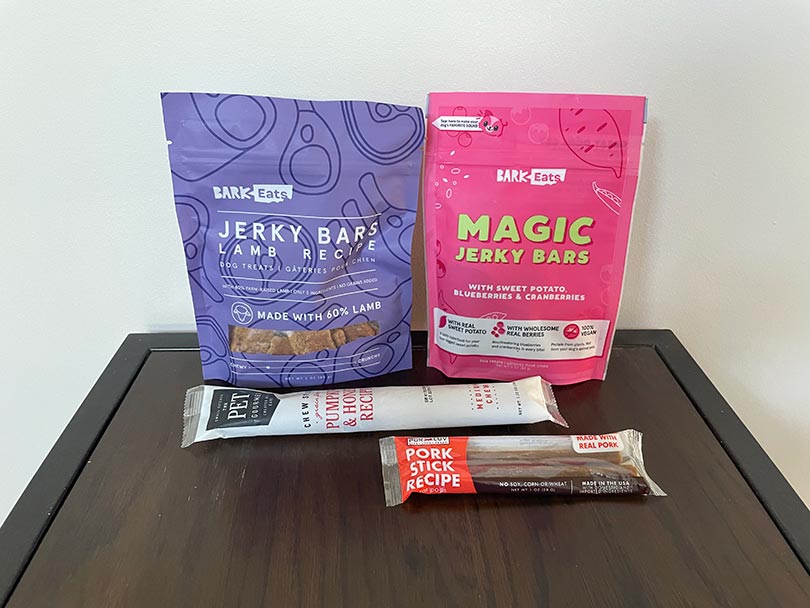 Limited Access to Favorite Toys
BARK sells individual toys and treats through its online store, BarkShop. While you can find a good selection of toys, there's no guarantee that you'll find your favorites. You can always contact customer support to see if a specific toy is still in their inventory, but toys can get discontinued rather quickly since they have a consistent rotation of new toys.
Is Super Chewer a Good Value?
Super Chewer comes with six different items. The toys in the boxes are valued anywhere between $10-$20 apiece and treats and chews that range from $3-$10. So, you'll experience some savings with the month-to-month plan, but the 6-month and 12-month plans are better values.
Along with prices, you're getting a good value on quality and novelty. Opening a Super Chewer box is a fun experience for both dogs and their owners. The boxes come in fun themes that people will enjoy, and the toys are unique and not typically found in pet stores.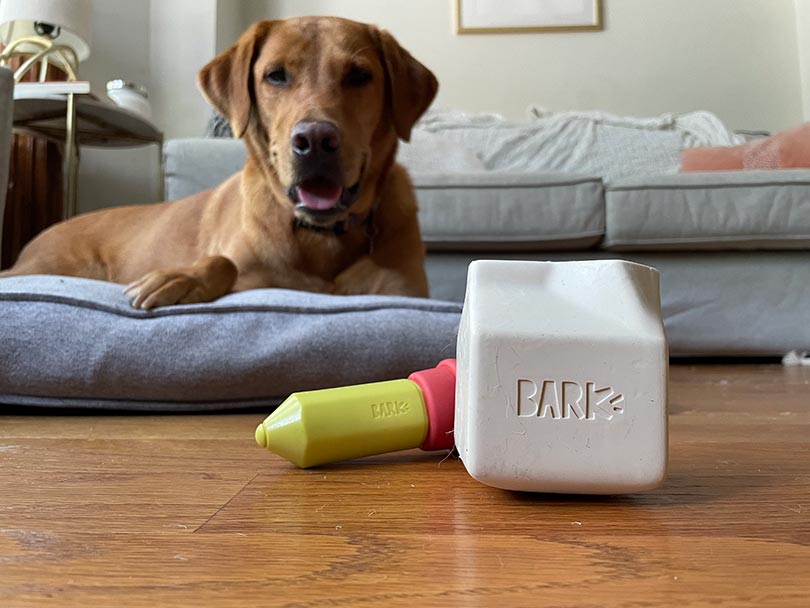 FAQ: Super Chewer by BARK
Do I Need to Subscribe to Get A Super Chewer Box?
Yes, if you'd like a Super Chewer box shipped to yourself, you'll have to sign up for a monthly subscription. However, you can send and receive them as gifts without setting up a subscription, and gift card options are also available.
What Is BARKs Cancelation Policy?
BARK has a pretty rigid cancellation policy. If you sign up for a multi-month subscription, you will not get any refunds. All boxes under your subscription will be sent to you, even if you cancel before the last subscription month.
BARK also will not accept returns on any boxes. If you order individual toys from the BarkShop, they must not be used and still have their tags on them if you'd like to return them. If you receive any damaged or defective toys, you can contact customer service to resolve these issues.
Can I Pick My Super Chewer Monthly Themes?
You can pick your first themed Super Chewer, but future boxes will be determined for you. Part of this subscription's appeal is the surprise factor. If there are some toys or treats that become your dog's favorites, you can visit the BarkShop to see if they're available for individual sale.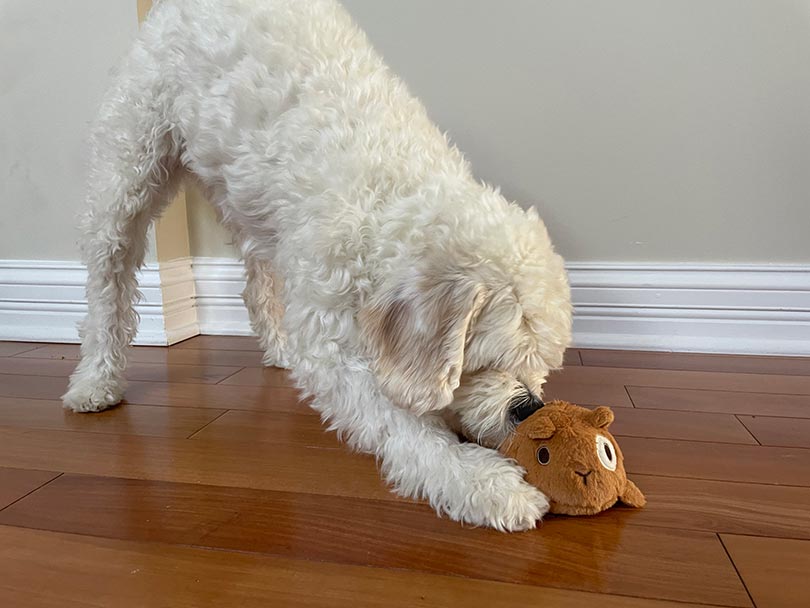 Our Experience with Super Chewer
We received our own Super Chewer box and tested it out with our two dogs. Our Cavapoo is a medium-sized adult, and our Labrador Retriever is a large-sized adult. As soon as the box arrived, our dogs were excited and curious and couldn't wait for us to open it.
It was funny how both the humans and the dogs shared an equally exciting and enjoyable experience as we unboxed all the contents together. We received the Bark 2 School-themed box, which contained three toys, two treat bags, two chews, and one information card with descriptions of the contents inside.
Regarding the toys, our Labrador Retriever was a big fan. He enjoyed sniffing and chewing on the rubber toys. One of the toys was scented and also functioned as a treat dispenser. He was perfectly content with snooping and figuring out how to get tasty treats out of his new toy.
We also appreciated how the durable toys had cute designs because it's rare to find heavy-duty toys that don't have an industrial appearance. The Super Chewer toys were a nice change because they looked like actual toys rather than the typical assortment of tires, ropes, and nylon material one would find in pet stores. They're also made very well, and we're sure that they'll last at least until next month's box arrives.
Our Cavapoo liked a toy that was made with softer material. She wasn't too much of a fan of the rubber toys and didn't really interact with them. Based on our experience, we'd say that the regular BarkBox would've been a better fit for her since it's usually filled with softer plush toys.
It seems like most of the toys in the Super Chewer box are made with rubber and nylon. So, if your dog doesn't enjoy these textures, it'll appreciate the regular BarkBox toys much more. Many of those toys contain squeakers, crinkle material, and soft plush.
Lastly, we got mixed reactions to the treats. Our Labrador loved all the treats, while our Cavapoo was pickier and only liked one out of the four options we were given. We checked the ingredient lists and found that many of them used grains, legumes, and starches as main ingredients. So, we're not surprised that our pickier dog didn't enjoy most of them.

Conclusion
Overall, we'd recommend Super Chewer by BARK. It was a fun experience being surprised with our dogs as we took out all the contents of our box. The Super Chewer box is definitely for larger dogs and strong chewers. If you have more inquisitive dogs that like different textures, you may want to get a box mixed with Super Chewer toys and regular BarkBox toys.
While the treats were a little mediocre, we still consider Super Chewer to be a great deal because you're still getting high-quality, unique toys, and you can always opt for a toys-only box. If you're unsure about the Super Chewer box, you can always start with a classic BarkBox and make adjustments depending on how long the toys last.