100+ Baseball Dog Names: Ideas for Home Running Dogs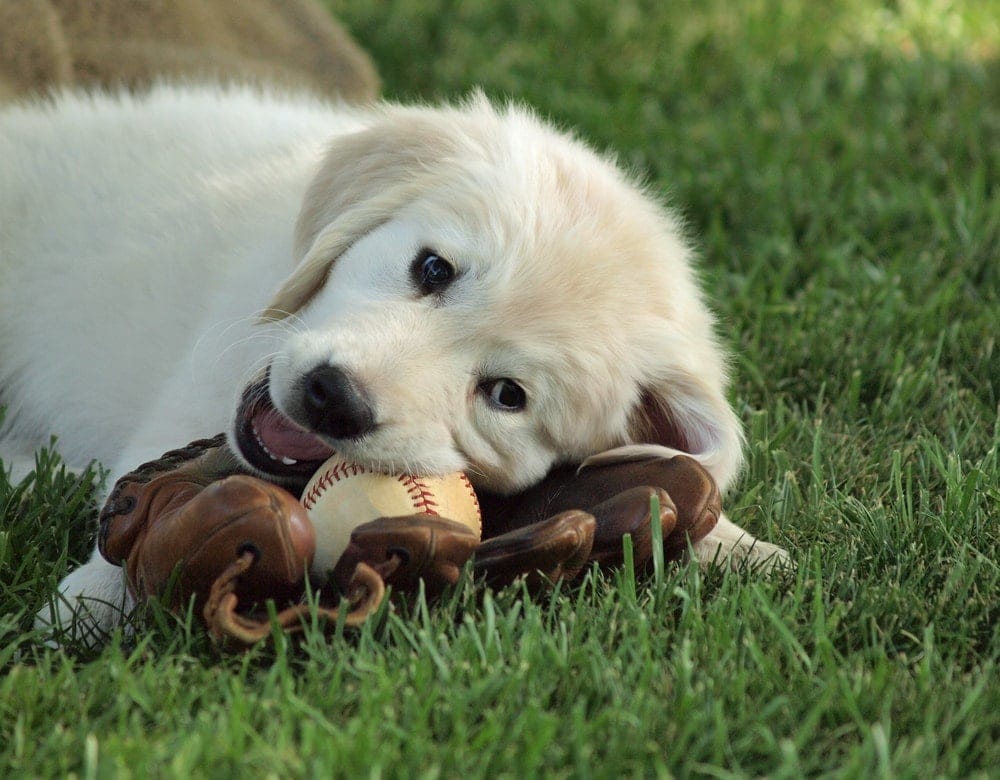 It's no secret that this sport is one of the most popular in America. So much so it's been nicknamed "America's Pastime." Even as children, one of the first team sports we learn to play is catch—tossing a baseball back and forth until we eventually gain the coordination to swing a bat and have it connect to that very ball and sending it high into the sky. The gratification of hitting your first home run is likely a feeling that will stick with you your entire life, sparking a love for the game that will only grow as you do.
Now, if you have owned a puppy before, you know that fetch is a popular sport among pooches and is basically the equivalent of dog baseball. If this is your first time around when it comes to dog ownership, you can bet that you will become familiar with this game real soon! Most pups won't shy away from a good game of ball once they hit the dog park. You might come to find that the two of you share the same deep devotion to baseball, so of course, you've landed in the greatest place to find a baseball-themed dog name!
We have the best baseball names for dogs and our well-rounded list includes your favorite players, teams, mascots, lingo, and more! If you are a true baseball buff, the right name for your brand-new puppy is sure to be on this list! 
We hope that with our name suggestions, you are able to hit it out of the dog park!

Baseball Dog Names: Female
Polly | Polly Wolfe 

Yuki | Yuki Kawabata

Toni | Toni Stone 

Jean | Jean Faut 

Doris | Doris Barr

Betty | Betty Trezza

Millie | Millie Deegan

Panos | Vickie Panos 

Lena | Lena Styles 

Gera | Bernice Gera

Eri | Eri Yoshida

Dorothy | Dorothy Kamenshek 

Connie | Connie Wisnieski

Sophie | Sophie Kurys

Olive | Olive Little 

Ila | Ila Borders 

Ayami | Ayami Sato 

Dottie | Dottie Shroeder

Effa | Effa Manley 

Mamie | Mamie Johnson 
Baseball Dog Names: Male
Cobb | Ty Cobb 

Felix | Felix Hernandez 

Dickey | R.A. Dickey 

Bonds | Barry Bonds 

Chipper | Chipper Jones 

Babe | Babe Ruth 

Hanley | Hanley Ramirez

Willie | Willie Mays 

Honus | Honus Wagner

Arod | Alex Rodriguez

Braun | Ryan Braun 

Ichiro | Ichiro Suzuki

Canseco | Jose Canseco 

Robinson | Robinson Cano

Harper | Bryce Harper 

Musial | Stan Musial 

Darvish | Yu Darvish 

Ortiz | David Ortiz 

Sandoval | Pablo Sandoval 

Jeter | Derek Jeter 

Swisher | Nick Swisher
Baseball Lingo Dog Names 
Someone new to the game might find these names a bit silly, but with someone of your baseball know-how, you can appreciate the diversity this list brings to baseball dog names. From positions to terminology, equipment to awards—we have got them all covered. You might find yourself drawn to the name Homer if your dog is in it for those long-distance runs to collect those homerun balls. They could fit a name like Ace if they are equally as good at sending the ball back to you when thrown. 
Meatball | Easy throw to hit 

Cap 

Nubber | A ball hit off the end of the bat, doesn't travel far 

Chew 

Yakker | A curveball

Rookie 

Catcher 

Beanball | When a batter is hit in the head with the ball by the pitcher

Pitcher 

Cookie | Easy pitch, easy to hit 

Cleats 

Pickel | A rundown 

Slugger | Hard-hitting batter 

Bat 

MVP | Most valuable player 

Outfielder 

Mitt 

Dinger | A homerun

Southpaw | Left-handed pitcher or batter

Runner 

Tater | A homerun 

Shortstop 

Basemen 

Uncle Charlie | A curveball

Umpire 
Baseball Team Dog Names 
Baseball teams might seem like an endless pool of options, but we're mainly focused on those we watch during the coveted baseball season. We're talking about Major League Baseball. However, if you don't see your favorite team listed here, Major or not, that doesn't mean it won't make a great name for your pup! 
Yankee | New York Yankees 

Cardinal | St Louis Cardinals 

Braves | Atlanta Braves 

Cub | Chicago Cubs

Mets | New York Mets 

Ranger | Texas Rangers 

Red | Cincinnati Reds 

Giant | San Francisco Giants 

Dodger | Los Angeles Dodgers 

Sox | Boston Red Sox 

Rocky | Colorado Rockies 

Marlin | Miami Marlins 

Jay | Toronto Blue Jays 

Astro | Houston Astros 

Pirate | Pittsburgh Pirates 

Brewers | Milwaukee Brewers 
Baseball Food Dog Names 
Anyone who has been to a baseball game knows the experience is not complete without at least one trip to the concession stand. These might be a little outside the box as they're not an obvious baseball dog name, but they still lend themselves well to our theme!
Hotdog 

Nacho 

Churro 

Burg 

Taco 

Brisket 

Sundae 

Waffle 

Bacon 

Parfait 

Sausage 
Dog Mascot Names 
Mascots are an integral part of a baseball team. They unite the fans, bring energy to the players, and provide an exciting insight into the team's culture. Much like a dog can do for a family! If you find your dog is a total hype man, bringing positive vibes and great energy where they go, you will find that one of these names might be fitting. If not, this section might provide a little inspiration for creating your very own mascot name for your fur baby. 
Phillie Phanatic 

Fredbird 

Paws 

Stomper

Billy the Marlin 

Pirate Parrot 

Sluggerrr

Mr Met 

Mariner Moose 

Bernie Brewer 

Orbit 

Screech 

Wally the Green Monster 
Dogs Owned by Famous Baseball Players 
Companionship is a wonderful thing desired by many and is often fulfilled by the friendship of an attentive pup! Baseball players are no exception—these incredible athletes share the same doting love for canines as us average folk. Here are a few famous names accompanied by their dogs!
Missy | Adam Jones 

Bailey Bru | Bud Norris 

Chapstick | Jose Canseco 

Happy | David Ortiz

Swag | Bryce Harper 

Yogi | JP Arencibia

Bear | Jose Canseco  

Astro | David Price

Jax | Jake Arrieta 

Buddy | Sandy Alderson 

Chloe | Jose Canseco 
Bonus: Baseball Dog Movie Names
Whether they be the star of the show or a supporting actor, these famous baseball dogs have sure made a name for themselves on the big screen. Baseball movies are rarely complete without the likes of a canine cameo. So here are our favorite dog characters from the most popular baseball movies. 
Air Bud | Air Bud: Seventh Inning Fetch
This movie franchise has touched on many sports—where an athletic golden retriever possesses the skills to play on a real-life baseball team. Air Bud is a classic household dog name for any sports lover. 
Hercules | The Beast | The Sandlot
A group of baseball-loving children runs into a series of problems, one being a giant mastiff when their baseball is hit beyond their fence. 
Rhubarb | Rhubarb
This one is a touch ironic, but we thought it would make a cute addition. A baseball team owner adopts a kitty and names him Rhubard, and when he passes, leaves his baseball to the feline. 

Finding the Right Baseball Name for Your Dog
Pairing your new fur baby with the right name is usually the first or last step most people take when adopting a new puppy. If you are someone who is eager to find the name before you bring them home, you look for inspiration in the things you already love dearly—baseball is a great example. If you've waited to bring your pup home and have allowed them to get settled before choosing a name, you might have found that they love the ball game as much as you do. Regardless of your individual journey, you've managed to come to the conclusion that a baseball-inspired dog name is a way to go! 
We hope that our ideas have given you additional perspective on the potential baseball dog names you could choose. The ultimate home run would be that you found the perfect name for your pooch among our favorite baseball dog names. 
Baseball may have sounded like a great idea initially, but if you aren't completely sold, here are a few other name posts for you to take a peek at.
Related Reads:
---