Basepaws Cat Breed + Health DNA Test Review 2023: Our Expert's Opinion
Our Final Verdict
We give Basepaws Breed + Health Cat DNA Test a rating of 4.3 out of 5 stars.
Accuracy: 4/5
Ease of Use: 5/5
Turnaround Time: 3.5/5
Value: 4.5/5
*Use Code HEPPER25
What Is Basepaws Breed + Health Cat DNA Test? How Does It Work?
DNA tests can be used to uncover some fascinating and meaningful information about an individual. As cat lovers, who wouldn't want to know more about their mysterious bundle of joy? That's where at-home DNA testing kits come in.
When it comes to cats, Basepaws offers a variety of products to give you some incredible insight into what your cat is all about. The company not only appeals to cat owners but even works with veterinarians to provide valuable information for patient care and health monitoring.
One of the most popular DNA testing kits for cats is the Basepaws Breed + Health Cat DNA Test. Not only does this kit screen your cat's DNA to see what part of their genome shares similarities with over 21 different cat breed types, but it also screens for genetic markers that could indicate predisposition to 43 different genetic health conditions.
This DNA analysis also sheds light on probable traits such as coat color, coat length, pattern, and much more. There is also an oral health report that will provide important insight into your cat's likelihood of developing periodontal disease, bad breath, and tooth resorption.
The process is very easy from start to finish and involves a painless mouth swab to collect your cat's sample which will then be shipped off to the Basepaws laboratory for evaluation. Within a few weeks, you will receive a detailed report on your kitty's results.
Since I had the pleasure of testing out this kit on my own cat, I am here to provide you with all you need to know about the Basepaws Breed + Health Cat DNA Test from beginning to end.
Basepaws Breed + Health Cat DNA Test – A Quick Look
Easy process from start to finish
Learn your cat's genetic similarities to other breeds
See if your cat is predisposed to certain health conditions
Check your cat's oral health status
Pricey
4–6 week wait for results
Basepaws Breed + Health Cat DNA Test Pricing
The Basepaws Breed + Health Cat DNA Test can be purchased directly from the Basepaws website or through other online retailers.  The price for one kit is $159.00 on basepaws.com, but you can keep an eye out for coupon codes (which they often advertise very clearly on the website) if available. If you have a multiple-cat household, you can also save money by purchasing two kits at a discounted price.
*Use Code HEPPER25
What to Expect from Basepaws Breed + Health Cat DNA Test
Once you order your kit, you will receive an email confirmation. Basepaws will follow up with another email confirming that your kit has been shipped. This email includes your order number, the date you placed the order, and a link to track your shipment.
They make this easy, as you can simply pull up your email and hit "Track Package" rather than signing in and going through the steps to check it on your own. You will also get an email notification upon delivery so that you know when your kit has arrived even if you aren't home at the time.
Once you've finished collecting your cat's sample, you simply pack it away in the box it arrived in, which includes prepaid postage if you are in the United States. You can either drop it off at a local post office or post office box. If you go to the post office, they will give you a tracking slip. If you plan to drop it off in a post office box, I suggest taking a picture of your kit's prepaid postage sticker so that you have the tracking information just in case you need it.
Basepaws Breed + Health Cat DNA Test Contents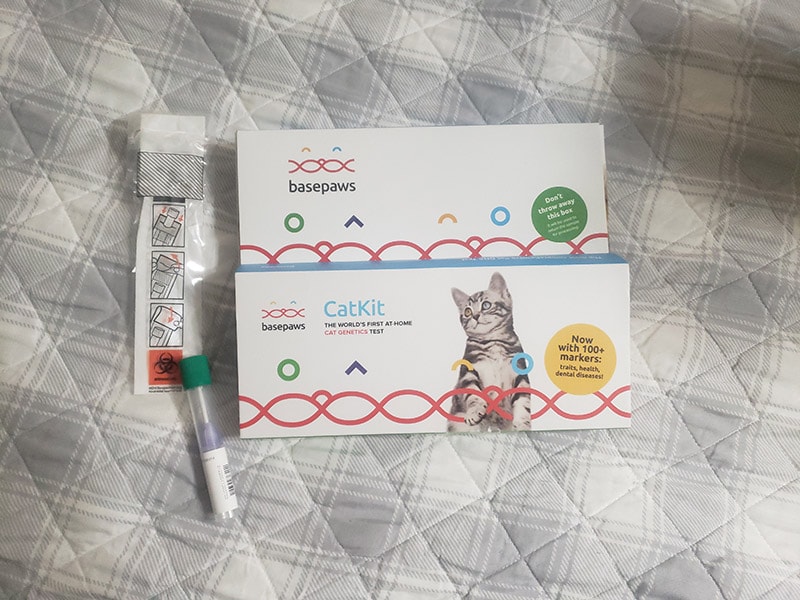 Each Basepaws Breed + Health Cat DNA Test kit includes:
1 sterile cheek swab with stabilizing liquid
1 biohazard specimen bag
Detailed instructions on sample collection
Prepaid packaging for return shipping (USA orders only)
Signing Up
Signing up with Basepaws is as easy as can be. Once you receive your kit in the mail, you simply visit the website (https://basepaws.com/) and click "Register Kit" in the top right corner. From there you will create an account using your email address, customize your cat's profile, and register your kit with the barcode number that can be found on your test tube.
This is where you can check back for the status of the test results once you've mailed the sample back to Basepaws. When it's ready, the results will not only be available via email but also uploaded to your account. You can even add more pets to your Basepaws account if you want to test any more of your furry family members.
Collecting the Sample
To collect the DNA sample, Basepaws recommends that you avoid swabbing within 30 minutes of eating or drinking since it's best to swab a clean mouth that is clear from any food or water. You can allow your cat to lick, chew, or bite the swab so that it touches the tongue, teeth, and inner cheeks. Make sure to rub the swab along the inner cheek pockets for at least 5 seconds.
It's a good idea to calm your kitty down before you begin swabbing. Some cats may not be too keen on cooperating, and if that's the case, you can easily ask for some help and use a blanket to turn them into a kitty burrito. Have someone else hold them securely as you get the job done.
Once you've finished, you will place the swab down into the test tube and securely close the sample. Shake it well to ensure the stabilizing liquid is well distributed and then place it into the sealable biohazard specimen bag. You can then secure everything back into the box, which has the prepaid postage sticker, and you're ready to send it off.
*Use Code HEPPER25
Results
Genetic Report
The genetic report for cats is much different than for dogs, being that dogs have a much longer history of domestication. Cats cannot be traced back to the history of purebred lines, but their genomes can be traced to similar genomes in modern-day purebred cats. The Basepaws cat genetic report is broken down into 5 different categories: Western, Eastern, Persian, Exotic, and Polycat.
Most cats will belong most dominantly to one of these groups, and within each group, you will be able to see the percentage of genetic similarity your cat has to each cat breed. Here's a breakdown of the categories and the breeds that are currently included in each:
Western Breeds (those from Europe/Americas):
Abyssinian
American Shorthair
Maine Coon
Norwegian Forest Cat
Ragdoll
Russian Blue
Siberian Forest Cat
Turkish Van
Turkish Angora
Eastern Breeds (those from Asia):
Burmese
Birman
Oriental Shorthair
Peterbald
Thai Siamese
Persian (and related cats):
British Shorthair
Persian
Himalayan
Broadly Persian
Exotic Shorthair
Exotic:
Egyptian Mau
Broadly Exotic
Bengal
Savannah
Polycat
The Polycat category does not include any breeds, but rather the result of many generations of mixed breeding between different types of cats, making their origin and ancestry very hard to narrow down.
*Use Code HEPPER25
Genetic Health and Trait Markers
This portion of the test takes a close look into the genotype, which is the portion of your cat's genome that encodes the physical expression of their traits including eye color, coat color, coat length, coat textures, different types of body morphology, and predisposition to disease.
Not only will these results break down the physical traits of your precious kitty but will also check for 115 genetic markers that are associated with 43 diseases.
You will see a report for various conditions including:
Metabolic disorders
Eye disorders
Musculoskeletal and connective tissue disorders
Blood disorders
Endocrine disorders
Autoimmune disorders
Renal disorders
Cardiovascular disorders
Skin disorders
Blood type and transfusion risk
Susceptibility to viral infection
Genetic disorders are health conditions caused by one or more genetic mutations. They can either be present at birth or develop later in life. This test is not meant as a diagnosis and does not replace a veterinary evaluation, but it will look for the genetic health markers associated with these genetic disorders. You will receive results showing one of the following for each marker:
Clear – Your cat is negative or has zero copies for all the genetic markers tested that are known to be associated with a particular disease.
Carrier – Your cat is not at risk of developing the disease, but in most cases has one copy of a mutated gene allele that could be passed onto their offspring.
At Risk – Your cat has one copy of the disease-associated marker that could potentially result in mild disease.
High Risk – Indicates having more than one copy of a disease-associated marker, making it very likely that your cat will develop the disease.
Oral Health Report
Dental disease is very common in cats, affecting 50 to 90 percent of cats 4 years of age or older. This kit will test the microbes within your cat's mouth to assess their oral health. This oral microbiome will give insight into any developing oral health problems, even before they can be seen with the naked eye.
The oral health results will show you whether your cat is at low, medium, or high risk of periodontal disease, tooth resorption, and bad breath (halitosis) while giving you a comprehensive look into the microbes associated with each.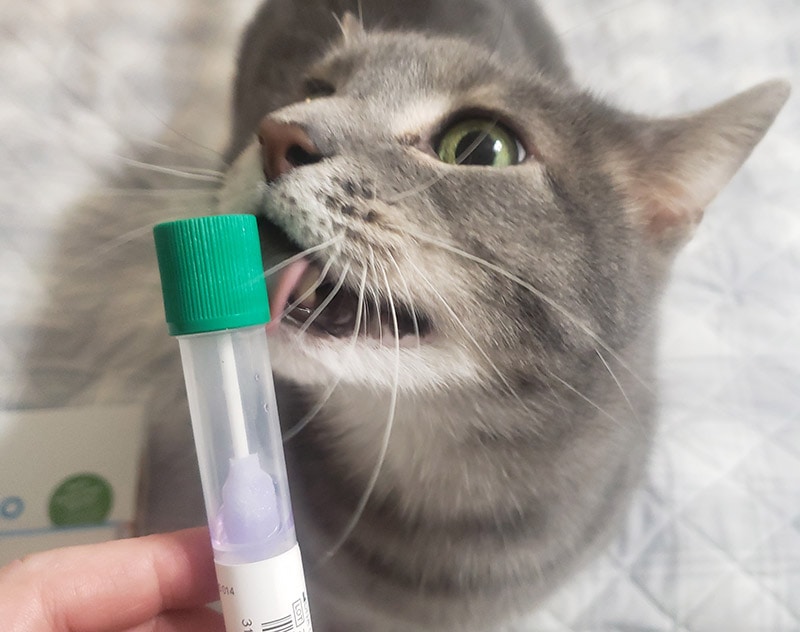 Is Basepaws Breed + Health Cat DNA Test Contents a Good Value?
Though this test is pricey, there is a lot that goes into retrieving these results and you can learn a lot of important details about your cat's genetics in the process. If the testing were limited to only your cat's genetic similarities with other breeds, I wouldn't be as keen to recommend it.
However, being that you can get some great information regarding their predisposition to genetic health conditions and some insight into their oral health, I would certainly say that it is well worth the cost.
FAQ
How long does shipping take?
Your kit will ship via USPS within 24 to 48 hours after the order has been placed. Delivery often takes 3 to 5 business days within the United States and approximately 10 business days for Canadian orders. International shipping is currently $15, and customers must pay for their own return shipping. US customers are covered by free return shipping with prepaid postage.
How long does it take to get the results?
The report will become available via email and on your Basepaws account within 4 to 6 weeks from arrival at their laboratory.
What if there is something wrong with my cat's sample?
There are some rare cases where a sample will fail the internal quality checks and will need to be reprocessed. In this case, Basepaws will contact you regarding the next steps you need to take.
I have more than one cat, is there a discount for buying more than one test?
Yes! There is a discount if you purchase more than one kit directly from the Basepaws website. You can save some serious money by purchasing multiple kits. You will have the option to select 1 kit or 2 kits and then adjust the quantity/price accordingly.
*Use Code HEPPER25
Our Experience With Basepaws Breed + Health Cat DNA Test Contents
I personally had a wonderful experience with Basepaws. I tested Lucy, our sassy lady that was adopted from Fayetteville, North Carolina back in 2015. She was only a few months old when we got her, making her around 8 years old now.
She is a unique-looking cat with a gorgeous long, light gray tortoiseshell coat and stunning green eyes, so I was very excited to see her genetic report. I was thinking she'd fall predominantly in the Persian category if I had to guess.
Lucy's been extremely healthy all her life, so I was also curious to see what kind of results were going to show for both the genetic health and oral health test. Ordering is super easy; I highly suggest taking advantage of any coupon codes they are offering.
I am in Oklahoma and Basepaws is based out of California. My order was placed on January 31st and arrived by February 3rd.  Registering is a quick and easy process, and the website will walk you through it step by step.
The sample collection process wasn't as easy as it would be for most other cats, which I expected since she only wants to be touched on her terms. I went ahead and had someone else scruff her gently as I swabbed her mouth. She may not have been a fan of it, but it was in no way traumatizing either. She didn't even run away to hide afterward, so I call that a win.
Once I finished the swab, I placed it in the stabilizing liquid, gave it a good shake, placed it in the biohazard bag, secured it, and prepped the box to be mailed. I took it to the post office the following day, where I was given a tracking slip.
The results came back in about 5 weeks, and I even received an email notification to let me know, so it's not like I had to keep signing back into my account to check. I downloaded the PDF version of the results and looked at them right away.
It turns out, Lucy falls 77.33 percent into the Western category, 0 percent Eastern, 7.71 percent Persian, 3.1 percent Exotic, and 11.86 percent Polycat. I was very surprised to find that her strongest genetic similarity to a specific breed was that of a Maine Coon. The results include detailed information on each breed your cat is tested for, so you can learn more about each one.
As far as traits go, she tested "likely to have" on black coat color, dilute coat color, and long-haired coat. All of which is correct, they just don't have anything on the test that would be calico or tortoiseshell. I am relieved to say that she tested "clear" for all diseases in the genetic health report and low risk for all categories related to oral health.
I am incredibly happy with the entire process and especially the results. I am very grateful for both her genetic and oral health results and found the genetic report to be very surprising and interesting! I would happily do this test for any cat, as it not only allows you to be aware of any potential health concerns but gives you some really cool information on your kitty.
Conclusion
The Basepaws Breed + Health Cat DNA Test is not only fun to do but provides some very interesting and valuable information about your cat. The kit may be more on the expensive side, but that's to be expected with a comprehensive DNA test that is also checking for specific health markers.
The process is incredibly seamless, and while you may get anxious waiting up to 6 weeks for results, this is typical with these kinds of tests and the detailed report is well worth the wait. I would certainly recommend using Basepaws if you are wanting to learn more about your beloved kitty.