10 Best Air Purifiers for Pets – 2022 Reviews & Top Picks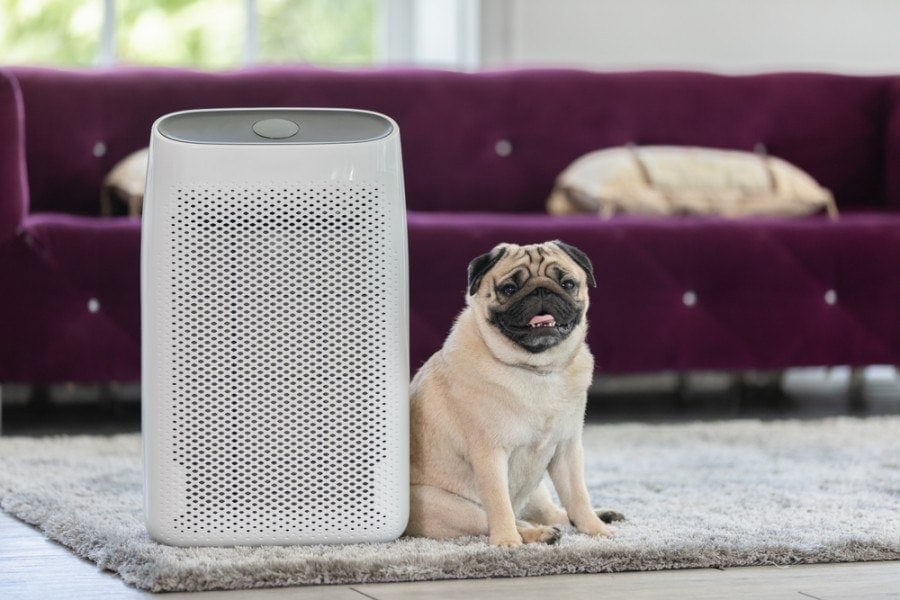 Investing in a high-quality air purifier might be the easiest way to quickly improve your quality of life at home. For pet owners, taking the time to research and decide on an appropriate air purifier for your living space is doubly essential thanks to their ability to effectively eliminate pet-produced allergens.
At its best, an air purifier that's great for use with pets will be powerful enough to clean an entire room, quiet enough to not disturb you while it's in operation, and priced reasonably enough to buy multiples to outfit every room of your home.
After extensive testing and research, we've seen that not every air purifier can live up to these expectations – and to save you the time and cost of sorting through any duds, we've collected our reviews in this comprehensive guide to the best air purifiers for pets and pet owners.

A Quick Comparison of Our Favorites in 2022
Rating
Image
Product
Details

Best Overall

Honeywell HEPA Air Purifier

Compact design
Covers up to a 465 sq ft
4 adjustable filtration system

Best Value

LEVOIT Air Purifier

24-decibel operating noise level
Space-saving design
Proprietary Vortexair design

Premium Choice

Coway Airmega Smart Purifier

Covers over 1500 sq ft
Permanent pre-filter
Pollution sensor

Hathaspace Smart Air Purifier

5-stage filter system
Smart air quality sensor
Comes with a remote control

Hamilton Beach TrueAir Purifier

Ultra-compact
Inexpensive
3-stage filtration system
The 10 Best Air Purifiers for Pets
1.

Honeywell HPA300 True HEPA Air Purifier – Best Overall
A remarkably efficient true HEPA filter air purifier, Honeywell's HPA300 is equipped with everything that you'll need for clean air in rooms up to 465 square feet. Its 3 air cleaning settings (plus an ultra-powerful Turbo setting) give you the ability to dial in the perfect combination of noise level and purification, making it a versatile choice that's appropriate for any room of your home.
On its highest setting, the HPA300 will circulate the entire volume of air in a room up to five times. Fast and efficient, this air purifier from Honeywell can easily keep up with pet hair and dander all year round. Change the prefilter every three months and the main filter once a year, and you'll be completely set for amazing air quality every day.
While all these features would be enough to make the Honeywell a solid contender at any cost, it's value-conscious pricing easily makes it our top pick. Overall, you'll be hard-pressed to find any better air purifier for the price.
Compact design measures 9.25 x 20 x 22.25 inches
Covers up to a generous 465 square feet of room space
4 adjustable filtration speed levels
Easy to use push-button controls
Includes an auto-off timer option
Control panel dimmer makes it suitable for use in the bedroom while sleeping
Helpful filter change indicator lets you know when it's time for a replacement
Pre-filter is not washable and needs to be replaced every 3 months
---
2.

LEVOIT Core 300 Air Purifier – Best Value
Whereas other air purifiers on this list can be considered as "heavy hitters", capable of cleaning the air in even the largest of living rooms, the LEVOIT Core 300 Air Purifier has a different purpose. As a compact and ultra-efficient air purifier, it's available at a fraction of the cost of any other true HEPA filter purifier we tested. Covering up to 219 square feet of room space, it's a cost-effective machine that may well be the best air purifier for pets for the money.
We love the small frame and durable construction of the Core 300, measuring in at just 8.7 x 8.7 x 14.2 inches and weighing just under 9 pounds. It's easy to move from room to room and operates so quietly that it's a perfect addition to your bedroom or home office. Even better, it's Energy Star Certified for big savings on your electricity bill.
In short, the LEVOIT Core 300 is an affordable and efficient air purifier that's ideally sized for taking care of a single room of your home.
Super quiet 24-decibel operating noise level
Compact and space-saving design works well in any room
Proprietary Vortexair design creates a strong airflow, allowing for up to 219 square feet of coverage
Abrasion-resistant interior structure and high-precision motor bearing make it one of the longest-lasting purifiers on the market
Energy Star Certified for high-efficiency operation
Filters only last for 6 to 8 months
---
3.

Coway Airmega 400 Smart Air Purifier – Premium Choice
Offering the largest room coverage of any air purifier that we tested, the Coway Airmega 400 is designed to purify the air for a whopping 1,560 square feet of room space. For anyone with an open floor plan that includes a living room, kitchen, and dining room, it's the only air purifier that's powerful enough to take care of your entire space in a single package.
Featuring 5 fan modes, the Airmega 400 operates nearly silently on the lowest mode and tops out at a modest 43.2 decibels on high. The fan speed can be set to automatically adjust to the room's air quality, as well as put on a timer for 1, 2, 4, or 8 hours.
Energy Star Certification makes this large air purifier remarkably efficient, and a 1-year manufacturer's warranty helps protect your significant initial investment.
Overall, the Coway Airmega may be the priciest air purifier on our list, but it's far from being overpriced thanks to its powerful design and abundantly helpful features.
Huge room coverage – over 1500 square feet of purifying ability
Permanent pre-filter can be washed and reused indefinitely
Pollution sensor provides real-time display of current air quality
Exceptionally quiet while in operation on any of its 5 fan speeds
Smart adjustment mode adapts to air quality in its surroundings
Energy-efficient design saves on electricity bills
Quite expensive
Bright LEDs make it less suitable for use in bedrooms
---
4.

Hathaspace Smart True HEPA Air Purifier
Conveniently compact yet still able to purify up to 350 square feet of room space, the Hathaspace True HEPA Air Purifier is a fantastic middle-ground between our top picks. It's just big enough to handle most living rooms while being significantly more affordable than whole-house models like our premium choice pick.
We especially appreciate the 5-stage filtration system on the Hathaspace, adding an Activated Carbon filter to a HEPA filter and ozone-free ionizer layer for maximum absorption. This makes it one of the few purifiers in our testing that's suitable for removing odors from the air, making it an attractive option for multi-pet homes that tend to accumulate pet odors faster.
Set it to auto mode, and the Hathaspace will only turn on when it detects your air needs purification. While you'll have to change and clean the filters on this more often than most air purifiers, that shouldn't deter you from taking advantage of a remarkably convenient machine available at a great price.
5-stage filter system includes a cold catalyst filter, activated carbon filter, antibacterial coating, true HEPA filter, and optional ionizer
Smart air quality sensor activates the system automatically for purification only when needed
Comes with a remote control for easy operation
Whisper-quiet 20 decibel sleep mode
2-year warranty helps to protect your investment
Coverage is somewhat small for the price
Replacing multiple filters can get pricey
---
5.

Hamilton 04384 Beach TrueAir Air Purifier
The smallest and least expensive air purifier of any that we tested, Hamilton Beach's TrueAir Purifier is an exceptionally compact and inexpensive solution to cleaning the air in a single small room. At just 140 square feet of coverage, you shouldn't expect it to take care of an entire living room; but if you're looking for a budget-conscious way to try an air purifier in your bedroom or office, it may be worth taking a closer look.
Combining a true HEPA filter with 2 carbon zeolite filters, the TrueAir efficiently removes odors and allergens from the small area it can cover. It's nearly silent on its lowest setting and measures a tiny 10.84 x 8.08 x 16.43 inches that makes it a great addition to apartment bedrooms.
As one of the few purifiers we tested that features a permanent HEPA filter, the Hamilton Beach is likely to be the most cost-effective option over time for purifying the air in a small room.
Ultra-compact and easily portable
An inexpensive way to test an air purifier in your home or office
3-stage filtration system helps to remove odors as well as allergens
Permanent filter can be vacuum cleaned; no need to buy replacement HEPA filters
Extra-small 140 square foot coverage area
---
6.

Germ Guardian True HEPA Filter Air Purifier
Specially designed to combat the development of bacteria and viruses in your home, the Germ Guardian Air Purifier features a final UV light filtration stage in addition to HEPA and carbon filters, making it one of the most comprehensive filtering systems of any that we tested. While its 167 square foot room coverage limits its overall utility, the added filtration steps make it an ideal companion for the bedrooms of allergy sufferers.
The downsides of the Germ Guardian come from its slightly loud operation and exaggerated price compared to its coverage area. A 3-year warranty, however, is better than any other purifier in our review, and this coupled with its Energy Star Certified efficiency put the Germ Guardian in our good graces.
5-stage purification is comprehensive and prevents the build-up of odors
UV light final stage filtration eliminates bacteria and viruses
Energy Star Certified for electrical efficiency
Impressive 3-year warranty extends the life of your investment
Small coverage area for the price
Requires frequent filter changes
---
7.

Winix HR900 Ultimate Pet Filtration Air Purifier
Covering a respectable 300 square feet of room space while providing 5-stage filtration complete with odor absorption, the Winix HR900 Ultimate Pet Filtration Air Purifier is a worthwhile alternative to our top pick. Given its fairly high price range, however, we found ourselves wishing for more coverage area to justify the significant initial investment.
A washable odor control carbon filter is an excellent design feature, helping the Winix to capture pet odors without further increasing the cost of maintenance with frequent replacements. Combined with a washable pre-filter, it makes the HR900 an affordable long-term solution to air purification for pet owners.
Impressive 5-stage filtration system absorbs and eliminates odors, allergens, and pet hair
300 square foot coverage area makes it suitable for most living rooms or bedrooms
Washable carbon filter and pre-filter help save money in the long run
On the expensive side
A larger coverage area would better justify the price
---
8.

BISSELL 2780A MYair Purifier
Another contender for the spot of a small, compact air purifier, the Bissell MYair Purifier is only hampered by its tiny room coverage area. At right around 100 square feet of purifying capacity, it offers the smallest coverage area of any purifier in our reviews.
While this tiny room size certainly limits the Bissell's utility, everything else about the design is quite well-made. A 3-layer filter system is helpful in reducing odors as well as allergens, and a quiet operating noise level makes it suitable for use in bedrooms and offices.
Overall, we can only truly recommend the MYair Purifier as an alternative to our best value pick, especially for anyone who is looking for odor reduction as part of their small purifier package.
3-stage filtration system reduces odors as well as allergens
Compact and easily transportable
Quiet operation
Tiny room coverage area
Hard to justify the price given the coverage
---
9.

Rabbit Air SPA-625A BioGS Air Purifier
Certified for filtering a 625 square foot room and equipped with 4 stages of filtration and deodorization, at first glance the Rabbit Air SPA-625A seems to be a strong contender for an air purifier for pets. In fact, its quiet operation, long-lasting filters, Energy Star Certification, and 5-year warranty all attest to a great quality product, as well.
Why so low on our list, then? Unfortunately, the Rabbit Air is simply too expensive for us to thoroughly recommend it. In comparison to our top picks, the SPA-625A offers too little in the way of extra benefits to justify a cost nearly twice as high as our number one choice. It's certainly efficient and durable, but until it comes down in price it is likely going to be a niche pick based on its aesthetically pleasing design.
Excellent filtration quality
Great coverage area
Far too expensive
Doesn't offer enough added value to justify the price
Slow filtration speeds
---
10.

Alen BreatheSmart Classic Air Purifier
More expensive than even our Premium Choice pick, the Alen BreatheSmart Classic Air Purifier is a powerful and well-equipped air purifier that is simply far too expensive to justify its performance.
Even with 1100 square feet of coverage area, odor and allergen filtering layers, and ultra-quiet operation, the BreatheSmart can't match up to its exorbitant cost. At nearly three times the price of our top choice, it doesn't offer enough utility to truly compete in this category.
Moreover, the Alen does not come with any sort of manufacturer's warranty. For a machine of this price, that's a total dealbreaker for us.
Large coverage area
Efficient odor and allergen filtration
Far, far too expensive
No warranty offered with this product
Frequent filter replacements
Bulky design is cumbersome to move from room to room

Buyer's Guide: Selecting the Best Air Purifier for Pets
Without going to the trouble of laboratory-grade testing, it can be tricky to determine whether a given air purifier's claims are verifiably true, or simple salesmanship. To avoid spending your money on an inferior product, it's helpful to educate yourself on the ins and outs of air purifiers that we cover in the following sections.
What Can an Air Purifier Do for You and Your Pets?
To create the best environment for you and your pets, an air purifier is designed to do one thing exceptionally well — capture and remove small particles from the air in your home.
In addition to filtering out common allergens like dust, mold, pollen, and smoke, a well-designed air purifier can capture nearly 100% of pet dander from the air. For mild to moderate allergy sufferers, combining an air purifier with a regular vacuuming routine can quickly eliminate the negative effects of pet-related allergens.
Overall, air purifiers can be a modest investment in increasing the quality of life for both you and your pet, helping you to enjoy your days more and sleep better at night.
What to Look for in an Air Purifier
In testing and examining dozens of air purifiers that are suitable for homes with pets, we've narrowed down our comparison categories to the following features:
Quiet Operation might be the most important difference between a lower-quality air purifier and a top-notch model. We look specifically for purifiers that run quietly enough to sleep while they're operating and give preference to products that don't feature overly bright or aggressive lighting features.
Effective Filtration is the make-or-break factor in any air purifier for pets. If it's not a High-Efficiency Particulate Air, or HEPA, filter then it's not worth buying for your home. True HEPA filters have the greatest ability to absorb and remove airborne allergens, including pet dander.
Room Coverage Area needs to be appropriate to the size room in which you intend to use your air purifier – the larger the coverage area for the price, the better value you're getting on your purchase. If you have the budget for a purifier that can cover a larger area, it's a smart investment to make; a high-coverage purifier in a small room will filter the air quicker and more efficiently.
Fan Speed Options let you choose between all-day filtration or periodic bursts that are sometimes more energy efficient. Look for purifiers that offer at least two settings, for high and low fan speed operation.
Longevity of both the machine itself and the filters is the final quality that determines whether a purifier is worth investing in. More expensive air purifiers will often offer extended warranties with your purchase, making them the safest option for long-term use.
Types of Air Purifiers
Five types of air purifiers are readily available on the market today, each with their own benefits and downsides.
Delineated by their filtering systems, these include:
HEPA filters must meet a standard ability to trap at least 99.97% of all particles larger than 0.3 microns – including such nasty allergens and pollutants as chemicals, bacteria, viruses, pet dander, mold, and bacteria. They're the most efficient trapping medium available today, and our top choice for use by pet owners.
Activated Carbon filters can chemically bond with certain airborne substances, making them a good alternative to HEPA filters for anyone with extreme odor or chemical sensitivities. They are not, however, as efficient as a HEPA filter at absorbing dust and pet dander.
UV technology is often used as an adjunct to particle filtration systems, where it adds an extra protective step of killing bacteria and viruses. They are most often reserved for professional settings and can help reduce or eliminate airborne odors over time.
Negative Ion purifiers utilize magnetic polarization to attract and trap airborne particles but are generally considered less effective than the filters mentioned above. We generally do not recommend an ionic air purifier as the sole purifier for a house.
Ozone purifiers are an unsafe option for home air purification and should be avoided; we mention them here so that you know not to consider buying one for your home. The Environmental Protection Agency has more information about the potential dangers of ozone in enclosed spaces here.
How HEPA Filters Work
Developed from a long line of folded paper filters that may go as far back as World War I, HEPA filters work by physically trapping airborne molecules in their extremely fine mesh sieves. By combining paper filters with a layer of dense glass fiber, these filters can catch nearly 100% of all particles measuring more than a minuscule 0.3 microns in diameter. To put this in perspective, a human hair usually measures between 50 and 150 microns in diameter.
If you're curious to learn more about this style of filter, check out this video from How It's Made on YouTube that details the entire production process for air filters:
How to Set Up and Maintain Your Air Purifier
Once you've decided on an air purifier for your home, you'll need to follow a few simple steps to set it up properly for maximum filtering efficiency. Consider the following points:
When your air purifier arrives, be sure to remove the plastic covering on the filter. Many air purifiers come with the filter already installed, but not yet unwrapped; running your new purifier this way will be ineffective at best or damaging at worst.
Position your new purifier at least 18 inches away from walls and any furniture, ideally in the center of your room. This allows for maximum airflow and filtering efficiency.
Air purifiers work best in the room they're positioned in, so consider either buying multiples for a larger space or occasionally moving it from room to room in your home.
If you're looking for the best air quality possible, keep your doors and windows closed and run your air purifier on its lowest setting 24 hours a day.
Set a reminder on your calendar to clean the prefilter once a month, and to replace the filter at the time recommended by the manufacturer (usually one year per filter).
Conclusion
As far as we're concerned, the Honeywell HPA300 True HEPA Air Purifier's combination of quiet operation, extensive room coverage, and excellent affordability place it head and shoulders above the competition. Of all the air purifiers we tested for these reviews, only the Honeywell hit the sweet spot of providing nearly 500 square feet of air-purifying coverage at a reasonable price. If you're looking for one air purifier to improve you and your pets' quality of life, this is it!
For smaller rooms or more limited budgets, however, the LEVOIT Core 300 Air Purifier offers an inexpensive alternative to our top pick. It's compact, quiet, and perfectly suited for boosting the air quality in your bedroom or office rather than a large living room or dining area. Choose the LEVOIT if you're looking for a space-saving air purifier to clean up a certain room in your house.
See also: our comparison of popular dog crate fans
---
Featured Image Credit: Yuttana Jaowattana, Shutterstock