11 Best Beef Dog Foods in 2023 – Reviews & Top Picks

While most dog food is filled with wonderful ingredients like fruits, vegetables, and grains, we all know that it's the protein source that's the real star — and it's hard to beat beef. Feeding your dog beef is a great way to keep him lean, healthy, and happy.
Of course, choosing the right beef food for your dog can be nerve-wracking. Every brand says that it's the only food that has everything your dog needs. Unless you went to vet school, wading through all those claims can be intimidating — not to mention exhausting.
That's why we've done all that for you. In the reviews below, you'll discover which beef foods we think are best for your dog (and your budget). To make this list, we pored over ingredient lists, compared nutritional profiles, and checked to see what dogs actually prefer eating.
The foods that made the cut are so healthy and delicious, you may think about trying a bowl yourself.
A Quick Comparison of Our Favorites of 2023
Rating
Image
Product
Details

Best Overall

Ollie Fresh Dog Food Beef with Sweet Potatoes

Healthy ingredients
Human-grade
No artificial flavors or fillers
Click to Save 50%

Best Value

Blue Buffalo Adult Wet Dog Food

Omits many common allergens
Includes superfoods like cranberries
Has lots of beef
including beef broth and liver
Check Price

The Honest Kitchen Whole Grain Dog Food

Each box goes a long way
Human-grade ingredients
Cattle are humanely-raised
Click to Save 30%

Use code HEPPER30

Best for Puppies

Merrick Grain Free Wet Dog Food

Ideal for puppies
Filled with high-quality ingredients
No grain or poultry to upset stomachs
Check Price

Purina ONE Natural Adult Dry Dog Food

Kibble is small enough for toy breeds
Includes antioxidants to boost immune system
Added glucosamine for joint health
Check Price
The 11 Best Beef Dog Foods
1.

Ollie Fresh Dog Food Beef with Sweet Potatoes – Best Overall
The best overall beef dog food replacement is Ollie. Ollie provides fresh recipes that are carefully crafted to ensure that your pooch has healthy food that also tastes delicious. The beef recipe is especially great, coming in baked and fresh varieties.
This recipe comes with beef, sweet potatoes, and peas, ensuring a healthy and hearty meal. It also has blueberries and chia seeds for additional vitamins, antioxidants, and benefits.
Like all other Ollie recipes, these ingredients are high quality, the food is crafted in US facilities, and the food is human grade. That way, you can trust that your dog is eating healthy food that will allow it to live a long and healthy life.
Two recipes to choose from
Healthy ingredients
Human-grade
No artificial flavors or fillers
---
2.

Blue Buffalo Adult Wet Dog Food – Best Value
This wet food from Blue Buffalo foregoes many common allergens, like wheat, grain, and chicken. Instead, the recipe is filled with all kinds of beef, including beef broth and liver.
There are several so-called "superfoods" in each can as well, such as blueberries, cranberries, and flaxseed. These have a ton of vitamins and minerals in them, including omega fatty acids, which can help everything from your dog's heart to his immune system.
Despite all this goodness, this is a relatively inexpensive food. You can stretch your dollar even further by mixing it with kibble if you like.
Just be aware that this is extremely rich food, so you may need to ease your dog into it to avoid an upset stomach. Once he's acclimated, though, he should love it — and so should your pocketbook, which is why we feel it's the best beef dog food for the money.
Omits many common allergens
Has lots of beef, including beef broth and liver
Includes superfoods like cranberries
Good budget option
Mixes well with dry kibble
Extremely rich
May take some getting used to
---
3.

The Honest Kitchen Whole Grain Dog Food
The Honest Kitchen VR Organic is a dehydrated option, so you'll need to add some water and stir it up before serving. However, that ensures that each box goes a long way, which helps to offset its high sticker price.
Your money certainly buys quality food, however. All of the ingredients are human-grade, and the beef is ranch-raised, so you don't have to worry about the cows being mistreated or shot full of antibiotics and hormones.
Because there aren't any processed ingredients in this food, your dog should digest it well. It's low in fat and calories as well, so there's little risk of your dog packing on the pounds with this food.
However, the tricky part is convincing your dog to try it. It's unlike any other food you've given him in the past, and many pups are hesitant to give it a shot.
If you can convince him to taste it (and convince your bank to finance a box or two), The Honest Kitchen VR Organic is one of the best foods on the market today.
Each box goes a long way
Human-grade ingredients
Cattle are humanely-raised
Dogs digest it well
Low in fat and calories
Extremely expensive
Many dogs are hesitant to eat it
---
4.

Merrick Grain Free Wet Dog Food – Best For Puppies
We won't judge you if you feel tempted to try a bit of the Merrick Grain Free yourself, because it looks exactly like a big bowl of beef stew. Your puppy will be thrilled, then, to see you exercise some self-restraint (you didn't actually try it, did you?) and feed it to him instead.
This food is specially-formulated for puppies, so don't expect it to have all the nutrients a fully-developed dog needs. However, it's got everything a growing animal requires, including lots of deboned beef, peas, carrots, apples, and sweet potatoes.
Just as notable is what it doesn't have, which is grain or poultry. These can be difficult for young dogs to tolerate, so omitting them reduces the risk that you'll have stomach problems to deal with. The fact that it's made in the USA eliminates another possible source for digestive problems.
The majority of each can is moisture, however, rather than protein or fat. As a result, Merrick Grain Free is best combined with dry food that will round out your dog's nutritional profile.
Ideal for puppies
Filled with high-quality ingredients
No grain or poultry to upset stomachs
Made in the USA
Each can is primarily moisture
Should be combined with a dry food
---
5.

Purina ONE Natural Adult Dry Dog Food
Purina ONE SmartBlend Natural has bits of tender meat mixed in with the dry food, so it's no wonder that it often proves to be a hit with dogs. The kibble is tiny, making it suitable for smaller pups, but it's also filled with nutrients that big dogs need, like glucosamine for joint health.
The manufacturer also adds an antioxidant blend to the formula, which should help turbo-charge your dog's immune system. You'll also find extra calcium, Niacin, vitamin E, and more.
Our biggest concern is that the ingredient list is full of foods that are known to cause issues with sensitive dogs, like whole grain wheat, chicken by-product, and artificial coloring. There's also a bit more salt than we'd like to see.
Ultimately, Purina ONE SmartBlend Natural is a middle-of-the-road food that's sold at a middle-of-the-road price. Your dog should do fine on it, but he would probably fare better eating one of the foods ranked above.
Kibble is small enough for toy breeds
Added glucosamine for joint health
Includes antioxidants to boost immune system
Includes lots of common problem foods
High salt content
---
6.

Iams Proactive Dry Dog Food
There's plenty of protein inside Iams Proactive Health, as in addition to farm-raised beef it also boasts chicken, egg, and chicken fat. All that protein will help your pup build plenty of lean muscle, while also preventing him from getting too pudgy.
It's not all meat and protein, though. There's also plenty of veggies for vitamins and fiber, like carrots, beet pulp, and flaxseed. That ensures your pooch will get all the nutrients he needs to keep his coat shiny, his bones and teeth strong, and his digestive tract in good working order. Of course, all that added fiber will likely also lead to an increase in gas, so maybe don't stand downwind after dinner.
The manufacturers also added an extra dose of L-Carnitine, which helps regulate metabolism, making this a good choice for dogs that need to shed a few pounds.
Regardless of your dog's size, Iams Proactive Health should have all he needs to stay strong, trim, and healthy.
Lots of protein inside
Uses farm-raised beef
High fiber content
Added L-Carnitine to regulate metabolism
Good for keeping coat shiny and bones strong
---
7.

Diamond Naturals Real Meat Dry Dog Food
At first glance, Diamond Naturals Real Meat Recipe looks like everything you'd want in dog food: it doesn't have corn or wheat, there are plenty of omega fatty acids for your dog's skin and coat, and it has probiotics for digestive health.
Unfortunately, you don't have to look very hard on the package to find a big problem: the first ingredient is beef meal, not real beef. What's in beef meal? That's a very good question — and one that you probably don't want to know the answer to.
There are a lot of "superfoods" in this kibble, like kale, chia seeds, and kelp, but there's virtually nothing in the way of real, trustworthy meat. Most dogs prefer meat to kelp and kale, so you may have difficulty getting your pooch to eat it. The kibble itself is also very hard, so it may not be a good choice for senior dogs or those with dental issues.
It's a shame that Diamond Naturals Real Meat Recipe skimps on the "real meat" portion of their name because this looks like a good product otherwise.
No corn or wheat
Lots of vitamin-rich superfoods
Probiotics for digestive health
Uses beef meal instead of real beef
Many dogs don't like flavor
Kibble is very hard
---
8.

Rachael Ray Nutrish Dry Dog Food
Each bag of Rachael Ray Nutrish proudly states that real beef is the #1 ingredient, and that's true (and good). However, what they don't tell you is that beef meal is the second ingredient, and that's not such a good thing.
There's an awful lot of filler in this food, and that negates most of the things we like about it. In addition to beef meal, it's also stuffed with corn and wheat. This helps keep the price down, but at the expense of your dog's nutrition — and those ingredients often cause digestive issues, so you may want to buy an extra roll of poop bags to go with the kibble.
On the sunny side of the ledger, there's brown rice and beet pulp for fiber, and chicken fat adds a nice boost of omega fatty acids.
That's not enough to outweigh the dodgy ingredients, though, and so Rachael Ray Nutrish will have to be satisfied with a bottom-tier ranking.
Real beef is #1 ingredient
Lots of fiber and omega fatty acids
Loaded with cheap fillers
May cause digestive issues
Beef meal is second ingredient
---
9.

Crave Grain Free Dry Dog Food
Crave Grain Free is filled with protein — it's 34% protein, in fact. However, in what's becoming a theme with the foods near the bottom of our list, the issue is where that protein comes from.
As with the Rachael Ray Nutrish, real beef is the first ingredient. It goes downhill sharply after that, though, as it also has chicken meal, pork meal, and lamb meal. All of those meals help keep the price down, as otherwise, food with this much protein would be very expensive, but they lower the quality of the kibble in the process.
It's also extremely high in fat and low in fiber, which isn't a good combination if your dog is looking more porky than a Corgi.
The flavor is likely to be a hit, though. There are quite a few pea-based ingredients inside as well, which is good for bone health.
If protein is your top concern when choosing a food, Crave Grain Free might be right for you. If you care about nutritional balance, though, you'll probably want to keep looking.
Dogs like flavor
Lots of peas for bone health
Filled with protein meals
Very high fat content
Little fiber inside
Not good for overweight dogs
---
10.

NUTRO MAX Adult Dry Dog Food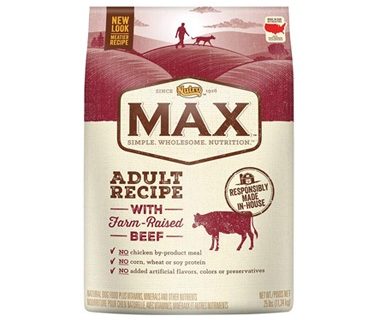 There is real beef in NUTRO MAX, but you're going to have to look pretty hard to find it. The first ingredient is chicken meal, which is a sort of double whammy, since it's both a low-quality filler as well as a food that often causes digestive issues.
In addition to possibly wreaking havoc on his bowels, this food could possibly make his doggy breath worse (if such a thing is possible). Dogs with skin conditions may find their problems worsened as well.
The company markets this to large breed dogs specifically, but if that's the case, we feel there should be ingredients inside that promote healthy joints, like glucosamine and chondroitin. No such luck — and there's a lot of fat inside, which can lead to weight gain and exacerbate joint problems.
The good news is there are no grains in this food, as it uses oatmeal, sorghum, flaxseed, and rice instead. That provides more vitamins and minerals, with less likelihood of an upset stomach.
Of course, saying that a food doesn't have one ingredient that causes digestive issues doesn't do much good if it has a bunch of other ingredients that do. As a result, it's hard to justify recommending this food with so many other better options available.
Uses flaxseed and similar ingredients instead of grains
Not much beef inside
May cause bowel issues
Can worsen doggy breath
Not ideal for pups with skin conditions
Lacks ingredients for joint health
---
11.

Merrick Classic Healthy Grains
The biggest selling point that Merrick Classic Healthy Grains offers is what's not inside — specifically, a lack of problematic ingredients like wheat, poultry, and legumes.
Unfortunately, the ingredients that are actually in the bag aren't as promising. There's a lot of protein meal, not to mention an awful lot of salt. Also, the recipe is filled with grains (as you might expect, given the name), but that apparently didn't leave much room for fruits and veggies. For the price, you'd expect a more well-rounded ingredients list.
Bigger dogs may have issues eating it as well, since the kibble is incredibly small. This can lead to gagging and choking, so you may want to monitor your mutt as he eats.
Merrick made some smart choices when deciding what ingredients to skip, but their decision-making faltered somewhere along the way. The end result is food that barely makes this list.
Lacks many problematic ingredients
Filled with low-quality protein meals
High salt content
Lacks fruits and veggies
Small kibble poses choking hazard
Expensive for what you get

Conclusion: Selecting the Best Beef Dog Foods
In addition to lean, human-grade beef, Ollie Fresh Dog Food Beef with Sweet Potatoes is made with whole ingredients, is free of grains, additives, and preservatives, and is conveniently delivered to your door on a schedule of your choosing.
Blue Buffalo's wet food is also filled with beef, yet it somehow manages to be a budget-friendly option. We also like that it isn't stuffed with problematic ingredients, as the manufacturers chose to replace those with superfoods like cranberries instead.
We know that choosing a food for your dog isn't easy, and we hope our reviews have helped you find a beef food that your pooch will love. Our top picks are delicious and nutritious, and we're confident that they have everything a dog needs to stay healthy.
Or if you prefer, you could just cook your dog a steak. We're sure he'd appreciate it.
---
Featured Image Credit: jagdprinzessin, Pixabay