10 Best Books For Cat Lovers – 2023 Reviews & Top Picks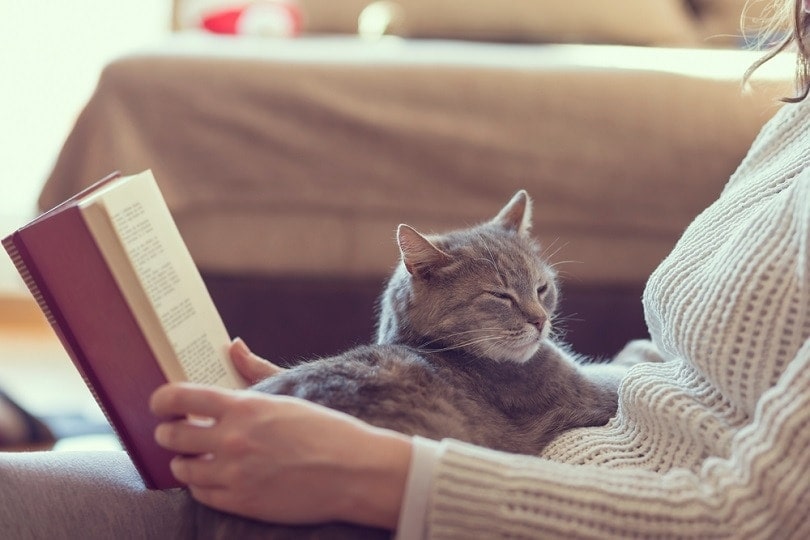 Who wouldn't want to snuggle up with their cat while reading a book about them?
Our kitties add so much love, entertainment, and meaning to our lives—it's only natural to want to learn as much as you can about them.
If you're a kitty lover or know someone who is, you might be looking for some new literature.
After all, what better subject could you add to your collection?
The good news is, we have rounded up 10 of the top cat books of 2021.
Let's look at these reviews so you can add some fresh finds to your online shopping cart!

A Quick Look at Our Favorites in 2023
Rating
Image
Product
Details

Best Overall

I Could Pee on This

Hysterically funny
Easy to read format
From cat's perspective
Check Price

Best Value

How to Tell If Your Cat Is Plotting to Kill You

Creative spin
Dark humor
Neat illustrations
Check Price

Premium Choice

Meow - A Book of Happiness for Cat Lovers

Adorable pictures
Heart-warming quotes
Lengthy
Check Price

Crafting with Cat Hair

Crafty
Interesting
Useful
Check Price

How to Speak Cat

Insightful
Easy to read
Vet approved
Check Price
The 10 Best Books For Cat Lovers
1.

I Could Pee on This: And Other Poems by Cats – Best Overall
If you're looking to add some laughter into your cat lover's life in the form of a book, I Could Pee on This is our favorite pick. It's quirky, witty, and full of hilarious truths about sharing a home with our feline pals. Whether it's a gift or a guilty pleasure book for yourself, it will have you giggling with the turn of each page.
Well-written and hilarious, Francesco Marcuillano takes on our beloved cats' perspective with a series of poems. Each one is written through their eyes, uniquely explaining the behaviors we find humorous, strange, entertaining, and frustrating.
Some exciting titles sure to grab your attention might be "Who Is That on Your Lap?," "Some of My Best Friends Are Dogs," and "Kneel Before Me," but there are so many more to mention. Marcuillano captures what it's like to be an intentionally superior kitty with a desire for affection—when they want it.
This book is available in hardcover and Kindle formats—so buy it for a quick read on your device or mail it to a friend. The choice is yours! No matter the reader, they won't be disappointed. They will be reading it aloud to their cats as they indifferently step upon its pages.
As a disclaimer, this funny cat book does contain some adult language that might not be suitable for children. But, with all that said, we still think this is the overall best book for cat lovers out there.
Hysterically funny
Easy to read format
From cat's perspective
---
2.

How to Tell If Your Cat Is Plotting to Kill You – Best Value
If you want to sweep all of the dark corners of your sadistic cat's mind while paying low prices—this might be the book for you. How To Tell If Your Cat is Plotting to Kill You will keep you glued to the pages with hysterical comic illustrations and amusing jargon. In our opinion, it's the best cat book for cat lovers for the money.
No matter if this book is for a friend or you, it will keep your attention until the very end—you never know what you'll read next. Imaginative and dark, The Oatmeal is at it again, toting their special brand of humor beautifully.
This New York Times Bestseller includes satire cartoon diagrams of how cats see humans and how they see themselves. You can get a good grip on how much you have to worry about—know if your cat is seeking revenge. So is your cat plotting to kill you? You might have to read all of the signs to figure it out.
Creative spin
Dark humor
Neat illustrations
Cost friendly
Not everyone will share the same sense of humor
---
3.

Meow: A Book of Happiness for Cat Lovers – Premium Choice
Even though this might be a little bit more of a pricey pic, Meow—A Book of Happiness for Cat Lovers is worth the read. Covering all the aspects of cat-owning, this book goes over everything you can think of. The book is essentially a compilation of quotes and gorgeous photography.
You can read iconic quotes from famous people such as Ernest Hemingway and Sir Walter Scott. There is no particular order or basis for this book. It is simply a compilation of images and informative quotes to enjoy.
This book is beautifully versatile, covering so many aspects of cat ownership in such a simplistic fashion. It might be a tad on the pricier end, but it's worth it if you're a cat lover who wants to ogle over precious photos and read the perspective of fellow cat-lovers.
This book is an excellent read for a wind-down book before you go to bed or as you drink a hot cup of tea on a rainy day—and, of course, your cat is sure to lay on top of each page as you try to read it.
Adorable pictures
Heart-warming quotes
Lengthy
---
4.

Crafting with Cat Hair
Crafting with Cat Hair: Cute Handicrafts to Make with Your Cat is suitable for the crafty cat-lover in your life. You might not think cat hair has much value. After all, you're constantly trying to remove it from your furniture and clothes. But you can turn loose hairs into a masterpiece.
Each project listed in the book takes under an hour to make, so you could make a day of it on the weekend if you chose. You can make everything from kitty finger puppets to tote bags. Who knew cat hair could be so useful?
Unconventional and quirky, this book will give you step-by-step instructions on how to create each piece. Not only will adults love these projects—they can make an enjoyable activity for kids as well. You can make hats and scarves tailored with your kitty's special fur.
Now, of course, the concept is a bit strange, and it won't be everyone's cup of tea—but it might be fun to try.
Crafty
Interesting
Useful
---
5.

How to Speak Cat: A Guide
Have you ever wondered what your felines are trying to say? If you're trying to decipher kitty lingo, you might attempt reading How to Speak Cat: A Guide to Decoding Cat Language. Dr. Gary Weitzman, a widely revered veterinarian, explains the ins and outs of understanding your cat and all of its odd behavior.
You might think you have it all figured out, but the reality is that your cat might not be saying what you think they are. Sometimes it isn't easy to put your mind in the position of your animal friends. After all, cats are highly independent and have unusual habits.
Peculiar as it might be, Dr. Weitzman has delved deeply into the advanced world of the cat brain. Don't worry! This is not a complicated read. It is a broken down step-by-step way of explaining eccentricities that even your feeble human mind can comprehend.
Insightful
Easy to read
Vet approved
---
6.

You Need More Sleep: Advice from Cats
Now we have another hit from Francesco Marcuillano—You Need More Sleep: Advice from Cats. In this book, we explore ways felines use their lifestyle to help us with ours. Sometimes we all just need a little advice from a cat's perspective.
This book teaches you how to survive in social settings, make it through a workday, and navigate personal relationships. All with the help of your kitty pals. It even tells you  how to excel in your career, if you can believe that.
Whether you're a cat lover yourself or know someone who is, this book can help them with everyday struggles. After all, couldn't we all use a little more sleep? Maybe a cat nap really is all we need.
Some really enjoy the tongue-in-cheek wit of this book, while others might not. It really is a matter of personal preference and individual sense of humor.
Humorous
Light natured
Clever
Some might not share the humor
---
7.

Chicken Soup for the Soul: Life Lessons from the Cat
Chicken Soup has been at it for years, dishing out life lessons in various subjects. Chicken Soup for the Soul: Life Lessons from the Cat is a compilation of different stories that are inspirational and heartwarming. It's no surprise that so many people have stories to share about their feline companions.
When you read this book, it will fill you with laughter, tears, and a series of emotions. It is completely inspirational to see just how deeply our bonds with our pets can be. Whether you're reading a poem or a short story, you will keep turning the pages until the end.
This book is especially fitting for someone who needs a little pick-me-up. If you have a friend or if you are going through a little bit of a struggle, it might do your soul some good to read about your favorite animals of all.
As with all chicken soup books, this is a compilation of personal experiences. This isn't a chapter book where one story leads off of another. If you're looking for a more consistent storyline instead of short stories, you might want to look elsewhere.
Story variety
Emotionally driven
Inspirational
Not a consistent storyline
---
8.

When You Love a Cat
When You Love a Cat is an adorable short story by MH Clark. This book serves as a reminder that, unlike dogs, cats choose us. Cats are highly independent creatures, so when they form bonds with you, you know they are honest and strong.
This book has several illustrations that demonstrate just how our cats behave and how they show all sorts of emotions. It is a celebratory book about the bonds between felines and their human companions.
If you're looking for a little quick inspiration, this is a great read. This book is written in poetry prose. You might want to grab a box of Kleenex as it can get pretty emotional. Because of the book's heartfelt nature, it might not be what everyone is looking for—so know what the contents are before you buy.
Heartfelt
Beautiful illustrations
Explains human/cat bonds
Might not be the right mood for everyone
---
9.

Fur & Purr: The Funniest Things People Have Said about CATS
Everyone has their own opinion about cats. Some are good, and some are not so favorable. In this book—Fur & Purr: The Funniest Things People Have Said about Cats— you can explore all of the hilarious euphemisms that people come up with to explain relationships with our feline counterparts.
If there's one thing for sure, our cats give us all kinds of things to laugh about. And that doesn't end with just regular people like you and me—that overflows into celebrities and royals alike. Granted, not everyone cares about celebrity opinions, so this is a matter of taste.
If you're looking for a few chuckles while drinking your morning coffee, consider it done. This best book about cats is a remarkable go-to book for any person who has had any relationship with a cat. Famous celebrities are quoted in this book, including Ellen DeGeneres, Drew Barrymore, and George Carlin.
It also has everyday blurbs from ordinary people who share their homes with the kitties. There are so many accounts that you can relate to and laugh at being a cat owner yourself. Even if you don't have cats, you can appreciate the sentiment.
Back to back laughs
Celebrity comments
Relatable content
Not captivating to everyone
---
10.

Mark Twain for Cat Lovers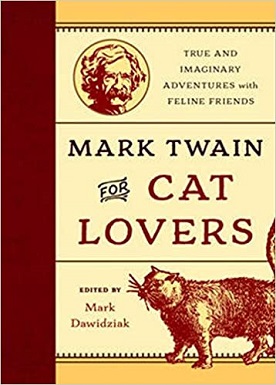 It's no historical secret that Mark Twain was quite the cat lover. In Mark Twain for Cat Lovers: True and Imaginary Adventures with Feline Friends, you can explore the deep, profound relationship and impact that felines hard on Mark Twain.
Author and scholar Mark Dawidziak explores as many excerpts from Mark Twain's famous books. He covers many different illustrations, short stories, and transcripts from all of his literature. Since not everyone cares about Mark Twain and all of his adventures, this book might not be for everyone.
You have to have some knowledge of Mark Twain to fully immerse yourself in this book's detail. However, if you have any appreciation for history, you might find yourself sincerely entertained.
Learn more about history
Delve into Mark Twain's writings
Subject won't interest all
Some might find this book boring
Buyer's Guide: Choosing the Best Books for Cat Lovers
Cats give us practically an endless subject matter to write about. Everything from their body language to their odd quirks gives any author just the right amount of fuel they need to develop some pretty nifty text. But as owners, we look for something that can be relatable. If we're reading a book about cats, we want books that accurately depict our feline friends.
Fulfilling relationships with animals can be deeply spiritual and incredibly humorous. You can feel any emotion on the spectrum, including sheer aggravation sometimes if we're honest.
So if you were looking for some unique gift for a cat lover that you know or you just want to read about kitties yourself, what are you looking for exactly?
It might surprise you just how many books are on the shelves about cats.
Cat Behavior
Sometimes, it can be very challenging to understand just exactly what our pets are thinking. No matter if you are simply curious about an action or want a solution to a deeper problem, you might turn to books as a means of explanation.
Luckily for you, there are tons of books that cover the subject of feline behavior. From specialists and professionals to everyday people, you can gain insight into cats' behavior in so many different ways. Cat books that explain how they operate might touch many different bases so sometimes it's best to get specific.
You might want to know:
Why cats change so much after sexual maturity
Why cats use the bathroom the outside of the litter box
Why cats rather against you with their face and bodies
Why cats demand food on a regular basis even when they just ate
Medical professionals, as well as animal behaviorists, can explain different aspects in great detail for you.
Cat Quirks
It's no secret that cats have eccentric behavior sometimes. That's one of the reasons why we love them. So many books really capture the essence of cat quirks and all of their oddities.
It's really entertaining to break down into human lingo the ways of cats. Many authors have really embraced the feline selves being able to verbalize just how cats communicate with us and entertain us every day.

Cat Poetry
Where would we be without a little rhyming? Cat poetry books can be quite entertaining and easy to read. There's something about the beat of a poem that really makes things flow.
Cat Crafts
While it might seem bizarre, it doesn't have to be. You can make tons of crafts with your cat in mind. You can scour the web with fun books that you can do with your children or other cat lovers.
Cat Jokes
Everyone can get with a good cat joke or two – even people who don't particularly enjoy having cats themselves. There are whole books that have tons of entertainingly hilarious riddles you can tell friends about later.
Cat History 
Believe it or not, cats have a rich history. They have been revered throughout the times and ancient cultures. Since the dawn of time, they have inspired man with their adorable cuteness, enriching attitudes, and ties to the spiritual.
It's incredible to see the difference that cats have made on human beings in several eras. From Egyptian cat gods to witch familiars, you can read all about their appeal and contribution to human perception.
Cat Training
While it may seem like a foreign concept, feline training is a very real thing. Yes, certainly, cats are more independent than some other domesticated animals. But that doesn't mean that they can't learn valuable life skills.
If you don't want your cat jumping on the counter, are you going to prevent them from eating your houseplants, there are ways to avoid these behaviors entirely.
You can train cats in areas such as:
Litter training
Leash training
Behavior training (such as inappropriate meowing, clawing, or climbing)
You can get advice from experienced or professional trainers to help you stop unwanted behavior at home.
Conclusion
Before doing your homework, you might not have realized just how many options you have regarding books about cats. Hopefully, our reviews helped you find 'subject that you can really find interest in.
We stand by our favorite, I Could Pee on This, because of its unique humor and fantastic illustrations. But if your humor is a bit on the darker side, and you want to save a little extra cash, try How To Tell If Your Cat is Plotting to Kill You—because let's face it—it's important to know.
No matter which of these books you pick, you can cover just about every emotion on the human spectrum. Grab one or more of these books for you and a friend. Share the love for cats.
You might also be interested in: