9 Best Cat Affiliate Programs – Reviews & Top Picks 2023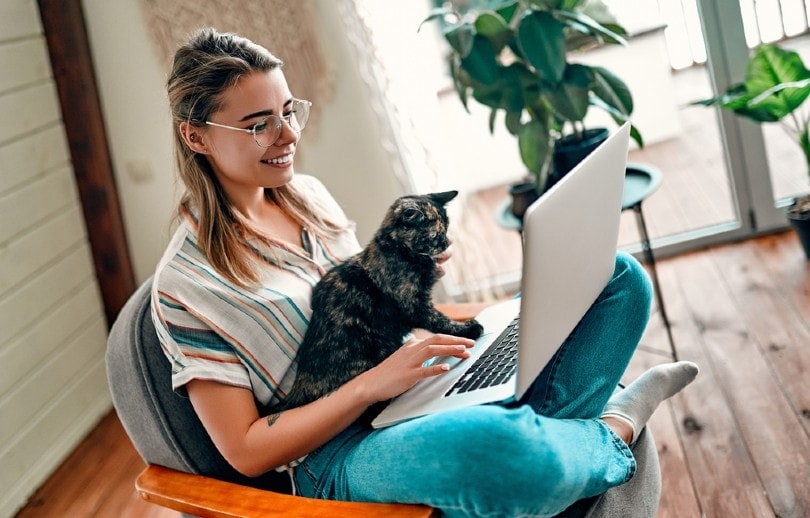 If you have a website dedicated to furry feline friends but aren't signed up for affiliate marketing programs, you are missing out on easy cash. If you do not take the time to select the best affiliate cat programs, the cash may not flow as freely as you might like, though.
To help boost your income, try out any one of these best cat affiliate programs. This article provides reviews for 9 high paying programs and the company they are associated with. At the end, we cover some tips for selecting the right affiliate program based on your site.
Let's get started.
The 9 Best Cat Affiliate Programs
1.

Hepper.com – Best Overall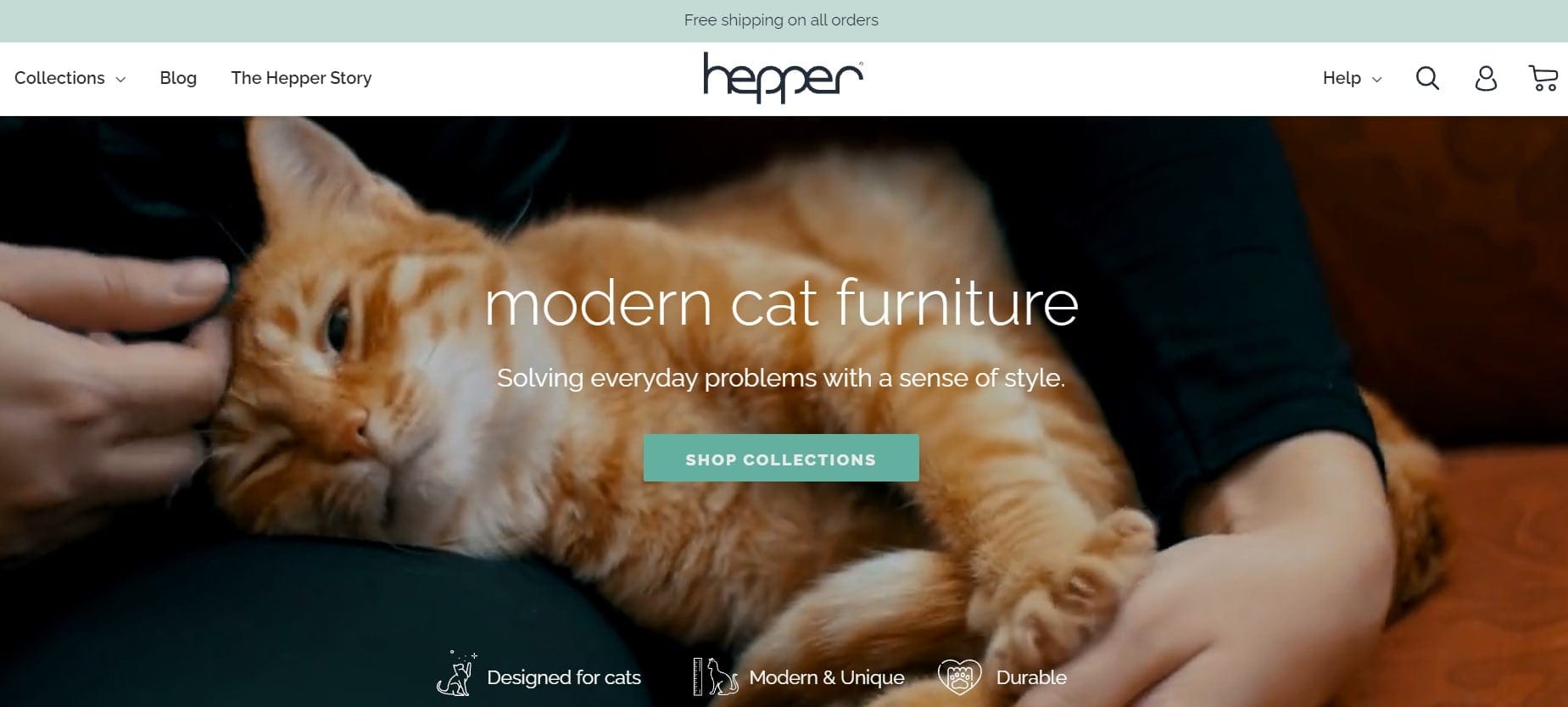 | | |
| --- | --- |
| Commission Rate: | 8% – 10% |
| Payment: | Monthly |
Hands down, or should we say paws down, the best cat affiliate program is Hepper.com. Hepper.com specializes in premium cat products that your feline will love, as well as your visitors. All the products are made from highly durable materials and designed to fit into the modern home. Hepper.com products will not distract from your perfectly designed room either.
At the same time, all products are created specifically for cats. They offer comfortable materials and snug hiding spots that make cats feel safe. So, you can expect your kitty to love Hepper.com products, and you will be proud to market the company.
The affiliate program has some pretty good features too. Its commission rate ranges between 8% and 10%. Unfortunately, the site does not list cookie duration or other information. Still, the high-quality products make it a favorite among cat sites specifically.
Great products
High commission
Company provides little info about the program
---
2.

Two Crazy Cat Ladies
| | |
| --- | --- |
| Commission Rate: | Not listed |
| Cookie Duration: | Not listed |
Two Crazy Cat Ladies is a very unique company dedicated to all things cats. From its cat symptom checker to 100% natural treats, this website will make sure your feline is pampered just as much as your neighbor's dog.
One thing we do not like about Two Crazy Cat Ladies is that their website does not provide a lot of information about the affiliate program. For example, there is no commission, conversion, or cookie duration info listed.
At least signing up is easy. Simply visit the Two Crazy Cat Ladies site and register for a new affiliate account. Make sure to provide a PayPal email to get paid.
Website specifically for cats
Easy to join
Company provides little info about the program
---
3.

Jackson Galaxy
| | |
| --- | --- |
| Commission Rate: | 10% |
| Cookie Duration: | 30 days |
If you are a fan of Animal Planet, you might already be familiar with Jackson Galaxy. Jackson Galaxy hosts My Cat From Hell and helps cats with behavioral problems. The website offers a variety of cat products to keep all feline friends healthy and happy.
The affiliate program is impressive, too. Members earn 10% of sales, which is considered a high rate. You can get several other coupons and deals from Jackson Galaxy products. This means you get to make some money while also saving money on your own favorite Jackson Galaxy products.
Branded by cat expert Jackson Galaxy
Good commission percentage
Long cookie duration
Must create an account with Yazing
---
4.

Pretty Litter
| | |
| --- | --- |
| Commission Rate: | 5% |
| Cookie Duration: | 30 days |
Everyone knows that cat owners need a litter box and litter. Although litter is a staple product, Pretty Litter takes it a step further. Pretty Litter is basically smart cat litter because it can help you find out if your cat has some sort of health issue.
How it works is that the litter will change color if your cat urine indicates a health issue, such as a UTI, an inflamed bladder, and kidney acidosis. Given that all cat owners both need litter and want their cat to remain healthy, Pretty Litter is a great product to promote for cash.
When you sign up with the affiliate program, there is a commission percentage of 13.5%. It even has an EPC of $17.94, which is healthy. The cookie duration lasts 30 days. All these facts point to the Pretty Litter affiliate program being a great program to try.
All cat owners need kitty litter
Inventive design helps monitor cat's health
Good commission percentage
Long cookie duration
Litter may be out of some people's price range
---
5.

Tuft & Paw
| | |
| --- | --- |
| Commission Rate: | 12% |
| Cookie Duration: | 60 days |
Tuft & Paw is another great site that sells novelty cat furniture. The furniture satisfies your cat's natural instincts without adding tacky furnishings to your home. The site sells several products, such as cat trees, litter boxes, and scratching posts. More so, the site sells smaller cat products, like toys, carriers, and bowls.
Because Tuft & Paw sells premium products, it's probably no shock that the site is expensive. This is both a good thing and a bad thing. It's a good thing because you will make more money from a single referral, but not everyone will be able to purchase the product. It's up to you to decide if Tuft & Paw is right for you.
The Tuft & Paw affiliate program is awesome, making it a must to consider. It has a commission rate of 12%, EPC of $76.72, and cookie duration of 60 days. You are highly likely to make some good money. Unless your site specializes in cat ownership on a budget, we recommend trying out Tuft & Paw.
Premium cat products
High commission percentage
Long cookie duration
Healthy EPC
Products may be out of some people's price range
---
6.

Live Pee Free!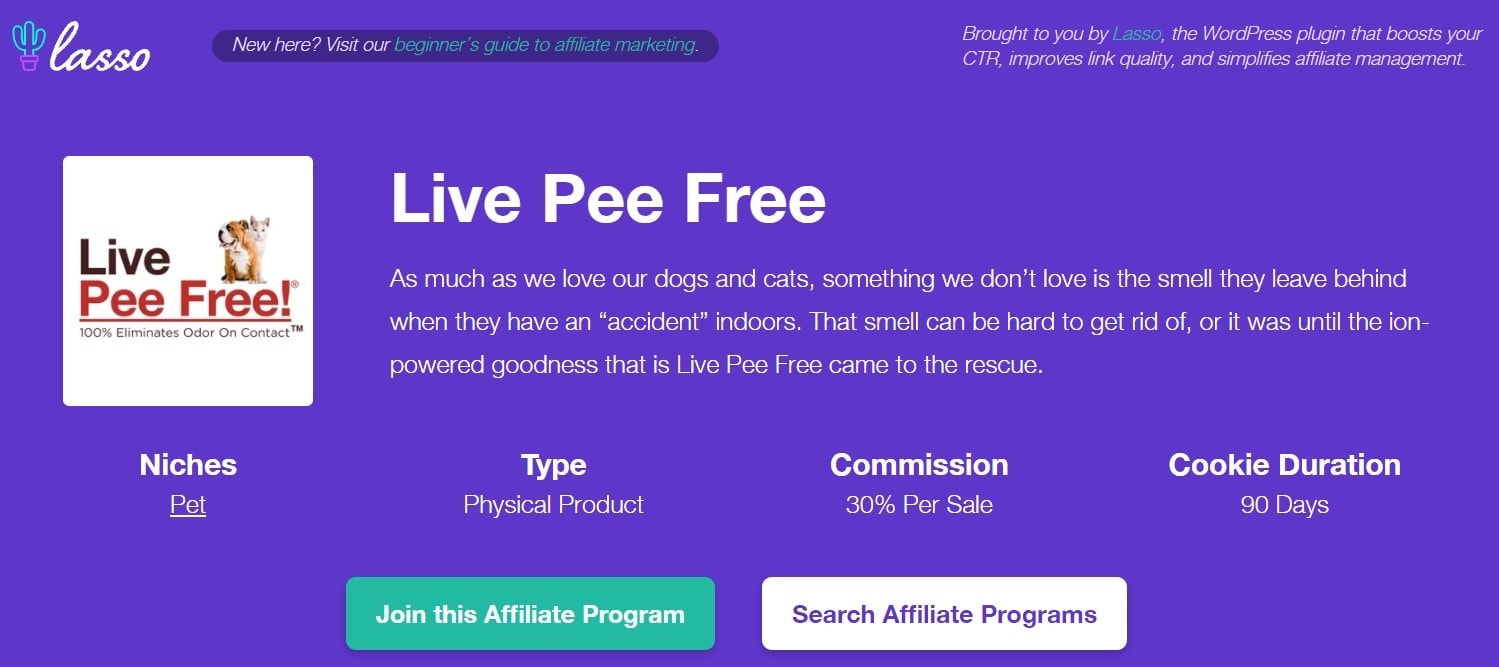 | | |
| --- | --- |
| Commission Rate: | 30% |
| Cookie Duration: | 90 days |
Cat urine can cling to your surfaces and cause your home to smell in no time. Especially if you have a kitten that is not yet litter box trained, you will probably want to purchase a highly efficient urine cleaner that removes stains and odors on site.
Live Pee Free! is one of the best cleaners for such a purpose. It is specifically designed for pet urine so that it can remove tough stains and strong odor. The affiliate program is very impressive. It offers a 30% commission rate and a cookie duration of 90 days.
However, it can be a little bit difficult to make huge earnings with this program. Most people don't consider a urine cleaner until their kitty has had an accident. In that case, most cat owners won't want to wait for the cleaning product to arrive in the mail. For this reason, be sure to market Live Pee Free! as a preventative option.
Highly effective cleaner
High commission percentage
Long cookie duration
---
7.

Chewy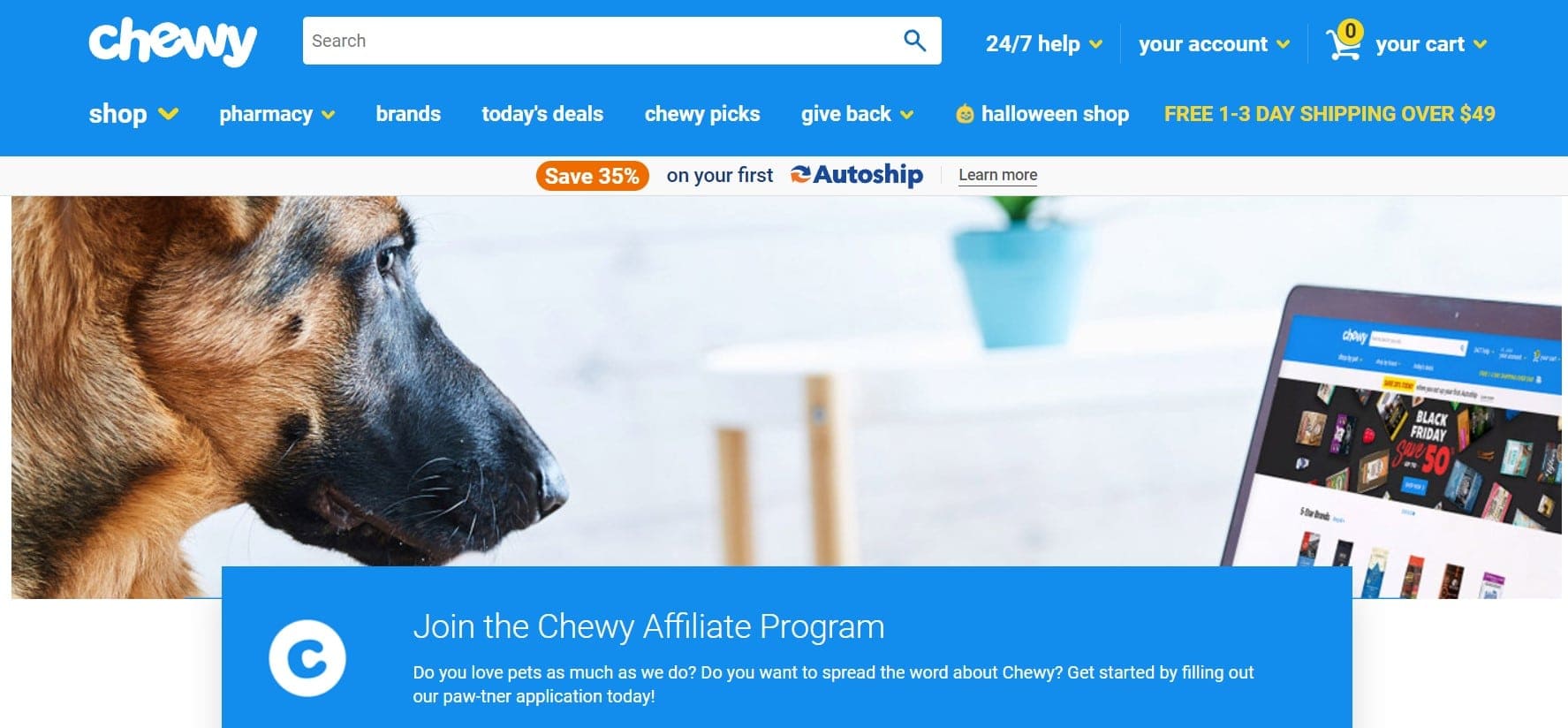 | | |
| --- | --- |
| Commission Rate: | $20 per sale |
| Cookie Duration: | 15 days |
So far, all of the affiliate programs we have recommended are from programs specifically designed for cats. Obviously, cat-specific affiliate programs are great for cat-related websites. However, you might want to consider affiliate programs of big pet stores and chains too since they have good brand recognition and trust.
Chewy.com is an online retailer for all things pets. It is considered one of the most popular online retailers with over 1000 brands and products to promote. As a result, you can easily incorporate Chewy products into your affiliate marketing scheme to make some money.
In comparison to other big-name retailers, Chewy has a competitive affiliate program. It offers a commission rate of $20 per sale and the cookie duration lasts 15 days. Even though this cookie duration is shorter than many of the others on this list, it is longer than Chewy's main competitors.
Another benefit of using Chewy is that this site is already so well known. You won't have to assure your customers that they are legit or anything. From their own experiences, customers won't be afraid to try out the website or put in their payment information. This means you are likely to make quite a bit of money from Chewy.
Plus, you can market products for other pets to, such as dogs and guinea pigs, allowing you to potentially reach more customers.
Well-known brand
A lot of products to promote
High commission percentage
---
8.

VetShop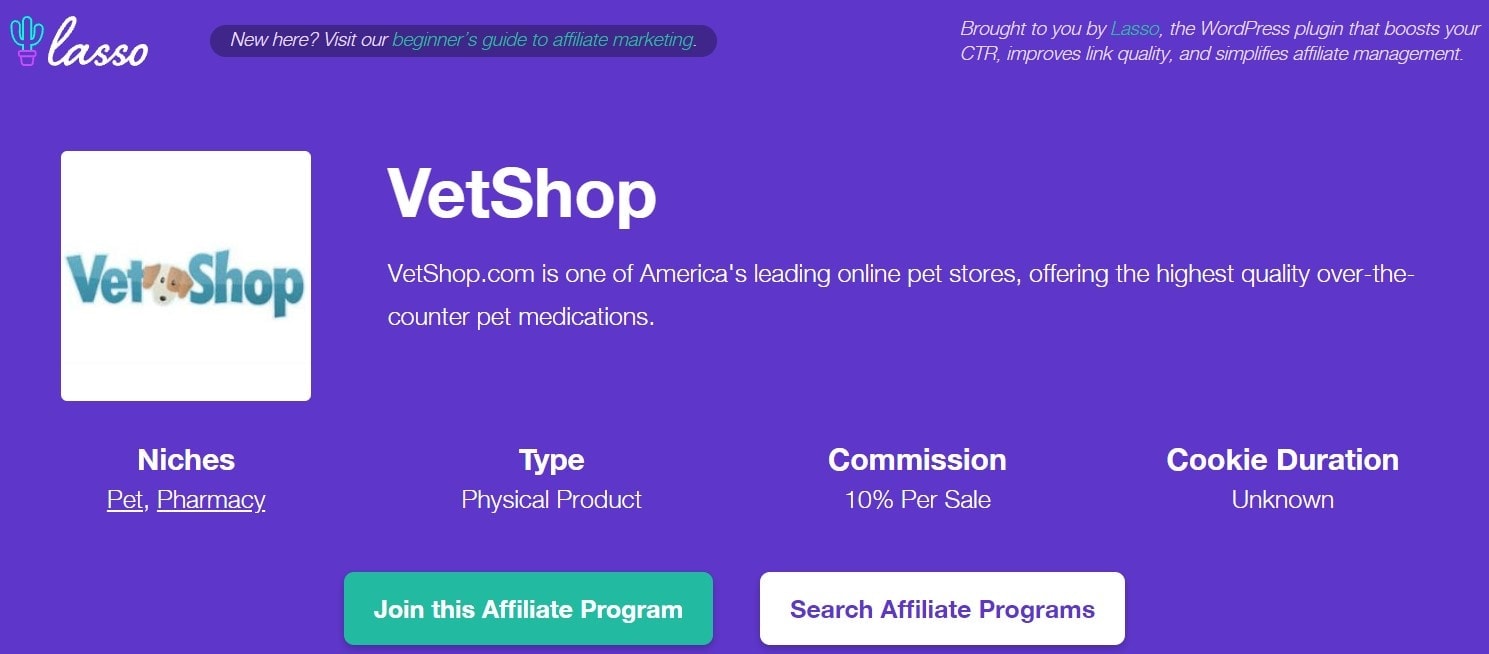 | | |
| --- | --- |
| Commission Rate: | 10% per sale |
| Cookie Duration: | 7 days |
VetShop is not dedicated to cats exclusively, but it provides medications for many pets, such as dogs and cats. All the medications are high-quality and are often sold to vets and other animal professionals.
Even though VetShop is not geared towards cats specifically, it is still a site you can easily market to cat owners. Because VetShop offers so many medications for cats, you should be able to find products to market easily.
Plus, the VetShop affiliate program is competitive. It has a commission rate of 10%. Given that medications are so expensive, 10% can make you a lot. The cookie duration is only 7 days, which is a drawback. Nevertheless, this is one of the best affiliate programs associated with animal medications.
Because VetShop sells over the counter medications for more than just cats, you could also extend your market reach by promoting medications for dogs.
High-quality medication
A lot of products to promote
High commission percentage
---
9.

GreaterGood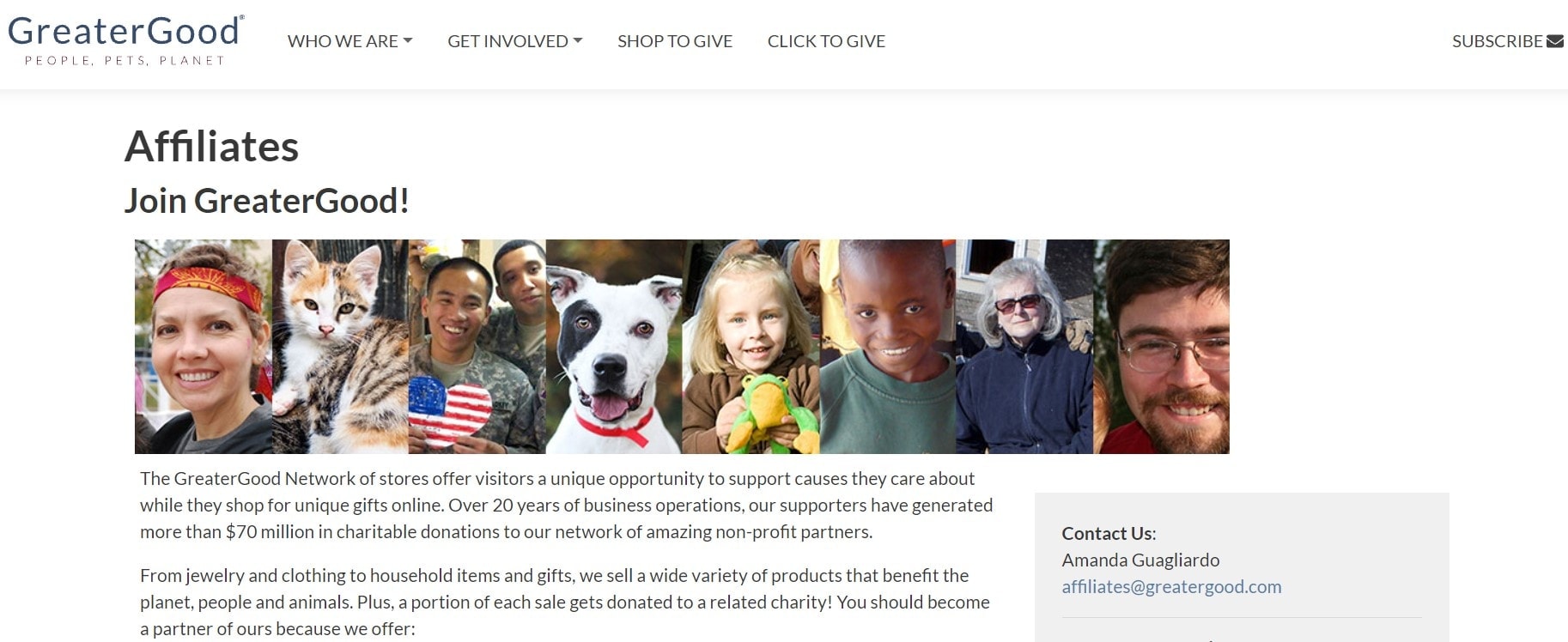 | | |
| --- | --- |
| Commission Rate: | 2%-8% per sale |
| Cookie Duration: | 45 days |
The last affiliate program on our list is GreaterGood. GreaterGood is very unique because they sell many items to raise money for good causes. When people buy through the site, they could help people, animals, and the planet.
With the affiliate program, you can earn between 2% and 8% per purchase, and the cookie duration is 45 days. Although this commission rate is low at first, we still recommend the site because the money goes towards a good cause.
Altruistic company
Long cookie duration
Small commission at first
How to Pick Out the Best Affiliate Program
One of the most difficult parts of picking out an affiliate program is knowing which metrics to look for. Here are some factors you need to consider:
Niche
The first thing you always want to consider is whether the affiliate program in question matches your branding and niche. Your readers are reading your content because they are interested in your topics. As a result, you are most likely to get buys if the affiliate program relates back to your overall niche.
For example, you shouldn't select an affiliate program marketed towards cat programs if your blog is entirely about dogs. Similarly, don't select an affiliate program of a company that sells traditional pet medications if you focus on alternative medicines.
Company
In addition to the niche, always make sure that the company you are recommending produces high-quality products and is trustworthy and reputable. If the products you are recommending are low-quality or don't deliver on what they promise, your readers will likely not trust you, read your content, or click your links.
So, look at products sold by the company and the company itself. If you would not buy the product or trust the company, don't recommend it to your readers.
Payout
The point of an affiliate marketing program is to make money. If the commission rates are low or have low conversion rates, there's no point in wasting your time on that program. Instead, opt for companies that pay big and can actually make you money.
There are some simple ways you can find out about an affiliate program's payout. The most obvious will be its commission rates. Most affiliate programs offer a percentage of sales, but some will offer a dollar value. You can also check conversion rates of the company to see how popular they are among online buyers.
If there is a company you are really passionate about that doesn't have good payout, recommend them and sign up for their affiliate program anyways. However, check out other programs that have higher payout so that you can hopefully make more money.
Cookie Duration
One last factor to consider is cookie duration. Most of the time, a long cookie duration is a bad thing. When it comes to affiliate program selections, the longer, the better. The cookie duration tells you how long the customer has to purchase the product with you still getting commission.
For example, let's say a particular program has a cookie duration of 7 days. If a reader clicks the link and purchases a product from the company within seven days of clicking your link, you will get commission. On the 8th day and beyond, you will not get paid.
The longer the cookie duration, the more likely you are to get paid. Often, popular sites that sell a variety of products have shorter cookie durations simply because people are more likely to purchase the product close to viewing it.
However, long-term investments, such as pet insurance, often have longer cookie durations since people sometimes think about the product, check their finances, or talk to their spouse before purchasing it. Most cookie durations last between 7 and 45 days, though some durations can extend to 60 days.
Other Tips
Picking out the right affiliate program is just one step of the process. Here are some other tips to keep in mind to pick the most impressive affiliate programs and market them correctly to your audience:
Don't sell anything you wouldn't buy yourself.
Be honest and open.
Always check out the competition even after signing up for affiliate programs. You never know when a competitor updates their program contents and earnings.
Utilize resources provided by the affiliate program. Most affiliate programs will offer you data feedback, marketing content, and tips for their product specifically.
Pay attention to affiliate programs that sell high ticket items. Items that are expensive will naturally have a higher payout. So, you won't have to sell as many of them to make as much money.
Only broadcast products when they fit naturally. If it is obvious you are simply promoting content to make money, readers are less likely to come back to your site, let alone purchase the product you are recommending.
Sign up for many affiliate marketing programs. The more programs you sign up for, the more possible money you can make.
Check out the affiliate program's other rewards and incentives.
Read the fine print before selecting affiliate programs. Some have restrictions on their use and other related info.
Be patient. It often takes affiliate marketers a couple of months to start seeing big payments. Don't give up just because your first paycheck is small.
By following these tips, you should be able to pick out the best affiliate marketing programs and sell them efficiently to your reader base.
Conclusion
The best cat affiliate programs are Hepper.com and Two Crazy Cat Ladies. We selected both these programs because they are tailored for cats specifically, but we prefer Hepper.com because the products are high-quality, and their affiliate program information is better informed.
Of course, any of the other affiliate programs we mentioned would make great additions to your cat site. No matter what affiliate programs you are considering, remember the factors we discussed to ensure you can make as much money as possible.
We hope that these reviews have helped you to decide which affiliate program you should use.
Related Read: 18 Best Pet Affiliate Programs – Reviews & Top Picks
---