7 Best Cat Foods for Firm Stool – 2023 Reviews & Top Picks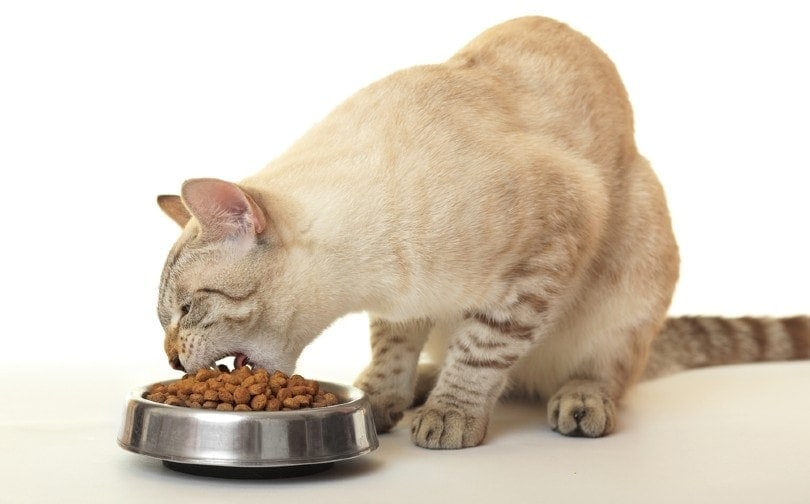 Cat owners are quite familiar with cat poop, thanks to scooping out a litter box on a daily basis. If your cat has loose stool or diarrhea, you're more likely to notice than if you had a dog venturing far out into the yard.
If you're dealing with diarrhea constantly, it's not only gross but adds up in time and money when you need to completely change out the litter box every time. Unfortunately, some cats just have more sensitive digestive systems and are more prone to diarrhea.
After ruling out a medical condition, you can try feeding your cat commercial foods that are designed to keep stool firm. Some foods are better than others, so check out these reviews for the 10 best cat foods for firm stool.
Disclaimer: The foods reviewed here were chosen because they have certain characteristics that might help with some of the causes or consequences of this medical condition. However, they are not a medical treatment or a substitute for medical treatment. Keep in mind that each medical case is different and what works for some pets may not work for others. Your veterinarian is the right person to advise you on the best diet for your pet's individual case.
A Quick Comparison of Our 2023 Winners
Rating
Image
Product
Details

Best Overall

Smalls Fresh Cow Cat Food Subscription

Easy to digest
Limited, human-grade quality ingredients
No artificial colors, flavors or preservatives
Click to Save 40%

Use code: Hepper2023

Budget Buy

Purina ONE Sensitive Skin & Stomach Dry Cat Food

Made in the US
Well-balanced nutrition
Specially formulated for sensitive stomachs
Check Price

Hill's Prescription Digestive Dry Cat Food

Balanced nutrition
Helpful for digestion
Helpful for urinary stones
Check Price

ORIJEN Poultry & Fish Dry Kitten Food

Whole prey ingredients
Formulated for healthy digestion
Check Price

Royal Canin Feline Digestive Dry Cat Food

Easy to digest
Well-balanced nutrition
Check Price
The 7 Best Cat Foods for Firm Stools
1.

Smalls Fresh Cow Cat Food Subscription – Best Overall
| | |
| --- | --- |
| Formula: | Wet, fresh |
| Lifestage: | All life stages |
| Size: | 11.5 oz packages in two-week subscription boxes |
Our choice for the overall best cat food for firm stool is the Smalls Fresh Cow cat food. This food is created using only USDA-certified, sustainable ingredients. This recipe is full of beef and veggies, gently cooked, and nutritionally balanced. Because it's full of real food ingredients without added fillers, Smalls Fresh Cow is generally easy to digest, with more nutrition to absorb and fewer extras that pass into the stool. If your cat is sensitive to chicken or poultry ingredients, this diet is a good option since it's cooked with only beef as a single protein source. Smalls Fresh Cow is available in several textures but does not come in a dry or kibble form.
Cats who don't care for soft or canned food may dislike this diet, but most cats will enjoy the meaty flavor and the extra moisture. Smalls' food ships fresh on a regular schedule, tailored to you and your cat's specific needs. At this time, the company doesn't ship to Alaska or Hawaii.
All in all, we think this is the best cat food for firm stool available this year.
Made of simple, easy-to-digest ingredients
Good choice for cats with sensitivities to chicken
Premium beef and other ingredients
Sustainably sourced
Convenient subscription
Choice of textures
Doesn't ship to Alaska and Hawaii
Not available as kibble
---
2.

Purina ONE Sensitive Skin & Stomach Dry Cat Food – Budget Buy
| | |
| --- | --- |
| Formula: | Dry |
| Lifestage: | Adult |
| Size: | 5 pounds, 7 pounds, 16 pounds, 22 pounds |
Purina ONE Sensitive Skin & Stomach Adult Dry Cat Food is a good budget option. This formula is intended for cats with sensitive skin and digestion, complete with a palatable and highly digestible blend of ingredients. Turkey is the first ingredient for a high-quality source of protein, followed by nutrient-packed ingredients for vitamins, minerals, and omega fatty acids.
Purina One is veterinarian-recommended and manufactured in a US facility, ensuring the highest quality and safety. For healthy food on a budget, you can't go wrong with Purina ONE. Though many owners had good results, some saw no effect in their cats when switching to this formula.
Well-balanced nutrition
Made in the US
Specially formulated for sensitive stomachs
Some owners reported mixed results
---
3.

Hill's Prescription Diet Digestive Dry Cat Food
| | |
| --- | --- |
| Formula: | Dry |
| Lifestage: | Adult |
| Size: | 5 pounds |
Hill's Prescription Diet i/d Digestive Care Chicken Flavor Dry Cat Food is another top choice for cats with dietary indiscretion, food allergies, or other conditions that impact healthy digestion. Cats need to digest food fully and completely to retain nutrients, and this Hill's formula is clinically proven to support proper absorption. The formula also received the S+OXSHIELD seal of confidence, meaning it meets the nutrient standards shown to promote a urinary environment that reduces the risk of struvite and calcium oxalate crystals.
This food has a lot to like, including mixed fiber sources for digestive health, antioxidants for cell oxidation, and easily digestible protein to make sure your care can build muscle and recover from exercise. This Hill's food is a prescription diet, however, so you must have veterinary authorization for purchase.
Helpful for digestion
Helpful for urinary stones
Balanced nutrition
---
4.

ORIJEN Chicken, Turkey, Salmon & Herring Dry Kitten Food
| | |
| --- | --- |
| Formula: | Dry |
| Lifestage: | Kitten |
| Size: | 4 pounds |
ORIJEN Grain-Free Dry Kitten Food is a great choice for well-balanced nutrition for your growing cat and digestive support for healthy stool. This food offers 90 percent premium animal ingredients, such as chicken, turkey, and salmon, along with nourishing parts of prey meat like organs and bones. The food also has DHA and EPA from mackerel, salmon, and herring for brain and circulatory support.
To help with digestion, ORIJEN includes prebiotics and fiber like chicory root, whole pumpkin, collard greens, apples, and pears. The small kibble pieces encourage your kitten to eat slowly as well, ensuring proper chewing for digestion. Once your kitten grows up, you can transition to the same formula for adult cats.
Formulated for healthy digestion
Whole prey ingredients
Kibble may be too large for small kittens
---
5.

Royal Canin Feline Digestive Dry Cat Food
| | |
| --- | --- |
| Formula: | Dry |
| Lifestage: | Adult |
| Size: | 3 pounds, 6 pounds |
Royal Canin Feline Digestive Care Dry Cat Food is the next best cat food for firm stool, thanks to its special formula to support healthy digestion. Sensitive stomachs can lead to frequent vomiting, smelly and loose stools, and improper nutrient absorption. This food is specially designed for slow eating with ring-shaped kibble and proper digestion with fiber and prebiotics.
Best of all, this dry food can be combined with the same formula in wet food form, so you can provide your cat with a combination of the two for firm stool and well-rounded nutrition. This food is appropriate for adult cats over 1 year of age.
Easy to digest
Well-balanced nutrition
Not suitable for picky cats
---
6.

Purina Beyond Turkey, Sweet Potato & Spinach Wet Cat Food
| | |
| --- | --- |
| Formula: | Wet |
| Lifestage: | Adult |
| Size: | 3 ounces, case of 12 |
Purina Beyond Cage-Free Turkey, Sweet Potato, and Spinach Recipe in Gravy Adult Wet Canned Cat Food is a delicious gravy food for your cat, but with the peace of mind of knowing you're getting real, familiar ingredients. The food is made with cage-free turkey free of steroids and hormones, real spinach and sweet potato, and natural prebiotic fiber for healthy digestion.
For sensitive stomachs, this food contains no corn, soy, or poultry by-products and no artificial colors or preservatives. The prebiotic gravy and vegetables provide your cat with added nutrition, such as vitamins, minerals, and fiber. Some owners remarked on the lack of sufficient "gravy" in the can, however.
Balanced nutrition
High-quality ingredients
Good for picky cats
Some cats didn't like it without gravy
---
7.

Instinct Canned Grain-Free Wet Cat Food Pate
| | |
| --- | --- |
| Formula: | Wet |
| Lifestage: | Adult |
| Size: | 5 ounces, pack of 12 |
Instinct Canned Grain-Free Wet Cat Food Pate is a great choice for picky eaters who prefer wet food. You can buy a variety pack to see how your cat likes different flavors or choose from chicken, rabbit, duck, salmon, lamb, and venison formulas. The food is entirely grain-free and features meat as the first ingredient.
This wet cat food also has essential fatty acids for a healthy coat and skin and all-natural ingredients to support healthy digestion and sensitive digestion. Reviewers noted that this food helped with loose stool, but not all cats will like it. If your cat is picky, start with a variety pack.
High-quality, natural ingredients
Digestive support
Flavor varieties
Buyer's Guide: Choosing the Best Cat Food for Firm Stools
Loose cat stool isn't fun for anyone. While we've covered many of the top choices for cat food that help with sensitive stomachs, diarrhea, and loose stool, you may want to search on your own. Here are some things to look for:
Quality Ingredients
Naturally, a cat with a sensitive stomach may be more sensitive to artificial ingredients and preservatives, or fillers that aren't part of the wild diet. Look for foods with limited ingredients and free from corn, soy, peas, and other hard-to-digest vegetables.
Prebiotics and Digestive Support
Many of the foods on this list contain prebiotics, fiber, and other types of digestive support. These formulas are intended to help with the specific physiological processes that lead to diarrhea and loose stool. Prebiotics add natural, good bacteria that aid digestion, while fiber bulks up stool for a firmer consistency. When you're shopping, look for foods that contain these types of ingredients for digestion.
While these are general guidelines, each cat is different. Some cats may need more fiber and bacteria, while others just need fewer fillers and preservatives. Some cats may have worsening diarrhea from foods high in animal fats and protein.
Be sure to speak with your vet about your cat's digestive problems and loose stool to rule out underlying medical conditions. If it's truly a sensitive stomach, try different foods to see what your cat likes and what helps with the stool. These things take time, however, so give your cat a few weeks on a new food before deciding if it works or not.
While providing our feline companions with high-quality food is paramount, selecting the right food and water bowl is equally important. The modern yet practical design of our Hepper NomNom Cat Bowl combines cat-catered features, like whisker-friendly shallow dishes and slight elevation, with a contemporary style aimed at protecting your floors from messy eating and drinking. The NomNom is entirely dishwasher safe and was thoughtfully created with your cat's health and well-being in mind. 
Final Verdict
There are plenty of cat foods on the market to firm up your cat's stool, especially if it's caused by a sensitive stomach or improper digestion. Smalls Fresh Cow cat food diet is the best overall choice because it's a food that takes into account a feline's natural diet. Purina ONE Sensitive Skin & Stomach Dry Cat Food is a great choice for those on a budget since it provides excellent nutrition with value. We hope this article has helped you find a great cat food for firm stool!
---