10 Best Cat Hashtags On Instagram: Try Them Today
Whether you're looking to better organize your Instagram scrolling or make your cat Insta-famous, the right hashtag can make all the difference. Following key hashtags can deliver more of the content you're looking for to your feed. Plus, slapping popular hashtags onto your own posts can help land them in front of more eyeballs. With up to 30 possible hashtags allowed per post, there's a lot of tagging to be done. Whatever your motivation, here are 10 of the best cat hashtags on Instagram you should care about. #letsdothis!
1.

#catsofinstagram
| | |
| --- | --- |
| Number of posts: | 178,605,352 |
| Type of content: | General cat content |
One of the most popular cat hashtags, #catsofinstagram boasts over 178 million posts. The official hashtag of the @cats_of_instagram account, adding this hashtag to your cat photo could get it noticed and re-posted with credit, a fantastic way to increase views on your own cat's page. A quick scroll through this hashtag reveals cats in every size, shape, color, and costume you could imagine. It's a broad label, attached to nearly any cat-related photo that shows up on Instagram. If you're not looking for specific types of cat posts, this hashtag offers one of the widest ranges of content.
---
2.

#adventurecat
| | |
| --- | --- |
| Number of posts: | 725,950 |
| Type of content: | Cat travel, cats outdoors, scenic |
If you want to see all the wild and wonderful places that cats are exploring these days, #adventurecat is the one to follow. No longer confined merely to snooze on couches in the sun and demand breakfast at early hours, these days some cats are taking off to see the world! Or at least the local park. You'll find photos of cats hiking on leash with their owners and canine friends, exploring diverse landscapes like the beach and the desert. Other cats are enjoying bike rides, boat trips, and even camping. Some of the most striking entries to this hashtag are cats posing in front of gorgeous scenery. If you think your cat has the personality to enjoy adventuring, snap your own photos for this hashtag. Otherwise, just live vicariously through the other adventure cats, even if many of them seem much more well-traveled than you!
---
3.

#catlover
| | |
| --- | --- |
| Number of posts: | 59,229,893 |
| Type of content: | Cats and their people, general cat content |
Another of the most popular cat hashtags, #catlover has nearly 60 million posts on Instagram. Full of high-quality shots of cats and cats with their people, this is a globally used hashtag. The top posts using this hashtag come from countries including France, Japan, and the United States. Cat lovers come from every corner of the world and they are united in the quest to post quality cat content on Instagram. Enjoy the diverse beauty of the cat world with this hashtag.
---
4.

#catmemes
| | |
| --- | --- |
| Number of posts: | 2,123,035 |
| Type of content: | Creative, funny, meme-worthy |
If you catch your cat making a particularly hilarious face or in an interesting pose, try posting with #catmemes and let the Internet creatives go to work. This hashtag is full of funny photos like a cat in a hoodie giving a death stare at the camera that seems ripe for turning into memes. It also contains many actual memes, offering you a good chuckle along with some inspiration of your own. Remember Grumpy Cat was just a regular cat from Arizona before someone turned her sour face into one of the most recognizable cat memes in existence. This hashtag offers a glimpse of that potential.
---
5.

#kittens
| | |
| --- | --- |
| Number of posts: | 28,537,830 |
| Type of content: | Adorable, general kitten content, product ads |
Is this the most adorable hashtag on Instagram? An argument could certainly be made. Who wouldn't want to scroll a feed full of tiny cats snuggling, meowing, looking fierce, or getting into trouble? You'll also find many cat-related products using this hashtag, again because associating with kittens is never the wrong way to attract viewers to your page. With over 28 million posts under this hashtag, it's a popular option with Instagram users worldwide. Add your kitten photos to the mix or just enjoy a quick hit of happiness whenever you open your Instagram.
---
6.

#catsanddogs
https://www.instagram.com/p/CaX7WAuMOkd/?utm_source=ig_web_copy_link
| | |
| --- | --- |
| Number of posts: | 1,442,149 |
| Type of content: | Feel good, animal friendship |
For two species that supposedly fight all the time, cats and dogs sure do take some adorable pictures together. This hashtag is all about celebrating the love and friendship between two pets who've traditionally been pitted against each other. You'll find cat and dog friends of every size and breed here, even "aggressive" pups like pit bulls. Cats and dogs snooze together, hang out in the yard together, and beg for food together, all marked by this hashtag. If you need a reminder that even creatures that aren't supposed to get along can do just that, follow this hashtag.
---
7.

#catlife
| | |
| --- | --- |
| Number of posts: | 33,111,216 |
| Type of content: | Creative, funny, everyday cat content |
Life with cats is never boring and often hilarious. This hashtag is all about celebrating life with our cats, the quirks and annoyances, and simple pleasures. You'll find cats in costumes, snoozing upside down in the sun, enjoying indoor and outdoor playtime, and even more sleeping cats (they do spend most of their time in this activity after all)! With over 33 million posts using this hashtag, it's another popular one that can land your cat's photo in front of a lot of different Instagram users.
---
8.

#catswiththeirtonguesout
| | |
| --- | --- |
| Number of posts: | 336,060 |
| Type of content: | Cats and tongues, funny |
This is a very specific hashtag, so it doesn't have nearly the number of posts as the more generalized cat tags we've already mentioned. However, you can find some pretty funny pictures with this hashtag, and sometimes your cat photos can get lost in the shuffle using one of the more popular tags. Thanks to their love of staying clean, it turns out cats really do spend a lot of time with their tongues out. This hashtag features cats yawning, sleeping with their tongues poking out, or startled and snapped mid-bath, their faces often showing their annoyance at the interruption!
---
9.

#catoftheday
| | |
| --- | --- |
| Number of posts: | 35,628,267 |
| Type of content: | General cat content |
With over 35 million posts, this is another popular cat-related hashtag you can use to draw attention to your photos. Cats think they're the most important part of every day, so why not just roll with it? This hashtag seems to attract a lot of kitty glamor shots, with good lighting and flattering filters sprinkled throughout. Use it for your best cat photos and try to dazzle the cat-loving Instagram users who are just looking for some nice cat snaps to brighten their day.
---
10.

#ragdollcat
| | |
| --- | --- |
| Number of posts: | 3,935,342 |
| Type of content: | All things Ragdolls, kitty glamor shots |
Whether you're one of the millions of Ragdoll owners in the world or just appreciate the gorgeous photographs this breed takes, #ragdollcat is packed with beautiful posts. Ragdolls are the most popular breed in the world, not just because they're so photogenic but it certainly doesn't hurt. These cats are truly spectacular to look at and thanks to their docile personalities, easy to photograph as well. If you have a Ragdoll, throw this hashtag on your photos to help connect with other fans of the breed. With nearly 4 million posts and counting, it gets a lot of engagement for such a specific hashtag.
How To Promote Your Cat On Instagram
If you look at the success of famous Internet cats like Grumpy Cat, you might think to yourself "my cat can do that!" While achieving Insta-fame for your cat involves a certain amount of luck, there are some steps you can take to promote and grow your cat's presence on Instagram.
Post Your Best Photos
This might seem obvious but you'd be surprised. Be picky about the shots you post to your cat's Instagram. Choose photos with good lighting and don't go too heavy on the filters. The ideal photo will show your cat's personality as well as their good looks.
Post Frequently But Don't Overdo It
Many cat owners love the idea of creating an Instagram for their cat but then don't post content frequently enough to attract followers. At the same time, you don't want to post so frequently that you overwhelm your followers' timelines. Aim for once or twice a day consistently. Also make sure you're posting at times that make sense, i.e., when people are likely to be online scrolling.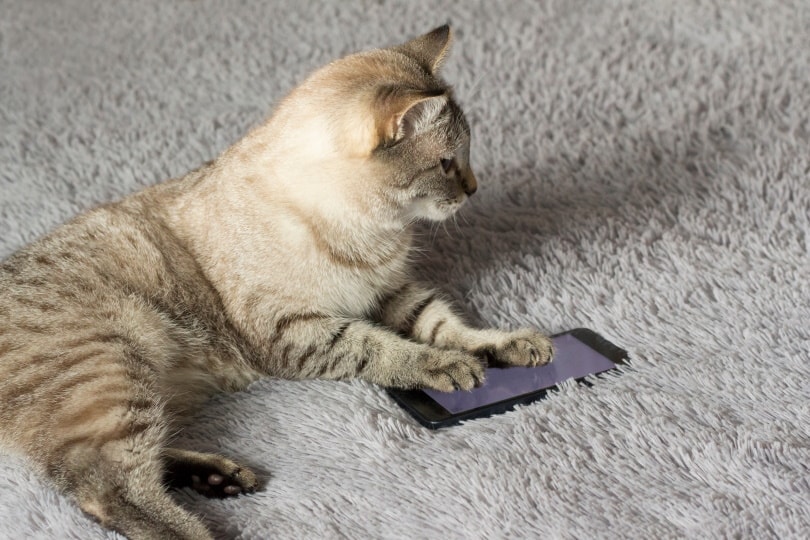 Get Creative With Your Captions
Yes, your cat is adorable but so are a lot of cats. Sometimes what gets your account noticed isn't your cat's cute face but the clever caption you add to the photo you post. Stretch your creative muscles and come up with something good.
Connect With Other Creators
We already mentioned the Cats of Instagram account but there are other popular cat-themed Instagram accounts as well. Tagging one or more of these in your post can get you noticed and possibly reposted by one of these larger accounts. This visibility can go a long way toward growing your following.
Again, this one might seem obvious, especially given you've just read a whole article on cat hashtags. But strategic use of hashtags really is one of the best tools you can use to help attract views to your cat's Instagram. It allows people searching for specific topics to find you more easily as well as making it easy to keep your photos organized.
Conclusion
The growth of social media, combined with the explosion in pet ownership among millennials— who spend much of their time online—has gifted us all with a wealth of cat content to enjoy. These 10 Instagram hashtags are just a few of the many popular cat tags that are out there. Whether you're trying to grow your following or looking for creative inspirations, these hashtags can help you get there.
You might also be interested in: 
---