10 Best Lysine Supplements for Cats – 2023 Reviews & Top Picks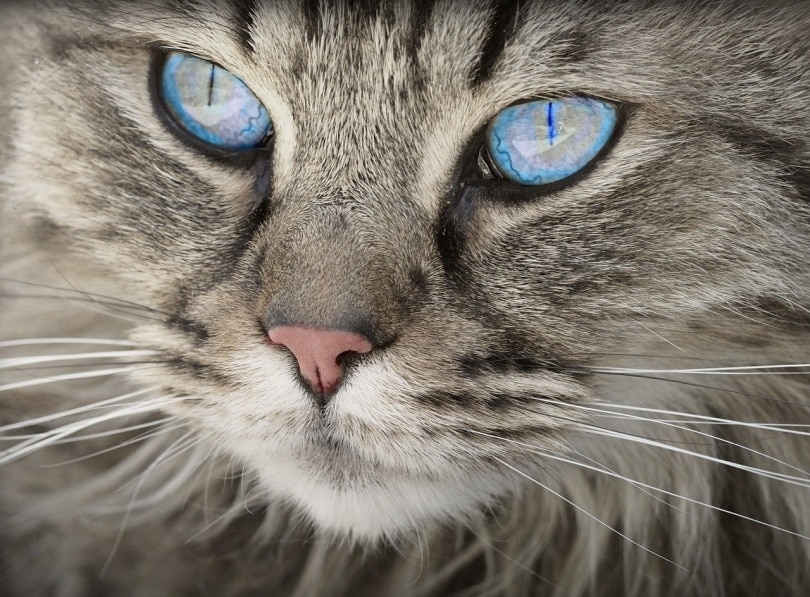 Did you know that lysine can boost the immune system of both humans and other mammals, including domesticated pets like
cats? Lots of cats have issues with health and low immunity, so supplements are a good thing to try when your cat isn't feeling 100%.
We took the liberty of compiling 10 honest reviews on cat lysine products. We think we've found a product to match every feline need from liquid to chews to powder. Take a look at these great selections to see which works best for your feline friend.
Note: While lysine can really help boost immunity, we recommend always checking with your vet before adding any supplements to your cat's diet.

A Glance at Our Favorites in 2023
Rating
Image
Product
Details

Best Overall

VetriScience Vetri Lysine Supplement

Added DMG
Added antioxidants
Terrific for any life stage
Check Price

Best Value

Duralactin Feline L-lysine Cat Supplement

Affordable
Added omega fatty acids
Easily measurable servings
Check Price

Premium Choice

Vetoquinol Viralys L-lysine Oral Gel

Made in the USA
Gel + chew combo
Great for multi-cats
Check Price

Alpha Paw Cat L-Lysine Supplement

For indoor/outdoor cats and kittens
100% lysine
No taste, undetectable in food
Check Price

Strawfield Pets L-lysine Support

Works to prevent infections
Chicken flavor with no fillers
Easy to add to foods
Check Price
The 10 Best Lysine Supplements for Cats
1.

VetriScience Laboratories Vetri Lysine Plus – Best Overall
Of all lysine products for cats, VetriScience Laboratories Vetri Lysine Plus was our favorite overall. It supports immunity, vision, and the respiratory system. You can protect your feline and strengthen their bodies to stay their healthiest.
These supplements come in the form of 120 chicken-flavored fish-shaped chews. Cats seem to enjoy the flavor, so they will be a handy daily treat your cats can look forward to.
Not only does it have L-lysine for immunity, but there is also added DMG for hormone and antibody-building support. These amino acids help repair tissue and support collagen formation and enzymatic functions that play an important role in the immune system.
This recipe is designed for multi-cat households of any life stage—kittens to seniors. Since it meets the needs of almost all house cats, we think you will approve of this product. However, it won't work for every cat due to dietary restrictions, so make sure to check all ingredients.
Added DMG
Supports antibody building
Supports enzymatic functions
Formula suitable for kittens, adult and senior cats
Some ingredients might not work for every cat
---
2.

Duralactin Feline L-lysine Cat Supplement – Best Value
If you're looking to save a few dollars but still want total immunity support for your cat, think about Duralactin Feline L-lysine Cat Supplement for cats. It's the best lysine supplement for cats for the money.
This supplement comes in liquid form in a syringe. It has easy-to-read measurements on the side so you can get the perfect amount with each application. You simply add this liquid into your cat or kitten's daily meal.
It directly targets immune support with a few added perks. On top of immune support, this supplement has added omega fatty acids to nourish your cat's skin and coat.
For the price, we think this is a terrific product for every life stage. Of course, some finicky cats might disapprove of this new addition to their daily chow. Also, the seal isn't perfect on the syringe, so there could be a chance of slow leaking. Those things aside, it's worth trying out, especially for the price.
Affordable
Added omega fatty acids
Easily measurable servings
---
3.

Vetoquinol Viralys L-lysine Oral Gel – Premium Choice
| | |
| --- | --- |
| Supplement Type: | Oral gel, chews |
The Vetoquinol Viralys L-lysine Oral Gel might be a tad pricey, but we think it's definitely worth the investment. If you know your cat benefits from these dietary specifications, it is a pretty big bang for your buck, coming in both oral gel and chews in one order.
The flavor of the chicken liver chews is cat-approved. Both products are designed to lessen symptoms related to respiratory trouble and strengthen overall immunity. In addition, it reduces eye inflammation, conjunctivitis and clears the sinuses.
Ultimately, we found this product was especially useful for cats who continually have gunk in their eyes and ones who sneeze regularly. Granted, it can really boost the immunity of nearly any house cat.
We found this would be especially good for multi-cat households where each preferred a different method of ingestion. Each product is made in the USA.
Made in the USA
Gel + chew combo
Great for multi-cats
---
4.

Alpha Paw Cat L-Lysine Powder Supplement – Best for Kittens
If you have a kitten, the Alpha Paw Cat L-lysine Powder Supplement might work wonders. This human-grade supplement is terrific for kittens because you can blend it up in their regular diet without them catching on.
This product doesn't beat around the bush or tack on extras—it's 100% lysine for maximum benefits. It also works wonders for picky cats—and indoor/outdoor dwellers, so everyone benefits. It's totally tasteless and odorless, so it's completely undetectable in food.
This formula clears up a lot of the eye gunk you see in litters of kittens sometimes. Plus, it strengthens their immunity to better fight these bacterial buildups.
However, if you need additional support for your cat through other additives, pure lysine might not work in this situation. You might want to check out other avenues.
For indoor/outdoor cats and kittens
100% lysine
No taste, undetectable in food
Pure lysine won't work in all situations
---
5.

Strawfield Pets L-lysine Immune Support For Cats
Strawfield Pets L-lysine Immune Support is a powder supplement formulated to reduce symptoms of feline herpes and boost immunity. This recipe contains high-quality ingredients that are sure to benefit your cat overall.
This product is perfect for treating and preventing infections. It contains no fillers, so it would be a great option for cats with dietary sensitivities. It's also useful for cats of all life stages, so it will work for every kitty in your home.
You can add this supplement to meals easily by adding one scoop into their loaf or dry kibble. Mix or shake the food until the formula dissolves. It's chicken-flavored so it will mix right in with their existing diet without them even knowing it.
Even though this product is meat-flavored, some kitties might not be fooled. If your cat snubs the taste, you might need to look for tasteless powders instead.
Works to prevent infections
Chicken flavor with no fillers
Easy to add to foods
Some cats might not enjoy the taste
---
6.

21st Century Essential Pet L-lysine Amino Acid Support
21st Century Essential Pet L-lysine Amino Acid Support is a terrific supplement to consider. It's made from human-grade ingredients registered with the FDA, so you know you're getting only the best nutrition for your kitties.
These chews are chicken flavored to ignite the taste buds of your felines. Our cats were pleased with the taste, taking to the chew right away. They are somewhat soft, so they are perfect for cats who might have more sensitive teeth.
There are 100 chews in total, so one jar will last a few months. The product has only lysine with no other support. It contains the right formula to lessen eye troubles, boost immunity. For cats who are sensitive to dairy, this product does contain cheese.
Human-grade ingredients
Great texture for cats with sensitive teeth
Aromatic and flavorful
Not for cats who are sensitive to dairy
---
7.

Coco & Luna L-lysine Powder for Cats – Multi-Pet Support
If you share your home with dogs and cats alike, both species can benefit from Coco and Luna L-lysine Powder for Dogs and Cats. So, we suggest this product for multi-pet households who need an immunity health booster.
This product is a powder supplement, so you can just add the recommended dose to your pet's food bowls and call it a day. It's salmon-flavored, so it's sure to get your kitty's attention. The recipe is non-GMO with 100% premium quality—guaranteed.
This formula combats itchy eyes, inflammation, respiratory support, and general wellness. If you aren't satisfied with the product for any reason, the company will work to make it right.
Even though this product works for both cats and dogs, you might not need that extra perk. Since it's a little more expensive than some options, you could find other lysine products for less that are just made for cats.
Great for cats and dogs
100% customer satisfaction guarantee
Non-GMO recipes
Might not need multi-pet product feature
---
8.

Mighty Pet MAX Lysine for Cats + NAC
Mighty Pet MAX Lysine for Cats + NAC is a fantastic product with a lot to offer. In addition to Lysine, it also has NAC, vitamin C, and vitamin E. This product is designed to support the best health possible for felines.
The NAC works to clear excess mucus from the airways while the vitamins improve immunity and eye health. With plenty of antioxidants, this product boosts overall health, making sure the respiratory system is functioning excellently.
There are approximately 142 servings per container, so it lasts quite a while before you'll need replacements. The powder is flavored with chicken and salmon to blend with regular foods. Your cat is sure to love the extra kick of flavor.
The smell might be a little overwhelming for us humans, but the cats don't seem to mind.
Added NAC for lung health
Vitamins and antioxidants added
Flavorful
---
9.

Thomas Pet Felo Lysine Supplement For Cats
The Thomas Pet Felo Lysine is geared toward amping up antibodies and enzymes to support healthy immunity. It's easy to serve to your feline and they probably won't even notice a change.
If your cat is having trouble, this helps them get over their hump of sickness and back to a healthy life. On top of lysine, this product contains DMG, which also improves immunity function overall. This product is tasteless, so you can mix it in with their regular meals.
There is a disclaimer on the back stating that this product is not intended for pregnant cats. So, if you're trying to treat a mama cat, this supplement is not the best for her safety.
Builds antibodies and enzymes
Contains immunity-boosting DMG
Odorless and tasteless
---
10.

Optixcare L-lysine Chews For Cats
The Optixcare L-lysine Chews definitely give your cat a dose to kickstart a better immunity. They are specifically designed to clear up the feline herpes virus in cats and kittens.
These chews are soft enough for kittens and seniors alike. Each chew is packed with poultry flavor to entice your cat's taste buds. A single resealable bag lasts 2 months for one cat. But it can get a little expensive if you have multiple cats.
These chews are a lot bigger than some others of their kind. Even though they are decently soft, some seniors might have an issue chewing. So, if your cat has dental issues, you might want to find another product that works better for your cat.
Designed to lessen symptoms of feline herpes
Enticing flavor
Resealable for freshness
Large size
Might not work for cats with dental problems

Buyer's Guide: Choosing the Right Lysine Supplement
Still not sure which product is right for your feline? Take a look at our buyer's guide for more detailed information on how to choose the best option out there.
What Is Lysine?
Lysine is a naturally occurring amino acid found in animal products. Since cats are obligate carnivores, they thrive on having amino acids in their diet to regulate their immunity and keep them healthy.
Sometimes, when their bodies lack the ability to fight off illness, it can cause outward symptoms that affect overall wellness, respiratory health, and eye health.
Lysine works to boost immunity and target the areas that are lacking so your cat can get back to a healthy state. Even though lysine is in almost all cat foods, it might not be enough in a meal. Adding a supplement at mealtime will help your cat regulate.
What Other Components Pair Well with Lysine?
In addition to lysine supplements, certain other additives can aid in the goal as well. Here are a few things that pair well with lysine products.
DMG: Dimethylglycine, or DMG, is an amino acid derivative that amplifies the effects of lysine.
NAC: N-acetyl cysteine is an antioxidant that has the ability to break up mucus. It is of great aid in many respiratory conditions.
Omega Fatty Acids: Lots of lysine supplements have added fatty acids to nourish and maintain a healthy body.
Antioxidants: several other antioxidants also work alongside lysine to build up natural immunity.
Types of Supplements
Cats will benefit from different lysine product consistencies depending on preference.
Chews: Chews are sometimes a good idea for cats who are very food motivated. You can easily slip them a chew and they will think they're being rewarded with a yummy treat.
Powder: Powder comes in both flavored and flavorless varieties. Some cats love the extra zip of flavor-based supplements, while others will reject the taste. It might be trial and error to see which your cat loves most.
Liquid: Liquid is usually odorless and tasteless, but they can come in flavored varieties too. These supplements are usually quite easy to measure and mix in with your cat's regular meals.
How Lysine Helps
Lysine can help your cats in the following areas:
Boosts immunity
Minimizes feline herpes symptoms
Reduces infection of the eyes
Clears respiratory system
Promotes healthy skin
Related Reads:
Conclusion
We stand by our number one pick— VetriScience Laboratories Vetri Lysine Plus. It comes in soft chew form, so it works as a treat for cats of any life stage. They receive the proper dose of lysine, and the results are highly positive, boosting overall immunity and health.
If you're looking to save a buck or two, we also really enjoyed Duralactin Feline L-lysine Cat Supplement. It comes in a syringe in liquid form, making application a breeze. You just add the proper dose into your kitty's daily food bowl and go!
With any luck, our reviews led you to your newest purchase. We hope your cat's immunity is stronger in no time.
---
Featured Image Credit: cocoparisienne, Pixabay