10 Best Cat Scratching Posts – 2023 Reviews & Top Picks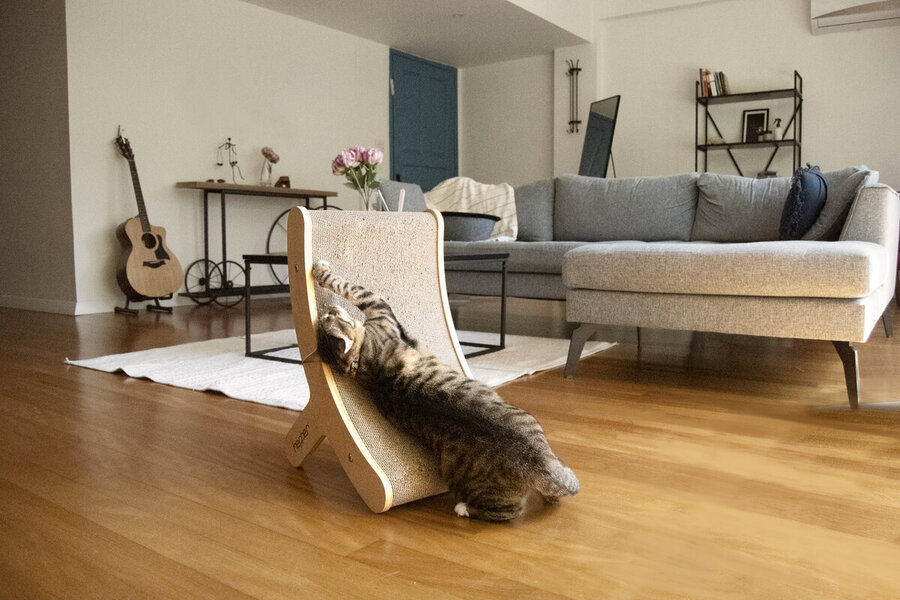 Scratching is a natural behavior for cats, and indoor cats especially miss out on the opportunity to be able to scratch trees, rocks, and other surfaces. Cat scratching posts offer a convenient and healthy alternative. They enable your cat to maintain their claws while providing a means of exercising their paws and claws. The post itself needs to be stable and sturdy, robust and it should provide a good surface that your cat will enjoy scratching. Because the post is likely to take up quite a lot of room within one of the main rooms of your home, it should also look attractive enough to take center stage.
There is a great range of cat scratching posts available, including those with multiple platforms, different elevations, and additional features like hammocks, swings, and dangling toys. To help you find the best toy for your cat, we have included reviews of ten of the best catch scratching posts, or cat scratchers, below.
A Quick Comparison of Our Favorites of 2023
Rating
Image
Product
Details

Best Overall

Hepper Hi-Lo Cat Scratcher

Choice of 3 positions
Attractive modern design
Sturdy and long lasting
Check Price

Budget Buy

Kitty City Premium Cat Scratcher Post

Sisal covering
Perch cushion is inviting
Includes cat ball under the perch
Check Price

SmartCat Ultimate Cat Scratching Post

Sisal coated post
Attractive design
Engineered wood base and tower
Check Price

PetFusion 3-Sided Vertical Cat Scratching Post

Horizontal scratching
Cubby offers an additional play area
Recycled cardboard and corn glue components
Check Price

Midwest Feline Cat Scratcher Post

41" tall
Easy to clean
Oversized base
Check Price
The 10 Best Cat Scratching Posts
1.

Hepper Hi-Lo Cat Scratcher – Best Overall
Our Hepper Hi-Lo Cat Scratcher is finally here and we are so excited to share it with you. It is our pick for overall best cat scratcher for so many reasons. The Hi-Lo combines aesthetics and quality materials to engage cats of all ages, sizes, and levels of mobility. Its modern design and sturdy plywood frame make it a stylish addition to any room, and with three positions – high, low, and lower – it offers versatility that keeps your cat entertained and active, promoting muscle exercise, while keeping them from being bored and scratching things they shouldn't.
The scratcher's high-quality cardboard provides a safe and satisfying scratching experience and is built to last long. If you have a cat that scratches day and night, fear not, because we have replacement cardboard available for purchase to ensure this piece of cat furniture will last a lifetime. More than a mere toy, the Hi-Lo Scratcher contributes to your cat's happiness and health. It's crafted from solid birch plywood with a non-toxic coating and dense B-flute cardboard, so it's both a durable and elegant choice. Simple maintenance and a recommendation to rotate positions for extended use further enhance its appeal.
All in all, we think our versatile Hi-Lo Scratcher is the best on the market!
Choice of 3 positions
Attractive modern design
Sturdy and long-lasting
Excellent for cats of all ages, shapes and sizes
Contributes to your cat's happiness and health
Affordable price point
---
2.

Kitty City Premium Cat Scratcher Post
The Kitty City Premium Cat Scratcher Post is a reasonably priced but high-quality post. It has a wooden base and a 32-inch column that is covered in woven sisal. Sisal not only encourages good claw health and provides your cat with a really good scratching surface, it is also tough and durable. It won't fray easily, and even when it does start to get damaged, it will remain in place rather than being shed across the room and on the floor.
The top of the post has a resting perch. The standard version of the post is comfortable for your cat to sit on, and you can opt to include a perching platform, which is basically a cushioned perch for the top of the post for additional comfort and pleasure. Under the perch is a small cat ball, which may encourage some felines to reach up and grab it. Doing so will introduce them to the texture of the post and encourage them to scratch.
The Kitty City Premium Cat Scratcher Post is easy to put up, using the three screws that are included and it is very competitively priced. Unfortunately, the post is made of cardboard and it can bend or break eventually. Also, the sisal is attached using staples which won't appeal to all owners or cats.
Cheap
Includes cat ball under the perch
Perch cushion is inviting
Sisal covering
The column is a flimsy cardboard
Sisal is stapled down
---
3.

SmartCat Ultimate Cat Scratching Post
Available in either gray or cream, the SmartCat Ultimate Cat Scratching Post is pricier than the basic models but it looks attractive and is tough and durable enough for even the most violent of scratchers.
The base and tower are made from engineered wood so they are incredibly tough. The base measures 16 inches square, which means that the scratcher won't be prone to wobble or topple when being used. The fact that the wood has not been covered has its benefits and drawbacks. The wood looks good, and it means that the scratcher will work in most decors and next to furniture that has exposed wood.
However, cats that prefer to scratch wood to sisal might find the temptation too great and there is no hiding the damage once it's been done. This post has a perch on top of the 32-inch post, allowing your cat the opportunity to sit atop the post and survey its land.
Engineered wood base and tower
Sisal coated post
Attractive design
Expensive
Wood can become easily damaged
---
4.

PetFusion 3-Sided Vertical Cat Scratching Post
The PetFusion 3-Sided Vertical Cat Scratching Post is a modern-looking scratching post that also offers a short tunnel area for your cat to play in and around. The post is made from ethically sourced recycled cardboard and corn husk glue, so it is environmentally sympathetic while still being strong and tough for your cat, even when taking out its anger on the post.
The design of the post means that your cat can stretch up to scratch, but it can also enjoy horizontal and slanted scratching, while the cubby area within the triangle provides another area where your cat can play.  The post comes in standard or jumbo size, and while it does cost more than other scratchers, it is a beneficial design for your cat and also has an attractive look that will not be out of place in a living room, bedroom, or other room in the house.
Horizontal scratching
Recycled cardboard and corn glue components
Cubby offers an additional play area
Expensive
Not as popular as standard scratch posts
---
5.

MidWest Feline Cat Scratching Post
The MidWest Feline Cat Scratching Post has a basic design, but stands 41 inches off the ground and is wrapped in sisal rope. Sisal rope is less likely to fray and tear compared to other materials.
The post has an oversized base. Cats can get vigorous when they are scratching their post, and if the base is not designed to ensure that the scratcher remains upright, it will topple. The oversized base of the MidWest Feline Cat Scratching Post means that your cat can stand on the base itself, lending its own weight to the construction and design of the scratcher to ensure that it remains stable and strong.
The base is covered in soft fur that is easy to clean so that you can get rid of fur and any liquids or other accidents.
This scratcher is a basic upright design. It doesn't have any embellishments, additional layers, or other features. However, it is of good quality and has proven very effective against energetic scratchers. However, its lack of toys and other items means that you may need to spray with catnip spray or consider adding other elements to encourage your cat to give it a try.
41" tall
Sisal rope is tough
Oversized base
Felt covering is easy to clean
Quite pricey
Basic design
---
6.

Frisco Cat Scratching Post– Budget Buy
The Frisco Cat Scratching Post is another basic vertical post that is designed for cat scratching. It is 33.5 inches tall, which should be tall enough for most cats to enjoy a full-body stretch, although large cats will still struggle. The post does have a perch on top, which is large enough for your cat to sit but not to lay down.
The base is somewhat smaller than on the MidWest Feline post above, but it is covered in faux fur that is easy to clean, and the scratching area of the post is covered in a sisal coating. The coating is not rope, and it does suffer for that. Sisal rope gives your cat a greater purchase on the material and it lasts longer, but the sisal coating is still better quality than cheap fabrics.
This Frisco Cat Scratching Post is a cheap scratching post, but it's effective.
5" tall post
The fur is easy to clean and wipe
Cheap
Cats can perch on top
---
7.

4 Paws Stuff Tall Cat Scratching Post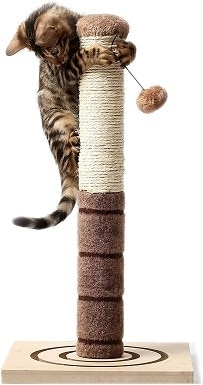 The 4 Paws Stuff Tall Cat Scratching Post is a 22-inch scratcher with a pressed wood base and cardboard column. The column has faux fur covering the bottom half and a sisal material over the top half. There is a strung ball attached to the top of the column to encourage cats and to show them that the post is for them.
Although it is marketed as being a tall cat scratching post, it is shorter than most others, and its size means that it is only really suitable for kittens and smaller cat breeds. What's more, while the sisal does a decent job of withstanding cat aggression, the faux fur does not and you may find small bits of fluff around the floor of your room.
The post is designed for stability and it does include Velcro feet that will further prevent the post from walking and sliding around the floor. The post is easy to put together and install in the house.
Overall, we think this is one of the best scratching posts for kittens.
Cheap
Includes toy to attract cats to the toy
Sisal scratching section
22" design is short
Faux fur is easily damaged
---
8.

Dimaka Tall Cat Scratching Post
The Dimaka Tall Cat Scratching Post is a 29-inch post with two halves, both of which are coated in a high-quality sisal rope. The base and mid-section are covered in a faux-fur, which should last because it is not the main area for scratching. There is also a fur ball attached to the top section and designed to attract and engage your cat.
The base is made from chipboard and the column from cardboard. While these materials are chosen to keep the cost of the scratch post down, they are quite flimsy and can become damaged especially when being used by vigorous and athletic cats. The height of the tower means that this is suitable for most adult cats, as well as kittens, although large and giant breeds may need something taller, and if your cat is large enough to scratch the top section, it could cause the collapse of the tower.
The scratching post comes in a variety of colors, ensuring that you can find something to match the décor and furniture of your room. The post is easy to assemble, taking only three steps to put it together, ready for use by your cats.
Cheap
Sisal scratching section
Choice of colors
The cardboard column is flimsy
Sisal rope separates easily
---
9.

Amazon Basics Cat Scratching Post
The Amazon Basics Cat Scratching Post is a no-frills scratcher that is a decent 32 inches tall and covered in jute twine over the scratch post section and a faux-fur for the base and the top of the post. The height of the tower means that it will be popular with cats that like to scratch at full stretch.
It has a replaceable dangle toy that attracts your cat and, if it becomes damaged or gets pulled off the post, it can be replaced with another toy. The base is large enough that it should prevent the post from tipping over. However, the column is made from cardboard which can easily bend especially when used by larger cats and the rope separates so your cat will scratch the cardboard underneath.
Cardboard breaks easily
Jute rope separates
---
10.

PAWZ Road Cat Scratching Post
The PAWZ Road Cat Scratching Post is a 22-inch tall cat scratching post. It is made from a chipboard base and cardboard column. The bottom half of the post is covered in carpet and the top half in natural sisal.
There are marbles in the track on the base, which are designed to give your cat an interactive play session. There is also a dangling toy, which will attract the cat and encourage it to play on the post. Once it reaches up to grab the ball, the theory is that it will feel the texture of the sisal and be encouraged to scratch this section of the post.
Unfortunately, 22 inches is only really tall enough for a kitten, and the cardboard column is flimsy and will end up bending or breaking when your cat goes at it. The carpet and fur are easily frayed and prone to leaving bits around the floor, and just because these are on the bottom section of the column does not mean that your cat will avoid scratching them.
Carpet is damaged easily
The cardboard tube is flimsy
Only 22 inches tall
Buyer's Guide: How to Find the Best Cat Scratching Post
Cats not only enjoy scratching, it physically benefits them. Scratching removes loose and dead layers from the cat's claws. It encourages your cat to stretch, which is good for musculoskeletal health and provides a form of exercise.
You may notice that your cat scratches when it is stressed out, and this is because it offers a means of eliminating stress and anxiety. Finally, cats have scent glands in their claws, so scratching enables them to mark their territory and to communicate with others in the household.
Post Height
Some cats like to stretch when they scratch, others will scratch at a lower height. Some cats like to do both, and some will change their mind as soon as you buy a new scratch post to accommodate their previous whims.
It is best to opt for a post that is tall enough to allow your cat to scratch at full stretch. Shorter posts of around 20 inches may be suitable for kittens and small breeds, but you will need one that is 40 inches or taller for large and giant breeds.
Base Size
The size of the base matters, too. Your cat will be putting a lot of pressure on the post when scratching and especially if it scratches at the top of the post. Oversized and large bases will provide a greater and more stable footprint for the post and offer greater stability.
If the base is large enough for your cat to stand on while scratching, this will make the whole thing a virtually immovable object.
Related Read: 10 Best Cat Trees for Large Cats – Reviews & Top Picks
Construction Materials
Wood and cardboard are the two most commonly used construction materials for this type of post. The base will usually be made from some type of wood, whether it is engineered wood or chipboard, although you will find some that are made from recycled, compressed, or corrugated cardboard. The material used for the column section of the post also matters.
Wood is a strong material that won't bend, although the screw or other fastening can prove a weak point. Some posts are made using cardboard for the column but these are more likely to bend, snap, or otherwise break.
What Is The Best Material For A Scratching Post?
Also, consider the material that is used to cover the posts. The base might be treated and left as a wooden base, or covered in a carpet or faux fur material. The post needs to be covered in something textured like jute or sisal. As well as solid pieces of the fabric, some manufacturers use a rope or twine that connects around the post. These can be beneficial because they offer a more appealing texture to the finish, but if they are not affixed and attached properly, they can also work loose and leave a mess.
Cat Toys And Interactive Toys
Most of the cat posts in our list are basic post designs. They do not include extra layers or additional sections, but they can include a cat toy or other interactive toy. Swinging toys are beneficial because they attract the cat to lean up against the post. They learn that the post is textured and it encourages them to scratch against the sisal rather than the sofa.
Some of the toys also have an interactive base. In most cases, this means that the base has a track drilled into it and a marble placed in the track. Cats enjoy pushing marbles around these tracks and it gives them another element of enjoyment from the cat scratching post.
Perch
Although the posts in our list do not include hammocks, beds, or additional layers, some do include a perch on top of the column. The perch offers your cat somewhere to sit so that they can survey what is around them.
The perch is not usually large enough to lay down but should provide enough space to sit. In some cases, it is also possible to buy an additional perch cover which is a cushion that extends the usefulness of the column top.
How Many Scratching Posts Should I Have?
Many cat owners have a single scratching post, and this may be enough for one cat. However, cats are fickle, picky, and they can be territorial and possessive. If you have more than one cat, you will need more than one post, and even if you only have a single cat, it is a good idea to provide a choice and to offer scratching posts in a variety of locations such as the living room and bedroom. It is a good idea to have one post per cat plus one post extra.
When Should I Replace My Cat Scratching Post?
Your cat is the best indicator of when it is time to change a scratching post. If the post was once popular and now no longer gets used, this is a good sign that it is time to upgrade and get a new one. If the carpet or other materials is frayed and shedding on the floor, this is also a good sign, and if the post has bent or collapsed, or the scratching post is otherwise damaged, you should replace it.
How Do You Fix A Cat Scratching Post?
Sometimes, it is possible to fix a scratching post. If your cat has scratched away at the carpet, find some replacement fabric and glue it down over the exposed area. If they have pulled the sisal or other twine away, apply hot glue to the back of the twine and wind it back around the column. Ensure that the twine is held in place with glue sticks and avoid using staples and other fastenings that might injure your cat or get loose.
Do Scratching Posts Dull Claws?
Scratching posts do not really dull claws, but they do help maintain claws and ensure that they are kept in the best possible condition. If anything, the scratching post will help your cat keep sharp claws and it will help to shed any dead layers of claw and skin and more.
How Do I Get My Cat To Scratch On A New Post?
Cats are fickle and picky animals and they don't care that you could have spent a small fortune on a new scratching post. Even if it is identical to the battered one in the living room that they use almost every day, this is no guarantee that your cat will use the new post.
To encourage the use of a new scratching post, try the following:
Training – When your cat investigates the new post, even if it is just to sniff it, give them a treat. Keep this up and the cat will continue to visit the post and will eventually try scratching it.
Placement – If you are buying a scratcher to discourage your cat from scratching furniture, place the scratcher next to the sofa or other item. Alternatively, place it next to the old scratching post.
Hanging Toy – Some scratching posts include a hanging toy, such as a ball or a mouse, that hangs from the top. This encourages the cat to reach for the toy and touch the textured scratching surface. Consider adding your own if one is not included.
Catnip – Catnip naturally attracts your cat, and it is often included in the fabric of new scratchers as well as in the material of new toys and even cat beds. Buy some and sprinkle it on the post. Not only will this attract the cat to the area but it will alert the senses and rile him up.
Conclusion
The best cat scratching post will withstand regular and vigorous use. It should be suitable for the size and weight of your cat and will attract your pet feline to scratch its claws up against the textured scratching section. Because most scratchers will reside in the living room or other living area of the house, they need to be good-looking as well as functional. The inclusion of toys, interactive bases, or other play elements can encourage your cat to spend time with the post and to scratch away.
While compiling our reviews of the best cat scratching posts, we found Hepper's Hi-Lo Scratcher to be the best. It is the most versatile of the scratchers on our list and it's modern design is enticing for cats and fits seamlessly with home decor. The Frisco Cat Scratching Post was our budget buy post and measured a tall 32.5 inches from base to perch.
---