9 Best Cat Shampoos for Dander – 2023 Reviews & Top Picks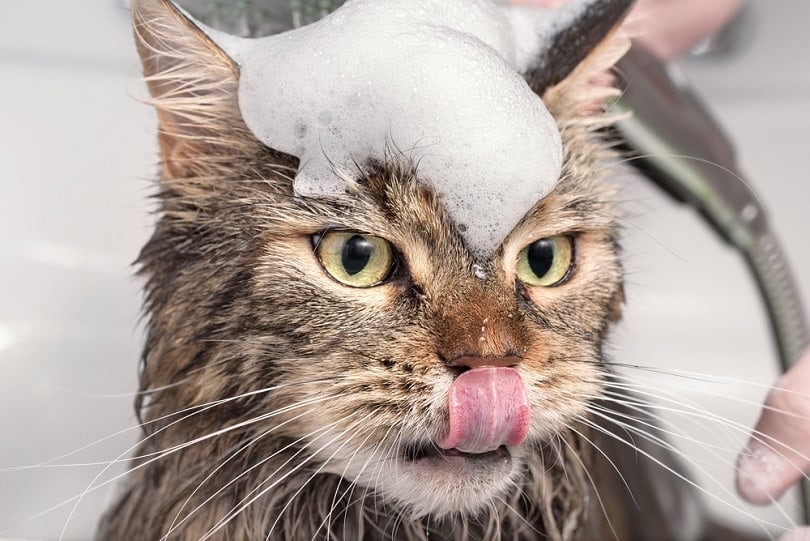 Dealing with allergies while owning cats can be quite a tricky juggle. But thankfully, we're here to provide a few potential solutions to your ongoing issue. We decided to share our reviews of 10 products we think are the best 2021 has to offer.
One of these products is sure to work wonders for your cat, giving them the freshness they need while reducing dander. It's a win-win for everybody. Let's check it out!
A Quick Comparison of Our Favorites in 2023
Rating
Image
Product
Details

Best Overall

Hepper Colloidal Oatmeal Pet Shampoo

Moisturizing to control dander
Safe for sensitive skin
Contains no harmful chemicals
Check Price

Best Value

Arm & Hammer Dander Reducing Shampoo

Affordable
Odor control
Shed reducing
Check Price

Premium Choice

BotaniVet Certified Pet Shampoo

All-natural
Light smell
Moisturizing
Check Price

Purina ProPlan Cat Shampoo

Rinse-free
8% natural
Easy application
Check Price

Shed-X Shed Control Cat Shampoo

Powerful ingredients
Smooths and soothes
Combats excessive shedding
Check Price
The 9 Best Cat Shampoos for Dander
1.

Hepper Colloidal Oatmeal Pet Shampoo — Best Overall
| | |
| --- | --- |
| Active Ingredients: | Naturally ingredients |
| Scent: | Aloe & Coconut |
The best overall cat shampoo for dander is Hepper's Colloidal Oatmeal Pet Shampoo in Aloe and Cucumber Scent. This USA-made shampoo is formulated with safe and natural ingredients like aloe vera to help restore the natural moisture balance of your cat's skin. The formula is pH balanced, so it won't dry out your pet's skin or coat. It is designed to not only deodorize and condition your cat's coat, but it will also nourish and moisturize the skin to help tame your kitty's dander problem and reduce any post-bath irritation. Since it's formulated without any potentially harmful chemicals or compounds like phthalates, sulfates, or DEA, you can trust it to be gentle on your pet's sensitive skin.
The formula has a long-lasting cucumber and aloe vera scent for long-lasting freshness. Though the scent is subtle, some cats may prefer unscented shampoos.
Moisturizing to control dander
Safe for sensitive skin
Non-drying formula
Contains no harmful chemicals
Fresh and subtle scent
Some cats don't like scented products
---
2.

Arm & Hammer Deodorizing & Dander Cat Shampoo – Best Value
| | |
| --- | --- |
| Active Ingredients: | Baking Soda |
| Scent: | Lavender and chamomile |
The Arm & Hammer 2-in-1 Deodorizing & Dander Reducing Shampoo has to be the best cat shampoo for dander for the money. It is inexpensive but effective, gently cleaning while reducing potential allergens. It also has a shedding control aspect to the formula to eliminate excessive hair loss.
This shampoo has a fresh lavender and chamomile scent to create a calming experience in the bath. But since this product does contain artificial fragrance, it might not work for some felines. Baking soda effectively decreases coat odors, cleaning around each follicle and deodorizing the skin.
We enjoyed the texture and consistency of the soap. It goes on smoothly, creating a rich lather that is pleasing to the senses. It rinses out quickly and leaves no film or residue on the fur. So, if you're looking to save as much as possible, this might be the product for you.
Shed reducing
Odor control
Affordable
Contains artificial fragrance
---
3.

BotaniVet Certified Manuka Honey Pet Shampoo – Premium Choice
| | |
| --- | --- |
| Active Ingredients: | Manuka honey |
| Scent: | Natural |
Because the BotaniVet Certified Organic Manuka Honey Pet Shampoo is a bit expensive, it didn't get our top slot. However, we are smitten with everything it has to offer. It has completely natural, all-organic ingredients that won't harm your furry pals in any way.
If you have a kitty with extra dry skin which flakes more than usual, this is a terrific solution. The formula is ultra-soothing, using manuka honey to moisturize the skin. It leaves the coat light and fresh with no residue—and it won't dry out the skin either.
This shampoo has a subtle, warm all-natural honey and coconut scent that lasts for quite a while after the bath. It isn't strong or overpowering, but we all might disagree about what smells good.
Light smell
Moisturizing
All-natural
---
4.

Purina ProPlan LiveClear Cat Shampoo
| | |
| --- | --- |
| Active Ingredients: | Not listed |
| Scent: | Unscented |
If you are searching for a dry shampoo to stop dander between baths, the Purina ProPlan LiveClear is the best we could find. We do want to mention that this product is sometimes used in combination with a diet plan from Purina, so if you have a sensitive cat—you may want to look into it.
The entire formula is 99.8% natural and pH balanced for cats, so you don't have to worry about any harmful ingredients irritating your cat's skin. This rinse-free shampoo is perfectly safe for cats once it dries—routine grooming can continue.
We like the straightforward approach here. You simply lather your cat, brush their coat, and towel dry for the ultimate finish. Technically, this dry shampoo is unscented, but it does have a light aroma.
8% natural
Rinse-free
Easy application
For in-between bath use
Light aroma
---
5.

Shed-X Shed Control Shampoo for Cats
| | |
| --- | --- |
| Active Ingredients: | Alpha hydroxy acid, DL panthenol |
| Scent: | Oatmeal and wheat protein |
We think that the Shed-X Shed Control Shampoo for Cats has a lot to offer for dander reduction. This formula contains lots of terrific ingredients for smoothing fur, soothing skin, and reducing shedding.
This product contains many valuable vitamins, minerals, and other ingredients that nourish the coat and skin. Plus, it has active ingredients like alpha hydroxy acid and DL panthenol, making it the best shampoo for dandruff and excessive hair loss.
We didn't like much about this shampoo because it doesn't lather well, so you have to use larger quantities for effectiveness. It is thinner than many other selections, but it otherwise works as advertised.
Combats excessive shedding
Smooths and soothes
Powerful ingredients
---
6.

TropiClean Shed Control Pet Shampoo
| | |
| --- | --- |
| Active Ingredients: | Naturally occurring raw materials |
| Scent: | Lime & coconut |
TropiClean Shed Control Pet Shampoo is another great option. Each ingredient is completely natural, containing no harmful soaps, sulfates, or parabens that can irritate your kitty's skin.
The shampoo provides a rich lather that smells like a dream. Of course, not everyone will be a fan of the lime and coconut scent, but we think it is subtle and divine. It has amazing cleaning power, cutting through debris in the coat to leave a fresh finish.
This product gives your cat just the right moisture—softening the skin without leaving the coat feeling greasy or dull. Since this product targets shedding, it reduces the amount of dander your pet produces between baths.
Proper moisture
Fresh and shiny coat
Minimal dander
Rich lather
---
7.

The Ecology Works Anti-Allergen Pet Shampoo
| | |
| --- | --- |
| Active Ingredients: | Neutralizers |
| Scent: | Medicated/scentless |
Ecology Works Anti-Allergen Pet Shampoo is a great option for cats with skin issues related to parasites and allergies. It is also terrific for people who suffer from dander allergies, as it targets the proteins that cause them.
This product comes with shampoo and a protective bathing glove to not get any irritation on your hands. The formula combats a wide range of allergens and parasites, like fleas, ticks, mites, and Fel d 1 proteins.
This shampoo is fantastic for people looking to knock out several issues at once. And it's always nice to have on hand if you ever find your cat infested with seasonal fleas. Because it is medicated, you might not want to use it every bath—only while issues persist.
Takes care of parasites
Eliminates dander
Gets rid of Fel d 1 protein
---
8.

Alltertech Pet Shampoo
| | |
| --- | --- |
| Active Ingredients: | Non-ionic surfactants, anti-allergen base, emollients |
| Scent: | Unscented |
Allertech Pet Shampoo was created by allergists who are serious about dander control. We have to admit—it's pretty powerful stuff. It combats dander by using a non-allergenic, all-natural formula to soothe and condition the skin.
The formula is somewhat thin, so you won't get a rich lather like you will with some other shampoos. However, it does the job well, leaving the coat ultra-shiny and sleek. It also wards off pesky fleas and ticks.
The company's promise is that the effects of Allertech Cat Shampoo will last up to 30 days. However, some allergy sufferers may have to opt for more frequent baths.
Repels fleas and ticks
Allergist-designed
30-day promise
Some may need to bathe sooner
---
9.

Petway Deep Cleansing Cat Shampoo
| | |
| --- | --- |
| Active Ingredients: | Gentle degreaser |
| Scent: | Natural |
If you have a particularly greasy kitty, the Petway Cat Shampoo might be the miracle you hoped for. Specifically designed to decrease oil production, this vegetable-based shampoo is gentle, rich, effective, and all-natural.
This product is free of soap, parabens, sulfates, and dyes. It is both pH-balanced and biodegradable, so it's an environmentally-friendly choice.
This product is advertised for all coat types. However, if your cat doesn't need the help of grease fighters, this might not be the right product for you. A cat with a regular coat might actually dry out with frequent use.
Degreases
Rids odor and dander
Vegetable-based
Specifically for oily skin
Buyer's Guide: Selecting the Best Cat Shampoo for Dander
If you're sensitive to pet dander, owning a cat can be a real challenge. But there are safety precautions you can take so you can enjoy a lap of companionship and purrs—and you won't have to blow your nose every 5 minutes.
Cat shampoos have formulas that reduce cat dander and eliminate a big part of the problem, so you won't be as bothered. But when you're buying a product, you want to know that it is worth your money. Let's learn about pet dander and find the best products to reduce this issue.
What Is Pet Dander?
Dander is a series of microscopic particles of dried skin. It is one of the most common allergies humans can have. Unfortunately, even hairless or 'hypoallergenic' cats still carry dander. When your cat licks or scratches or sheds, these particles fly.
Dander isn't actually what causes allergies to trigger. It is because the dander traps two irritants: proteins Fel d 1 and Fel d 2. These proteins come from the sebaceous glands and saliva of cats. So, if your cat is grooming or secreting natural oil—these proteins are present.
That fact is why there is no real thing as a hypoallergenic cat. Even Sphynx produce this protein in their pores and saliva. But if you are a light allergy sufferer, all you want to know is to find ways to coexist without the sniffles.
Dander Causes
Shedding
Shedding occurs when cats lose their natural fur at the follicle. It is a normal part of pet ownership. Even hairless cats still shed tiny pieces of their skin.
When cats shed, the dander comes with it, trapping the two proteins we just discussed. These irritants can cling to just about anything, causing you tons of trouble in terms of allergy symptoms.
Grooming
Since the proteins exist in a cat's saliva, grooming can cause a flare-up in your allergies. When you handle your cat, you can pick up those proteins from their fur and suffer as a consequence.
Urine
If you are cleaning the litter box, even this part of the house will trigger your symptoms. Urine also contains proteins that cause allergies. If you're sifting through a dusty box, these particles are sure to make their way into your nasal passages.
Cat Shampoo for Dander
Several dander shampoos are multi-purpose, combatting a few issues at once.
Dander – Obviously, dander is the target issue. These shampoos are formulated to gently soothe and clean the skin while washing away dead follicles.
Shedding – When a shampoo efficiently cleans the skin and targets shedding, it removes stray hairs so they don't wind up on your sofa.
Dry Skin – Washing away the irritating proteins but locking in moisture will nourish the skin and replace the sebaceous oils with softening oils.
Active Ingredients
Some products use a combination of natural ingredients to fight pet dander, while others use chemical compounds.
Some key components you might notice in dander shampoo include:
Baking soda
Alpha hydroxy acid
DL panthenol
Neutralizers
Non-ionic surfactants
Anti-allergens
Emollients
Artificial Ingredients
Some shampoos contain artificial fragrances, dyes, and harmful ingredients that may irritate some felines. Cats that are sensitive to these smells or chemicals might have allergic reactions, showing symptoms like:
Rash
Irritation
Itching
Skin infections
Hot spots
If you notice any adverse symptoms, discontinue use—or steer clear of fragrance completely.
Additional Tips for Dander
Here are a few other things that will keep your house low on dander:
Clean frequently thorough your home, including regular dusting
Wash your pillows, curtains, and any other dander-trapping décor
Bathe your cat more frequently
Keep their pet beds washed and tidy
Protect your body and hands when interacting with your cat
Brush your cat daily
Use dry dander-fighting shampoos in between baths
Conclusion
Pet dander doesn't have to stay in the way of you and your feline. Hopefully, our reviews kept you from clicking on a hundred search results before finding your perfect product. We still stand by our first choice – the Hepper Colloidal Oatmeal Pet Shampoo – because it is effective, it richly lathers, and it leaves your cat's coat ultra-fresh.
But if you're looking for the biggest bang for your buck, try out the Arm & Hammer 2-in-1 Deodorizing & Dander Reducing Shampoo. It is affordable and efficient, leaving your cat's coat fresh and clean.
No matter the shampoo you pick, we hope your future is free of runny noses and itchy eyes.
---
Featured Image Credit: Olleg, Shutterstock