10 Best Cat Shampoos for Dandruff – 2022 Reviews & Top Picks
Giving your cat a bath might not be too high up on your priority list. We all know how challenging it can be to make your close step foot near water, let alone completely submerge them in it and scrub them with suds. While most of our cats do a decent job grooming themselves, cats with dander require a bath more often.
Felines with dandruff often feel itchy, and the best way to help restore their coat to its original glory is to wash it with shampoo designed specifically to help soothe their skin. Finding a good shampoo for your cat's need is an entirely different challenge. We have tested some of the cat dandruff shampoos with the highest reviews to compose a list of our top recommendations. Between medicated shampoos and ones that simply use gentle ingredients, we've covered all the shampoos that you might consider for helping make your kitty's coat shine once again.
A Quick Comparison of Our Favorites in 2022
Rating
Image
Product
Details

Best Overall

Earthbath Oatmeal & Aloe Cat Shampoo

Soap-free
Safe for kittens
Safe for cats with allergies

Best Value

Vet's Best Medicated Cat Shampoo

Affordable
Medicated
Clean ingredients

Premium Choice

Douxo Seborrhea Cat Shampoo

Created for seborrhea
Medicated
Controls inflammation

Best for Kittens

Frisco Oatmeal Shampoo

No parabens
Affordable
Pleasant scent

HyLyt Hypoallergenic Shampoo

Nourishing ingredients
Soap-free
Hypoallergenic
The 10 Best Cat Shampoos for Dandruff
1.

Earthbath Oatmeal & Aloe Cat Shampoo – Best Overall
| | |
| --- | --- |
| Sizes | 16 ounces, 1 gallon |
| Features | Soap-free |
| Scent | Vanilla & almond |
It didn't take long to discover that Earthbath created the best overall cat shampoos for cats. This shampoo uses a soap-free formula that doesn't dry out your cat's skin further. Instead, they use ingredients like aloe vera and oatmeal that are proven to soothe and heal dry, itchy skin. Because they use organic, gentle ingredients, this shampoo is an excellent option for cats with allergies or young kittens.
Another stand-out feature of this pH-balanced shampoo is that it won't wash off your flea and tick treatment. It has a pleasant scent as well, even though there are reports that it doesn't last longer than a couple of days.
Soap-free
Safe for kittens
Safe for cats with allergies
pH-balanced
Pleasant scent
---
2.

Vet's Best Oatmeal Medicated Shampoo – Best Value
| | |
| --- | --- |
| Sizes | 16 ounces |
| Features | Medicated |
| Scent | Fresh & clean |
It isn't always easy finding a medicated shampoo for a fair price. Vet's Best oatmeal medicated shampoo is one of the best cat shampoos for dandruff for the money. The recipe blends together ingredients like oatmeal, tea tree oil, salicylic acid, and vitamin B5 to moisturize and soothe your cat's flaky skin. It also helps to tighten pores and get rid of dirt without affecting topical flea and tick solutions.
Even though this shampoo is designed for dogs, it is safe to use on adult cats but not kittens. It uses all of the same common ingredients as other popular cat shampoos, works effectively, and costs a fraction of the price.
Affordable
Medicated
Clean ingredients
Doesn't affect other topical solutions
---
3.

Douxo Seborrhea Cat Shampoo – Premium Choice
| | |
| --- | --- |
| Sizes | 16.9 ounces |
| Features | Medicated |
| Scent | N/A |
If you're going to pay top dollar to fix a cat's dandruff problem, then you want to use a product that you're confident will work. Douxo is a premium choice for a cat shampoo brand. It is medicated and best for cats that are dealing with greasy dandruff, which is also called seborrhea. This recipe contains ingredients to help control dandruff, reduce inflammation, and restore the beneficial bacteria back to your cat's skin. This shampoo must be left on for ten minutes before washing it off. It must also be used two or three times per week for the first couple of weeks of use to work properly. However, it can be used as necessary once this timeframe is up. Other than that, this cat dandruff shampoo is an excellent choice for consumers.
Created for seborrhea
Medicated
Controls inflammation
Welcomes back beneficial bacteria
Expensive
Must stick to washing routine
---
4.

Frisco Oatmeal Cat Shampoo – Best for Kittens
| | |
| --- | --- |
| Sizes | 20 ounces, 1 gallon |
| Features | Deodorizing |
| Scent | Almond |
Sometimes we find ourselves taking care of a new litter of kittens only to discover that a few of them are having problems with dandruff. Frisco oatmeal shampoo is an excellent product if you're got kittens that are at least six weeks old. The shampoo combines oatmeal and coconut to nourish their tender, sensitive skin. It is not medicated, but it does include aloe vera to reduce the feeling of dryness. You should also be warned that it must not be applied within the first 48 hours after applying topical flea treatment. However, we still love this shampoo because it is free from parabens, fits a budget, and has a pleasant almond fragrance.
No parabens
Affordable
Safe for kittens 6+weeks old
Pleasant scent
Removes topical flea treatment
Not medicated
---
5.

HyLyt Hypoallergenic Shampoo
| | |
| --- | --- |
| Sizes | 16 ounces, 1 gallon |
| Features | Soap-free, hypoallergenic |
| Scent | Fresh & clean |
This soothing shampoo by HyLyt was formulated for sensitive skin by using ingredients from palm, aloe, and oatmeal. It also contains minerals, oil, and vitamins that clean and nourishes your cat's coat. Because it is hypoallergenic, it is appropriate for cats that may have dandruff caused by allergies. This shampoo has a pleasant scent, but it doesn't last very long. Even though no reports have proven this statement, the company claims that it may actually benefit topical flea and tick products. It is also potentially hazardous to humans and should not be stored where children could get into it.
Nourishing ingredients
Soap-free
Hypoallergenic
Not all ingredients are clean
Potentially hazardous to humans
---
6.

Vetoquinol Sebozle Shampoo for Dogs & Cats
| | |
| --- | --- |
| Sizes | 16 ounces, 1 gallon |
| Features | Medicated |
| Scent | N/A |
This cat dandruff shampoo uses a blend of ingredients that help treat bacterial, fungal, and seborrheic skin conditions without the use of soaps. While it may be expensive, it is one that is extremely effective if your cat is suffering from a severe case of dandruff. The ingredients are strong yet still gentle enough for frequent use. You have to allow it to sit on the cat for at least 10 minutes as well.
Gentle ingredients
Soap-free
Effective
Must leave on for 10 minutes
Expensive
---
7.

RX 4 Pets Cat Skin Irritation Shampoo & Conditioner
| | |
| --- | --- |
| Sizes | 16 ounces |
| Features | Medicated |
| Scent | Fresh & clean |
This is one of the best natural 2-in-1 shampoo and conditioner treatments used to help get your cat's dandruff under control. The shampoo uses a gentle formula with organic and natural ingredients proven to work on skin conditions. It is free from all harsh chemicals that could cause even further irritation. However, it does use tea tree oil which might not be ideal for some cats with highly-sensitive skin. The shampoo must be left on for a minimum of five minutes in order to work properly. Still, we think this is an excellent brand that is proudly made here in the United States.
Made in USA
Organic and natural ingredients
No harsh chemicals
Tea tree oil not ideal for all cats
Must leave on for five minutes
---
8.

Pet MD Micoseb-CX Anti-Fungal Medicated Shampoo
| | |
| --- | --- |
| Sizes | 12 ounces |
| Features | anti-fungal |
| Scent | Fragrance-free |
This anti-fungal shampoo made by Pet MD is an effective choice to relieve dandruff caused by mange. You do have to follow a strict schedule that requires bathing your cat two or three times per week to soothe the infection. Thankfully, you can reduce this amount after the initial treatment timeframe.
This shampoo was made in the United States. Ingredients like micronized sulfur and peroxide degrease the skin and remove large dandruff scales to help their coat look shiny and healthy again.
Anti-fungal
No parabens
Moisturizes and deodorizes
Must follow strict routine
Expensive
---
9.

Mika Pets Cat Shampoo for Dry Itchy Skin
| | |
| --- | --- |
| Sizes | 16 ounces |
| Features | Oatmeal |
| Scent | Coconut |
One of the best things about this Mika Pets shampoo is that it uses natural ingredients with no parabens, phosphates, or other cat toxins. This also means that it is a good choice for cats with allergies. While it is safe for adult cats, it should not ever be used for kittens that are under 12 weeks old. If you enjoy coconut, you'll love the smell. However, there are reports that it is a little overpowering for some people.
No parabens or phosphates
Clean ingredients
Not safe for kittens under 12 weeks old
Overpowering scent
---
10.

Petway Pet Care Shampoo
| | |
| --- | --- |
| Sizes | 8 ounces |
| Features | All-natural ingredients |
| Scent | N/A |
This product by Petway is a shampoo that uses a mix of degreasers and surfactants to remove the oil that is building up on your cat's skin and coat. Even though it does strip the oils, it is designed to be non-drying for the skin. There are no parabens, phosphates, or sulfates used. However, the bottle is small, and you must use a large amount for an effective clean. There are no medicated ingredients. While they don't advertise a scent, reviews say there is a somewhat unpleasant fragrance.
No sulfates, parabens, or phosphates
Small bottle
Expensive
Unpleasant smell
Buyer's Guide: Choosing the Best Cat Shampoo for Dandruff
It's not always clear on when you should or shouldn't bathe your cat. We know that they often do most of their grooming themselves, but there are still times when we cat parents need to step in and keep them clean.
Why Should I Bathe My Cat?
1. Their coat gets covered in something toxic.
Cats are curious creatures, and they could have wandered somewhere and rolled in something that is damaging their skin and fur. This could be from motor oil, dirt, food, or something else. If there is something on your cat's fur that you don't think they should lick off, give them a bath as soon as possible.
---
2. They have dry, itchy skin.
The most obvious signs of dandruff include flakey and irritated skin. Giving them a bath could be the thing that finally helps to soothe the irritation.
---
3. The cat has a flea infestation.
Bathing your cat is the best solution for flea infestations. Keep the problem under control and ease their discomfort by giving them a flew bath.
---
4. Your cat doesn't groom themselves properly.
Some cats simply don't groom themselves as well as other cats, and it could lead to grease and dandruff buildup that requires a bath.
---
5. Someone is allergic to dander.
While the flakes may not be bothering the cat, they could definitely be bothering someone else in the house who has allergies. By bathing your cat every few weeks, you significantly cut back on the amount of dander in the house.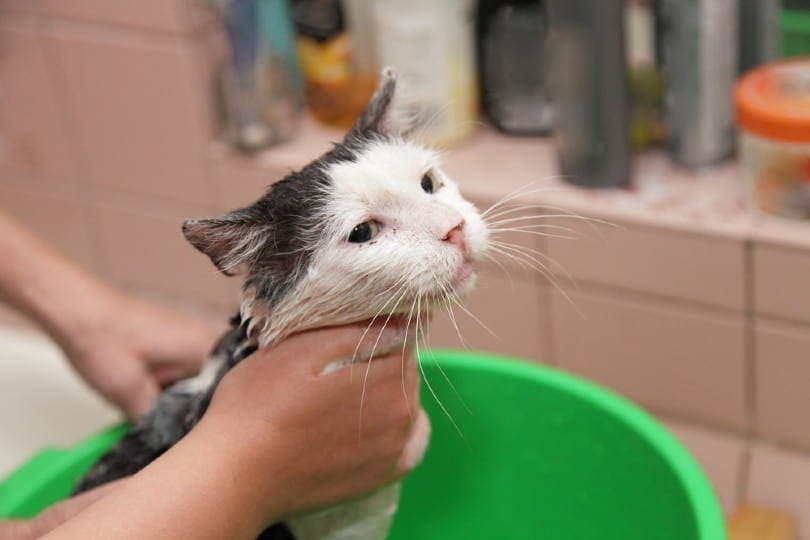 What to Look for in a Cat Dandruff Shampoo
Ingredients
The ingredients are the most important factor you need to consider when buying a cat shampoo for dandruff. Cats with sensitive skin benefit most from hypoallergenic shampoos. These types of shampoos often contain fewer ingredients and are usually more natural. However, some cats have serious skin conditions and might require medicated treatments. These aren't as good for sensitive skin, but often do a better job at healing the cat's skin problems.
Scent
Fragrances are another factor that you'll definitely want to consider before buying a new brand of dandruff shampoo. While some owners like their pets to smell like flowers, fragrances aren't always the healthiest or the most pleasant. Keep in mind that powerful smells to us are even more powerful to cats. Some cats could find that the shampoo you've bought is a bit too overpowering.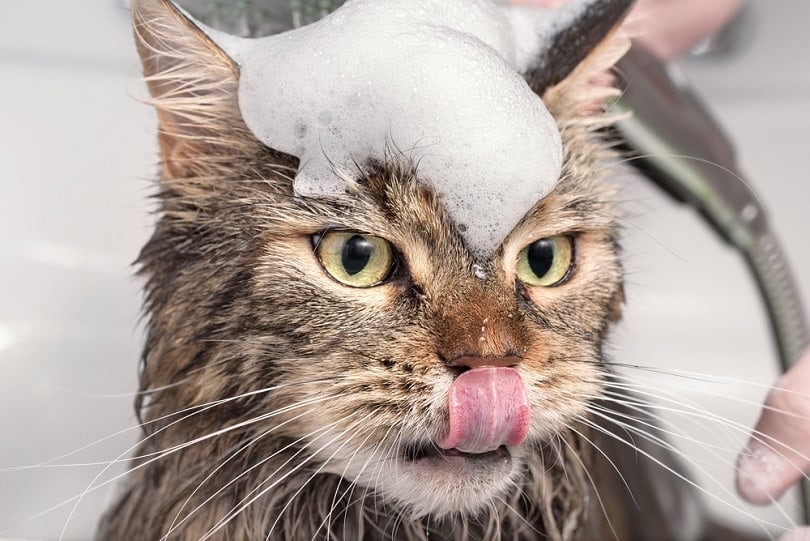 When Should I Use Medicated Cat Shampoo?
The severity of your cat's skin condition is likely going to determine whether you buy medicated shampoo products. These are more necessary for cats with a fungal or bacterial skin infection that will not go away without medicated products. If you're unsure, never hesitate to reach out to your veterinarian and discuss the best options for you and your kitty.
Conclusion
We have tested and reviewed many of the top cat shampoos for dandruff and put together a list of some of the most popular brands on the market. We highly recommend using the Oatmeal & Aloe shampoo made by Earthbath if you're looking for a hypoallergenic and clean formula. However, if you want the best value, you might go with the Vet's Best oatmeal medicated shampoo. There are plenty of dandruff shampoo options to choose from on this list. There are some that are highly medicated and others that use more gentle ingredients. Either way, you'll make a safe and effective choice by using one of the best cat shampoos for dry skin on the list.
---
Featured Image Credit: Irina Kozorog, Shutterstock