10 Best Cat Toys for Bored Cats – 2022 Reviews & Top Picks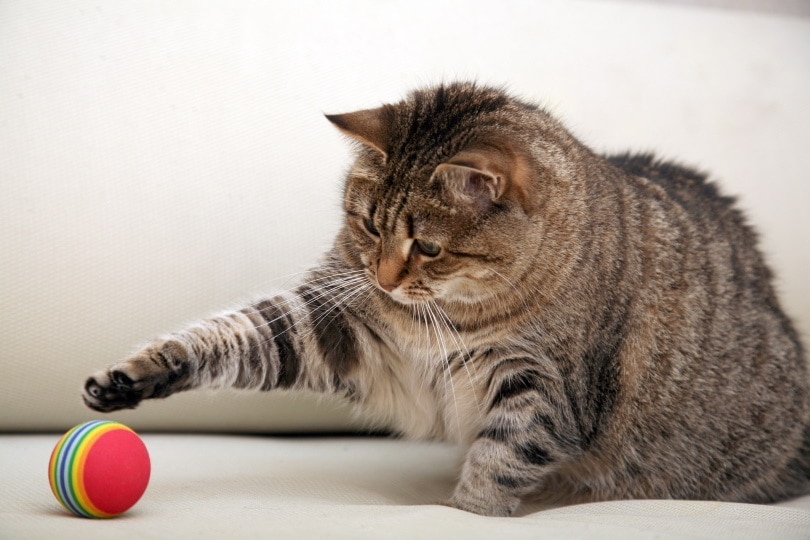 Cats are full of mischief most of the time, but a bored cat can do some real damage around the house like scratch incessantly at furniture or curtains. If your cat seems bored and is walking around the house looking for something to do, toys are a great way to mentally and physically stimulate your cat to help cut through the boredom he feels. Cats enjoy chasing, stalking, and scratching at toys that allow them to act out their natural instincts.
Finding the best cat toys for bored cats can be challenging but we're here to help! We've put together the following reviews of the 10 best cat toys for bored cats that should help you pick a toy to keep your kitty busy and out of mischief.
A Quick Comparison of Our Favorites in 2022
Rating
Image
Product
Details

Best Overall

Bentopal Cat Laser Toy

Two modes of operation
USB charging
Quiet operation

Best Value

Frisco Butterfly Tracks Cat Toy

Lightweight
Three levels of play
Can be used by more than one cat

Premium Choice

Potaroma Flopping Fish Cat Toy

Durable and washable
USB rechargeable
Stand-by mode to save battery

Best for Kittens

Frisco Feather Bird Cat Teaser

Low cost
Catnip inside bird toy
Easy to use

Bentopal Cat Laser Toy

Can USB charging
Quiet operation
Five circling ranges
The 10 Best Cat Toys for Bored Cats
1.

Bentopal Cat Laser Toy – Best Overall
The Bentopal Cat Laser Toy is the best overall cat toy for bored cats because this toy is super cool! It's a cat-shaped plastic toy you can hold in your hand or place on a table to entertain your cat for hours on end. This battery-powered toy emits a laser that has five circling ranges so it can be used in all sizes and types of rooms.
This toy will have your cat hunting, chasing, jumping, and playing for hours as he interacts with the moving laser beam. If you want to change the toy to handhold mode, you simply long-press the power button. Otherwise, set this cool-looking cat toy up on a table and turn it on and watch your bored cat spring into action. To keep this toy running when you're not at home, simply plug the included USB cable into your computer and never worry about losing power.
When you want to play with your cat by hand, pop in four AAA batteries and you're good to go. It should be noted that the batteries are not included, which we think is a failure on the part of the manufacturer. However, the battery mode does allow you to take this toy outside for more versatility.
Another noteworthy thing to mention about the Bentopal Cat Laser is that the laser will not hurt your cat's eyes as it's a Class 2 laser that's safe. This futuristic cat toy runs quietly, which is a big plus if you live in a small apartment.
Two modes of operation
USB charging
Quiet operation
Five circling ranges
Batteries are not included
---
2.

Frisco Cat Tracks Butterfly Cat Toy – Best Value
| | |
| --- | --- |
| Type | Interactive |
| Size | 10"L x 8.25"W x 6.25"H |
| Material | Plastic |
We consider the Frisco Cat Tracks Butterfly Toy the best cat toy for bored cats for the money. This affordable toy has everything cats love including a ball to chase, the excitement of the sound a ball makes when rolling around, and a moving butterfly to stalk and chase.
This lightweight toy is made of plastic and consists of three levels of tracks. It comes with three balls and two butterflies. This triple-tiered toy provides cats with three levels of interactive play. If your cat loves chasing balls and butterflies, this toy should be just what you need to keep him occupied for hours.
A good thing about this toy is that it can be used by more than one cat at a time. The toy is relatively small but there's plenty of room for two cats to have their own space chasing the balls around the track and swatting at the butterfly that appears to be living.
A downside to this toy is that it's lightweight, allowing cats to tip it over or push it all around the floor. But maybe that's not a bad thing as even this type of play will keep a bored cat occupied! Overall, we love this cat toy and feel confident your cat will think the same!
Lightweight
Three levels of play
Can be used by more than one cat
Easy for cats to tip over and push around
---
3.

Potaroma Electric Flopping Fish Cat Toy – Premium Choice
| | |
| --- | --- |
| Type | Battery-driven, rechargeable |
| Size | 11.89"L x 4.88"W x 1.5"H |
| Material | Durable plush |
The Electric Flopping Fish looks and acts just like a real fish, and it's a toy cats tend to love!  It lays perfectly still until your cat approaches and touches it to activate the built-in motion sensor. The toy then kicks into gear, flopping and wriggling around like a fish out of water to keep your kitty on his paws and engaged in real-time. This boredom-busting cat toy is powered by a rechargeable lithium-ion battery.
This cat toy is made of a durable and washable plush material. It features a smart standby mode to save battery power when your cat stops playing with it. It comes with a USB charging cable and a pouch of catnip that you can use as a cat treat.
One thing we don't like about this realistic-looking fish cat toy is that the battery is not replaceable. That means once the cat toy dies, it's game over—unless of course, you're electronically-gifted and able to switch the built-in battery. We also didn't care for the noise the toy makes when first turned on that sounds like a remote-control car but not as intense.
The Flopping Fish may entertain you and your friends almost as much as it does your cat. It looks and acts like a real fish and it's a fun toy to watch your cat interact with. If you get this toy, be sure to give your cat some of the included catnip to make his play more fun for you to watch!
Durable and washable
USB rechargeable
Stand-by mode to save battery
---
The Frisco Bird Teaser with Feathers is the perfect way to bond with a young kitten. When you wave this simple toy in front of your cat, the colorful feathers, dangling string, crinkly sound, and included catnip will entice your cat to jump into action. This toy triggers a cat's natural hunting instinct and it's a great way to build a strong bond between you and your kitten.
The little polyester bird hanging from the end of the 22-inch-long string is filled with catnip to entice your cat to play. The wand is made of sturdy plastic to ensure it will last. This cat toy consisting of a wand, strings, a toy bird, and feathers is prone to breaking and especially if your cat plays rough. However, if your cat does break this toy, it won't hurt much cost-wise as this toy is one of the cheapest in our list of reviews.
Overall, this classic cat toy made of polyester and plastic is perfect for getting bored or lazy cats up on their feet. It's a toy that will trigger your cat's hunting instinct so be prepared for lots of stalking, hunting, leaping, and other fun cat action!
Low cost
Catnip inside bird toy to entice your cat to play
Easy to use
Do you want to treat your cat to something really fun? The Hepper Cat Tunnel Bed combines a shaded sleeping area with a tunnel, letting your cat play and sleep in the same small piece of cat furniture. Our team put this product together, and we believe in it! 
---
5.

SmartyKat Hot Pursuit Electronic Motion Cat Toy
| | |
| --- | --- |
| Type | Battery-operated electronic motion toy |
| Size | 22.51"L x 22.51"W x 2.99"H |
| Material | Durable fabric and plastic |
This toy consists of a battery-operated base and a fabric skirt that's designed to be placed on the floor. When the toy is switched on, a concealed cat toy that's attached to a wand moves around under the skirt and pops out now and then to excite your cat and entice him to play.
The SmartyKat Hot Pursuit is designed to encourage a bored cat to exercise and play. This is a good option if you're away all day and want to keep your cat occupied and out of trouble. You can simply turn the toy on and turn it off once you're home.
The Hot Pursuit cat toy is powered by a pair of AA batteries which are included. A downside of this toy is that you must use a screwdriver to replace the batteries located inside the saucer-like disc that operates the cat toy under the fabric skirt. But at least you can change the battery.
So, how do cats like this toy? They love it! Most cats will spend hours on end watching the movements of the skirt and the toy underneath move about and pop out. This toy is one of the most popular in our cat toy reviews and one that's very affordable.
This toy can entertain a single cat or a few! If you have more than one cat, this is a good toy to get as there's plenty of room around the toy for several felines to join in on the fun!
Can be left on when you're not at home
Cats enjoy watching the skirt move and waiting to pounce on the toy
Your cat can play with this toy alone or with other cat friends
Makes a humming noise when turned on
The skirt part of the toy is flimsy
Requires a screwdriver to replace the AA batteries
---
6.

Frisco Peek-a-Boo Chute Tri-Tunnel Cat Toy
| | |
| --- | --- |
| Type | Play tunnel |
| Size | 18"L x 9.5"W x 9.5"H |
| Material | Polyester |
This pop-up cat play tri-tunnel by Frisco offers a bored cat lots of fun exploring and darting about. This cat toy which consists of three tunnels held together by Velcro is sure to spark your cat's interest as cats love to explore closed spaces. It's an easy toy to use as you simply pop it open and fold it down flat when you need to store it away. Cats love napping in this toy as much as they love running and playing in it, so maybe it's best to leave it open.
This tri-tunnel toy is made of polyester which stands up well to cat claws and teeth. However, the polyester can be torn if your cat is a rough player. This tunnel toy is lightweight and small. It's appropriate for kittens and regular-sized cats but not for big fat cats as they may find it hard to move around inside the tunnels.
It's a great toy for a single cat or a pair of cats to use. You can add to the fun by tossing a ball or a small cat toy into the tunnel for your cat to chase and retrieve. A nice thing about this toy is that it's simple. There are no batteries to replace and nothing to plug in and charge. Just pop it open, toss it on the floor, and watch your kitty have loads of fun!
No batteries or charging to do
Easy to set up
Three tunnels for triple the fun
Small
Polyester is prone to tearing
Not appropriate for large cats
---
7.

Petstages Tower of Tracks Cat Toy
| | |
| --- | --- |
| Type | Interactive |
| Size | 10"L x 5.5"W x 10"H |
| Material | Polypropylene |
We included this colorful Petstages cat toy in our list of reviews because it offers a bored cat lots of spinning and rotating ball action. When you have this toy on the floor, your cat won't lose another of his balls under the couch because the included colorful balls stay put in the stacked toy.
This is a durable toy made of polypropylene that offers three levels of play with each level having its one circular track and ball. There are non-skin pads on the bottom of the toy to keep it in place while your cat bats at and chases the balls. But even with the pads, this toy can be easily flipped over on one side wherein the balls can be inaccessible to spin. This would cause most cats to lose interest in the toy. And if you're not home to set the toy upright again, your cat will be bored once again.
As the balls move around the tracks, they make a rattling sound that could scare some cats. Otherwise, we like this interactive cat toy that's simple in nature. This is a good option for anyone with more than one cat as there's plenty of play area around the Petstages Tower of Tracks.
Simple design with no batteries
Can be used by more than one cat
Durable
Easily tips over
Cat may lose interest in the toy
---
8.

PetFusion Ambush Interactive Electronic Cat Toy
| | |
| --- | --- |
| Type | Interactive electronic |
| Size | 6.8"L x 6.8"W x 2.8"H |
| Material | Plastic |
Your cat's inner hunter will emerge when you place the Ambush cat toy down in front of him. This toy will make your cat feel like a big bad hunter as it's designed to bring out a cat's natural hunting instinct.  A brightly colored feather will randomly pop out from one of the toy's six holes, using LED color lighting to entice your cat even more.
This compact and durable round cat toy is a bit heavy as it weighs 1.3 pounds. It has anti-slip feet to help keep it in place on hard smooth surfaces. It comes with one replacement feather which you'll probably need sooner than you may think. That's why we think the manufacturer should have included several replacement feathers as they're a key part of this battery-operated cat toy. This toy comes with the required four AA batteries, and it features an eight-minute shut-off feature to save battery life.
Overall, the PetFusion Ambush Interactive Electronic Cat Toy is a great option that's appropriate for a single cat or a pair of felines to keep them occupied. This toy poses a challenge to a cat as he waits and watches for the colorful feather to emerge from one of the holes.
Compact and durable
LED Lighting to entice your cat to play
Power shut-off feature
Only one replacement feather included
Somewhat heavy
---
9.

SmartyKat Skitter Critters Cat Toy
| | |
| --- | --- |
| Type | Interactive |
| Size | 4.0"L x 0.98"W x 0.64"H |
| Material | Lightweight plush |
The Skitter Critters Cat Toy by SmartyKat is a set of three catnip-filled plush mice. These simple little toys will provide your cat with vigorous activity while keeping him entertained. Of course, the catnip will certainly help attract your cat to the play mice and make him act nuts which is hilarious to watch. This is the cheapest toy on our list of reviews and the toy with the simplest design.
When you toss a Skitter Critter down on the floor you can expect your cat to take notice! He'll likely stalk the toy for a few minutes before making his move which may consist of a few big pounces on the floor. These little toys will keep your bored cat busy and provide you with a good way to bond with your cat by tossing the toy around for your cat to retrieve.
These small plush cat toys don't last forever so expect to replace them now and then as your cat slowly destroys them with his teeth and claws. Your cat may manage to lose a few of these cat toys around the house as they are small and easily lost.
Very affordable
Simple to use
No batteries or chargers to deal with
Not extremely durable
Can get lost easily
---
10.

Hexbug Nano Robotic Cat Toy
| | |
| --- | --- |
| Type | Battery-operated robotic |
| Size | 6.0"L x 0.5"W x 0.5"H |
| Material | Plastic and rubber |
The final product on our list of the 10 best cat toys for bored cats is the very affordable Hexbug Nano Robotic Cat Toy. If you're a budget-conscious cat owner, you'll appreciate the fact that this cat toy costs less than a premium cup of Joe at your local coffee shop. The playfully energetic Hexbug will keep your cat busy with its lifelike movements and actions.
Your cat may believe that the Hexbug Nano is a real insect that is scurrying about on the floor. This cute little toy can navigate around items on the floor and corners. It can even flip itself over when it's on its back in an attempt to get away from your cat. This toy moves via vibration and with the help of a button cell battery that's included.
The Hexbug Nano comes in your choice of fun colors. As this little toy is scurrying about, you can expect it to pick up stray hairs and dust bunnies along the way, which can cause it to shut down. While this is not the most durable cat toy on the market, it is very cheap to replace if your cat damages it.
The Hexbug Bano is rather noisy as it buzzes around the floor. Plus, since it's only half an inch tall, it's prone to getting stuck under furniture. The battery will have to be replaced every week or so if you manage to keep this toy running for long periods of time. The only battery that comes with the toy is the one installed inside it, so you'll have to stock up on the required batteries.
Inexpensive
Simple operation
No extra batteries included
Makes a lot of buzzing noise
Tends to get stuck under furniture
Conclusion
As you can see, there are all types of cat toys for bored cats ranging from very simple toys to robotic toys that move on their own. If you can't decide what toy is best for your bored cat, we highly recommend the Bentopal Cat Laser Toy and the Frisco Cat Tracks Butterfly Toy.
If you spend a lot of time outside the home away from your cat, the laser toy by Bentopal is a great choice. If your cat loves chasing balls but doesn't love trying to retrieve them from under furniture, the triple-tiered Frisco Cat Tracks may be perfect for your feline friend.
Take as much time as you need reading through these cat toy reviews because they all have lots to offer bored cats. Regardless of which toy you pick, you can bet your cat is going to love it as we can recommend all these toys without hesitation!
---
Featured Image Credit: Onishchenko Natalya, Shutterstock