9 Best CBD Dog Treats & Chews of 2023 – Reviews & Top Picks
If you follow the trends in pet health, then you know that CBD oil is one of the hottest products out there. It can supposedly help with anxiety, joint pain, and a whole host of other conditions, but there's just one problem: getting your dog to take it can be a pain.
That's where CBD dog treats come in. They're tasty little morsels that are loaded with CBD, so your pup will never know that treat they're eating is actually medicinal.
However, not all of these treats are created equal, and the last thing you want to do is feed your pup a dud. In the reviews below, we'll take a closer look at some of the top brands on the market, so you can find one that's worthy of being served to your pooch.
A Quick Comparison of Our Favorites 2023
Rating
Image
Product
Details

First Place

Fab CBD Dog Treats

Three different formulas available
Full of omega fatty acids
All treats are wheat- and dairy-free
Check Price

Second Place

Honest Paws Calming Bites

Treats are arranged by purpose
Formulas include other useful ingredients
Offers both soft chews and harder biscuits
Check Price

Third Place

Charlotte's Web Calming Chews for Dogs

Senior formula available
Recipes include additional botanical ingredients
Treats are all chicken-flavored
Check Price

Joy Organics CBD Dog Treats

Dogs like beef flavor
Also includes flaxseed oil and sweet potato powder
Completely THC-free
Check Price

NaturVet Quiet Moments Calming Aid Soft Chews

Several options to choose from
Inactive ingredients contain things like fish oil
Fortified with other supplements
Check Price

The 9 Best CBD Dog Treats
1.

Fab CBD Dog Treats
Fab CBD offers three different treat formulas, each with a different flavor. The calming formula is peanut butter apple, the skin and coat formula is salmon, and the immunity formula is chicken.
The treats are all wheat- and dairy-free, making them a great choice for pups with sensitive stomachs. They also contain other quality ingredients like flaxseed, which is full of omega fatty acids.
Not all the ingredients are wonderful, though. Each formula contains tapioca syrup, which is full of calories. As a result, you should be careful sharing these with overweight dogs.
Dogs seem to enjoy the flavor, so you shouldn't have too much of an issue convincing your pooch to wolf down their medicine.
Fab CBD offers high-quality, delicious treats for ailing dogs, but be careful about portion control or else you could end up just making your dog's pain worse.
Three different formulas available
All treats are wheat- and dairy-free
Full of omega fatty acids
Dogs enjoy flavor
Tapioca syrup increases calorie count
---
2.

Honest Paws CBD Calming Bites
Their website isn't the snazziest you'll come across, but Honest Paws offers a variety of delicious treats your dog is sure to enjoy.
The treats are all made with a certain theme, such as "calming," making it easy to find the right one for your dog's condition.
They don't just rely on the CBD oil to be effective, either. The company includes other ingredients that have been known to be helpful — for example, the calming formula has tryptophan and an amino acid from green tea in it.
You can buy either soft chews or "bites," which are more like traditional dog biscuits. The bites have a few more healthy ingredients in them, but they fall apart easily, which makes them difficult to serve.
Also, your dog had better like peanut butter, because that's about the only flavor you'll find here.
Honest Paws does a good job of ensuring their treats help with the issues plaguing your dog, but they can be difficult to serve.
Treats are arranged by purpose
Offers both soft chews and harder biscuits
Formulas include other useful ingredients
Several options to choose from
Peanut butter is about the only flavor
Hard biscuits fall apart easily
---
3.

Charlotte's Web CBD Calming Chews for Dogs
Charlotte's Web has several different treat options available, including one that's specifically designed for senior pups.
Each of the recipes has additional botanical ingredients to help them achieve their goals, so you won't have to worry about the CBD oil doing everything on its own.
All of the treats are chicken flavored, which means your dog should enjoy the flavor. However, if your pup turns up their nose (or if they're allergic to chicken), you're out of luck.
They also contain omega-rich ingredients like sunflower oil, so they'll be good for your pup in more ways than one.
Most of the ingredients inside are excellent, but these treats have a lot more salt than we'd like to see. As long as you feed them sparingly, though, it should be fine.
If you want a well-rounded chew that's available in a variety of formulations, Charlotte's Web offers terrific treats.
Senior formula available
Treats are all chicken-flavored
Recipes include additional botanical ingredients
Rich in omega fatty acids
No backup flavors if your dog doesn't like chicken
High in salt
---
4.

Joy Organics CBD Dog Treats
If you get overwhelmed when you have too many choices, you'll love Joy Organics. They only offer one type of CBD chew for dogs.
The chews are beef-flavored with a little bit of bacon inside to boot, so getting your dog to eat them shouldn't be a problem. They're also THC-free, with 3rd-party verification in that regard.
You'll find flaxseed oil on the ingredients list as well as sweet potato powder, giving your dog two other healthy foods to process along with the CBD oil.
The formula uses coconut oil as a carrier oil, which gives your dog even more omega fatty acids but also ensures their breath will smell like coconuts, which may or may not be an improvement.
If you want an easy decision-making process that will result in a tasty treat for your pup, Joy Organics delivers on every count.
Dogs like beef flavor
Completely THC-free
Also includes flaxseed oil and sweet potato powder
Coconut oil offers additional omega fatty acids
Only one option to choose from
Dog will smell like coconuts
---
5.

NaturVet Quiet Moments Calming Aid CBD Soft Chews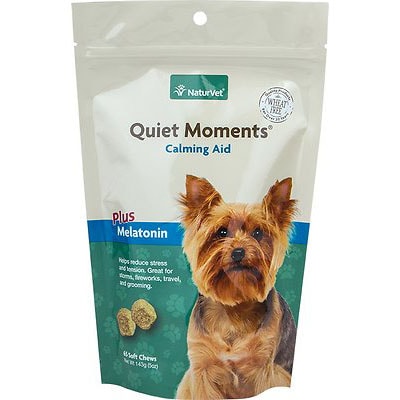 NaturVet boasts one of the best collections of hemp treats we've found anywhere. They have multiple soft chew options, making it easy to find one that will work for your pup.
The CBD treats are fortified with other supplements as well — for example, the joint health chews also contain glucosamine and chondroitin. Even the inactive ingredients have good stuff in them, like canola oil, fish oil, and lecithin.
There's not much in the treats to add flavor, though, so your dog may not care for them. Also, they're only suitable for use on canines, so make sure your cat doesn't get into Fido's stash.
While you can order NaturVet products online, they're also sold at quite a few major brick-and-mortar retailers, allowing you to check the treats out before you buy. That can be reassuring if you're not yet prepared to buy hemp products on the internet.
Several options to choose from
Fortified with other supplements
Inactive ingredients contain things like fish oil
Available at major retailers as well
Many dogs don't care for flavor
Only suitable for dogs
---
6.

CBD American Shaman Doggy Snacks
The ingredients list on the treats from CBD American Shaman makes them sound like regular cookies until you get to the hemp oil at the end. Other than that, though, it's regular ingredients like peanut butter, milk, and eggs.
That means your dog will probably go crazy for these treats (at least until they calm him down, that is). In addition to the peanut butter option, you can also get turkey, which contains things like chicken stock, flaxseed, and beef stock.
The company claims that the CBD in these treats is absorbed faster due to the technology used to process it. We can't speak to the tech, but they did seem to work fairly quickly.
They only come in one serving size, though, so you may have to break them up if you have a smaller dog. Also, the great taste means you'll need to hide them, because your dog could easily tear through an entire bag if left unattended.
All in all, the treats from CBD American Shaman seem to be some of the tastiest (and most nutritious) around. You may even convince your dog to do tricks in order to earn their medicine.
Dogs love taste
Two tasty flavor options
Includes high-quality ingredients like turkey and flaxseed
CBD seems to be absorbed quickly
Only one serving size available
Dogs may try to eat entire bag if left unattended
---
7.

Petly CBD Hemp Chews for Dogs
The treats from Petly CBD have one primary claim to fame: they supposedly have more bio-available CBD than most oil-based treats.
It's good that they're so potent, because these things are expensive. You don't get very many in a bag, so this will end up being a pricey treatment for your pooch.
You're unlikely to find more powerful treats, though, and hemp oil is the first ingredient listed on the bag. There's also beef liver powder and bacon flavor inside, ensuring your pooch won't mind taking their meds.
All of the other ingredients are non-GMO and pesticide-free, so these treats are as healthy as you can reasonably expect them to be.
If you want the most bang for your buck — and are willing to spend quite a few bucks to get it — then the treats from Petly CBD are the way to go.
Extremely potent
Hemp oil is first ingredient
Other ingredients are non-GMO and pesticide-free
Dogs enjoy bacon flavor
Very expensive
Not many treats in bag
---
8.

FOMO Bones: Calming Soft Chews for Dogs
The name might lead you to believe that FOMO Bones are actual chew bones, but they're just bone-shaped biscuits. While that might not occupy your dog for as long as a chew bone would, it does make it easy to give them their medication.
The recipe is solely focused on reducing anxiety, so the treats are great for that but not much help if your dog has arthritis. It does make it the best CBD treat for dogs with anxiety though.
However, the company packed a lot more than just CBD oil into these treats. You'll also find passion flower, which helps combat stress, and L-tryptophan, which is the same natural sedative that's found in turkey. There's even chamomile inside.
You'll find a couple of ingredients for flavor as well, like cheese powder and bacon flavor. The inclusion of beef protein and safflower oil gives your dog some important nutrients, too.
The dosing isn't very precise, though. Dogs under 20 pounds get a single bone per day, while bigger dogs get two. It seems odd that a 150-pound Mastiff would receive the same dose as a 25-pound French Bulldog.
If you can get past that, though, FOMO Bones are likely to be well-tolerated by your dog (and will help you to better tolerate your dog as well).
Good for reducing anxiety
Includes several mood-altering natural ingredients
Has protein and omega fatty acids thanks to beef and safflower oil
Tempting bacon-and-cheese flavor
Dosing isn't precise
Only suitable for anxiety
---
9.

HolistaPet Hemp Dog Treats For Calming
HolistaPet is solely dedicated to offering CBD products for pets, and you'll even find treats for horses and cats on their site. That may not help your dog much, but it's nice to know that they're so committed to helping animals.
That dedication means the company has quite the array of products to offer. You'll find treats aimed at a variety of conditions, from stress and anxiety to heart and immune care. There are bundled options as well, so you can treat a variety of conditions at once.
The products aren't as one-size-fits-all as those you'll find from many other companies, either. There are even dosages for giant breeds, so you won't have to get out your calculator to determine how much to give your Great Dane.
Hemp oil is used as a carrier, and in addition to boosting absorption it helps to turbo-charge your dog's immune system.
The website seems to be a holdover from the internet of yesteryear, however, and the company can take quite some time getting your products to you.
If you can navigate the site and are willing to wait for your treats, HolistaPet is one of the best pet-centered companies around today.
Lots of products to choose from
Bundled options available
Includes dosages for giant breeds
Immune-boosting hemp oil is used as carrier
Website is outdated and difficult to use
Long shipping times
---
Buyer's Guide: Choosing the Best CBD Treats For Your Dog
CBD oil is a relatively new product for many people, and they may not know the best way to serve it to their dogs — even if it comes in premade treat form.
This guide will let you know all the ins and outs of using CBD oil to treat your dog, so you can choose a product that will be a good fit for both you and your pet.
Are CBD Oil Treats Legal?
Yes. CBD oil is derived from hemp, not marijuana, and hemp is legal in all 50 states.
However, it's important to realize that, while buying these treats won't get you arrested, they haven't been approved by the FDA. Their effectiveness is still being researched (and the results are promising), but there hasn't been any sort of consensus reached by the medical community as of yet.
That also means that it's kind of the Wild West out there, as no one's regulating their manufacture or use. You'll have to be extra careful when making a buying decision to ensure you get a trustworthy one.
Are They Safe to Give My Dog? Will CBD Oil Treats Make My Dog High?
No. The compound that causes the psychoactive effects in marijuana is called THC, and while it exists in hemp as well, it's found in miniscule amounts (around 0.3%).
Also, most companies purify the oil used until virtually all of the THC is removed. You don't need to worry about your pup getting high off these treats.
Another good thing about hemp is that your dog can't overdose on it, so you don't have to worry about being super careful with dosing. The worst that can happen if your dog goes crazy with the treats is that they'll get diarrhea or become really, really sleepy.
Of course, there are other ingredients inside the treats besides CBD oil. Some of them may be dangerous in massive amounts, so you should read the label carefully.
Does CBD Oil Have Any Side Effects?
Not really. As noted above, it may cause extreme drowsiness or diarrhea if taken in large amounts, but that's about it.
Again, though, there will be other ingredients in the treats that may cause issues for your dog, especially if they have any allergies. Always read the label before feeding your dog anything.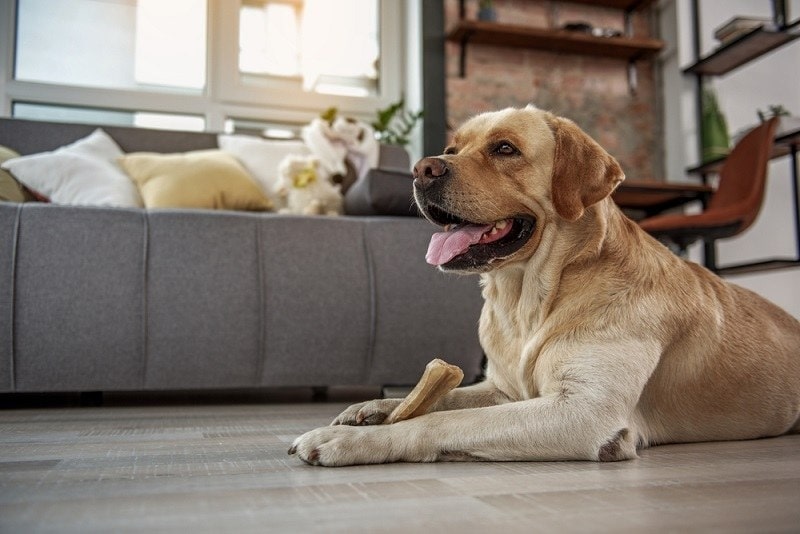 Can I Give My Dog CBD Oil Treats If They're Taking Other Medications?
That's a question for your vet. Tell them you're thinking about putting your dog on CBD oil and ask if it will interfere with their current prescriptions.
How Many Treats Should I Give My Dog?
That will depend on the strength of the treats and the size of the dog. Most manufacturers include dosage instructions on the bag for easy reference.
However, since your pup can't overdose on the stuff, you should start off small and move up as needed. Give them the recommended dosage and wait an hour or so, and if things don't improve you can give them some more.
Also, every dog reacts differently to CBD oil. Some are very sensitive to it, and with them, you'll see impressive results even if you only administer small amounts. Others are more resistant to it and will need more. Just watch how your dog reacts and go from there.
How Long Does It Take to See Results?
If you're trying to treat anxiety, you should see results within an hour. If you haven't, then you can increase the dosage until you do (or until your dog falls asleep).
For issues like joint pain, it may take several weeks of taking the best CBD dog treats for joint pain before the difference becomes apparent. Don't get discouraged, though, because the results are cumulative, so you'll see more benefits the longer you feed them to your pooch.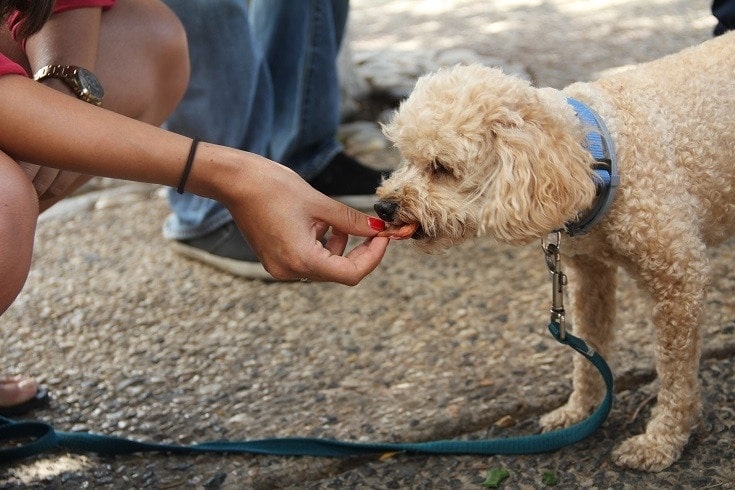 Why Do They Have CBD Treats for Different Conditions?
CBD oil can treat a variety of conditions, but some manufacturers target certain ailments individually.
This isn't because the oil they use is any different or specially tailored for that condition, but rather because they include other ingredients to bolster the effects.
For example, many anti-anxiety treats also contain things like chamomile or tryptophan, both of which are natural compounds known to create a sense of calm and relaxation.
Are CBD Treats Healthy for My Dog?
That depends on your definition of "healthy."
They are healthy in that they help treat certain conditions; living with pain or anxiety is far worse for your dog than any issues they might have with a CBD treat.
Also, many treats are made with quality ingredients and without possible allergens like grains or gluten. That limits the amount of harm they can do.
Still, though, these are treats. If you feed your dog too many of them, they could get fat (especially if they don't feel like exercising after eating one). Many use ingredients that are high in salt or sugar to entice dogs to eat them, which could lead to weight gain over time.
You should think of them as medicine that your dog enjoys. You wouldn't feed your pup as much prescription medication as they want, no matter how much they enjoy it; it's the same way with these treats.

Conclusion
If you're looking for a new way to help your dog with their health issues, CBD dog treats might just be the way to go. Made with CBD oil, they can help with a wide range of conditions like anxiety, joint pain, seizures, and more — and most dogs find them quite tasty, too.
Picking out a quality treat is easier said than done, though, and we hope these reviews have made the buying decision easier for you. If you find one that works for your pup, you'll soon notice a world of improvement in many ways.
Even better, if none of them work for your dog, you can just munch on them until that fact doesn't bother you anymore.
We truly hope that this guide helps you find the best CBD calming dog treats on the market.
---
Featured Image Credit: PRO Stock Professional, Shutterstock