10 Best CBD Oils for Dogs in 2023 – Reviews & Top Picks
CBD oil is one of the hottest products in the world right now, so it's no surprise that they'd make it for dogs as well. It can supposedly help with everything from anxiety to joint pain, making it a solid alternative for people who've tried everything else to ease their pup's discomfort.
Of course, unless you're well-versed in the world of alternative medicine, you may not know the first thing about CBD oil — much less how to buy some for your dog. Given how many companies are hawking the stuff these days, things can get overwhelming quickly.
That's where we come in. In the reviews below, we'll take a look at some of the best CBD oils on the market today, so you can buy with confidence.
---
A Quick Comparison of Our Favorites in 2023
Rating
Image
Product
Details

First Place

cbdMD Pure Organic Premium Hemp Oil Tincture Drops

Everything is THC-free
Also suitable for cats and horses
Made from American hemp
Check Price

Second Place

Austin and Kat CBD Oil for Dogs

Site is easy to navigate
High-quality
gluten-free ingredients
Good for CBD oil newbies
Check Price

Third Place

Palm Organix CBD Pet Tincture

Most dogs enjoy taste of chews
Oil absorbs easily
Treats also include flaxseed oil and sweet potato powder
Check Price

Holistic Hound Organic Full Spectrum Hemp Oil

Several different types of oil to choose from
Formulas are antioxidant-rich
Droppers make it easy to dose properly
Check Price

Lazarus Naturals CBD Pet Tincture

Three flavors to choose from
Company is upfront about testing results
One formula designed for sensitive pets
Check Price

The 10 Best CBD Oils for Dogs:
1.

cbdMD Pure Organic Premium Hemp Oil Tincture Drops
cbdMD offers a variety of CBD products for your pooch, including chews, tinctures, oils, and even peanut butter.
This gives you plenty of options when it comes to administering the CBD oil, so if your pup turns their nose up at one product, you'll have several backup plans to choose from.
All of the products are THC-free, so you don't have to worry about your dog getting high off anything you give them. They're made using American hemp as well, ensuring there aren't any strange chemicals or other additives inside.
Each of the products can also be used on cat and horses (but check the dosage!), so cbdMD can accommodate you if you have a menagerie at home.
The prices are a bit on the high side (no pun intended), but it's worth it if it makes your pup feel better fast.
All in all, we think this is the best CBD oil for dogs available this year.
Lots of different products to choose from
Everything is THC-free
Made from American hemp
Also suitable for cats and horses
---
2.

Austin and Kat CBD Oil for Dogs
There are many CBD companies that also sell pet-related products, but Austin and Kat Austin and Kat is one of the few that is completely devoted to selling CBD oil to pets.
The products are arranged by the effect they have on your dog, allowing you to quickly find the right oil for your pup's particular issue. This also makes the site very accessible to those who are new to the world of CBD oil.
Each of the products is made with human-grade ingredients and everything is gluten-free, so they should be very gentle on your pup's stomach. It's all made in Austin and Kat's private, USA-based bakery, too. The hemp itself is sourced from Colorado.
Many of the treats are very hard, though, so they may not be suitable for older dogs or those with dental issues. You may have to soak them in water before serving them to your pooch.
Still, Austin and Kat is clearly dedicated to the cause of pet wellness, and it shows in the final result. It's always nice to buy from a company that seems to care about your dog as much as you do.
Solely devoted to selling pet-related CBD products
Site is easy to navigate
Good for CBD oil newbies
High-quality, gluten-free ingredients
Some treats are very hard
---
3.

Palm Organix CBD Pet Tincture
Palm Organix doesn't offer nearly as many pet-related options as some of the other merchants on this list, as its stuff is primarily designed for human consumption. The pet CBD oil it does offer is excellent, though.
Your choices are pretty much limited to treats or tinctures, both of which are made with American hemp. They're both lab-tested to ensure that there's no THC, pesticides, molds, or chemicals inside.
The chews include things like beef and bacon flavorings, so most dogs will wolf them down without much of a fuss. There's more good stuff inside them than just hemp oil, though — you'll also find ingredients like flaxseed oil and sweet potato powder.
The oils are primarily coconut oil, ensuring they get absorbed easily into your pup's body once consumed. Your dog will smell quite tropical, though.
As long as you don't mind the limited selection, Palm Organix's high-quality oil should have your pet feeling better fast.
Lab-tested to ensure no mold, pesticides, or other unwanted additives
Most dogs enjoy taste of chews
Treats also include flaxseed oil and sweet potato powder
Oil absorbs easily
---
4.

Holistic Hound Organic Full Spectrum Hemp Oil
As the name suggests, Holistic Hound is another company that's solely dedicated to providing CBD oil for pets. Each of the products it offers was formulated by veterinarians to maximize their therapeutic effects.
One of the best things the company offers is actually not a product at all — it's a recommendation tool. This allows you to put your pet's information in (including their physical needs), at which point it will tell you which of Holistic Hound's products will best suit your purposes.
This makes things extremely easy for anyone who hasn't spent a ton of time researching pet CBD oil.
There have a variety of oils to choose from, including CBD, CBG, and mushroom oils. Each formula also contains antioxidant-rich ingredients, and many help to promote a healthy digestive tract.
Also, this may seem like a small thing, but the droppers are extremely effective. They make it easy to measure out the exact amount of oil you want to use. If you've tried a bunch of different oils, you know how rare and helpful that can be.
It does take quite a bit of the stuff to start seeing results, and that can get expensive, but it's well worth it in the end. It can get quite pricey if you're dosing a large breed pup, though.
If you're just starting your CBD journey, Holistic Hound is probably the best place to begin. It demystifies the process and makes things as simple and straightforward as possible.
Offers incredibly helpful recommendation tool
Several different types of oil to choose from
Droppers make it easy to dose properly
Formulas are antioxidant-rich
Expensive for use on large dogs
---
5.

Lazarus Naturals CBD Pet Tincture
Lazarus Naturals is another company that places a heavier emphasis on oils for human consumption, as it only offers three types of tinctures and one type of treats.
All of the tinctures are designed with the aim of calming your dog, so you won't find anything for pain relief or any other purpose here. There are three different flavors to choose from, though, so you should be able to find something your pooch will tolerate.
The company offers an oil especially for sensitive pets. This option only contains CBD isolate, and it should be easier for finicky pets to tolerate.
You can also read a variety of test results right on the product page. You'll need an advanced degree in chemistry to understand them, but it's nice to know that the company doesn't hide the information.
Those results are sent to a third party for analysis, though, so you can be certain that there aren't any pesticides or heavy metals inside the oil. The testing also confirms the oil's potency.
Lazarus Farms may not have many options for your dog, but the company's dedication to being upfront about the product is definitely reassuring.
Three flavors to choose from
One formula designed for sensitive pets
Company is upfront about testing results
Everything is 3rd party tested
Very limited amount of options
Only designed for anxiety relief
---
6.

Dogs Naturally CBD Oil
You can get all manner of products from Dogs Naturally, including both CBD and hemp oil. However, you only have those two choices in terms of oils.
The oils only contain two ingredients: the CBD oil and human-grade MCT oil, which is used as a base. This is good, as the MCT oil won't be stored as fat, so it's fine for overweight dogs.
The oils are a bit more expensive than others, but you can get a discount if you subscribe to automatic renewals. The company provides plenty of information to assist you with how to dose it properly according to what you're trying to accomplish as well, so you'll get some guidance for your money.
Each product is extracted using CO2 instead of solvents, ensuring you get the purest oil possible. You'll also find documentation proving the purity levels on the website.
Dogs Naturally has a ton of products to improve your dog's health, but their CBD oils may be the best of the bunch.
Uses human-grade MCT oil as a base
Discount on automatic renewals
Company provides information on proper dosage
Extracted using CO2 to preserve purity
Only two products to choose from
On the pricey side
---
7.

The CBDistillery Pet Tincture
Most CBD oil companies have a very natural, almost hippie feel, but the CBDistillery goes the opposite direction. The site has a clinical appearance, which may be reassuring to CBD newcomers.
That professionalism extends to the product pages as well. Each page has a helpful video on it that walks you through what to think about when picking an oil for your pet, which comes in handy if you've never done this before.
The oil itself is made from GMO-free hemp that's grown in the USA, and it's completely extracted from aerial plant parts.
Unlike many other companies, The CBDistillery uses completely clear bottles, which makes it easy to see how much is left inside. It's a small thing, but it's much appreciated.
However, there are trace amounts of THC inside, which may put off many owners. It shouldn't be enough to harm your dog, but it's not nothing.
You only have two options in terms of strength as well, which is disappointing. You'll have to give a big dog quite a bit of whichever dosage you choose.
If you want a company that offers products with a sleek, medical feel, The CBDistillery is the way to go. Just be aware that there are some issues that may put certain users off, especially if they're wary about giving their dog THC.
Sleek, clinical feel to website
Helpful videos on each product page
Made from GMO-free hemp
Clear bottle makes it easy to see how much is left
Only two strengths available
Trace amounts of THC inside
---
8.

HolistaPet Hemp Oil
HolistaPet offers one of the most extensive CBD oil product lines we've come across, and they have oils in just about every form and for just about every purpose. They even have CBD oil shampoo.
All of the oil is extremely pure, with no THC or other additives inside. Hempseed oil is used as a carrier, and that can boost your pup's immune system and improve coat quality while the CBD oil does its work.
There are a variety of dosage options to choose from, including a 3,000 mg option for dogs weighing over 160 pounds. That makes it easy to treat your giant pup, and you won't have to buy several bottles a month to do so.
The website is a bit glitchy and hard to navigate, so your experience actually ordering the oil might not be the greatest. Shipping also takes forever, so hopefully you don't need the oil ASAP.
If you want plenty of options when choosing a CBD oil for your dog, HolistaPet doesn't disappoint — well, at least not until you're waiting to get your order, that is.
Wide product selection
Includes dosages suitable for giant breeds
No THC or other additives inside
Uses immune-boosting hemp oil as carrier
Website is hard to use
Long shipping times
---
9.

Honest Paws – Purity Hemp Oil Tincture
Honest Paws is another site that could use an update, as it's a nightmare to use. You're constantly assaulted by pop-ups and slow-loading pages.
It's difficult to find the information you need on whichever product you're considering as well. It's very much geared towards getting you to buy rather than helping you make an informed decision.
The company's not in the website business, though, and the oils it offers are very high-quality indeed. It's extremely pure, with no THC, soy, or other potentially troublesome ingredients inside.
Each of the oils is designed for a specific purpose, such as calming, mobility, or wellness. You can also order a variety of chews or peanut butters for those same purposes.
Honest Paws stands behind the oil with a 30-day, money-back guarantee as well. That gives you plenty of time to see a difference in your dog before you make a decision.
You can really tell the company actually cares about dogs, as they require a pet photo with each review, as well as providing a lot of information about the dog in question. It's a nice touch.
Honest Paws could use a site update, but beyond that there's not much to dislike about the company.
Oils are arranged by purpose
Extremely pure formulations
Backed by 30-day guarantee
Company seems to care about dogs
Site is hard to navigate
Difficult to find information to guide purchase
---
10.

Pet Releaf Hemp Oil 330
In addition to a punny name, Pet Releaf offers both regular and liposome hemp oil for pets.
The latter mixes hemp oil with Wild Alaskan Red Pollock oil, giving your pup a dose of omega fatty acids to go with their CBD. This also makes it easier for dogs with sensitive stomachs to tolerate.
The company oversees every aspect of production, from growing the hemp to extracting the oil, ensuring that everything stays as pure and untainted as possible. It's extracted using solvent-free methods as well.
You have three dosage amounts to choose from, and they're all reasonably priced. However, if you have a big dog, you'll go through a bottle in two weeks or less, so that can add up quickly.
The products aren't divided by purpose, either, so you have to just give them to your dog and hope for the best. They don't have any additives like chamomile that could potentially offer extra relief to certain conditions.
The ability to buy liposome hemp oil makes Pet Releaf one of our favorite CBD companies, even if they're not exactly generous towards giant-breed dogs.
Offers liposome oil in addition to regular CBD
Company oversees every step of growth process
Reasonably priced
Extracted using solvent-free methods
Products not arranged by purpose
Bottles won't last long if used on big dogs

Buyer's Guide: How to Choose the Best CBD Oil For Dogs
While CBD oil has become more mainstream in recent years, there are still many people who are hesitant about using it — let alone giving it to their dogs.
If you're wondering if CBD oil could help your pooch, the guide below will walk you through some of the most important things to consider before buying.
Is Giving My Dog CBD Oil Legal?
Hemp is legal in every state in the USA, and since CBD oil is extracted from the hemp plant, it's completely legal as well.
However, you should know that just because it's legal doesn't mean that CBD oil has been thoroughly vetted. The FDA has yet to rule on its effectiveness or safety, for example.
Then again, there are plenty of safe, effective supplements out there that don't have FDA approval, either. You'll have to decide for yourself if you feel the research supports CBD oil's safety and effectiveness.
Will My Dog Get High from CBD Oil?
No. The chemical that causes people (or dogs) to get high is THC, and it's filtered out of CBD oil, so there's no way for your dog to experience any psychoactive effects.
Not every company is equally adept at filtering out the THC, though. Some can completely eliminate it, while others leave only trace amounts (less than .3%). Regardless, though, your dog shouldn't get high from the oil.
Can My Dog Overdose from CBD Oil?
No, the oil won't cause an overdose. It's completely safe in whatever dosage you give them.
However, there may be other ingredients in the oil that aren't safe in massive doses, so be sure to check the label. Also, while large amounts of CBD oil won't kill your dog, it may cause other undesirable issues like diarrhea or extreme lethargy.
Is It Safe to Give My Dog CBD Oil If They're Taking Other Medications?
Generally speaking, CBD oil won't interfere with other medications. However, only your veterinarian can answer this question with any certainty, so be sure to ask them before you start giving your dog any oil.
What's the Difference Between Marijuana and Hemp?
Both are members of the Cannabis family, but marijuana has much higher levels of THC in it. As a result, while marijuana use is slowly becoming more socially acceptable, it's still not legal in many places (and requires a prescription in others).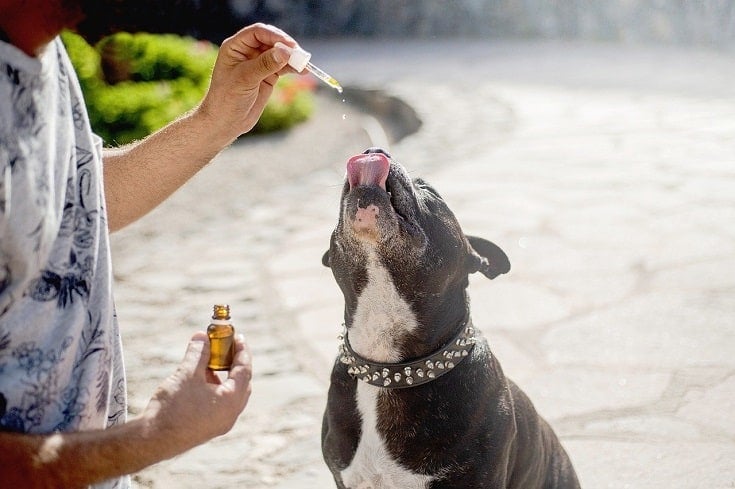 Is CBD Oil for Dogs the Same as CBD Oil for Humans?
Yes and no. The basic product is the same, but dogs require different dosages. Also, many of the products intended for canine consumption include other ingredients that humans may not want to ingest.
How Do I Give My Dog CBD Oil?
Most people mix it in with their food. Some oils have flavors added to them to encourage your dog to eat them, which may make them easier to administer compared to others.
You can also apply the oil directly to your dog's gums. This is actually more effective, as your dog will absorb it more quickly and less of it will be wasted. However, it can be a pain to do, so many people choose to just mix it in with kibble.
How Long Does It Take to See Results?
That will depend on what you're using it for.
If you're using it to treat anxiety, it should start working as soon as it's absorbed into the bloodstream — usually with 30 to 45 minutes. If you haven't noticed a change by then, you can administer another dose.
It will take longer to see results for pain and discomfort. Most experts say that you should give your dog CBD oil for at least 2-4 weeks before you expect to see results. The effects are cumulative, so the longer you administer it, the more pronounced the effects should be.

Conclusion
If your pet has been suffering from anxiety or joint pain, CBD oil may be able to help. The options above are all excellent and trustworthy choices, so it's simply a matter of finding the right one for you and your dog.
Buying CBD oil for your dog for the first time isn't easy, and we hope the reviews above have made the process a little less intimidating. Whichever option you pick, we hope it brings quick and lasting relief for your dog — and who knows, you may even be inspired to try a little yourself (but leave your pup's stash alone).
---
Featured Image: Erin_Hinterland, Pixabay