7 Best Cordless Stick Vacuums for Pet Hair – 2023 Reviews & Top Picks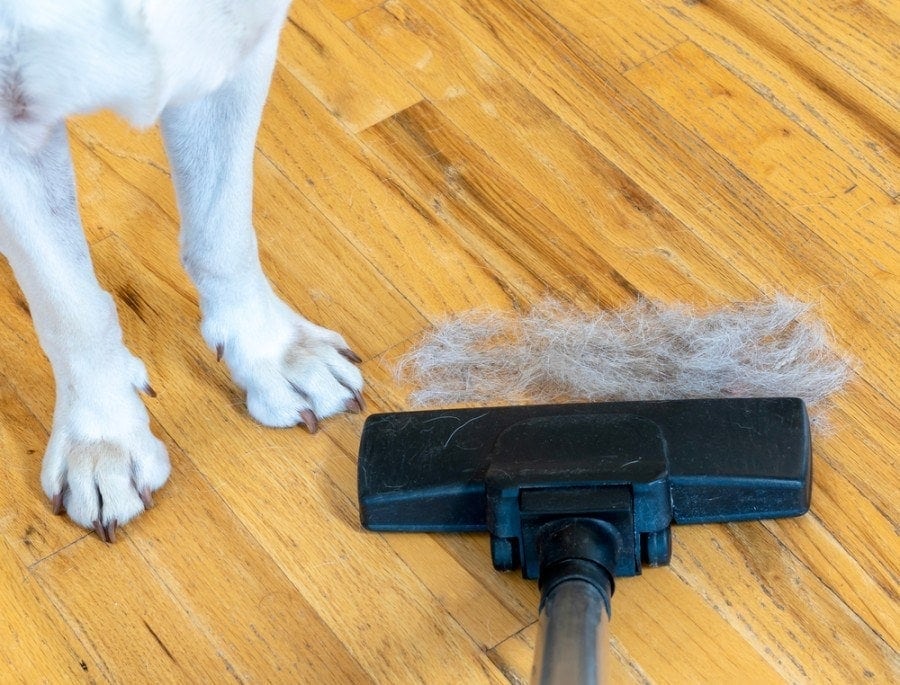 No matter what sort of furry friend you've welcomed into your family, one thing is for certain: you'll quickly learn just how much they can shed! Whether cat, dog, rabbit, or guinea pig, the struggle to keep up with prodigious pet hair can feel never-ending. Equip yourself with the right tools for the job, however, and all of that can change in a heartbeat.
In our household, a cordless stick vacuum is our go-to for controlling pet hair on the floors, furniture, and even what can get caught in corners and on the ceiling. That's why in today's reviews, we're going to provide you with everything you need to know to choose the best cordless stick vacuum for pet hair in your own home.
Follow along as we introduce you to our top picks for cordless stick vacuums in every price range, and by the time you're done reading, you'll know exactly which one is perfect for your home.

A Quick Comparison of Our 2023 Winners
Rating
Image
Product
Details

Best Overall

Shark Rocket Pet Pro

HEPA filter
"Dirt Engage" technology
Self-cleaning brush roll
Check Price

Best Value

Hoover Linx Vacuum

Fade-free lithium-ion battery
Edge cleaning bristles
Patented WindTunnel technology
Check Price

Premium Choice

Dyson Animal Cordless

Captures 99.99% of particles
Advanced whole-machine filtration
Designed for deep cleaning
Check Price

BLACK+DECKER PowerSeries

Impressive 55-minute run time
Reliable 20V battery
Anti-tangle brush bar
Check Price

ORFELD Cordless Vacuum

Extremely lightweight
Features true HEPA filtration
Multiple attachments
Check Price
The 7 Best Cordless Vacuums for Pet Hair (Stick & Hand Vacuums):
1.

Shark Rocket Cordless Stick Vacuum For Pet Hair – Best Overall
Allergy sufferers rejoice: the Shark Rocket Pro may be the vacuum solution of your dreams. Equipped with a true HEPA filter and proprietary Anti-Allergen Complete Seal Technology, the Shark provides powerful suction and a seamless cleaning experience that won't leave you sneezing. Of all the cordless stick vacuums we tested for these reviews, only the Rocket Pet Pro hits the perfect combination of power and features for the price.
A generous 40-minute run time is made possible by a removable battery, allowing you to charge the battery either in or out of the vacuum. Add this to a self-cleaning brush roll, wide cleaning path, and suction powerful enough to clean deep carpets, and the Shark is easily capable of becoming a whole-home cleaning solution.
As if all that wasn't enough, the Rock Pet Pro also converts to a hand vacuum that's perfect for cleaning cars. Overall, there's no cordless stick vacuum we'd rather have in our home, and it's was easy for us to select this one as the best cordless vacuum for pet hair this year.
HEPA filter and allergen seal for maximum cleaning efficiency
Powerful suction and "Dirt Engage" technology for cleaning deep carpets and thick pile rugs
Self-cleaning brush roll prevents trapped pet hair from diminishing its cleaning power
Generous 40-minute run time
Converts to a hand vacuum for easier detail work
Not compatible with Shark's lithium-ion battery (sold separately)
---
2.

Hoover Linx Cordless Vacuum for Pet Hair – Best Value
Available at just a fraction of the price of our top choice vacuum, yet boasting a state-of-the-art lithium-ion battery, Hoover Linx may well be the best cordless stick vacuum for pet hair for the money. If it weren't for the occasional problems that owners have reported with the battery charger, the Linx would have been a strong competitor for our top spot.
Hoover's WindTunnel technology has long been a staple of their entire line of vacuum cleaners, and its inclusion in the Linx sets this vacuum apart from its competitors. Perfectly capable of handling even the most deeply embedded of dirt and grime, the Linx features incredibly impressive suction power given its low price point. For the money, this is the best cordless vacuum for pet hair this year.
Fade-free lithium-ion battery that provides consistent power
Edge cleaning bristles give it greater dirt-fighting capabilities
Patented WindTunnel technology gives it incredible suction power
Exceptionally affordable
10-pound weight puts it at the top end of the weight range for cordless stick vacuums
Customer service is slow to respond to requests for help
---
3.

Dyson V11 Animal Stick Vacuum For Hair – Premium Choice
What started with a single vacuum design in James Dyson's home in the United Kingdom has become a household name in cleaning products for one simple reason: every one of Dyson's products works really, really well. Impeccably engineered to provide the greatest power, ease of use, and reliability of any vacuum cleaner in our testing, the V11 Animal Cordless Vacuum Cleaner is both the most impressive and most expensive option on our list.
Featuring advanced whole-machine filtration that traps dust, allergens, and even bacteria, the Dyson's high torque design is twice as powerful as any other cordless vacuum on the market today. It's capable of whole-house cleaning without breaking a sweat and is optimized for up to 60 minutes of run time on a single charge.
Finally, Dyson offers a 2-year warranty to protect your substantial investment. If you have room in your budget for it, the V11 will consistently impress you with its cleaning power. When it comes to premium options, this is the best stick vacuum for pet hair you can get.
Offers twice the suction of any other cordless vacuum available today
Advanced whole-machine filtration captures 99.99% of particles as small as 0.3 microns
Designed for deep cleaning across the entire home
Automatically optimizes suction and run time according to floor type
Longest run time of any vacuum we tested
---
4.

BLACK+DECKER PowerSeries Cordless Vacuum For Pet Hair
From a company better known for their power tools than their home care products, Black + Decker's Powerseries Extreme vacuum left impressed with its cleaning results but disappointed in overall ease of use. Weighing over 10 pounds and having a somewhat clunky design are flaws but not dealbreakers though, especially considering its incredible 55-minute run time.
An anti-tangle brush bar gives the Powerseries a leg up on many other cordless stick vacuums, effectively preventing pet hair from reducing its cleaning power. The rubber bristles help to dislodge stuck dirt and pet hair, giving it great potential for cleaning even the messiest of pet areas.
Given its middle-of-the-road price, we're neither completely enthused with nor disappointed by the Black + Decker. If you're already a fan of their tools, the battery is compatible with other Black + Decker 20V batteries found in their power tools.
Impressive 55-minute run time
Powerful and reliable 20V battery is interchangeable with other Black + Decker products
Anti-tangle brush bar cleans deeply and dislodges dirt, without getting stuck on twisted pet hairs
Fairly pricey for the suction power it offers
Heavier than most other vacuums we tested
---
5.

ORFELD H20-A Cordless Stick Vacuum For Pet Hair
Offering true HEPA filtration at a budget vacuum price, the ORFELD H20-A vacuum cleaner certainly caught our attention right away. Once we picked it up, we were nothing short of amazed: Weighing just 3.3 pounds, it is by far the lightest vacuum of any we tested.
You may be wondering, then — why didn't this excellent vacuum make it into the top three? Unfortunately, a 30-minute run time and short handle size limit its total versatility. More closely resembling a hand-held vacuum than a full-sized version, it's a useful adjunct to an established cleaning routine but may not be well suited as a whole-home vacuum solution.
Extremely lightweight and easy to use
Features true HEPA filtration for maximum allergen control
Multiple attachments give it added versatility for uncommon cleaning jobs
Short 30-minute run time limits its utility
Short handle makes it less useful for whole-home cleaning tasks
---
6.

BISSELL ICONpet Cordless Stick Vacuum Cleaner
What first caught our eye about the BISSELL ICONpet vacuum cleaner had nothing to do with the design, construction, or specifications. No, we were immediately drawn in by the "Buy BISSELL, Save Pets" initiative, wherein the purchase of one vacuum will fund the adoption fees of one pet in a shelter. We're all about giving shelter pets a forever home, but the quality of this vacuum makes it a tough sell when compared with the price.
Lightweight and easy to use, the BISSELL suffers most from its lack of total battery power and inconsistent power usage. A 22V lithium-ion battery should provide plenty of juice, but we received disappointing results every time. Couple this with multiple owner reports of battery troubles within a few months of purchase, and we're not entirely sold on the ICONpet.
Lightweight and easy to maneuver
Anti-tangle brush keeps it free of pet hair
Every vacuum bought funds one pet's adoption fee from a shelter
Disappointing suction power and battery life
Prone to problems with the battery and motor
Customer service is not very responsive or helpful
---
7.

MOOSOO Cordless Vacuum For Pet Hair
Quickly converting from a handheld vacuum to an upright cordless, MOOSOO's XL-618A is extremely lightweight and features a washable HEPA filter — but that's about where its good qualities end.
Suction is unimpressive for the MOOSOO, and the results of our testing on deeper carpets were completely unacceptable. Pair that with a measly 20- to 30-minute run time and a price in line with much better vacuums, and we can't see any reason to use this vacuum in your home.
In short: we take a hard pass on this vacuum and recommend that you do so as well. There are far too many vacuums of better quality available for the same price, including our best value pick listed above.
Easy to convert from standup to handheld
Shortest battery life of any vacuum we tested
Disappointing suction power
Ineffective at cleaning deeper carpets
Too expensive for what it offers

Buyer's Guide: Selecting the Best Cordless Vacuum for Pet Hair
If you've never used a cordless stick vacuum before, it can be difficult to go in blind on a purchase and know that you're getting your money's worth. Follow this guide, and you'll be fully informed before making a decision on which product is right for you.
What to Look for In A Cordless Stick Vacuum for Pets
The best cordless stick vacuums that we tested all share the following qualities:
Powerful suction is a must for any vacuum these days. If you're looking for a cordless stick vacuum that can work as the only vacuum cleaner in your home, be sure to choose one that's powerful enough to clean thick pile carpets and rugs.
Great ease of use comes down to both how heavy the vacuum is, and how easy it is to change filters and recharge. The lighter the weight of the vacuum, the better it is — though this often comes with a significantly increased price tag.
Good battery life separates high-quality cordless vacuums from poorly made models. We look for at least 30 minutes of run time per charge; any less will leave you disappointed.
Exceptional durability puts the icing on the cake for an already good vacuum, lending it longevity and protecting the quality of your investment over time.
How to Choose the Right Cordless Stick Vacuum for Pet Hair for Your Home
Even with the above-mentioned qualities in mind, you'll still need to decide exactly how you intend to use your cordless stick vacuum.
If your home is mainly covered in hardwood or tile flooring, you get off easy. Just about any cordless stick vacuum will do the trick of sweeping up dirt and hair from flat floors, making our budget pick an excellent choice for vacuuming your whole home.
For anyone with thicker carpeting, rugs, or plush furniture, it's essential to invest in the most powerful vacuum that your budget allows. If not, you'll find yourself less than enthused by the amount of hair and grime that gets left in your carpets and find yourself fighting a constant battle to keep your house clean. Consider our top choice pick as the minimum requirement and our premium choice as a much better investment that will remain effective much longer.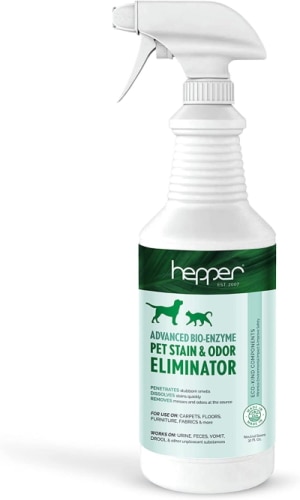 Having a pet means cleaning up smells, stains, hair, vomit, and more...and you can add to your pet clean-up routine with the Hepper Advanced Bio-Enzyme Pet Stain & Odor Eliminator Spray. It's our product, and we love it so much, we just have to share! It permanently removes the very worst smells and stains, and we offer a 100% satisfaction guarantee! Click here to get yourself a bottle!
How to Keep Your House Free of Pet Hair
Even the most well-intended of cleaning regimens can quickly fall prey to the incredible amount of hair that pets can shed. With just a single cat or small dog, you'll likely find that a cordless stick vacuum provides plenty of power to keep your home in good repair. For multi-pet homes, however, you may need to turn to additional methods to control the sheer volume of pet hair that is produced during shedding season.
While cordless stick vacuums are a truly wondrous tool, we're also huge fans of robotic vacuums as the first line of defense against pet hair accumulating in the home. If you're consistently struggling to keep up with the amount of pet hair you find around the house, consider adding a robot vacuum to your cleaning routine and finishing up the details with a cordless stick vacuum. This is the exact routine we use in our multi-pet home, and the savings of time and effort is absolutely worth the additional cost of another vacuum.
Conclusion: Best Cordless Vacuum for Pet Hair
Featuring a genuine HEPA filter and innovative self-cleaning brush roll, the Shark Rocket Pet Pro Cordless Stick Hand Vacuum wowed us with its combination of ease of use and effective hair cleaning. Falling right in the middle of the price range for the cordless stick vacuum category, it's an impressively powerful cleaning solution that's ideal for allergy sufferers thanks to an anti-allergen seal. Overall, there's no cordless stick vacuum we'd rather have in our homes.
For just a fraction of the price of our top pick, however, the Hoover BH50010 Linx Cordless Stick Vacuum Cleaner is a charming competitor. While not as light as many other cordless stick vacuums in our reviews, the Hoover provides exceptional suction power and a long-lasting lithium-ion battery. If your budget is on the smaller side, it's a fantastic alternative that delivers results well above its price range.
---
Featured Image Credit: Andrea C. Miller, Shutterstock