10 Best Dental Toys for Cats in 2023 – Reviews & Top Picks

Your cat might enjoy lounging in your lap, but that doesn't mean they're ready to go to the dentist. However, they might like playing with your fingers. That is why you should give them a few toys to keep them occupied while you do some other things around the house.
Besides, it's good for them to have some fun and exercise their minds as well. If you have a feline friend in your life, then check out these top 10 dental toys for cats that can help keep them entertained and improve their oral health at the same time.
A Quick Look at Our Favorites in 2023
Rating
Image
Product
Details

Best Overall

Petstages Lil' Avocato Catnip and Dental Health Cat Toy

Great for all cat breeds
Last long time
Great for teeth
Check Price

Best Value

WoLover Silvervine Sticks for Cats, Natural Catnip Sticks

Infused with catnip
Comes with guarantee
12 sticks in each pack
Check Price

Premium Choice

Pet Craft Supply Cactus Chew Toy

Promotes dental health
Has catnip insert
Dishwasher-safe
Check Price

Best for Kittens

Orkakat Catnip Wiggle Worm Kitten Teething Toy

Infused with catnip
Promotes teeth cleaning
Easy to clean
Check Price

Petstages Fresh Breath Mint Stick

Freshens breath
Non-toxic
Great for solo play
Check Price
The 10 Best Dental Toys for Cats
1.

Petstages Lil' Avocato Catnip and Dental Health Cat Toy – Best Overall
While this cat dental toy is great for keeping your kitty amused, it's also excellent for their dental health. The Lil' Avocado Catnip Toy comes with a tube of catnip that can be used to entice your cat to play.
When they're chewing on the toy, they'll be swallowing the catnip and ingesting the vitamins, minerals and antioxidants that come with it. This can help keep their teeth clean, reduce plaque and tartar buildup and promote healthier gums. The Lil' Avocado Catnip Toy can be used by itself or as a replacement for catnip dispensers. It's also a great toy for kids too, but we definitely think it's the best overall dental toy for cats.
Great for all cat breeds
Last long time
Great for teeth
Easy to purchase
---
2.

WoLover Silvervine Sticks for Cats, Natural Catnip Sticks – Best Value
These catnip-based chew sticks are perfect for both young and older cats. The sticks are made from 100% organic wild Silvervine. When chewed, they help to remove tartar and dental plaque from your cat's teeth and help to improve oral health overall. If you need something to help freshen your cat's breath, these chew sticks can do just that. They are great for protecting against gingivitis and come with a 100% satisfaction guarantee. We think they're the best dental toys for cats for the money.
Will improve dental health
Infused with catnip
Comes with guarantee
12 sticks in each pack
---
3.

Pet Craft Supply Cactus Chew Toy – Premium Choice
This cat chew toy is shaped like a cactus, but your cat will not shy away from it. It's made from an all-natural rubber material and is sure to provide hours of fun. The construction of the toy helps remove tartar buildup and clean teeth. This cat chew toy is dishwasher-safe for easy cleaning. The toy includes a bag insert with strong catnip, which will have your cat going at it as soon as you wave it in front of its nose.
Natural rubber is safe and non-toxic.
Promotes dental health
Has catnip insert
Dishwasher-safe
May be too hard for kittens
---
4.

Orkakat Catnip Wiggle Worm Kitten Teething Toy– Best for Kittens
This catnip-infused wiggle worm toy is designed to allow your cat to pry away at the toy while they chew on the wiggly catnip inside. It's a great toy for helping your kitten keep its teeth clean and soothe aching gums from growing their baby or adult teeth. This toy is also infused with catnip, is non-toxic, and it's easy to wash by hand. It's perfect for young kittens who are teething or older kittens who love to chew on things.
Non-toxic
Infused with catnip
Promotes teeth cleaning
Easy to clean
Kittens may not react to catnip at a young age
---
5.

Petstages Fresh Breath Mint Stick
These breath mint sticks come in different colors and designs. If you're tired of smelling your cat's fish-like breath, here is a great toy to consider. The toy's middle section is filled with fresh, dried mint to encourage cats to chew and gnaw on it. The mesh net helps remove tartar buildup and keep teeth clean.
Freshens breath
Non-toxic
Great for solo play
May lose effectiveness over time
---
6.

Pioneer Pet Nip Nibblers Catnip Toy
This fun cat dental toy is made with durable rubber, rope-like material that will break apart if your cat chews too hard. This makes the toy safer to play with, while still providing your kitty with the same benefits that come with regular catnip.
It can be used as a replacement for catnip dispensers or by itself. These toys are lightweight and small, so they can be used to hold your cat's paws and batting. They are strong enough to withstand cats' attempts to break them apart.
3 toys in a pack
Durable material for strong biters
Non-toxic
Lightweight
---
7.

Dorakitten Catnip Chew Toy Play Set
This cat toy set is perfect for people who have more than one cat. The chew toys are made from durable linen, are non-toxic, and are perfect for helping your cat clean its teeth. These chew toys help improve oral health and prevent the discomfort of teething kittens.
The toy comes in many animal shapes including baby elephants, hamsters, bears, and crocodiles. Like many of the other toys on this list, this cat chew toy is filled with catnip to attract your cat and keep it interested for quite some time.
Durable toy
Filled with catnip
Great for teeth
5 pieces in each set
---
8.

Carrot Catnip-Filled Interactive Cat Toy by OurPets
The stuffed carrot chew toy is bursting with American-grown organic catnip. This catnip has been cultivated to be one of the strongest and most fragrant ever. OurPets also offers the toy in many vibrant styles, including carrot, cactus, and fruit. The soft chew toy is made from chew-proof material and is sure to provide hours of interactive fun for your cat.
Inexpensive
Perfect saw cats of all ages
Durable
---
9.

Yeowww! Cigar Catnip Toy
This cat dental cigar chew toy comes with a packet of real catnip that can be used to entice your kitty to play. The catnip in this cigar chew toy is grown organically and you can buy this toy on Amazon, Walmart, or at your local pet store. One of the best things about this chew toy is its simple design and ease of use. You may be surprised to find that your cat spends hours on and nibbling at the chew toy during the day. We think it's the best dental toy for cats for the money.
Inexpensive
Safe for teeth
Easy to use
Safe for all cat sizes
---
10.

SmartyKat Skitter Critters Catnip Mice Trio
This fun cat you set comes with three mice that have hidden catnip inside them to keep your cat interested in chasing them around the house. This multi-pack of catnip-stuffed, plush mice is a great choice for cats who love to play, chase mice (which applies to most cats), and chew on random things. Each mouse comes with a mixture of 100% recycled plastic filler and pure, pesticide-free, chemical free catnip.
Strong durable material
3 mice in a set
Great for cats of all ages
Commonly Asked Questions About Chew Toys
Reasons Why Cats Need Chew Toys
Cats use chew toys in pretty much the same way that dogs do, they simply like to chew on things – in addition to scratching surfaces. Chew toys for cats keep your cat from chewing on personal and home decor items as well as dangerous wires and cables.
Chew toys for cats will also allow your cat to chew in a productive and appropriate way, and they can help your cat's teeth and gums by getting rid of plaque and bad breath.
Note that some cats may not like or enjoy chew toys. There are many felines who enjoy chewing on semi-hard rubber or soft fabric chew toys – it really just depends on the cat. You can purchase several different chew toys to test if your cat likes them.
Are Cat Chew Toys Safe for Kittens?
Yes. However, it's best to read the label for the chew toy and some chew toys may be too hard for young kittens with sensitive and growing teeth. Young kittens can relieve their teething pain by chewing, and cat chew toys are a great way for them to be discouraged from chewing on everything in your house. You may also want to consider catnip chew toys for your kitten's teeth.
Kittens are often not able to respond to catnip until they reach about 6-8 weeks of age. Note that toys that are too large for your kitten's mouth and free from small parts or embellishments could pose a choking hazard. Chew toys for kittens should also be made of soft materials that will not break down when your kitten tears them up.
Is It Safe for My Cat to Actually Eat Catnip Inside A Toy?
This is a common question asked by cat owners, especially those with young kittens. Although catnip may alter the behavior and mood of cats, it's generally safe for feline health.
Cats are generally stimulated by the smell of catnip and calmed when they ingest it. You may get different results depending on which catnip chew toys you purchase. Keep in mind, however, that the effects of catnip can vary from one cat to another.
You can gauge how your cat reacts to catnip by watching it closely during and after play. If you're introducing catnip to your feline for the first time, it's best to choose a small chew toy and monitor your cat's behavior. You'll also want to keep an eye on the chew toy and replace it when it becomes torn or the catnip starts to leak out.
Are Dog Chew Toys Safe for Cats?
It's generally recommended that you give your cat chew toys specifically designed for cats and not dogs. The main reason is that chew toys designed for dogs are typically harder, as dogs have a stronger bite.
Although cats are not advised to chew toys made for dogs, some felines might try to steal your dog's chew toys. Also, chew toys for dogs might not be appropriately sized for cats or may contain pieces that a cat could use to pull apart or shred with its claws or teeth – something that can pose a safety risk.
7 Ways to Keep Your Cat's Teeth Healthy
Keeping your cat's teeth healthy is important for your feline friend's overall health. When cats have healthy teeth, they are much less likely to develop other health issues like kidney disease, diabetes, and hypertension.
Regular checkups with the vet are also important so that any potential dental problems can be caught early on before they become life-threatening. If you take care of a cat you need to know how to keep its teeth healthy.
Here are 7 useful tips for keeping your cat's teeth and gums healthy and plaque-free.
1.

Brush Your Cat's Teeth
Sounds simple, yes. But cats are not particularly keen on having their teeth brushed, which is why some people choose not to bother at all. However, there are a few easy ways to get around this. First, start brushing your cat's teeth as a kitten before they have had the chance to become used to it and develop a resistance to it.
Another way is to use a product like the Petrodex Cat Toothpaste which is designed to taste better and be easier to use than regular toothpaste. You can also try mixing the toothpaste with a bit of water to make it easier on your cat's gums. One last option is to use a "finger toothbrush" and some water or toothpaste to clean their teeth.
---
2.

Change Their Diet
If you change your cat's diet to one that promotes dental health, you can have a great effect on their oral health. Many pet foods today (for cats and dogs) are specifically designed to promote oral health, and it's recommended by many vets that you use one that does.
Both dry and wet foods that are specially created for this purpose are available. If you change your cat's diet, it's important that you transition it to the new food gradually by mixing in increasing amounts of the new food with old food each day or week. This will help to reduce any digestive problems it may experience while adjusting to the new food.
---
3.

Offer Them Dental Treats and Toys
Dental treats and toys can have a great effect on keeping your cat's teeth healthy. Many of these products are specially designed for this purpose and are packed with the vitamins and minerals that your cat needs for healthy teeth. They are also often palatable, which makes it easier to get them to eat them regularly – no more hiding them in the salami.
If your vet recommends a specific dental treatment for your cat, you can feed them as a treat once or twice a week at most. If your cat enjoys chewing on stuff, you can also buy toys that encourage your cat to play with them and use their teeth (like the ones mentioned above). This will help to reduce the risk of plaque buildup and tooth decay.
---
4.

Rotate Tasty Treats with Dental Ones
If your cat enjoys having regular treats and dental ones, you can rotate the types you feed them with each meal. Feed them a dental treat once a day and a regular tasty treat once a day. This will help to keep your cat interested in their dental treats while also getting them the vitamins and minerals they need for healthy teeth. If you feed your cat regular treats too often, they can become less interested in the dental ones.
---
5.

Provide Fresh Water at All Times
Keeping water bowls full at all times with fresh water is an important part of keeping your cat's teeth healthy. Not only does fresh water help to keep your cat's teeth clean, but it can also help to reduce the risk of urinary tract infections in cats.
Cats are more likely to drink from a fresh bowl of water than one that has been sitting out for hours at a time, so you should be emptying and refilling their water bowl regularly. Cats often prefer running water to stagnant water, so a water filter could help if your tap water isn't very fresh.
---
6.

Use a Dental Spray
You may be surprised to find that there are dental sprays for cats. This is an especially useful product if your cat doesn't like having their teeth brushed, as you can just spray their mouth and gums with the dental spray, and it will have an effect on keeping their teeth healthy.
---
7.

Don't Forget the Tongue and Lips Too!
Your cat's tongue and lips can also become infected and have plaque buildup if they aren't given enough attention. So, it's important to regularly wipe your cat's tongue. You can also buy products that are designed to remove plaque and fight bad breath from the inside of your cat's mouth.
Many of these also work to remove tartar from the teeth as well. You can find most if not all of these products at your local pet store or online stores such as Chewy, Amazon, or Petco.
The Most Common Dental Problems with Cats
The presence of bacteria or plaque on the teeth is what causes tooth decay and gum disease in most pets. These microorganisms thrive in moist environments like that found in the mouth of your cat. With continued exposure to food, bacteria, and tartar build-up, your cat may develop one or more of these painful conditions. Let's look at some of the most common dental issues for cats.
Periodontal Disease
Periodontal disease happens when the gums surrounding your cat's teeth become infected and inflamed. The bacteria in the mouth will travel through the bloodstream and infect the tissues that support the teeth. Adequate oral hygiene and regular dental checkups can help prevent periodontal disease by removing plaque and tartar before it becomes a problem.
In cats, this disease often occurs in the rear molars, due to the structure of the jaw and the shorter length of the grinding teeth. And when it's not treated, gum diseases (aka "periodontal disease") can lead to tooth loss and damage to the bones that support your cat's teeth. Bacteria can also travel to other parts of the body, including the heart and kidneys.
Gingivitis
Gingivitis is the inflammation of the gums as a result of poor oral hygiene. This is an acute reaction by the gums to an inability to remove accumulated tartar. If it's not treated, it can lead to periodontal disease. Gingivitis is characterized by red and swollen gum tissue, accompanied by an unpleasant bad breath smell – though cats aren't necessarily known for having the freshest breath.
These are the initial stages of a condition that, left untreated, can lead to periodontal disease. Gingivitis typically occurs when plaque and tartar are not removed from the teeth. The most common cause is a diet that is inadequate in fiber. Other causes can be genetic, other health issues, and/or metabolic disorders.
Oral Abscess
An oral abscess often forms as a result of a bacterial infection in the mouth. This infection can be caused by factors such as poor dental hygiene and diet, or it can be the result of an infection spreading from teeth that have been treated with root canal therapy.
The bacteria will travel through your cat's bloodstream and infect the gums, causing a painful inflammatory reaction. The excess fluid that is produced in the area will accumulate under the gum tissue, forming an abscess. This can be very painful for your cat, and it can be hard to treat. Oral abscesses are often found on the lower jaw, where the roots of the teeth are located.
Dental Fractures and Inflammation
Dental fractures are more common in kittens and senior cats, but they can actually happen at any age. This can happen when your cat gnaws on an item too hard, or if your cat gets into a scuffle. In some instances, it can also happen while your cat is being treated at the vet.
When your cat's teeth break, it can cause pain in the mouth and bleeding. If dental fractures happen on the upper teeth, they can be very difficult to detect. To remedy this, your veterinarian may have to sedate your cat and use x-rays to locate the fractures.
Dental fractures can lead to severe gum and mouth inflammation, which can be difficult to treat. If the dental fractures are left untreated, they can cause more serious problems, including tooth loss and periodontal disease.
Tartar Build-Up
Tartar is a bacteria-infested substance that builds up on your cat's teeth. This is formed by leftover food that gets trapped between the teeth, along with saliva and minerals from water. While it sounds harmless, the tartar can lead to dental issues in your cat, such as tooth decay, tooth loss, and gum disease.
There are a few things you can do to prevent this from happening. You can regularly brush your cat's teeth and change their diet to one that has high-quality dental chew toys. Cat dental chews are a great way to remove tartar from your cat's teeth. Feeding your cat a diet that promotes oral health can help prevent this from occurring.
Tooth Decay
Feline tooth resorption, or tooth decay, happens when the bacteria in the mouth turns sugars and starches into acid. When this happens, it can eat away at your cat's teeth, causing tooth decay. Tooth decay can happen to cats of all ages, but it is more common in kittens and older cats.
Kittens are more susceptible to tooth decay because they are still growing their adult teeth and have yet to develop full immunity against bacteria in the mouth. It is essential that you brush your cat's teeth and use a special dental health cat food to prevent tooth decay.
Tooth Loss in Cats
Dental issues and excessive tooth decay can lead to tooth loss in your cat, which can affect their overall health and appearance. While it may sound scary, it is more common than you would think.
It can happen to cats of any age and is a result of poor dental hygiene, diet, or genetics. There are a few things you can do to prevent tooth loss in your cat. You can brush their teeth and change their diet to one that promotes oral health. It's also a good idea to schedule regular dental appointments with your veterinarian to ensure that dental issues are caught early and treated properly.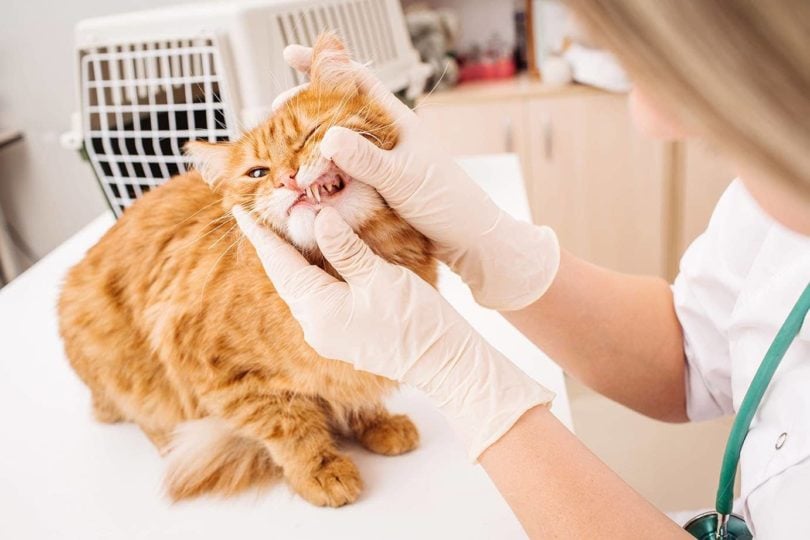 Inflammation of the Tongue & Gums
Gum inflammation can occur even in cats with excellent oral hygiene. This can be caused by food allergies, certain medications, poorly fitting cat food bowls, or bacterial infection that leads to periodontal disease. Cat owners who notice their cat having difficulty eating, drooling, and/or pawing at their mouth may have an inflamed mouth.
When this happens, your cat's saliva will contain high levels of bacteria and be sticky and particularly foul-smelling. In some cases, the food your cat eats may be the cause of the inflammation. Cats are carnivores, and they are designed to eat meat. Cats should not be fed a vegetarian diet, as it can cause inflammation of the mouth. The food should also be cat-specific, as food meant for dogs can also lead to gum inflammation.
Conclusion
The Petstages Lil' Avocato Catnip cat toy is our number one pick for the best overall cat dental toy. This toy is great for dental health and contains enticing catnip. In second place is the WoLover Silvervine Sticks, which are simple sticks that your cat can chew on.
Tending to your cat's dental health is one of the best things that you can do for your feline friend. Remember to brush its teeth, provided with dental chews, and take it for regular trips to the vet to ensure that they are on top of any issues that need attention.