10 Best Dog Beds for Labs in 2023 – Reviews & Top Picks

Labs can get pretty big and heavy, and often require a bed that's not just comfortable but provides plenty of support. It's important to make sure your dog always has proper support for the sake of its health and longevity, but labs are especially susceptible to joint paint and dysplasia.
When looking to replace the beds that our labs sleep on, we decided to do a thorough test and see which beds our dogs preferred. We took excellent notes during the whole process, and all of our findings have been included in the following ten reviews.

A Quick Comparison of Our Favorites in 2023
Rating
Image
Product
Details

Best Overall

Friends Forever

Water-resistant liner
Soft cover
Great for dogs with arthritis and joint pain
Check Price

Best Value

BarksBar

Affordably priced
Removable machine washable cover
Rim cushion
Check Price

Premium Choice

Big Barker

Ultra-soft microfiber
7" of orthopedic foam support
Oversized
Check Price

Furhaven

Very affordable
3" foam for comfort
Many colors to choose from
Check Price

Dogbed4less

Waterproof liner
2 extra covers
4" thick memory foam
Check Price
The 10 Best Dog Beds for Labs
1.

Friends Forever Orthopedic Dog Bed – Best Overall
For your lab's ultimate comfort, you want a bed that's soft but still provides great support and has ample room for them to stretch out however they see fit. The Friends Forever orthopedic dog bed is just such a product. The base mattress is built from 4-inch thick human-grade mattress foam to provide plenty of support, while still being soft and supple. The rim is raised another five inches surrounding the perimeter and is filled with poly-fill for exceptional comfort. Between the mattress and rim, this bed is an excellent choice for labs with the common problems of joint pain and dysplasia.
If your dog should have an accident, the water-resistant liner should protect the mattress foam beneath from being ruined. If that happens, the cover is removable and can be washed by machine. Other than accidents, you shouldn't have to clean it much since the cover is fur and hair resistant. In case you'll be placing this on a hard surface, the bottom is non-skid to make sure it stays in place. This isn't one of the cheaper beds we tried with our labs, but it is the one we recommend the highest.
Excellent head, hip, and bone support
Great for dogs with arthritis and joint pain
Water-resistant liner
Soft cover is removable and machine washable
---
2.

BarksBar Orthopedic Dog Bed – Best Value
When you want to keep your lab comfy but you don't want to break the bank, we suggest checking out the BarksBar Gray Orthopedic dog bed. Four inches of solid orthopedic foam keep your furry companion supported yet comfortable. Around the perimeter a cotton-padded rim cushion contours to your lab's neck, back, and hips to provide support and decompression. This makes it a great choice for any dog suffering from pain or discomfort.
The cover is not only ultra-soft, but it's also machine-washable. All of our labs seemed to love the feel of this bed and never hesitated to make it their own. Even on tile and wood floor, the non-slip rubber backing kept the bed in place, instead of sliding all over, as we experienced with other products. Of course, it wasn't perfect or it would have earned the top position. The cover was durable enough to be washed, but it's still rather thin and susceptible to holes from chewing, or even an untrimmed nail. At the end of the day, it kept our dogs comfortable and supported without costing too much, which is why we think it's the best dog bed for labs for the money.
Affordably priced
4" solid orthopedic foam base
Rim cushion provides support and decompression
Removable machine washable cover
Non-slip rubber backing doesn't let bed slide
The cover is thin and can develop holes if clawed at
---
3.

Big Barker Orthopedic Dog Bed – Premium Choice
The Big Barker Top Orthopedic dog bed is our premium choice pick, and honestly, it would be our top recommendation if it weren't so expensive. If you don't mind spending a small fortune to keep your lab in exceptional comfort, then it's pretty hard to beat. It's oversized to allow even the largest dogs to spread out and have plenty of room. It's also available in four neutral colors that should fit well in a variety of home settings.
Of course, the most important factors are comfort and durability, which the Big Barker excels at. With three inches of support foam sandwiched between two inches of comfort foam on both sides, your lab will have seven total inches of comfortable foam support. Another four inches of contoured foam at the top will allow them to prop up their neck and decompress. As far as durability, the 10-year warranty on this bed was the best that we saw and provides absolute peace of mind. The machine-washable cover is 100% microfiber and ultra-plush to the touch. Our labs loved this bed and it wasn't hard to see why, though it's a bit of an investment.
Oversized to fit even the largest labs
10-year warranty
Ultra-soft microfiber
7" of orthopedic foam support
See our reviews of the best Puppy beds here!
---
4.

Furhaven Pet Dog Bed for Labs
Topped with plush faux fur that's soft on your lab's most sensitive parts, the Furhaven pet dog bed is a very affordable option that still provides plenty of comfort for your canine companion. Three inches of foam will keep them off the floor, and the soft rim cushion will provide support in any position they choose. It's available in several sizes, though labs will likely need the Jumbo or Jumbo Plus. Unfortunately, on these sizes, there is no zipper to remove the cover, which makes it much more difficult to keep clean and free of odors.
For selection, the Furhaven is offered in seven different color options, which is more than most of the other beds we tested. This isn't the kind of feature that sells us on a particular bed, but it is worth noting. The cover seemed to be a bit thinner than we'd like, and not quite durable enough to survive being chewed. One of our labs was going through a chewing phase while testing this bed, and he had easily chewed a hole right through the cover after being left alone for just a few minutes.
Very affordable
Many colors to choose from
3" foam for comfort
Will not survive chewing
Jumbo size doesn't have a removable cover
---
5.

Dogbed4less Memory Foam Dog Bed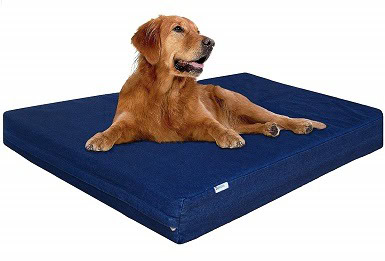 Oversized and thick yet affordable, this premium memory foam dog bed from Dogbed4less seemed like it was going to be a winner when we opened it, except for the strong and unpleasant odor that emitted for the first two days. Once aired out, we brought it in for some thorough testing. The four-inch-thick memory foam seemed nice and comfortable to the touch. We also really appreciated that two extra covers were included, though neither is machine-washable.
The main denim cover can be washed by machine, though it's nowhere near as thick and durable as jean denim like we were hoping. You can use all three external covers at once for extra protection if desired, since they are pretty thin. A waterproof liner surrounds the main mattress foam and keeps it dry in case of an accident. Unfortunately, the liner is stiff and makes a crackling noise that none of our dogs seemed too comfortable with. Altogether, it's not a bad bed, but it's not good enough to climb any higher than the fifth position of our list.
Waterproof liner
2 extra covers
4" thick memory foam
Strong unpleasant odor
Denim cover is thin
The liner makes a crackling noise that dogs don't like
---
6.

BarkBox Memory Foam Dog Beds
At just three inches thick, the BarkBox memory foam dog bed is noticeably thinner than other beds we tested with our labs, though they still seemed to find it comfortable. Rather than regular memory foam, this bed employs therapeutic gel memory foam that did seem to outperform the foam on some other beds. That said, we'd still like to see it reach at least four inches in thickness so we don't have to worry about our larger dogs sinking too deep. The cover is removable and machine-washable. It's also priced affordably and won't put a dent in your savings.
We prefer the beds that have rim cushion support, which the BarkBox does not have. Especially for dogs with joint problems, the support of a rim cushion is vital. The cover is supposed to be waterproof, but in testing, this claim proved to be untrue. One accident was all it took to soak through to the foam beneath. As soon as we unpacked it, we were excited to see how our labs liked it, but it needs 72 hours to inflate to full size.
Therapeutic gel memory foam
Machine-washable cover
Affordably priced
No rim cushion support
Needs 72 hours to inflate once unpacked
Thinner than other options
Not waterproof as advertised
---
7.

Go Pet Club Solid Memory Foam Pet Bed
Crafted from non-allergenic memory foam and suede, this pet bed from Go Pet Club is an affordably priced pick that doesn't stand out from the rest. It includes a suede cover and a waterproof cover with non-slip bottoms so the bed doesn't migrate on hard floors. The memory foam is four inches thick to provide enough comfort for your lab, but that's the best thing we can say about this bed.
The lack of a rim cushion on this bed was the first drawback, but we knew this before it arrived. Once we opened it, the second flaw became clear. The chemical odor was intense. It had to be left in the garage for several days before bringing it into the house. Like many of the other waterproof covers, this one made a crinkling sound that was very off-putting to our dogs. On top of this, the cover was too thin and was easily penetrated by our dog's nails from regular use. In the end, we don't think it's worth the money you'll save since it will likely need to be replaced before too long.
Waterproof cover and suede cover
Non-slip bottom
4" thick memory foam
Doesn't have rim cushion
The cover is thin and prone to ripping
Terrible chemical odor when new
Crinkling noise from waterproof cover
---
8.

Majestic Pet Suede Dog Bed
With seven colors to choose from, you should have no problem finding one of these suede dog beds from Majestic Pet that will look good inside your home. At first glance, it looked plush and comfortable and our labs thought the same thing. It's filled with high-loft polyester and was very soft at first. It needed nearly constant rotating and fluffing to avoid becoming compressed and thin.
The bottom of this bed was slippery, and the bed tended to move all over on the hard floors. It's also smaller than advertised, and our dogs didn't quite fit as we expected. We did appreciate the waterproof denier base which will protect the floor should an accident occur, though it won't protect the bed itself any. Overall, we think you're better off with a bed that won't compress and flatten out like the BarksBar.
Waterproof Denier base
High-loft polyester fill is plush and comfortable
7 color options
Needs constant rotating and fluffing
Fill compresses and flattens out
Slippery bottom doesn't stay put
Much smaller than the advertised size
---
9.

Armarkat M02HJH Pet Bed Mat
Available in just one color, the Armarkat pet bed doesn't provide much versatility. It's also missing the rim cushion that we always prefer to see. That's two knocks already! However, it's not all bad. The base is waterproof to protect the floor beneath, essential if placing it on a hardwood floor. Moreover, the base is skid-free so it will stay where you put it. The seven-inch thickness would have been impressive if it was true. Instead, ours was just four inches thick, a far cry from the advertised height.
It seems that the foam beds offer more support and better longevity. This bed is filled with poly-fill that tends to crush and flatten out instead of keeping its shape like foam. Though it is dirt cheap, we still don't think it's a great deal overall. We recommend picking something that will keep your lab comfortable while laying on it.
Waterproof and skid-free base
Dirt cheap price
No rim cushion support
Poly-fill instead of foam
Advertised as 7" thick but only reached 4"
---
10.

Happy Hounds Oscar Orthopedic Dog Bed
For the high price, we expected more from the Happy Hounds Oscar Orthopedic dog bed. Instead, it's just a simple square with few standout features. We did like the machine-washable cover, which features a reversible design for longevity. However, if it gets a hole in it, reversing it is not going to fix anything. Worse, the seams are very weak and one tore out completely while trying to open the zipper to wash the cover. Filled with egg-crate foam, the Happy Hounds dog bed is four inches thick. That said, it's far too soft and compresses straight to the floor leaving your lab unsupported and uncomfortable. In the end, we don't really recommend this bed which is why it's at the very bottom of our list.
Reversible design
Machine-washable cover
Overpriced
Weak seams tear easily
Too soft – doesn't offer support

Summary: The Best Dog Beds for Labs
As loving lab owners, few things matter to us as much as the comfort of our furry family members. We've let our labs lay on every bed we could get our hands on. We have our opinions, and so do our dogs. The Friends Forever Orthopedic dog bed was the one we thought performed the best. Featuring four-inch-thick mattress foam, a water-resistant liner, and a five-inch high rim support cushion, we think it's the most comfortable and supportive bed for your lab to lay on.
For the best value, we think it's hard to beat the BarksBar Gray Orthopedic dog bed in our second position. It's affordably priced but still offers a four-inch solid orthopedic foam base, a removable cover that's machine washable, and a non-slip rubber backing to keep it in place. Finally, the Big Barker Top Orthopedic dog bed was our pick for premium choice. It's oversized to fit even the largest dogs, covered in ultra-soft microfiber, has seven inches of supportive foam, and is protected by a ten-year warranty.
We truly hope that our article will help you find the best dog beds for labs. We wish you the best of luck in your search!