6 Best Dog Bowls for Flat-Faced Dogs in 2023: Reviews & Top Picks

There is so much to love about a little wrinkly, smooshed-face pooch. Flat-faced dogs are so common—and for a good reason. They are super adorable and full of personality no matter the breed you select. But when you have one of these particular breeds, knowledge is your friend. If you're an inexperienced owner, you might find it a bit challenging at first to accommodate the needs of these unique pups.
Eating is no exception. Flat-faced dogs have quite a bit of trouble eating out of regular food bowls. For your convenience, we've rounded up six of the best food bowls for flat-faced dogs we could find on the market. Hopefully, these will make your little guy or a girl's eating experience all the better.

A Quick Comparison of Our Favorites in 2023
Rating
Image
Product
Details

Best Overall

Frisco Slanted Stainless Steel Bowl

Perfect tilt
BPA-free
Multiple sizes
Check Price

Premium Choice

Hepper NomNom Modern Bowl

Dual compartments for food and water
Spill-proof
Shallow bowls
Check Price

Frisco Stainless Steel Bowl

Affordable
Stainless steel
Rubber grip
Check Price

YYHY Raised Dog Food Bowl

Adorable design
Sturdy and heavy
Doesn't harbor bacteria
Check Price

JWPC Bulldog Bowl Anti-Slip

Designed for flat-faced breeds
Chew-resistant
Eco-friendly resin
Check Price
The 6 Best Dog Bowls for Flat-Faced Dogs
1.

Frisco Slanted Stainless Steel Bowl – Best Overall
Over all the rest, we absolutely love the Frisco Slanted Stainless Steel Bowl. It gives just the right amount of tilt to where your dog isn't going to be struggling to get their food out of the bowl. It is a sleek design that is easy to clean, making it extra beneficial.
The base of the bowl is ceramic, while the bowl inserts are stainless steel. You don't have to worry about it rusting or moving across your floor. The bowl's exterior comes in both black and cream, so you can choose the one that fits your home the best. It also comes in a 1.25 or 2.5-cup size, depending on the amount your dog eats.
The entire bowl is designed at a 15° angle which also helps with indigestion and common conditions like bloat. The whole design is dishwasher safe and BPA-free. We think this is a steal, but it won't work for large breeds. All in all, we think this is the best dog bowl for flat-faced dogs on the market today.
Perfect tilt
BPA-free
Multiple sizes
Won't rust
It won't work for large breeds
---
2.

Hepper NomNom Modern Bowl – Premium Choice
If you have a brachycephalic or smaller breed, the Hepper NomNom Modern Bowl is a fabulous selection. It has everything you could want in a dog bowl—dual compartments, fitted stainless steel bowls, and a firm, chew-proof base.
This entire design was crafted with your pet in mind, combining a smart catch, wrap-around tray for food to keep your floors clean. The base sits firmly on the floor with no sliding or movement. Flat-faced breeds will eat with ease, as the bowls are wide and shallow to allow easy access.
This bowl covers both food and water needs, combining all the necessities in one space. This product is straightforward to clean, too. You just pop out the individual bowls and toss each piece into the dishwater.
Dual compartments for food and water
Spill-proof
Shallow bowls
---
3.

Frisco Stainless Steel Bowl
If you're looking to save some cash, check out the Frisco Stainless Steel Bowl. The stationary design helps their overall eating experience without the high price tag.
Two bowls come with this selection, making it perfect for their food and water, so you don't have to buy any extras. The bowls are made of durable stainless steel, not rusting or wearing away over time. There's also a removable rubber ring that you can put on the bottom for a non-slip grip.
This bowl pair is perfect for dogs to tend to scoot bowls across the floor. Not only does bowl scooting make their life harder, but it can also scratch your floors. These bowls might not be ideal for dogs who have an extremely flat snout, but they will work for many brachycephalic breeds.
2 pack
Affordable
Stainless steel
Rubber grip
Might not work for every flat-faced dog
---
4.

YYHY Raised Dog Food Bowl
The overall design of the YYHY Raised Dog Food Bowl sports a sleek look with adorable little painted paw prints. It is entirely stationary, so you won't have to worry about making adjustments or tweaks to the tilt.
Ceramic is a terrific material for dog bowls because they are so easy to keep clean. The surface wipes down nicely, and it doesn't harbor bacteria or food particles. The whole bowl is microwave and dishwasher-safe.
You can choose a finish in grey, lake blue, or white to add a personal touch. It is also available in two sizes that work for small and medium dog breeds. The weighted feature allows you to keep the bowls in one area without tipping or scooting.
Adorable design
Sturdy and heavy
Doesn't harbor bacteria
---
5.

JWPC Bulldog Bowl Anti-Slip
The JWPC Bulldog Bowl Anti-Slip is designed explicitly for brachycephalic breeds. The advertising aims towards flat-faced dogs, tailoring a bowl to meet their unique needs with a raised, tilted structure.
The material is a durable rubber that is chew-resistant and grippy. It fits comfortably on the floor without scooting or tipping. It is entirely non-toxic, made of eco-friendly resin.
The base adjusts so that you can pick the perfect height for your pooch. Your dog can reach every last crumb and beg for second helpings. However, we did find that the tilted portion can cause spills if you move it around while it's full.
Designed for flat-faced breeds
Chew-resistant
Adjustable
Eco-friendly resin
Tilt can loosen and cause spilling
---
6.

CATPRO Spill-Proof Slanted Bowl
The CATPRO Spill-Proof Slanted Bowl is specially designed for flat-faced breeds, providing a perfect tilt. It keeps the neck from tiring, allowing your dog to access their food quickly. The lips on the rim of the bowl prevent pieces of food from littering your floor.
You can choose from two colors: light green or pink. It comes in both small and medium sizes, holding up to 2.5 cups. This design is one solid piece of food-grade melamine material that doesn't adjust. But this is one of the only pet-safe plastic bowls on the market.
Some pet parents might be a little wary of buying plastic, especially if you have a heavy chewer at home. This bowl will work best for dogs with modest eating habits.
Ideal tilt
Multiple sizes and colors
Safe plastic
Not for heavy chewers
Made of plastic

Buyer's Guide – Choosing the Best Dog Bowl for Flat-Faced Dogs
Our smush-faced friends can have trouble in a lot of different areas. Even though their looks might trigger lots of uncontrollable urges to kiss their faces, they come with special needs that owners need to be aware of.
But imagine having a flat nose and shoving your face inside of the food bowl to eat. It's going to be pretty complicated. So, what are some things that you want to consider when you're buying a food bowl for your flat-faced pal?
What Is a Brachycephalic Dog?
Brachycephalic dogs are dogs with a very short nasal passage. Their eye sockets are shaped differently, sitting wider than other breeds. Because of their short snouts, it causes breathing issues and certain sensitivities to temperatures.
They can suffer from what is known as brachycephalic airway syndrome. This condition can be lethal, as it obstructs the nasal passages. Brachycephalic dogs should never be kept in an area where the temperature exceeds 80 degrees Fahrenheit.
Brachycephalic dogs are also different when it comes to eating. Their flat faces force them to push their food and lap it up with their tongue. It also can cause neck strain, eye strain, and breathing difficulties.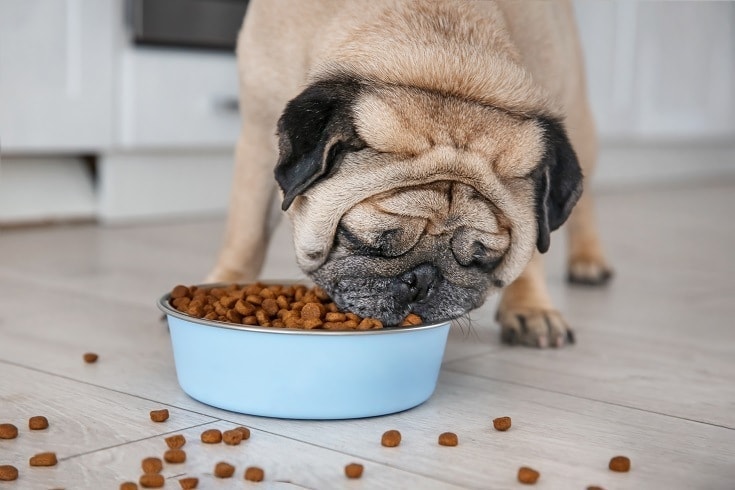 Benefits of Specialized Dog Food Bowls
Specialized food bowls make the overall eating experience of brachycephalic dogs easier so they can enjoy their meals.
Your flat-face buddy won't struggle to breathe when they are eating.
Your dog will be able to get every last morsel rather than chasing pieces of kibble into the corners of the bowl.
Types of Dog Bowls for Flat-Faced Breeds
Elevated bowls allow your dog to eat without straining its neck to reach inside. You do have to be careful with brachycephalic breeds. Never buy an elevated bowl that presses on their neck while they're eating.
Tilted bowls give your dog more access to their food without having to shove their face in the dish for long periods.
Shallow, wide bowls give your dog lots of breathing space when trying to eat their meal.
Other Features You Might Look For
Here are some other things you might want to consider when you buy.
Material
Stainless steel—won't rust, doesn't retain bacteria, easily cleanable
Ceramic—doesn't harbor bacteria, heavy
Silicone—durable, easy to maintain
Plastic—make sure to get a sturdy plastic that doesn't contain chemicals
Easy Cleaning 
Machine washable
Easy to disassemble and reassemble
Non-skid Bottom
Many bowls have non-skid bottoms in the form of rubber rings or bases. It secures the bowl in place so your dog can't move or tip it over.
Mess-Free Design
Because of the particular mealtime challenges, brachycephalic breeds can make quite a mess while they eat. Having a bowl with a catch, lip, or tilt can keep food and water in.
Why Are Deep Dog Food Bowls Bad for Brachycephalic Dogs?
Dog food bowls for brachycephalic dog breeds can pose risks for a few reasons:
If they have to stick their face deeper into the ball to get their food, it can put pressure on their neck.
If your dog can't reach their food, this can lead to unwanted messes. They might knock over their food bowls in an attempt to get the food easier.
They are trying hard to lap up the food, it could cause choking or obstruction of breathing.
How to Help Your Dog at Mealtime
Break meals up into smaller portions. If you feed your dog small, frequent meals throughout the day, it can be a big help. They won't struggle to eat for long periods or create a mess around their bowl.
Make sure food dishes are secure. When your pup is having trouble, they could skid or tip their bowls to reach their food. Buy a bowl with a rubber, silicone, or other grippy material to keep it in place.
Avoid deep, upright sitting bowls. Deep bowls cause neck strain and breathing obstruction. Try to avoid these designs.
Be careful with elevated bowls. Elevated bowls are excellent if they are the right size. But make sure that when you choose one, your dog can comfortably eat without pressure on the neck.
Conclusion
If we had to pick just one, the Frisco Slanted Stainless Steel Bowl would be it. It has the perfect amount of tilt to make your dog's food simple to reach, preventing strain or struggle. It won't erode or wear away over time, making it a worthwhile purchase that fits snugly on any surface.
Our premium pick is the Hepper NomNom Modern Bowl for its beautiful design and shallow raised dishes that make mealtime comfortable for your dog.
No matter which of these bowls you pick, you are sure to get quality. Some bowl types will work for some dogs over others—and we certainly hope these reviews made your shopping experience quick.
---