6 Best Dog Clippers for Yorkies in 2023 – Reviews & Top Picks

Yorkies are adorable by nature, but regular grooming is required to bring out their cuteness. If you take your furry friend to the Yorkie groomer every time they need a trim, your pup may become as expensive as a child to raise! Instead, many people opt to get pet-specific clippers and do it themselves. This can be great for your pet since they're already comfortable with you and they may not like to have a stranger holding them down and using some strange device on them.
Look for a durable device that will last for many cuts and has enough power to cut your pup's fur while also being quiet enough not to scare them. We've tested quite a few of these on our Yorkies, and the following six reviews compare the ones we think are worth considering. That said, only the first three earn our recommendations, but we'll explain why.
---
A Quick Comparison of Our Favorites in 2023
Rating
Image
Product
Details

Best Overall

Wahl U-Clip

16-piece set for an affordable price
Very quiet operation
7
200 strokes per minute
Check Price

Best Value

Oster Pocket Cordless Dog Clipper

Cheap
5
800 SPM cutting speed
Lightweight
Check Price

Premium Choice

Andis AGC Blade

Durable break-resistant housing
Cool-running design has no vents to clog
Powerful enough for thick coats
Check Price

Ruri's Yorkie Clippers

Very affordable
Cordless design
Quiet operation
Check Price

Wahl

Very lightweight and comfortable
Cordless and rechargeable
Check Price
The 6 Best Dog Clippers for Yorkies
1.

Wahl U-Clip Dog Clipper – Best Overall
With 16 total pieces included, the Wahl Professional Animal Deluxe U-clip clippers had the most attachments giving you the most versatility in how you trim your pooch. With speeds up to 7,200 strokes per minute, this set of clippers should make short work of most any Yorkie fur. That said, we discovered that some of the thickest coats presented a challenge. On every other pup, these clippers gave us very efficient and clean cuts at a variety of lengths. More importantly, they operated very quietly and scared none of the dogs we tested them on. With good care and maintenance, we expect these clippers to lead a very long life, giving you many great cuts. In the end, the high-quality, diverse accessories, and quiet operation earned the Wahl Professional Animal clippers our top recommendation for best clippers for Yorkies overall.
16-piece set for an affordable price
Very quiet operation
Cuts efficiently
7,200 strokes per minute
Doesn't work as well with thick coats
---
2.

Oster Pocket Cordless Dog Clipper – Best Value
The Oster Pocket Cordless Dog Clipper is a fraction of the cost of a lot of other clippers. They are battery-operated, though, and this means that you will go through quite a lot of AA batteries. While the manufacturer claims they will run for 3 hours on a single battery, this hasn't proven the case. But you should still get a couple of hours of use before they start to wind down.
They are cordless and operate at 5,800 SPM, so are actually faster than a lot of the more expensive models. They are also very light and easy to hold in the hand. They are especially suitable for breeds like Yorkies who need a regular, but not too heavy trim. In fact, the clippers are not recommended for full-body trimming.
The full clipper set, which represents the best dog clippers for Yorkies for the money, includes clippers as well as a cleaning brush, cleaning oil, and a comb attachment. You will want additional comb attachments for most trimming jobs, however.
Cheap
5,800 SPM cutting speed
Lightweight
Batteries do not last long
Only one comb included
---
3.

Andis AGC Blade Clipper – Premium Choice
Andis is one of the brands that professional dog groomers trust the most, and after using this clipper we understand why. Let's start with the 14-foot power cord attached to these clippers. This is more than convenient since we rarely have an outlet right where we'd like. Most of the clippers we tested would likely survive only a drop or two, which is unfortunate since your clippers are quite likely to go for a spill while grooming an excited pup. Luckily, these Andis clippers are enclosed in a durable, break-resistant housing that will protect them from drops.
We never want to burn our pets, so a cool-running device is important. That said, most clippers have air vents that can easily get clogged. The Andis 225454 features a cool-running design that runs at a low temperature without using any vents that might get clogged. Powerful but quiet operation is best feature of this machine though. It had no problems cutting even the thickest coats in our testing, doing so at a volume low enough as not to spook the dog. We think it's the best premium choice of clippers for Yorkies, but it's far too expensive to earn a higher position.
14' cord
Durable break-resistant housing
Cool-running design has no vents to clog
Powerful enough for thick coats
---
4.

Ruri's Yorkie Dog Clippers
If you want to get a nice tight trim around your Yorkie's face and paws, you may consider one of the much smaller bladed clippers from Ruri's. They are very affordable, cheaper than most regular clippers we tested. Of course, their use is limited, which is one reason they don't earn a top recommendation. You won't be cutting your pup's whole coat with these little trimmers. That said, for the detail work, these are pretty nice to have on hand.
We enjoyed the quiet, cordless operation of these clippers, though they got hot far too quickly for our liking. We had to take a break after the paws to let them cool down before doing the face. This is inconvenient, but we experienced it with most of the smaller sized clippers. The other problem is that they have a hard time with thicker hair. If your pup has thick hair you may want to just stick to the full-size clippers instead.
Very affordable
Cordless design
Quiet operation
Only meant for fine trimming
Gets hot quickly
Doesn't cut thick hair
---
5.

Wahl 41885-0435 Dog Clipper
Based on looks and price, we expected the motion pet cordless clipper kit from Wahl Professional Animal to be our star performer. We were very disappointed when it wasn't. It's advertised as suitable for trimming horses, cattle, and even livestock. After reading this, we were surprised to see it struggle with a thick Yorkie coat! Being the most expensive model we tested made this even worse. That said, it is very light and comfortable to use. Also, we always love the convenience of a cordless tool and a rechargeable battery, both of which this unit has. However, for the price, we expected incredible cutting performance which we did not experience. We think you're better off conserving your money and getting a better performing model such as the Andis 22545 for a much more affordable price.
Very lightweight and comfortable
Cordless and rechargeable
The most expensive set we tested
Not powerful enough for thick coats
---
6.

VISSON Yorkie Dog Clippers
The VISSON dog clippers were the most affordable ones we tested, so we wanted them to be great performers, but we didn't hold out too much hope. These were another set of small clippers for around the face, paws, and other sensitive areas of your pup. They're not suitable for a full trim which is the first point against them. This model is equipped with a special ceramic blade that doesn't get hot so your furry friend will never get burned. We would love this feature if it didn't seem to impede the overall operation.
Our biggest issue is that this device just doesn't cut hair well. It seems to chew up and pull hair instead of cutting it, which is very uncomfortable for the pup involved! Though we appreciate the low-temperature operation, it's not worth the sacrifice of cutting ability, which we have to chalk up to the ceramic blade. We suggest sticking to one of the higher-ranking devices, rather than risk hurting your fur-covered family member.
Most affordable pair tested
The ceramic blade doesn't get hot
Very small blade for fine trimming only
Doesn't cut hair well
Chewed up and pulled hair
---
Buyer's Guide – Choosing the Best Dog Clippers for Yorkies
After reading about the clippers we'd choose for our Yorkies, you may wonder exactly what features we were comparing them on. For a more in-depth look, we've written up a short buyer's guide. Since we've been testing so many of these clippers on our pups, we think we've gotten a good idea of what to look for, so we'd like to share that information with you.
Cool Operation
It's easy to burn your pet if your clippers get hot while you're grooming them. This has happens frequently with smaller units. We always look for clippers that have a low-temperature operation, though sometimes this can also present problems, depending on how it's achieved. Vents are often used on lower-end models, but these can easily clog up and lead to overheating. Higher-end models may use ventless systems, but these often cost considerably more. Some devices have blades made of materials other than metal, though in our experience these don't cut nearly.
Powerful Operation to Cut Thick Coats
All pet coats are not created equally. Your pet may have a very thin coat that most clippers breeze through. If your Yorkie has a very thick coat though, weaker clippers may have a difficult time getting through it. More than just frustrating for you, this can be unpleasant for your pooch. Make sure you find a set of clippers that has plenty of power to cut your dog's coat.
Cordless is Convenient
While you're moving all around your dog to get a nice coat from over, under, and around, cords can easily get tangled. This is exacerbated by excited pups who move around and tangle themselves in the cord. Cordless devices can solve this problem, though they do so at a sacrifice. You may find them to be less powerful than their corded cousins. Likewise, you must deal with battery life becoming an issue. This is less so in smaller dogs like Yorkies, but it's still something to think about. We love the convenience of cordless clippers, though we like the power of corded models even more.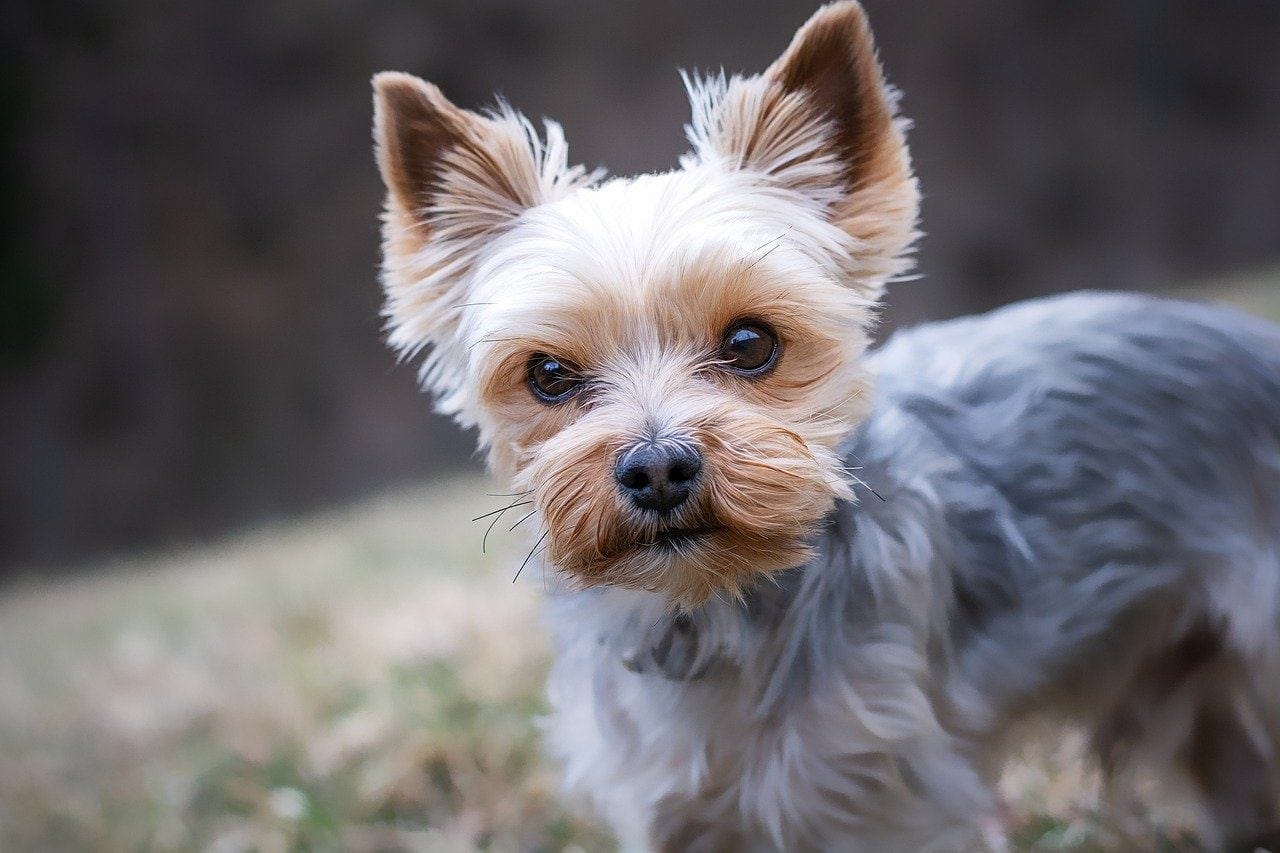 Loud Clippers Can Scare Your Pooch!
It's no secret that dogs do not love strange noises made by devices, especially those that have to touch them all over! Luckily, clippers today don't have to be very loud to do their job. You'll find that most decent clippers now are quiet, though not all of them. Look for the quietest clippers you can so your pup has the most pleasant experience possible. This way, they won't be apprehensive about it whenever it comes time to groom them again!
Click here to see our recommendations for goldendoodle clippers!

Conclusion:
With so many dog clippers out there to choose from, it's hard to decide which ones are best for your Yorkie. We've tried to help by testing as many as we could find and narrowing down the choices to the few we felt earned our recommendations. Our six reviews compared the ones we thought were worth noting, but only the first three earned our recommendations. For the best overall, we think it's hard to beat the Deluxe U-clip clippers from Wahl Professional Animal. With an incredible speed of 7,200 strokes per minute that still runs quiet enough not to scare your pooch, they were the ones we would suggest for most users.
For the best value, we recommend the Oster Pocket Cordless Dog Clipper. They're cordless and rechargeable, which makes them very convenient. Despite this, they're very affordable and still include several attachments and accessories. Our pick for the premium choice was the Andis AGC Blade detachable blade clipper. This was truly our favorite overall, but it's too expensive to recommend as our top pick. The powerful but quiet operation was the best we experienced. It's durable to withstand drops and the 14-foot power cord is very convenient.