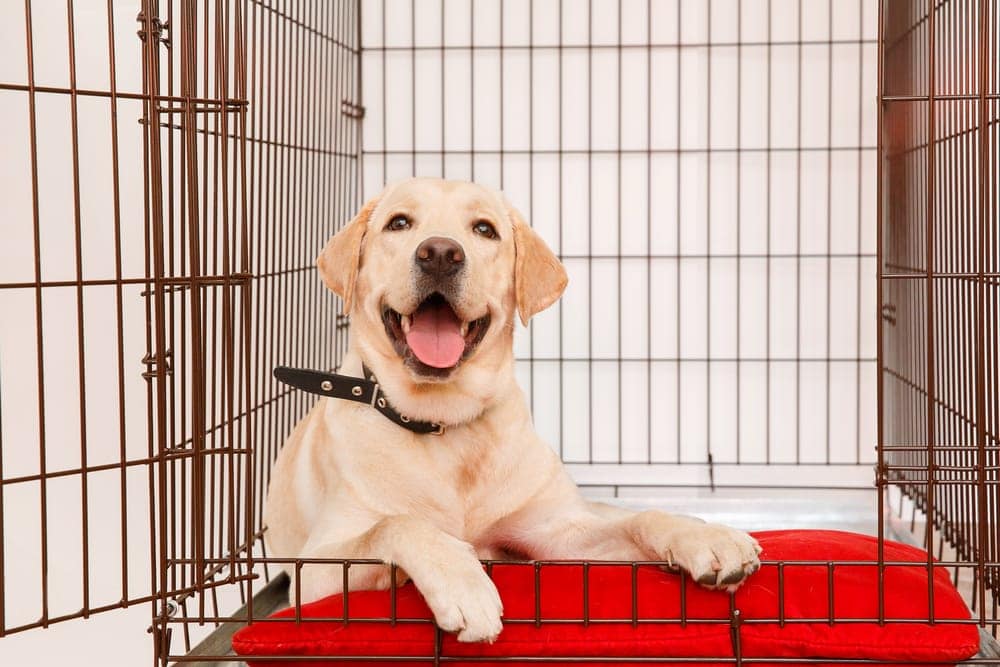 Labradors love spending their time outside where they can run and play. When they're in the house, they tend to snuggle and lounge near their human and animal family members. They don't typically like being cooped up by themselves. However, if your household is like most, there are times when your pooch has to be put in a dog crate overnight, while you'll be away from the house, or when service providers show up to make a repair in your home.
Whatever the reason for needing a dog crate, not just any crate will do for your furry family member. Your Labrador deserves a safe, comfortable, and spacious place to hunker down when they can't be free in the house or out and about with their family members. So, we have taken the time to check out the most popular dog crates on the market to identify which ones would be the best choice for Labradors.
We found several options that we think are true winners. We put together these thorough reviews so you can more easily choose a dog crate for your own Lab.  We hope that these reviews provide you with the insight that you need to make a confident investment decision!
---
A Quick Comparison of Our Favorites (2022 Update)
Rating
Image
Product
Details

Best Overall

MidWest Ovation Trainer Double Door

Designed to grow with your puppy
Includes a leak-proof floor for easy cleanup
Quickly folds flat for convenient storage
Check Latest Price

Best Value

Frisco Fold & Carry Double Door

Features built-in handles for easy transport
Includes double latches so sneaky dogs can't escape
Coated for protection from scratches
Check Latest Price

Premium Choice

Merry Products 2-in-1 Door Furniture

Beautiful wooden finish that fits in with any home décor
Crate converts into a barrier gate
Check Latest Price

Frisco Indoor & Outdoor 3-Door

Lightweight build for convenient travel
Can be used in the house
in the car
or anywhere outside
Features three doors that fold open and zip shut
Check Latest Price

Paws & Pals Oxgord Double Door

Strong and sturdy enough for active Labradors
Treated wire frame won't corrode or fade
Check Latest Price
The 7 Best Dog Crates for Labradors:
1.

MidWest Ovation Double Door Crate — Best Overall
We love the Midwest Ovation Trainer collapsible dog crate for a variety of reasons, especially since it can grow with your puppy as they age and get bigger. The crate comes with a divider panel that can be put into place to create a small, safe place for your puppy to hang out.
As your puppy grows and needs more room, the divider can be moved and taken out to expand the size of the crate. This dog crate features double door action too. Use the sliding side door in tight spaces or the hinged front door in larger spaces and for training purposes. The crate is made of metal grates that will allow your pooch to clearly see outside so they don't feel so cramped or alone.
A leak-proof plastic pan makes up the crate's floor, so it should be easy for you to clean up after your Lab if they have an accident or spill their water. The rubber feet on the crate will keep your flooring protected while it's in use. The crate folds flat for easy storage when it isn't in use.
Pros
Designed to grow with your puppy
Includes a leak-proof floor for easy cleanup
Quickly folds flat for convenient storage
Cons
The front-hinged door can be awkward to handle
---
2.

Frisco Fold & Carry Double Door Crate — Best Value
We think that this is one of the best dog crates for Labradors for the money because it's sleek, reliable, and affordable. It seems a bit more lightweight than our first choice once it's set up, though. That said, it does the job and keeps our dog contained like it's supposed to. It's easy to set up without the need for tools, and it can be quickly broken down so you can take it on the road. It even has nifty handles so you can carry it with one hand! It features two double-latching doors that will keep your Labrador pup safely secured.
The Frisco Fold & Carry double door dog crate is protected with an electro-coating that keeps it from getting scratched and damaged when it gets moved around. This crate also comes with a removable plastic pan, but it should be handled with care to avoid cracking or breaking. But it is easy to wipe clean between uses.
Pros
Features built-in handles for easy transport
Includes double latches so sneaky dogs can't escape
Coated for protection from scratches
Cons
The plastic floor tray is flimsy and may crack over time
---
3.

Merry Products 2-in-1 Furniture Crate — Premium Choice
Merry Products 2-in-1 furniture style dog crate is our premium choice because it looks more like furniture than a crate. You can set it up in the corner of any room in your house, and it will look like it belongs there. It's also convertible, so when it isn't being used as a crate, it can be turned into a gate to keep your Lab from entering the kitchen or another room that you want to keep them out of.
Even though this thing converts between a crate and a gate, no tools or hardware are required for setup. Placing a tablecloth over the crate will turn it into a cute end table, so the crate can stay set up in your home permanently if it's used on a daily basis. The only problem is that this crate isn't as quick and easy to break down, so it's not an ideal option if you want to travel with it. The wooden finish requires more care than metal crate options.
Pros
Beautiful wooden finish that fits in with any home décor
Crate converts into a barrier gate
Cons
Too heavy and complicated to easily travel with
---
4.

Frisco Indoor & Outdoor Collapsible Soft-Sided Crate
This indoor/outdoor collapsible dog crate by Frisco is the perfect option if you enjoy taking your Labrador Retriever on adventures. It features a soft-sided design that is lightweight and easy to carry around, so it can go with you to the park, the beach, and even the campsite. It can be used inside of the car to keep your dog from roaming freely while you drive.
It can also be set up inside like any other hard-sided dog crate. The crate features three zippered doors that can be rolled up to create a comfortable shaded space that your pooch can freely go in and out of. The doors can also be zipped up and clipped to keep your dog secured inside the crate when necessary. You can quickly fold the crate up when it's time to store it or take it on an adventure. The steel frame ensures stability and longevity that you can rely on for years to come.
Pros
Lightweight build for convenient travel
Can be used in the house, in the car, or anywhere outside
Features three doors that fold open and zip shut
Cons
Destructive dogs might be able to bite their way out of the crate
---
5.

Paws & Pals Oxgord Collapsible Wire Dog Crate
The Paws & Pals Oxgord dog crate features a basic double door design that's easy to set up and break down, like most of the other options that you'll find here on our reviews list. The wire frame is treated with a protective coating so the crate won't chip, fade, or corrode as time goes on.
This crate is strong enough to put things like dog blankets and toys on top of it. It easily collapses flat, so it can be stored in a closet, under the bed, or behind the couch. It doesn't come with any handles, which can make transporting it a bit awkward.
Pros
Strong and sturdy enough for active Labradors
Treated wire frame won't corrode or fade
Cons
Doesn't have built-in carrying handles
---
6.

ecoFLEX Single Door Furniture Style Dog Crate
If you're looking for a dog crate that won't stick out like a sore thumb in your well-designed home, this is the option for you. The ecoFLEX dog crate pulls double duty by keeping your pooch contained while serving as an end or side table. It has a luxurious wooden design that can be painted to match the color scheme in your home. This crate features a built-in tabletop that can accommodate flowers, coffee cups, and other knick-knacks that you may want to display inside your home.
It only has only one front door, but the door is sturdy and locks closed to ensure that your Lab will remain safely contained while you're away from home. You can store things inside the crate when your dog isn't using it. But you can't easily break this crate down and take it with you when you want to travel with your pooch.
Pros
A beautiful end table design that fits in with any home décor
Sturdy, secure build that will keep your spunky Labrador contained
Cons
Doesn't break down easily for travel
---
7.

Firstrax Noz2Noz Series Soft-Sided Dog Crate
We love the fact that this indoor/outdoor soft-sided dog crate is washable! There's no need to worry about mud exposure, potty accidents, or food spills with this easy-to-use dog crate. The Firstrax Noz2Noz Sof-Krate N2 dog crate is durable but easy enough to set up in seconds. It features soft mesh side panels that are completely breathable, so your Lab will never get too hot or uncomfortable.
The strong steel frame ensures that this crate won't collapse, even while being used outside when it's windy. It has front, side, and top entry doors to take advantage of! However, Labradors shouldn't be left alone while in this thing because they could rip it apart and escape if they really want to.
Pros
Features a washable vinyl frame
Sets up in seconds for ease of travel
Cons
Labs shouldn't be left contained while unsupervised

Buyer's Guide: Picking The Best Dog Crate
There are many things to consider when choosing a new dog crate for your Labrador Retriever. Our list of reviews should help make the job easier. But there are a few tips and tricks that we can offer to make your shopping experience even more enjoyable and effective.
Measure Your Labrador First
Before starting your search for a new dog crate, it's important to make sure you know the length, height, and weight of your Labrador Retriever. You can compare your dog's size to the different sizes of dog crates that are available to make sure you don't invest in one that's too small and cramped. Your pup should have plenty of room to stand, turn, and lay down in their new crate. So, make sure that the crate you buy is a couple of inches longer and taller than your Lab is.
Consider Your Long-Term Needs
You may require a dog crate to keep your Labrador contained at home right now. But what if you decide to take your dog camping or you choose to move at some point in the future? These needs should be considered when choosing a new dog crate for your pooch to enjoy. Make a list of all the activities that you foresee yourself doing with your doggy in the coming months. Then, record what dog crate features would come in handy during those experiences.  You can use your list as a guideline when comparing your dog crate options, to ensure that you don't overlook any features that are important to you.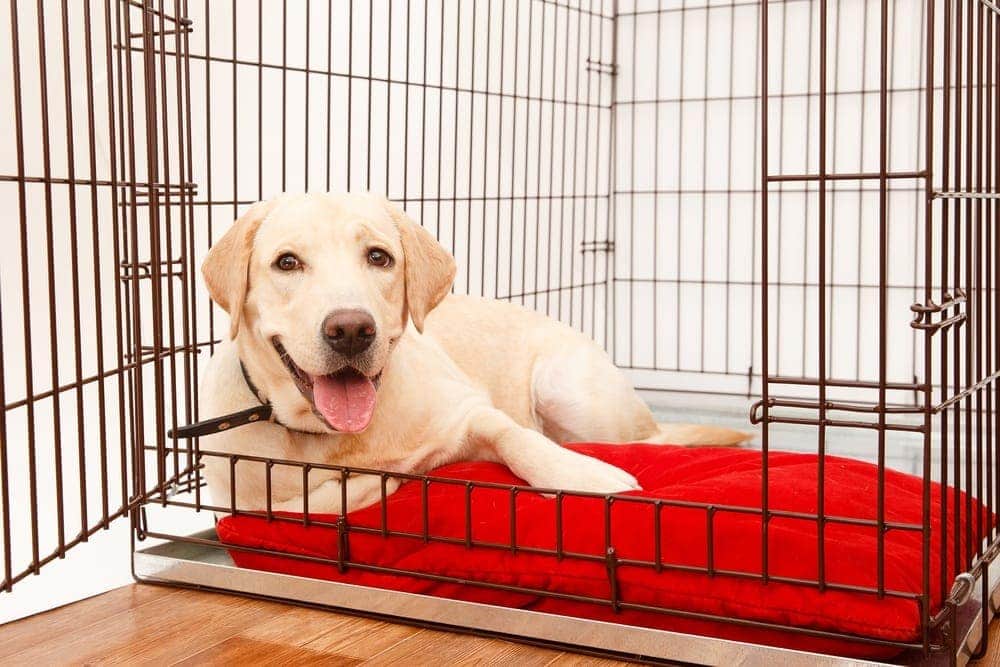 Understand the Return Policy
Even if you buy the highest-rated dog crate on the internet, you may find that it doesn't meet the needs of your dog and your family once you get it home and set it up. You shouldn't have to keep it and spend more money on a new one. You should be able to return it for a full refund, for a different size, or even for a different model, if that's what you want. So, it's important to make sure that you understand the return policy for any dog crate that you decide to invest in. This will help ensure that you won't end up wasting your time and money.
---
Conclusion: The Best Dog Crate for Your Lab
We believe that every dog crate that won a spot on our reviews list deserves consideration. But if you want to focus on only one option for now, check out our number-one pick: the Midwest Ovation Trainer dog crate. It's sturdy and reliable and won't let you or your Labrador Retriever down. Our second choice, the Frisco Fold & Carry dog crate is perfect if you're looking for something that you can use both at home and while on the go.
Whatever dog crate you choose from our reviews list, you can rest assured that your pooch will be safe and comfortable while contained. What dog crate features do you think are the most important for Labrador Retrievers? Share your thoughts with us in the comments section below.
---
Featured Image: Parilov, Shutterstock