10 Best Dog Deodorants, Colognes & Perfumes of 2023 – Reviews & Guide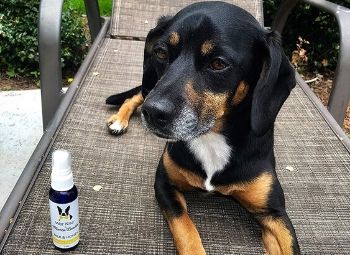 While we absolutely love our four-legged friends, there's no denying that sometimes they can really stink! Fortunately for you, we love research almost as much as we love dogs. In these reviews, we go over several dog deodorants, colognes, and perfumes. Whether your dog has been rolling in mud or you just haven't found the time to give them a bath, we are confident that you will find a product that will make you and your best friend's life a little fresher. On to the reviews!
---
Quick Comparison of Our Favorite Picks in 2023
Rating
Image
Product
Details

Best Overall

Bodhi Dog

Not overpowering
Variety of scents, including sugar cookie
Leaves your dog's fur nice and silky
Check Price

Best Value

WAHL 820011A

100% natural
Good for the skin
Dog will shine
Check Price

Premium Choice

SEAMUS

Good for dogs with sensitive skin
Smells natural
Water based
Check Price

Gerrard Larriett

Good for dogs with eczema
Can calm pets down
Made with essential oils
Check Price

Lambert Kay LK21571

Lasts "for months"
Controls your dog's scent
Can be applied to a wet dog
Check Price
The 10 Best Dog Deodorants and Colognes
1.

Bodhi Natural Dog Cologne – Best Overall
With the Bodhi line of dog perfumes, you will be constantly surprised by the creativity of the scents they offer. Our personal favorite is the sugar cookie perfume. Not only are there many options to choose from, but this stuff is powerful as well! If you don't quite have time to give them a bath, all it takes it one spritz of cologne, and your dog will instantly smell better. Of course, you should probably still give your dog that bath when you get the time.
Bodhi has made a product with the most important thing in mind: the health and safety of your pet. This cologne is professional quality, made from products that won't harm your dog's skin or fur. No sticky messes or residue will be left behind. After applying this to your pal, simply give them a good brush, and they will smell as fresh as daisies … or sugar cookies.
This cologne not only looks out for the safety of your pet, but it's also good for them! A layer of Bodhi cologne helps keep your dog's fur nice and smooth and silky.
Bodhi has made a commitment to be ethical in their approach to dog fragrance. All its products are ethically sourced with sustainable ingredients that 100% animal cruelty free. The packaging itself is made from 100% recycled material, so when you purchase this, you can feel like a good steward of the land.
On top of all that, if you don't like your Bodhi dog cologne for any reason, you can return it for 100% of your money back, no questions asked. And the only reason that you may consider returning it is that the scent doesn't last that long. That said, we think it is clear why we see this product as the best dog deodorizing spray.
Variety of scents, including sugar cookie
Not overpowering
Leaves your dog's fur nice and silky
Scent doesn't last that long
---
2.

WAHL Refreshing Dog Deodorant – Best Value
WAHL has a whole line of dog grooming products, and this product is perfect for when you just can't quite get to the shampoos and soaps. Packaged in an easy-to-use ergonomic bottle, this deodorant will freshen up your dog on the fly. Made from eucalyptus and spearmint, your dog will smell fresher than fresh when sprayed with this product.
Your dog will even shine! Wahl has made a dog deodorant that is good in between baths and promotes good skin and hair health. There will be a noticeable sheen when you apply this product and then give your dog's coat a good brushing. Your dog will feel fresher as well!
This deodorant is made entirely of plant-based materials and is completely chemical free. You won't find any pesky parabens, there will be no alcohol burn (as there is no alcohol), and the product is pH balanced. Even for dogs with sensitive skin, this is a wonderful product.
The bottle of the deodorant can be a little frail, but that is an uncommon complaint from users, which is why we call this product the best dog deodorant, cologne, and perfume for the money.
100% natural
Good for the skin
Dog will shine
---
3.

SEAMUS Cookie Dog Daily Spritz – Premium Choice
If you are starting to get hungry for sugar cookies, we don't blame you. It makes sense that it would be a popular scent for dogs, as sugar cookies smell wonderful!
Seamus has made a product that is meant to be gentle on your pet but still hold its scent for several days. This spritz is water based and can be used daily. Not only will your dog smell fresher after using this product, but they will also feel fresher.
This spray is wonderful for dogs with sensitive skin. You also might be tricked into thinking that your pet has had a bath if they have been treated with this spray. Application of the Seamus product will leave your canine's coat nice and soft, shiny and fluffy.
While some deodorants, colognes, and perfumes can often smell like chemicals, this product does not. When it says sugar cookies, it means sugar cookies.
Some users complain that the scent is not strong enough.
Good for dogs with sensitive skin
Smells natural
Water based
---
4.

Gerrard Larriett Pet Care Dog Cologne
Not only is this product meant to help your dog smell better, but it is also meant to relax them. How so? The fine folks over at Gerrard Larriett have made a dog cologne out of essential oils, and they have done so without adding any heavy perfume smell or harsh chemicals.
Vet approved, this product can have calming effect on your pet. Users have reported more mild behavior out of their animals after using this product. Application is easy and just like any other dog cologne. You spray the product on to your dog, then give them a nice gentle brush — but make sure that the product is getting down to the skin.
Made with doggy-safe ingredients, you can either get this product in travel size or in a container for your home. While it is not a replacement for a bath, it is a wonderful tool to have after a long day at the kennel. Each bottle of dog cologne from Gerrard Larriett contains lanolin, vitamin E, oats, and chamomile. This product is especially good for dogs with eczema.
While there aren't many complaints about this product, we have heard users report that their experience with the customer service staff is less than stellar.
Good for dogs with eczema
Comes in multiple sizes
Can calm pets down
Made with essential oils
Poor customer service staff
---
5.

Lambert Kay Grooming Dog Cologne
This is our first aerosol spray review, and we have to be honest, that is one of the reasons it is lower on our list. Still, the product is pretty good!
While we never recommend skipping baths, if you have to for an extended amount of time, this may be the product you want to go with, as it is advertised to make your dog smell better "for months." This is not done by masking your dog's scent, but by controlling it. While this product is powerful in duration, it is still delicate and not overpowering.
Application is similar to other products on this list: Spray and then brush. Brushing allows the product to get down to your dog's skin, mitigating the bad smell that could occur.
As with most dog colognes, deodorants, and perfumes, it's better to apply it when your pet is dry, but with this spray from Lambert Kay, you can use it even after they decide to go hop in that huge puddle.
Some users report dissatisfaction with the smell of this product, while others have expressed concern that the bottle itself can be delivered broken.
Lasts "for months"
Controls your dog's scent
Can be applied to a wet dog
Aerosol
Broken bottle delivery
---
6.

Doctor4Paws Premium Dog Cologne
This product from Doctor4Paws is mostly a deodorant, though it is an effective one. It is great for use right after a heavy dose of outdoor playing in the mud or running through the sprinklers on a hot summer day. This deodorant does a good job of getting rid of that wet dog smell.
Made from 100% cruelty-free ingredients, this product is both safe and healthy for your pet. With a focus on moisturizing and conditioning, it is made from coconut oil and palm oil. There is no alcohol in this product nor are there any parabens, phosphates, or sulphates.
This product is groomer recommended and caters to a lighter scent. Doctor4Paws made it this way because heavy scents tend to linger, and the company wanted to make a cologne that freshens things up without adding a heaviness to the home.
The only gripe we have about this product is that there is so little known about it. If you decide to test it out, leave us a comment and tell us what you think! We'd love to hear it!
Light, not heavy
Moisturizing and conditioning
No alcohol, parabens, phosphates, or sulphates
Not much known about this product
---
7.

PET SILK Rainforest Cologne
While it may seem counterintuitive to get rid of wet dog smell by having your dog smell like an rainforest, this is a decent product for your coated companion. The scent of rain will revitalize your animal, while the undertones of white flower will add liveliness to the room.
Not only is this product meant to deodorize your pet, but also it is meant to be good for the health of their fur. After applying, thoroughly brush your dog, and you will notice that their coat will be soft and tangle free.
This is also a lightweight product, meaning that it doesn't leave behind any gunk or residue. Once applied to your pet, it works quickly but dries even quicker, leaving your dog feeling fresh. This is aided by the fact that this product is made without any harsh chemicals. Pet Silk maintains that it makes this out of the highest quality ingredients and that it is safe for everyday use.
For certain users, the fumes are a little too strong.
Scent of rain and white flower
No harsh chemicals
Detangles and softens
---
8.

Warren London Wet Kiss Dog Cologne
Billed as a multi-use item, this can be used as cologne, deodorant, or even pet-pourri.
Your pup will smell just like honey and milk after you apply this product. All you have to do is spray it on and give your pal a nice thorough brush. While brushing isn't required, it helps the product get down to the skin, eliminating the bad smells.
This product is nice and light and won't leave you animal feeling oily. It's meant to work for days, reapplying as needed, but we aren't too sure how safe this is for daily use.
Be careful with how much of this product you use! A little goes a long way. You may also notice that while this initially gets rid of one bad smell, eventually, it starts to smell bad itself. We would not consider this a long-term fix to bathing.
Dog will smell like milk and honey
Dog will smell bad again after not too long
---
9.

Vet Recommended Dog Cologne Spray
The fine folks over at Vet Recommended want you to know that this product will leave your dog smelling like a baby. Basically, this product smells like baby powder. You won't have to use too much of this product to achieve that smell, but even if you go overboard, it isn't too overpowering.
This product will help your dog smell better, as well as help soften and detangle their fur.
While the goal of this company is to have a doggy deodorant that smells like baby powder, many users have reported that it actually smells like a classic men's deodorant.
A little bit goes a long way
Smells like men's deodorant
---
10.

Natural Rapport Dog Cologne
This product aims for subtlety and softness, but it also aims to get rid of your dog's smell for a long while. This is a combo that is hard to get right, and we're not so sure that Natural Rapport succeeds. It does advertise that this works especially well on dogs who smell like pee.
This is a fast-drying spray, so your dog won't feel like they are wearing a load of product. The three-in-one formula is meant to condition and moisturize. Made from ingredients derived from nature, this product is 100% alcohol free.
While some users enjoy this product, there have been reports that it can dry out your dog's skin. Other users have stated that despite the manufacturer's best effort, this stuff still smells quite masculine.
Dries out skin
Very masculine smelling
---
Buyers Guide: How to Choose the Best Dog Deodorants, Colognes & Perfumes
When shopping for the best dog colognes, deodorants, and perfumes, you know what you are looking for — you want something that helps your dog to not stink! There are other benefits you can get from a good bottle, however. Let's take a look.
Conditioning
Certain products are great for conditioning your dog's coat. When used properly, you might notice shinier and healthier looking fur on your pup after using these for a while.
Skincare
When applying, if you brush this product in, it will go all the way to the skin. This can help strengthen your dog's dermis and be especially helpful for dogs with sensitive skin.
Anxiety
Perfumes, colognes, and deodorants made from essential oils can actually calm down an anxious pet. This is a plus for both you and your best friend!
But still, bathe your dog!
While some of these products can safely be used long term, they are still no substitution for bathing! We know how hard it can be to get your doggy in that tub and how tempting it can be to spray them down with deodorant, but that just won't cut it.
If you're tired of all the smells and stains that come with pet parenting, you should check out the Hepper Advanced Bio-Enzyme Pet Stain & Odor Eliminator Spray. Okay, it's our product, so we may be biased – but we love it so much, we just have to share it! It permanently removes even the very worst smells and stains, and we offer a 100% satisfaction guarantee.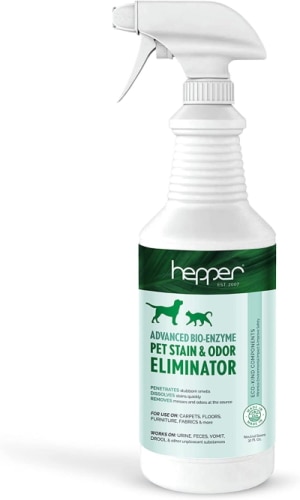 Conclusion:
There are many products out there aimed at getting rid of that wet or smelly dog smell, and you may be tempted to just grab any one off the shelf. That's why we're happy to compile these reviews as a reference for your shopping present and future. Maybe you are intrigued by the packaging of our top pick from Bodhi, or you can't escape the value of the product from Wahl. Whatever you choose, we hope that we are able to narrow down some of the choices for you. We know that shopping can be overwhelming, and sometimes it can downright stink!