9 Best Dog Drying Towels – 2023 Reviews & Top Picks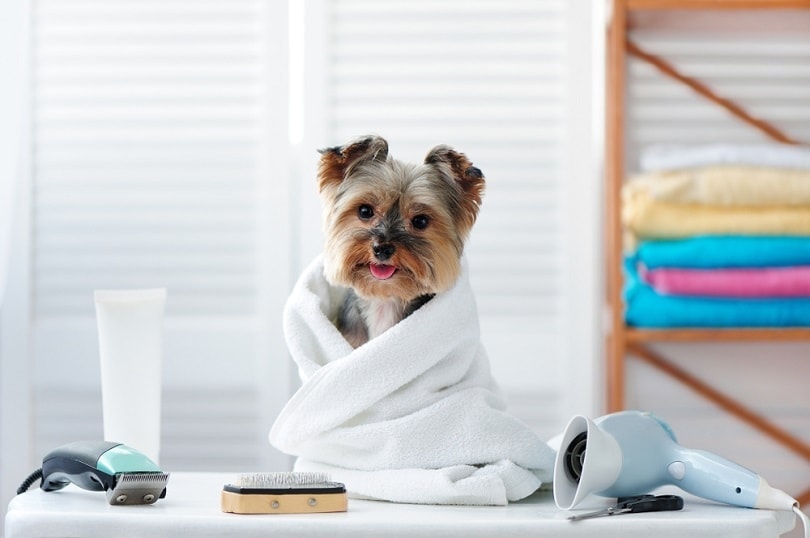 It's easy to forget how much hair your dog really has until you're working like a madman to dry it out. Those normal cotton towels you have in your bathroom probably don't seem to do the trick. Even smaller dogs whose coats aren't incredibly thick can saturate a towel if it isn't absorbent enough. So, of course, if you're looking for a way to dry your pooch and not soak you or your belongings in the process, you may want one specifically designed to do the job.
We know your struggle. To make things a little easier, we have compiled a list of 9 top dog drying towels we could find and wrote honest reviews for them. With any luck, this can help you wash up and dry off your dog with the least amount of water transfer.

A Quick Look at Our Favorites in 2023
Rating
Image
Product
Details

Best Overall

Bone Dry DII Bath

Plush microfiber
Machine washable
Reasonably priced
Check Price

Best Value

Kole

More affordable
Twice as absorbent
Machine washable
Check Price

Premium Choice

THE SNUGGLY DOG Wear Towel

Extremely soft
Protects against moisture
100% money-back guarantee
Check Price

Tuff Pupper Shammy

Holds seven times its weight
Odor and bacteria resistant
Machine washable
Check Price

YogaRat Mutt

Multiple color choices
Thin and absorbent
Compact
Check Price
The 9 Best Dog Drying Towels
1.

Bone Dry DII Microfiber Dog Bath Towel — Best Overall
Our number one is the Bone Dry DII Microfiber Dog Bath Towel. Of all that we reviewed, it seems to cover all the bases on what we believe makes the best drying agent for your dog. First, it comes in 12 color choices to appeal to your personal tastes. It also has a cute little paw design embroidered on the front.
It's made from an ultra-plush microfiber that is very lightweight and easy to tote around. It's completely machine washable, so you don't have to worry about any tedious cleaning requirements. You can throw it in the wash for regular maintenance.
It's also perfect for protecting your furniture or car seats from moisture if your pet is wet for any reason. Not only is this an excellent bath towel, but it doubles as a cozy blanket choice to throw in a kennel or dog bed, providing comfort.
The dimensions are 44 x 27.5 inches, so it is perfect for small to medium-sized dogs. They aren't extremely high priced, either. So, you can even buy more than one to alternate between uses or to have in different colors.
Many color choices
Plush microfiber
Machine washable
Reasonably priced
---
2.

Kole Absorbent Pet Drying Towel — Best Value
If you are looking for a low-priced dog towel that will still impress you with quality, the Kole Ultra-Absorbent Pet Drying Towel may be worth a look. It comes in as our number two, being the best dog drying towel for the money.
This selection is a few dollars cheaper than our number one and looks surprisingly similar. It only comes in a tan color but has the same paw embroidery for style. It absorbs twice the amount of a standard bath towel, making it ideal for dogs with short to medium length hair.
Also, it's slightly smaller than our first choice, with dimensions of 34 x 25 inches. It may not work for individual medium size dogs. In addition, it's not entirely as high-quality feeling, but it is still machine washable for simple cleaning.
More affordable
Twice as absorbent as a normal towel
Machine washable
Not for larger or long-haired dogs
---
3.

THE SNUGGLY DOG Easy Wear Dog Towel — Premium Choice
If you want your dog strolling around freshly bathed in a robe of sorts, THE SNUGGLY DOG Easy Wear Dog Towel is an excellent pick. While it is much higher priced than others on the list, it has its perks. First, it's very stylish, fitting around the neck to drape around the dog. It also has a button and elastic loop on the bottom end to situate around the dog's tail.
This selection is also perfect for any size of dog. While we personally reviewed the small blue size, it's also available in red and sizes small to extra-large. It's incredibly absorbent, made from high-density 400-gsm ultra-soft microfiber. The perfect fit allows the dog to roam or lounge around after a bath without saturating furniture or carpet.
While it's technically machine washable, you must wash on a delicate cycle and air dry. It's an expensive towel, and the company gives a 100% money-back guarantee. So, if you do pony up the dough for the product and don't feel like it measured up to what you expected, you can give it back—no harm, no foul.
Available in all dog sizes
Extremely soft
Protects against moisture
100% money-back guarantee
---
4.

Tuff Pupper Large Shammy Towel
This Tuff Pupper Large Dog Shammy Towel is a fantastic addition to the list. It has a fluffy noodle-like design that is supposed to absorb up to seven times its own weight. The design is tightly knitted chenille microfiber with side pockets that you can place your hands into to massage the dog dry while maintaining a good grip easily.
It also never has that after-smell of "wet dog" because the surface is odor and bacteria-resistant, which is a nice change of pace. This is a one-size-fits-all dog towel, measuring 35 x 14 inches. While it does claim to be for all breeds, if you had an exceptionally large dog with very thick hair, it may not work quite as well.
This is another towel that requires a delicate cycle in the wash and airdrying afterward. Since it dries out so quickly, this shouldn't be an issue. This particular choice dries eight times faster than a traditional towel, which is merely within minutes.
Be sure to wash as directed. Otherwise, it could cause the towel to come apart prematurely. However, for any manufacturer defects, Tuff Pupper gives a replacement product.
Holds seven times its weight
Odor and bacteria resistant
Machine washable
Dries within minutes
May not be for giant or heavy-coated breeds
May fall apart if not washed correctly
---
5.

YogaRat Mugzy's Mutt Towel
At first glance, it may look like this YogaRat Mugzy's Mutt Towel is a bit thin. You could be wondering if this has what it takes to keep up with your dog's coat. It is actually incredibly absorbent—and best of all, it doesn't trap hair, so you won't have to remove fur from the towel after each use.
There are four color choices to choose from, so you will have options for the look you want. It folds flat, so it's not bulky or hard to store. It's also well stitched, and the fabric is hardy, so it won't come unwound in the wash.
This brand does recommend washing the towel on a cold cycle because the colors can bleed, which may lead to unwanted staining.
Multiple color choices
Thin and absorbent
Compact
---
6.

Soggy Doggy Shammy Dog Towel
The Soggy Doggy Shammy Dog Towel is another microfiber chenille dog towel. It's incredible to see just how quickly the towel absorbs water. It can hold up to seven times its weight as well. This selection has the side pockets to place your hands in so you can prevent yourself from getting wet. That way you can keep a good grip on your dog and dry them efficiently.
There are four color choices, each being the same price. So, you won't have to pay more for a style you want. You can machine wash this towel and tumble dry on low. But do be mindful of the cleaning care, as it can come apart if you don't follow instructions.
It's another one-size-fits-all dog towel. You can purchase this for a small breed to a large breed. It measures 31 x 14 inches and can dry even the thickest coats with its noodle-like design. Best of all, it doesn't retain a wet dog smell.
Quick absorption
Machine washable
Four color choices
One size fits all
Can come apart with improper washing
---
7.

Microfiber Pros Dog Towels
These Microfiber Pros Dog Towels are a two-pack, so you don't have to worry about buying multiples. It's made of split filament microfiber designed to dry your dog at a very affordable cost. They come in two color choices so you can select which you like best.
The selection is very thin material so that it wouldn't be as effective. But it seems that it still dries with moderate proficiency as its intended. While they do their job drying, they also attract debris and catch hair. So, if you don't want to pick out what this towel traps after every use, another option may work better.
In addition to drying, you can also lay it flat to protect the furniture or the floor when transferring your dog from the tub. You can alternate between the two or use one for a floor cover and the other for drying off, so it does work for a double purpose.
2-pack
Affordable
Multi-purpose
---
8.

Wahl Dog Drying Towel
The Wahl Dog Drying Towel is an ultra-absorbent rayon bamboo fiber material. It comes in two size choices—30 x 25 inches or 40 x 25 inches. That way, you can select the size that would fit your dog appropriately.
The towel is odor repellent, so you won't have to worry about it picking up any bad smells. It's machine washable, so once you use it, you can throw it in the wash and tumble dry on low. Wahl advises against the use of fabric softener.
Since the towel is quite thin, it doesn't work as well as some of the others as far as extreme absorbency. Also, much like some of the others, if you don't follow the washing instructions carefully, it comes apart. While it claims it can dry huge dogs, depending on your pet's coat, it may not be suitable.
Odor repellent
Machine washable
May not work for all dogs
May come apart when washing
---
9.

My Doggy Place Microfiber Drying Towel
The My Doggy Place Dog Microfiber Drying Towel is one of the largest on the list. It measures 45 x 28 inches. It is an ultra-plush towel, so it's incredibly soft to the touch. Available in 12 style choices, you can have your pick of which you like.
It also absorbs more than any other towel on the list, soaking up ten times its weight. While it does have thee good qualities, it isn't quite as thick as the picture makes it look. It is much thinner in person and isn't quite the size depicted either.
Not as thick as it looks
Size can be wrong

Buyer's Guide – Finding the Best Dog Drying Towel
So, you want a mess-free way of drying your pets. You probably also want to give your dog their own towel so you can keep yours clean and tidy. No matter your reason, you've probably realized by now that your normal towels don't work as well for their fur anyway. So, what are some things to consider when making your purchase? Let's explore.
Check Absorbency
You will find that different towels will have varying absorbency. Some have moderate to low absorption, while others will have extremely high permeability. If you have a small, short-haired dog, you may not need a giant towel capable of soaking up copious amounts of water.
Some towels are only double the absorbency of a regular towel that you would use in your own bathroom. However, others can soak up several times their weight. That makes the towel ideal for larger dogs or dogs with thick coats.
Drying Time
Some towels can dry tremendously faster than traditional cotton towels. It's truly a great alternative and a double benefit since it holds more water and dries quickly. Some dog towels can even dry on their own faster than a blow dryer can, which is pretty impressive.
Each product description will let you know if it is a fast-drying selection. When it comes to having a sopping wet towel, it can saturate bathroom floors, leading to tile or linoleum damage. It is also time-consuming and messy if you have to wring it out before washing.
Towel Size vs. Dog
Towel size will matter for a few reasons. First, if you have a particularly thick-coated dog, it may require a much bigger towel capable of withholding more water. Or, if you have a larger breed, there is a lot more dog to dry. Many towels will come with different size options so you can select the right one.
A towel may be a very efficient one, but if you get the wrong size, it may seem like it isn't doing its job appropriately. Consider both how large your dog is and how thick the fur is before purchase. That way you aren't dissatisfied with a product that may have worked otherwise.
Benefits
There are many benefits of dog towels. Some of which include:
Less of a wet mess when drying them off
More hygienic than sharing your cotton towels with your dog
Ability to hold a higher water content
Quicker drying with less dripping
Just as easily washable
Most dog towels are odor and bacteria resistant

Conclusion
While there were some excellent candidates on the list, we still stand by our winner, the Bone Dry DII Microfiber Dog Bath Towel. It gets the job done with super absorbency. There are plenty of color choices to suit your dog. You will be able to throw it in the washer when finished. What more could you want?
If that didn't do it for you, the Kole Ultra-Absorbent Pet Drying Towel is worth considering. It looks a lot like our number one with many of the same benefits—but it's half the price. So, you are still getting proper absorbency, quick-drying, and easy cleaning, but it won't break the bank.
If you want to pay a bit extra, THE SNUGGLY DOG Easy Wear Dog Towel will have your pup feeling like a king. It's a robe-style towel that attaches to the neck and tail, providing a great barrier between your wet dog and your carpet and furniture. They'll probably find it warm and cozy as well.
Now that you've read all the reviews and our buyer's guide, hopefully, you've found the best fit to dry your furry friend.
---