6 Best Dog Foods For Australian Shepherds — 2023 Reviews & Top Picks

Your Australian Shepherd is an active and energetic creature that needs a healthy and nutritious diet. Even if they are not herding cattle on the daily, their immune system and metabolism still cry out for lots of protein and other good sustenance.
When your Aussie is done herding for the day, whether it was cattle, sheep, or kids, they are going to need a high in protein, low-calorie meal that will satisfy their appetite. They may not have the best table manners, but their eating habits demand something tasty and nutritious.
With that being said, there are so many flavors, brands, ingredients, and formulas out there for Aussie food that it can be hard to pick the right one. To relieve that point of tension, however, we have found the six best foods for your Australian Sheperd. Check out our reviews that share nutrient levels, taste, protein levels, and much more.
A Quick Glance at Our Favorite Picks in 2023
Rating
Image
Product
Details

Best Overall

Ollie Fresh Dog Food Subscription

Real turkey is the first ingredient
Tailored to each dog
Meets protein and fat needs of energetic breeds
Click Here to Save 50%!

Best Value

VICTOR

Low calorie
Grain-free
High protein
Check Price

Premium Choice

Royal Canin

Contains protein and vitamins
Promotes digestive tract health
Easy to digest
Check Price

Best for Puppies

Pedigree

Contains DHA
Good flavor
Has vitamins and minerals
Check Price

Wellness

High protein
Easy to digest
Vitamin and mineral-rich
Check Price
The 6 Best Dog Foods For Australian Shepherds
1.

Ollie Fresh Dog Food Subscription – Best Overall
An Australian Shepherd is going to need food that will not only be of high quality but will be well suited to fit their abundant energy needs. Our best overall pick for the breed goes to Ollie's Fresh Turkey recipe. The first ingredient on the list is turkey, followed by kale, lentils, carrots, coconut oil, and turkey liver.
Ollie specializes in all-natural, premium pet food that is tailored to each of their four-legged customer's needs. Their recipes are free of artificial flavors, preservatives, and by-products and are made in human-grade kitchens.
Ollie is a subscription-only service that will deliver frozen, vacuum-sealed food right to your home, so you never have to worry about making a trip to the store. If left unopened and frozen, the fresh food can last up to 6 months, so make sure to create some room in the fridge and freezer for storage.
Fresh food can get a bit expensive, and owners of larger dogs had the most complaints about the expense and portion size. Subscription services aren't for everyone, but they are growing in popularity due to their convenience and it is super easy to cancel Ollie at any time if need be.
Their Fresh Turkey recipe provides a perfect ratio of protein to fat, being the highest protein fresh food recipe they offer. It is packed with essential vitamins and nutrients and is highly reviewed by dog owners claiming they noticed fewer digestive issues, shinier coats, and better overall health. It's a food that you and your Australian Shepherd are sure to love! Overall, we think that this is the best food for Australian Shepherds.
Real turkey is the first ingredient
Tailored to each dog
High-quality fresh food
Meets protein and fat needs of energetic breeds
No artificial flavors, preservatives, or by-products
Expensive
Requires storage in refrigerator and freezer
---
2.

VICTOR Dry Dog Food – Best Value
Our second choice is the best dog food for Australian Shepherds for the money. The VICTOR Dry Dog Food is a beef-flavored dry food that is easy to eat and digest. Made with grain-free ingredients, this option is full of essential vitamins and nutrients to keep your pup strong and energized.
The VICTOR dog food is especially beneficial for those pets with joint pain, weight issues, and those that need a low carb diet. That being said, there is plenty of protein to keep your pup moving, plus it has glucosamine and chondroitin for joint health.
One drawback of this food is that it is not all-natural. You should also be aware that it contains vegetable oil in the formula. Beyond that, pups love the flavor of this chow, and there are plenty of amino acids, prebiotics, and probiotics. Made in the USA, you can pick up the VICTOR dog food in 5, 30, or 50-pound bags.
Grain-free
High protein
Low calorie
Vitamin and mineral-rich
Easy to digest
Contains vegetable oil
Is not all-natural
---
3.

Royal Canin Dry Dog Food – Premium Choice
Our next option is formulated for medium-sized dogs and their digestive care. The Royal Canin Dry Dog Food comes in 5.5, 17, or 36-pound bags, and it works well with pups between 23 and 55 pounds. It is a healthy and nutritious meal for those pooches with sensitive stomachs.
This Shepherd chow is full of protein, fiber, and prebiotics. It also has antioxidants and no artificial flavors or preservatives. That being said, you want to consider that this option is not all-natural in the formula. It also contains by-product meals, corn, and veggie oil.
Besides that, Royal Canin is low in calories and has essential vitamins for your pup's health and well-being. Lastly, though it is clearly implied in the name, this food is very easy to digest.
Is not all-natural
Contains by-products, corn, and veggie oil
Recommended for medium breeds only
---
4.

Pedigree Puppy Canned Dog Food – Best for Puppies
The Pedigree Puppy Wet Canned Dog Food is our next option and is designed for young puppy Aussie's. This pooch cuisine contains DHA for brain health and development, plus it has calcium and phosphorus for a strong growing pet.
You can choose from a chicken and beef flavor or a lamb and rice option, both of which pups enjoy. That being said, this food does contain meat by-products, although real chicken, beef, and lamb are the first ingredients. The formula also consists of artificial colors and flavors, as well.
Made in the USA, Pedigree is not made with natural ingredients, plus it is lower on protein and higher on calories than other foods. Also, the wet consistency can give your pup severe gas and diarrhea.
Contains DHA for brain healthy
Good flavor
Has vitamins and minerals
Contains meat by-products
Lower protein
Higher calories
Is not all-natural
Contains artificial colors and flavors
---
5.

Wellness Core Dry Dog Food
When it comes to your Aussie, we believe the Wellness Core Dry Dog Food is the number one choice. This grain-free meal comes in their original turkey and chicken flavor, and it is packed with protein, antioxidants, and probiotics. This meal is a complete and balanced diet, plus it provides your pup with glucosamine and chondroitin for joint health.
You can purchase this dry food in a 4, 12, or 26-pound bag. The formula is comprised of 44 percent protein from the deboned turkey and chicken, and it does not contain any wheat, corn, soy, eggs, gluten, or artificial colors, flavors, and preservatives. What's more, the natural Shepherd chow has a low-calorie count.
Made in the USA, Wellness dog food has plenty of vitamins and minerals including omegas from flaxseed and salmon oil, taurine, plus all the ingredients are non-GMO.
All-natural
Vitamin and mineral-rich
High protein
Low cal
Easy to digest
No artificial ingredients
Extra happy Aussie kisses
---
6.

CANIDAE PURE Grain-Free Dry Dog Food
Our last option for your Aussie is the CANIDAE PURE Grain-Free Dry Dog Food that is grain-free without wheat, corn, soy, or artificial flavors, colors, and preservatives. The duck flavor is a particular favorite, yet it comes in seven other flavors for all stages of life.
This formula has healthy levels of probiotics, antioxidants, and omega 3 and 6 fatty acids. Made in the USA, it is a limited ingredient diet. So what is the downside? Unfortunately, this food is not a favorite of pups, even those with healthy "eat anything" appetites.
The limited ingredients have far more than ten ingredients as claimed (although many of those have health benefits), and it does contain chicken fat. Due to that ingredient, and others, there is a higher fat and calorie count for this Aussie chow. You should also be aware that one of the preservatives may contain wheat.
Beyond that, the CANIDAE PURE is hard to digest, has a history of making pets ill with stomach issues and allergies, and it will cause extreme bad breath. Furthermore, the bag itself, which comes in three different sizes, typically contains more crumbs and dust than kiddle bits. Finally, this is not a food recommended for pups with soft or sensitive teeth as the texture is quite hard.
Overall, this is not the food we would recommend for your Australian Shepherd.
No artificial ingredients
Contains vitamins and minerals
Hard to digest
Hard kibble bits
High in fat and calories
Can cause stomach issues and bad breath
Possible wheat particles
Bag contains mostly crumbs and dust

Buyer's Guide: Choosing the Best Dog Food for Australian Shepherds
Important Things To Know About Your Aussie
If you are the lucky owner of one of these energetic pups, you know how much energy they have and need to burn. Their instincts tell them to run and herd whatever and whoever is available. You can find them chasing behind cattle, ducks, kids, or even other dogs. If they were let loose at a concert, no one would ever be out of place.
Due to this natural desire to move, your Aussie's diet needs to be carefully chosen to ensure they are getting the right nutrients, vitamins, and minerals to support their active lifestyle. Take a look at the information below to see what ingredients are the most important.
Protein
Protein is an essential component for your pup. They need a lot of lean meat and other proteins to give their muscles the energy and strength to keep up with their instincts. Sources of good protein are chicken, beef, liver, and lamb. Fish also has a lot of protein, plus it contains fatty acids and omegas that can help the skin and fur.
Non-meat options are also possible, as well. Vegetables and healthy grains such as peas and brown rice are also a good source of this nutrient. Be advised, however, that peas have been linked to DCM (heart disease) in dogs. The FDA has done recent studies that show high consumption of peas and pea ingredients is problematic.
Also, some dogs do not tolerate grains well, although there are plenty of grain-free options available.
Low Calories
With such a high energy pooch on your hands, you want to stay away from foods and treats that are high in calories. Not only are these not the best energy-boosters, but they are not the healthiest choice. That being said, you want to avoid white flours and white potatoes, plus a lot of fruits, cheeses, and sugars. Formulas that contain vegetable oil and eggs can also have higher levels.
When it comes to calories, you want to make sure your pet is getting the healthy kind. Each pup needs around 25 calories per pound to maintain their weight. Ingredients such as beans, chicken, and salmon will have healthy calories. Also, keep in mind, everything is better in moderation.
Glucosamine
As your pooch is so active, they are likely to run into joint issues throughout their life. In fact, 65 percent of all dogs will develop arthritis later in life. Thankfully, there is something you can do to promote joint health and relieve pain. Supplements such as glucosamine and chondroitin will help prevent the breakdown of joint tissue.
Also, ingredients such as fish oil and fatty acids act as an anti-inflammatory that can help relieve pain. These ingredients also typically work better when they are combined together.
Do you have a dog that is already suffering from painful joints and low mobility? We have the answer with 10 of the best dog foods with glucosamine. Take a peek and relive some of your pal's pain.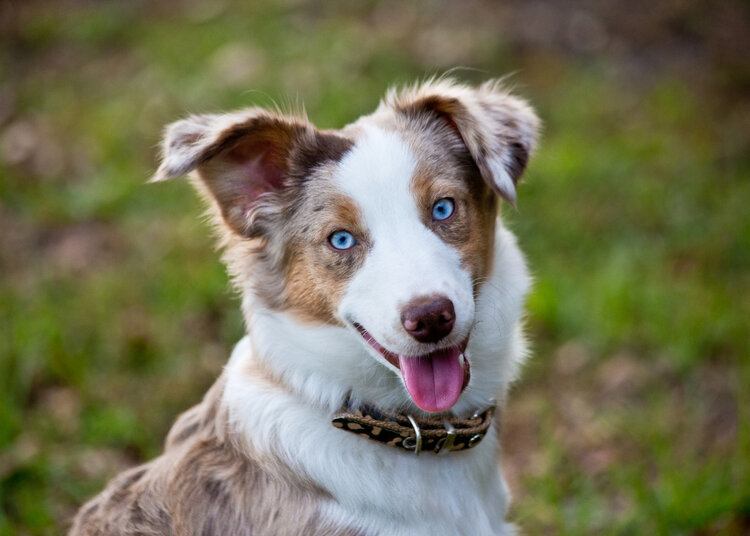 Probiotics
Have you ever heard that one of the best times to take your pup to the bathroom is right after playtime? That is because physical activity promotes the digestive system. As the Australian Shepherd is one of the most active breeds, you want to make sure their digestion is on the right track.
Probiotics are a great way to ensure everything is moving in the right direction. This natural nutrient adds healthy bacteria to the digestive tract while fighting the negative bacteria that can cause tummy issues. Some good ingredients to look for are garlic (in very small quantities), cheese, yogurt, bananas, apples, and eggs. Again, everything in moderation.
You may also want to consider food with additional probiotic supplements if your pup already suffers from a digestive issue.
Antioxidants
This last piece of the puzzle is essential for your Aussie's overall health and well being. Antioxidants promote the immune system and help fight off illness and other diseases including cancer. It can also help with their eyes and ears, too.
You can find these healthy nutrients in foods like pecans, some fruits, russet potatoes, and cabbage. Also, dried black and kidney beans are rich in antioxidants, as well.
Keep in mind, there are two types of antioxidants; natural and synthetic. When it occurs naturally, they can contain additional vitamins like C, D, and E. Synthetic varieties, such as BHA and BHT, can also be beneficial. Overall, though, these nutrients can have many health benefits for your pup.
Shopping Tips
Now that you know what to look for in dog food, there are a few other aspects you should be aware of in your choice of Shepherd chow. Let's take a look at the most important ones below.
Flavor: Just like humans, dogs can become bored with their food if they eat the same thing every day. When looking for a brand that will work for you, try to find one that has a variety of flavors so you can mix it up. Be advised, however, even switching from flavor to flavor can take some adjustment.
Wet vs. Dry: There is a great debate about which type of dog food is better. Both have positives and negatives that can vary depending on the manufacturer. Many pet owners feel a combination is best to give their pet a well-rounded meal. Keep in mind, though, if you start a puppy on a certain kind of food, wet for example, you want to continue with that choice. As mentioned above, switching can be tough on your pet's stomach. Also, many dogs are not inclined to switch from wet to dry, and you can have a hard time getting them to adjust if you feel the need to switch.
Real Meat: Another hot topic is regarding meat "meals". Some owners will not purchase anything with this ingredient, while others believe it is beneficial. As a general rule, however, real meat is usually the best way to go. If the food contains both, just make sure the real meat is listed before the "meal" so you know it is the higher concentration.
Sensitivities: Many dogs can have sensitivities to specific foods and ingredients. For Aussies, this is typically grains. If your pooch has shown signs of wheat intolerance, or they have a tough time with gluten, there are many grain-free meals available that will keep your pet strong and healthy without the tummy upset.
Omegas: Though we mentioned this before, Omegas such as 3 and 6 fatty acids are great for your furball's skin and fur. This is important as Australian Shepherds are prone to skin allergies and sensitivities that can be annoying, itchy, and even painful. Finding foods that are high with these ingredients like fish oil, can help reduce the symptoms.

Conclusion
In general, the Australian Shepherd is a great pet and friend to have. This active and playful furball has endless energy, intelligence, and love to share. As they are an important part of your family, we know how hard it can be to find the food that will meet all their nutritional needs.
We hope that the reviews above have helped narrow down the search for you if nothing else. If you need a quick fix, however, go with the Ollie Turkey Recipe which is the best food for your Aussie. On the other hand, if you need a more cost-efficient food, the VICTOR Dry Dog Food is our next best choice at a lower price.
See also:10 Best Dog Foods for Mini Aussies – Reviews & Top Picks
---
Featured Image Credit: gesango16, Shutterstock