9 Best Dog Foods for Beagles in 2023 – Reviews & Top Picks

You don't need us to tell you that your Beagle isn't like any other dog. Loyal, inquisitive, and smart as a whip, these pups are some of the best companions anyone could hope to have.
But they're also different from other breeds, and that extends to their nutritional requirements. You can feed them generic kibble, but if your dog doesn't get all the nutrition a Beagle needs, he won't be able to thrive the way he should.
Of course, it can seem like it takes multiple advanced degrees just to figure out what any dog needs to eat, let alone a specific breed, and there's certainly a lot of misinformation out there. In the reviews below, we've done our best to cut through all the confusion to find the best dog foods for your Beagle and his specific needs.
A Quick Comparison of Our Favorites in 2023
Rating
Image
Product
Details

Best Overall

Ollie Fresh Turkey Dog Food (Fresh Dog Food Subscription)

No artificial colors or preservatives
Made in the U.S.A.
Fresh, human-grade ingredients
Click to Save 50%!

Best Value

Whole Earth Farms Dry Dog Food

Filled with natural proteins
fruits
and vegetables
Includes probiotics for digestive health
No artificial preservatives or animal by-products
Check Price

Royal Canin Beagle Dog Food

Created specifically for Beagles
Designed to encourage slow eating
Includes healthy mix of fibers
Check Price

Best for Puppies

Royal Canin Dry Dog Food

Lots of protein and healthy fat
Kibble is small enough for puppies to chew easily
Antioxidants to boost immune system function
Check Price

Hill's Science Dry Dog Food

Good for weight management
Helps build powerful muscles
Filled with antioxidants
Check Price
The 9 Best Dog Foods for Beagles
1.

Ollie Turkey Dog Food (Fresh Dog Food Subscription) — Best Overall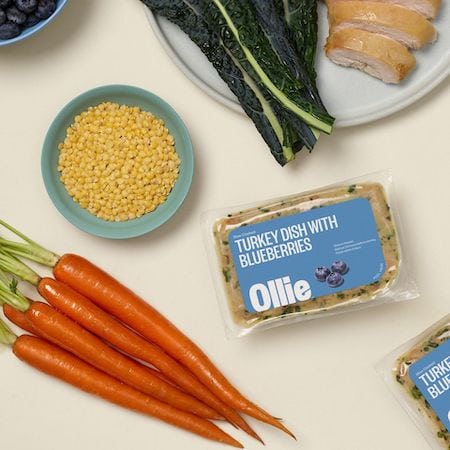 Ollie Fresh Turkey Dog Food is our pick as the best dog food for Beagles. It contains human-grade ingredients and lists turkey as its first ingredient. It has plenty of real fruits and vegetables, like carrots, kale, blueberries, pumpkin, and chia seeds. It's made in the United States and has no artificial colors or preservatives, and the cod liver oil provides healthy omega fats.
The only downside is that you must order it online because it is unavailable in most grocery stores, so you'll need to plan carefully so you don't run out between scheduled shipments. It is also more expensive than many common brands that are easier to find.
Real fruits and vegetables
No artificial colors or preservatives
Made in the U.S.A.
Fresh, human-grade ingredients
---
2.

Whole Earth Farms Dry Dog Food – Best Value
As you'd expect from a company with a name like "Whole Earth Farms," this dog food is designed to be as natural as possible. It doesn't have any artificial preservatives or animal by-products, and it tries to mimic a dog's natural diet. That means no corn, wheat, or soy, and plenty of chicken.
You can go a ways down the ingredients list before you get to anything resembling "meal," and the primary ingredients are real protein, fruits, and vegetables. You'll also see several probiotics listed, which can help aid with digestion.
It's surprising to find so many high-quality ingredients in a food this inexpensive, which is why Whole Earth Farms 85556 is the best dog food for Beagles for the money. Our one quibble is that it doesn't have any added glucosamine or chondroitin, which are helpful for dogs with joint issues.
That small oversight kept it from the top spot, but this is still an excellent food at a great price.
Filled with natural proteins, fruits, and vegetables
Includes probiotics for digestive health
Budget-friendly price
No artificial preservatives or animal by-products
Grain-free recipe
Lacks glucosamine or chondroitin for joint health
---
3.

Royal Canin Beagle Dog Food
Royal Canin 519506 has been specifically designed for Beagles, so it has everything your dog needs to grow strong and healthy. It's not cheap, but the peace of mind that comes with knowing you're giving your pup everything he needs to be healthy is well worth it.
The kibble itself was created to encourage slow, purposeful eating, so if your dog hoovers down food in seconds, this can help stop that (as well as the digestive issues that accompany it). Each bit was created with a Beagle's jaw shape in mind, making the pieces easier for them to chew thoroughly.
There are a mix of fibers inside each bag of Royal Canin. This helps your pooch stay full for longer periods of time and discourages overeating, while also ensuring that he enjoys regular, healthy bowel movements.
Beyond the price, the biggest negative we found with this food is the bag itself. It has an extremely flimsy zipper, so the food can quickly get stale if you don't put it in an airtight container. That's not much of a problem to be sure, but it's enough to relegate it to third on this list behind the top-shelf foods listed above.
Created specifically for Beagles
Designed to encourage slow eating
Includes healthy mix of fibers
Bits of kibble are easy for Beagles to chew
Pricier than some other options
Zipper on bag breaks easily
---
4.

Royal Canin Dry Dog Food – Best for Puppies
Royal Canin 493012 Mini is the only food on this list specifically designed for puppies, which makes it the ideal place to start if you just added a little furball to your pack. However, that also limits how high we can rank it, as your dog will naturally outgrow it when he's 10 months old.
It's filled with protein and healthy fat to give your pup the energy he needs to zoom around and explore while still growing big and strong, and it's chock-full of antioxidants for building a healthy immune system. The kibble is also small enough to be easily chewed up and digested by little mouths and stomachs.
You do need to be wary of overfeeding, though, especially since the fat content is so high. It's easy to give in when your dog starts begging, but doing so is a great way to have a fat puppy on your hands. Even overfeeding him once could lead to diarrhea and other digestive problems.
It's not a lifetime solution, but there are few better ways to start a puppy off on the right paw than Royal Canin 493013 Mini.
Designed specifically for puppies
Lots of protein and healthy fat
Antioxidants to boost immune system function
Kibble is small enough for puppies to chew easily
Not suitable for dogs older than 10 months
High fat content can lead to weight problems
May cause diarrhea if overfeeding occurs
---
5.

Hill's Science Dry Dog Food
Obesity is one of the biggest health problems facing Beagles, and Hill's Science Diet 2972 is excellent for weight management. It's designed to increase muscle mass, which can help boost metabolism.
Even better, it's made with natural ingredients instead of artificial flavors or colors. The first ingredient is chicken, so it's got plenty of protein to meet your Beagle's needs. It's also filled with the antioxidants necessary to build a healthy coat, nurture healthy skin, and promote superior digestion.
While it's fine as a dry kibble, it forms a nice gravy when combined with water, so you shouldn't have any issue getting your pup to eat it.
One thing to watch out for when switching to Hill's Science Diet is an increase in stool, due to its relatively high 11% fiber content. That's a good thing for your dog's digestive tract, but then again, he won't be the one outside with the Pooper Scooper.
If you're looking to switch your Beagle's food, we feel Hill's Science Diet is the best place to start.
Good for weight management
Helps build powerful muscles
Filled with antioxidants
Makes a tasty gravy when mixed with water
No artificial colors or flavors
Likely to increase bowel movements
---
6.

Purina ONE SmartBlend Dog Food
The first thing you'll notice is if you look at the ingredient list on this food is real meat, which means your dog will get plenty of high-quality protein in every bite. Unfortunately, the next few ingredients include things like chicken meal, rice flour, and corn gluten meal, which means your pup will also get low-quality filler in each bite, which could lead to weight problems down the road.
Of course, without all those fillers a dog food with real meat in it would cost a lot more, so it may be worth it. The chicken meal at least has glucosamine in it, which helps promote healthy joints.
Purina ONE SmartBlend includes bits of meaty morsels mixed in with the kibble, which is easier on teeth, making it a smart choice for older dogs. All that extra meat may be too much for Beagles with sensitive stomachs, though, so monitor your dog to make sure it doesn't give him diarrhea.
Overall, the extra high-quality protein in this food makes it a solid choice, but we're not comfortable ranking it higher until they cut back on the fillers.
First ingredient is real protein
Includes added glucosamine
Soft morsels good for older dogs
Has lots of low-quality filler
May be too rich for some animals
Can lead to weight problems without careful portion control
---
7.

Eukanuba 10144116 Adult Dog Food
This offering from Eukanuba bills itself as "adult maintenance" dog food, which means the manufacturer included everything a grown-up dog needs to stay lean and healthy. As such, it's not a good choice for puppies, as it won't have enough nutrition for their growing bodies, but it will likely have too much nutrition for senior dogs.
The individual bits of kibble are shaped in such a way that they dig down into your dog's gumline as he eats, which can help break up bits of plaque and tartar. That's a big deal, as dental problems can lead to much more serious issues down the line.
There's plenty of DHA and vitamin E inside each bite as well, which should help maintain healthy brain function.
Eukanuba included some interesting ingredients, like beet pulp, which gives this a unique taste (not to mention a strong odor). The downside is that many dogs turn their noses up at it, and all the nutrition in the world won't do your dog a bit of good if he won't actually eat it.
Designed to clear away tartar buildup
Lots of DHA and vitamin E
Not ideal for senior dogs or puppies
Finicky eaters may not like it
Has a strong odor
---
8.

Solid Gold Weight Control Dog Food
Solid Gold rides two main selling points to earn a spot on this list: the use of fish-based protein and a lack of potatoes.
Using fish brings with it plenty of omega fatty acids, which are good for everything from building a shiny coat to maintaining healthy eyesight. Meanwhile, many dogs have issues digesting potatoes, so omitting them should help sidestep issues like gassiness or diarrhea.
However, there's more than just fish in this food. They toss in some cheap animal by-products, which can cause some dogs to pack on the pounds. That's a strange choice for a food that bills itself as a "weight control" recipe. Some dogs also have negative reactions to the chicken fat inside it.
Given that the manufacturer is using cheap animal by-products, you'd expect the price to be lower, but no luck. As such, it's difficult for us to rank it any higher than seventh on this list.
Filled with omega fatty acids thanks to fish-based protein
Potato-free recipe
Includes cheap animal by-products
May lead to weight gain
On the pricey side
Some dogs may react negatively to chicken fat
---
9.

Taste of the Wild Premium Dry Dog Food
Taste of the Wild certainly lives up to its name, as it uses exotic protein sources like bison and venison rather than more conventional options like chicken or beef. These animals are known for being extremely lean and packed with protein, but they're also an unusual addition to most dogs' diets. As a result, you can likely expect some serious gas as your dog adjusts to this new food.
You won't find just exotic food inside, either. There's plenty of filler like chicken meal, egg product, and fishmeal baked in as well. Adding these cheap ingredients offsets some of the benefits you get from using proteins like bison and venison in the first place.
The exotic flavors can be off-putting to some dogs, especially if they've spent their entire lives munching on foods like chicken. It tends to dry out quickly if left in the bag as well, so you'll need to find a better storage solution.
You can offer your dog Taste of the Wild to see if he enjoys something a bit off the beaten path, but we think it's likely he'll prefer one of the more basic options listed above.
Uses lean, protein-packed meat
Includes cheap fillers and by-products
Many dogs won't care for the taste
Dries out quickly
May cause gas or other gastrointestinal issues

Buyer's Guide: Selecting the Best Dog Foods for Beagles
The idea of buying a breed-specific dog food may seem a little strange to you — after all, dog food is dog food, right? And dogs are dogs?
While there is some truth to that, the fact of the matter is that every breed has its own special nutritional needs, and Beagles are no different. If you give your Beagle a diet that's tailor-made to his specific requirements, you could potentially see all sorts of benefits, including more energy, better health, and a longer lifespan.
But what, exactly, does a Beagle need? And how are you supposed to find it in a sea of generic kibble? Understanding the answers to those questions requires understanding where Beagles came from, and how they differ from other breeds.
A Brief History of Beagles
For most of human history, dogs were bred and kept for specific purposes rather than companionship, and that's true of Beagles as well. They likely descended from dogs known as Talbot Hounds, which were popularized in the 11th century C.E. by the English king William the Conqueror.
These hounds were primarily used for hunting deer, and they had powerful noses that made tracking easy. There was one problem: they were very slow. This problem was solved by breeding them with greyhounds.
Birth of the Glove Beagles
The first Beagles were tiny little things, and they were so small they were called "Glove Beagles" because, well, they were about the size of a glove (people weren't very creative back then, apparently).
These tiny Beagles have since gone extinct, but in the 19th century a Brit named Reverend Phillip Honeywood developed the precursor to the modern Beagle. Honeywood wanted to create the perfect hare-hunting dog; this meant a strong nose for tracking over long distances, excellent stamina for all-day hunts, and a willingness to let the hunter kill the hare rather than the dog finishing it on his own.
Many of these characteristics live on in modern Beagles, as they have incredible noses, seemingly endless stamina, and a gentle nature with other animals and small children.
Of course, the need to stay on a scent trail for hours at a time also gave them a stubborn streak a mile long, but you probably knew that already.
What Does This Mean About the Modern Beagle's Diet?
If you imagine a dog that was designed to run, hunt, and track all day, you can start to get an idea of the kind of nutritional needs that dog would have.
Protein
Lots of protein would be at the top of the list. Protein breaks down slowly, giving your dog steady, long-lasting chunks of energy rather than the brief blasts of explosive energy found in high-carb diets. Beagles aren't sprinters; they're long-distance runners, and as such they need lots of slow-burning energy.
Look for a food with at least 25% protein content, preferably from a high-quality source like real chicken or turkey. Avoid foods that get most of their protein from "meals" or animal by-products, if at all possible.
Fats
Fats are also important, especially those filled with omega fatty acids, which are essential for building immune support, healthy skin, a luscious coat, and maintaining proper brain function. Ideally, the food you give your Beagle should be at least 15% healthy fats.
Notice we said healthy fats — that number drops dramatically if the fat is sourced from low-quality ingredients like tallow or lard. Look for ingredients like fish, poultry fat, and flaxseed oil.
Don't Cut the Carbs
Carbohydrates represent the final piece of the puzzle. We said above that you don't want to feed your Beagle a high-carb diet, and that's true, but the type of carbohydrates you feed your dog is as important as the amount.
Typically, Beagles don't do well with carbohydrates that are on the high-glycemic index (which means they burn quickly). Again, these dogs don't often need short bursts of speed. As a result, grains like wheat and corn typically don't agree with Beagles very well, and diets high in those grains can often lead to overweight dogs.
Instead, look for starchy veggies like sweet potatoes, brown rice, or carrots. These break down slowly, providing low levels of sustained energy rather than rapid bursts of hyperactivity.
An Important Thing to Note About the Modern Beagle
Understanding the history of the breed is important for learning the proper diet to feed your Beagle, and the above represents a good sketch of a well-balanced dog diet. There's one important thing to remember about this particular dog and its history, however.
Namely, Beagles were bred to be extremely active hunting dogs.
Their dietary needs are based on the assumption that they'll be chasing game in the fields all day, so if your Beagle spends more time watching TV than running around, those dietary needs can change quickly.
The Obesity Issue
The breed is prone to obesity, and that's because many Beagles eat like hunting dogs but act like couch potatoes. Did you ever read about Olympic swimmer Michael Phelps and his 12,000-calorie-a-day diet? He needed all those calories because to support an insane activity level. If he stopped working out so hard, he'd look less like an Olympic swimmer and more like, well, your dog.
Regardless of the diet you feed your Beagle, he needs lots of exercise. Most foods are designed with the expectation that the dogs that eat them will behave like regular dogs; if they don't, weight levels can quickly balloon out of control.
Obesity Leads to Other Health Concerns
And while you might think fat dogs are cute, being overweight is no laughing matter for a Beagle. The breed is already prone to issues like hip dysplasia, arthritis, and back issues, and carrying around extra weight only makes those problems worse.
If your dog is starting to pack on the pounds, you should still use the nutritional guidelines we posted above as a starting point, but err on the side of giving him more protein and less fats and carbs. Many foods will also have instructions on the bag for controlling portion sizes for overweight dogs, or you can ask your vet for a diet plan.
What to Avoid in a Beagle Food
Now that we've offered a brief primer on what to look for in Beagle chow, it only makes sense to warn you about the two biggest issues you should avoid as well.
The main thing to beware of is low-quality protein sources. Manufacturers know that protein is extremely important for a Beagle's development, so they try to pack their food with as much as possible so they can brag about the protein content on the label — but not all protein sources are the same.
In addition to being important, protein is also expensive.  Sourcing the animals for protein makes up the bulk of the manufacturer's expense (especially if they use exotic sources like bison), and some food companies try to cut corners by using proteins made from animal meals or by-products.
By-Products Can Be a Problem
The meat used to make those meals or by-products is extremely low quality, and can sometimes be downright disgusting — but it is cheap. However, a good rule of thumb is that you shouldn't feed your dog any meat you wouldn't eat yourself, and trust us, you would not eat animal meal.
Some animal meal or by-products can be ok, provided they're far enough down the ingredients list. Just make sure that the first ingredient is something like "chicken" or "beef," rather than "beef meal."
Avoid Filler
The other issue to be wary of is filler ingredients. These are often cheap grains like corn, cereal by-products, or grain husks. Like meals and animal by-products, these can be included to fill out the kibble while keeping costs low.
Most filler ingredients aren't dangerous, per se, but they offer little nutritional value and can often lead to weight gain. Also, some dogs have issues digesting them, so if little Rex has started leaving vapor trails behind him, you might need to cut grains out of his diet.

Conclusion
If you're looking for the best food for Beagles, we think Ollie's Fresh Turkey Dog Food is the best place to start. It has all the nutrients a healthy Beagle needs, including tons of antioxidants, and it's designed to maintain a healthy weight. Beyond that, dogs seem to love it!
For budget-conscious shoppers, there's Whole Earth Farms 85556. It uses all-natural ingredients with no artificial preservatives, and it's chock-full of probiotics for digestive health. Best of all, buying it won't put you in the poorhouse.
Finding the right food for your Beagle can be a daunting task, but we hope our reviews have helped to demystify the process a bit. The foods shown above should help your pooch stay healthy, active, and happy for years to come, so you can enjoy lots of quality time with your favorite furry person.
---
Featured image credit: ALEX_UGALEK, Shutterstock