6 Best Dog Foods for Border Collies – 2023 Reviews & Top Picks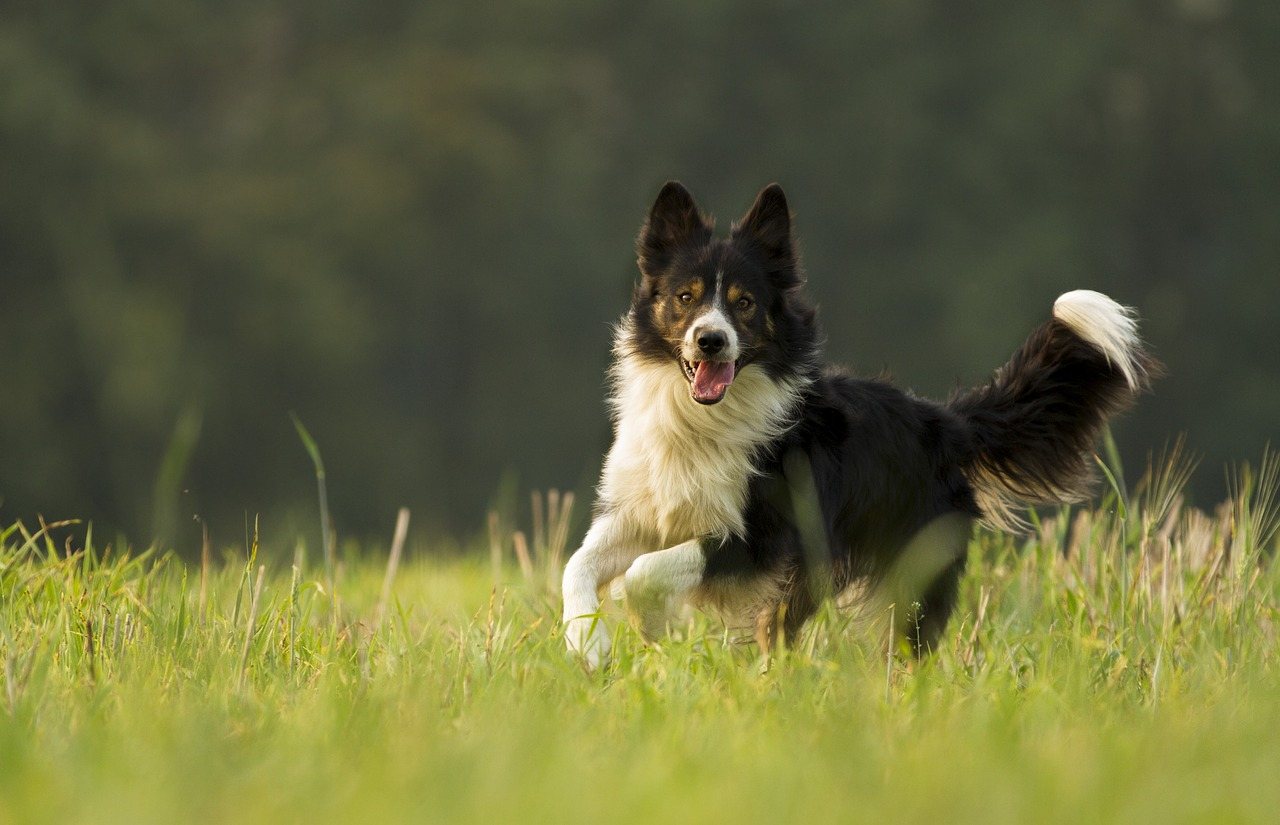 Border collies are great pets to have, though we know you are aware of this if you already own one. As one of the smartest breeds, they know how much you care for them, especially when you do so by providing them with optimal nutrition.
Keeping your dog healthy is essential for their well-being. This article features five reviews of the best dog foods for border collies, so you can help your dog live their best life. The buyer's guide at the end offers considerations to keep in mind before making your final decision on which food is the most ideal for your dog and fits your expectations.

A Quick Comparison of Our Favorites in 2023
Rating
Image
Product
Details

Best Overall

The Farmer's Dog Fresh Dog Food Subscription

Human-grade ingredients
Pre-portioned meals
Complete and balanced diet
Click to Save 50%

+ Get Free Shipping

Best Value

Purina Dog Chow Adult Dry

Affordable
23 vitamins and minerals
Made in the U.S.A.
Check Price

Wellness Core Grain-Free

High-quality ingredients
Protein-rich
Grain-free
Check Price

Best For Puppies

Eukanuba Puppy

Builds lean muscles
Balanced nutrition
DHA included
Check Price

Tuffy's Pet Food Nutrisource

Four life supplements added
High in protein
Helps digestion
Check Price
The 6 Best Dog Foods for Border Collies
1.

The Farmer's Dog Fresh Dog Food Subscription– Best Overall
The Farmer's Dog offers one of the freshest and healthiest dog food options on the market today. This dog food is complete and balanced, providing your dog with the freshest human-grade ingredients possible that are fit for human consumption. If you have a Border Collie, you know how many calories they can burn since they are often working and herding dogs or just being active in general. At The Farmer's Dog, they will formulate a meal plan based on your Border Collie's needs and activity level.
The founders formulated this fresh dog food with a team of top veterinary nutritionists to specifically design fresh dog food that provides all the nutrients dogs need to thrive. The food is also prepared in USDA-certified kitchens.
The pet food market has low safety and quality levels that can hide behind misleading labeling. Some even go as far as saying the food is "organic" or "natural." When you buy from The Farmer's Dog, your Border Collie will get real food with real ingredients and not overly-processed kibble.
The Farmer's Dog offers several different recipes: turkey, beef, and chicken. To get started, fill out your Border Collie's information, such as weight, age, current food, activity level, any health issues, and if your Border Collie has been spayed or neutered. They then formulate a plan based on that information. All meals are pre-portioned, and it's shipped right to your door.
This dog food service is expensive, and you'll need a subscription, but with the price comes the utmost nutrition for your Border Collie, making it the overall best dog food for Border Collies.
Human-grade ingredients
Pre-portioned meals
A complete and balanced diet
Delivered right to your door
Prepared in USDA-certified kitchens
More expensive than traditional kibble
---
2.

Purina Dog Adult Dry Dog Food — Best Value
Purina Complete Adult is the best dog food for border collies for the money because the recipe offers 100% complete and balanced nutrition at an affordable price. The primary ingredient is real beef, and the formula contains 23 essential vitamins and minerals. The food is made in the U.S.A. by the Nestlé Purina PetCare Company in St. Louis, Missouri. The company follows AAFCO procedures to meet complete and balanced nutrition for maintenance of adult dogs. The food is not ideal for high-performance dogs, but it supplies 21% crude protein, 10% crude fat, and 4.5% crude fiber.
The ingredients include whole-grain corn, poultry by-product meal, and beef fat as the primary ingredients. Unfortunately, beef is not number one, but the recipe supports strong muscles and immune health. It is ideal for all dog breeds, so it is a good choice for border collies. Purina takes pride in that every ingredient serves a purpose, and it uses high-quality ingredients.
Dogs find the food easy to eat and tasty, but this does not have high-quality protein as the number-one ingredient. But many appreciate the affordability of the Purina, especially when they own more than one dog.
Affordable
23 vitamins and minerals
Every ingredient has a purpose
Made in the U.S.A.
Ideal for adult maintenance
Tasty and easy to eat
Supports strong muscles
Supports immune health
Beef not number-one ingredient
---
3.

Wellness Core Grain-Free Dry Dog Food
Wellness is a gourmet dog food that uses high-quality ingredients that are grain-free and protein-rich to provide nutrients for leaner body mass and muscle tone, which is ideal for a border collie. The main ingredient is lamb and lamb meal followed by pea protein, chickpeas, flaxseed, fruits, and veggies that provide flavor, as well as essential nutrients that keep your dog healthy.
There are omega fatty acids for a healthy coat, antioxidants for the immune system, glucosamine for the joints, and probiotics for digestive health. Crude protein equals 33%, fat is at 15%, and fiber sits at 6%, which meets the nutritional levels established by the AAFCO Dog Food Nutrient Profiles for maintenance.
On the downside, this is a pricy product, so it sits in the third spot on our list. But dogs love the flavor combination and thrive when fed this formula. Wellness Core is made in the U.S.A. and backed by the Wellness Guarantee.
High-quality ingredients
Protein-rich
Grain-free
Lamb is the primary ingredient
Fruits and vegetables included
Glucosamine added
Tasty
Wellness guarantee
---
4.

Eukanuba Puppy Dry Dog Food — Best For Puppies
This lamb and rice recipe is formulated for medium-breed puppies to help build lean muscles and deliver 100% complete and balanced nutrition. It provides 27% crude protein, 15% fat, and 5% moisture, which meet the nutritional levels established by the AAFCO.
Lamb is the first ingredient, followed by brewers' yeast, chicken by-product meal, and corn meal. There are no fillers, and Eukanuba uses a specialized fiber system made from natural beet pulp and prebiotic FOS for healthy digestion. Fish oil offers a natural source of DHA to support brain and eye development. Finally, optimal levels of omega-6 and -3 fatty acids promote a shiny coat and healthy skin.
The kibble is small, and the lamb and rice make a tasty combination that is agreeable to most dogs. This formula contains ingredients that may not suit puppies with allergies or food sensitivities. However, Eukanuba offers a 100% money-back guarantee if you aren't satisfied with the product and will refund your money with proof of purchase.
Ideal for puppies
Builds lean muscles
Balanced nutrition
Tasty
Specialized fiber
DHA included
Supplies fatty acids
Money-back guarantee
Not ideal for allergies or food sensitivities
---
5.

Tuffy's Pet Food Nutrisource Dry Food
This recipe is ideal for adult dogs and features a high nutrient density that provides optimal nutrition for your border collie. Nutri Source uses four life supplements in each recipe that focus on health and longevity for your pet. Selenium is for brain health, Yea-Sac is for digestion and odor control, Bio-Mos is for gut health, and Bioplex is for skin and coat health.
The number-one ingredient is chicken, followed by chicken meal, brown rice, barley, and chicken fat. The recipe balances omega-3 and omega-6 fatty acids to promote heart health, while other supplements contribute to providing the best overall nutrition. The formula is tasty, and many owners notice a difference in their dogs, such as less gas and a shiny coat. The recipe does not contain fresh fruits and veggies, instead adding supplements for the needed nutrients.
On the downside, since this recipe contains chicken, grains, and brewer's yeast, it may not be ideal for dogs with food sensitivities and allergies. However, some reviewers found that it helped dogs who suffered from hot spots and digestive issues.
Four life supplements added
Natural ingredients
High in protein
Fatty acids for heart health
Helps digestion
Tasty
Improves coat and skin
May not be ideal for dogs with food sensitivities
---
6.

IAMS PROACTIVE HEALTH Adult Dry Dog Food
Iams Proactive Health is a high-protein food for active adult dogs that has quality ingredients and healthy fat to keep your border collie healthy. The main protein ingredients are chicken, turkey, and egg to help build muscle and provide energy. It contains 18% fat, so your active dog can maintain its ideal weight, while the amount of crude protein is 30%.
The recipe does not include fruits and vegetables; instead, it is formulated with essential minerals to maintain bones, joints, and heart health. L-Carnitine is added to help with a healthy fat metabolism, and the addition of whole grains is another great energy source. Chicken fat provides fatty acids to support healthy skin and coat, and beet pulp is full of fiber to support digestion.
There on no artificial preservatives, flavors, or fillers, but on the downside, Iams is a pricey product.
High protein
High fat
Essential minerals included
Fatty acids for skin and coat
Plenty of fiber
No artificial ingredients or fillers
Provides energy for active dogs
Related Read: Best Dog Foods of the Year

Buyer's Guide: Finding the Best Dog Foods for Border Collies
When searching for the right food for your border collie, there are a few things to keep in mind. If you take into consideration the activity level of your dog, the ingredients, common ailments of the breed, and price, then you will be moving in the right direction to find the best dog food for your Border Collie. Let's look at considerations first and tips for ensuring optimal health and vigor so your dog can live a healthy and vibrant life.
Considerations
Activity Level
Border collies are known as working dogs. Though not every border collie will be used in this manner, they are still highly active, and to keep them lean and fit, they need regular exercise. Each stage of life will require different amounts of calories and nutrients, though the types of nutrients remain relatively the same. It's best to feed your puppy a food that is specifically made for puppies and then transition to adult food at the appropriate time.
You know that your border collie isn't happy sitting on the couch all day, so providing plenty of stimulating and vigorous exercise every day is a must. You will want a complementary food that delivers high-quality ingredients formulated for providing energy.
Ingredients
The ingredients list is the most important factor to look at when choosing food. A balanced diet includes protein, carbohydrates, fat, fiber, and vitamins and minerals. Fillers and artificial ingredients should be avoided. Fortunately, border collies typically don't suffer from many food allergies or sensitivities, so you have a wider variety of formulations to choose from.
Protein
Protein provides essential amino acids that help build strong muscles while supplying needed energy to get through the day. Opt for high-quality protein sources such as meat and meat meal — keep in mind that meat meal contains a higher amount of protein than fresh meat.
Fat
Fat is an essential nutrient to keep your border collie's skin and coat healthy, as well as provide needed energy. Fats are easy to digest and make the food more enjoyable to eat. Don't forget about fatty acids too, such as those from fish oils and flaxseed. Fatty acids also support immune function and are essential for normal growth and reproduction.
Calories
Border collies will use a high number of calories because they are active and have high metabolisms. The average adult dog will consume 1000 calories per day while an active, working dog can require up to 1,400 calories.
Carbohydrates
Complex carbohydrates such as whole grains provide another source of energy and fiber to your dog's diet. Fiber keeps your dog full and aids in digestion. Carbohydrates add palatability to the food and provide structure and texture to the kibble to reduce tartar buildup on your dog's teeth.
Vitamins and Minerals
Calcium is an important ingredient for active dogs to keep their bones strong, while other nutrients play an important part in keeping your furry friend healthy. Vitamins E and C support the immune system, and other minerals such as phosphorus and magnesium prevent deficiencies.

Common Ailments of Border Collies
Your dog may or may not suffer from common ailments, but it is good to know what are the most common. Healthy diets provide a strong base to help prevent problems from occurring in the future.
Hip Dysplasia: Due to their active nature, collies with joint problems are not uncommon. Calcium and glucosamine are both examples of ingredients to help maintain healthy joints and bones.
Eye concerns: Providing nutrients that support the eyes in the puppy stage is essential to maintaining eye health throughout a collie's life. Some issues are genetic, but it doesn't hurt to provide DHA to your puppy to support healthy eye development.
Epilepsy: If your border collie suffers from epilepsy, the proportion of protein, fat, and carbohydrates in their food can affect prescribed medications. This would be something to talk to your veterinarian about to make sure you are supplying the correct food.
Price
It can be expensive to feed your dog a gourmet dog food, especially when you have more than one. If you know what nutrients your border collie requires, you can then search for a food within your budget. Providing a high-quality diet may prevent illnesses and other ailments that would cost more in the long run.
Tips for Feeding Your Border Collie
Though allergies aren't common in collies, they can still occur, so know the signs of food allergies and sensitivities.
Most adult dogs require two meals per day.
Many border collies will overeat if food is available at all times. Thus, automatic feeders aren't recommended.
Don't forget that a fresh supply of water is important for keeping your dog healthy.

Conclusion
It can be difficult to find the ideal food for your border collie. There are many brands and formulas available, so it can be overwhelming. We put together this reviews list of the top five dog foods to help you narrow down your search.
Our top pick for the best dog food for Border Collies is The Farmer's Dog Fresh Dog Food, offering several different recipes: turkey, beef, and chicken. Purina Adult Dog Chow is the best value because it is affordable and offers 100% complete and balanced nutrition for adult dogs.
We hope this list is helpful to you and that the buyer's guide offers insight into what to look for in a quality dog food for a Border Collie. We know that your dog is important to you, and by providing optimal nutrition, you are showing them how much you love them.
---
Featured Image Credit: Jacqueline Galand, Pixabay