9 Best Dog Foods for Corgis in 2022 – Reviews & Top Picks
There's just something about Corgis. Maybe it's their bold, unique individuality. Or the fact that they're just so stinking cute. Whatever it is, they've got it.
And their quirky adorableness has taken the world and pop culture by storm. It seems that Corgis are just about everywhere. From countless Instagram appearances to writing books with Stephen King, or even hanging out with the Queen of England, this breed is exceptionally popular and seemingly built for media attention.
But in order for your Corgi to be at their best, they need a healthy nutritious diet. So what's the best dog food for Corgis? We've put together a list of reviews to help you decide which is the right option for your little tyke and a buyer's guide to explain what you should be paying close attention to when shopping for new dog food.

A Quick Comparison of Our Favorites in 2022
Rating
Image
Product
Details

Best Overall

Ollie Fresh Dog Food

Subscription can be customized
Wet and dry food options
Starter box is discounted

Best Value

American Journey Active Life

Good protein level
Made with quality grains
Good fiber levels

Best for Puppies

Blue Buffalo Freedom Puppy

Grain-free
High protein content
Good source of omega fatty acids

Taste of the Wild High Prairie

Full of great protein sources
Relatively low-fat
Good source of probiotics

Rachael Ray Nutrish

Decent protein and fat content
Lots of veggies
Affordable
The 9 Best Dog Foods for Corgis
1.

Ollie Fresh Dog Food – Best Overall
Dog foods from Ollie are the best overall dog food for your Corgi. Ollie operates on a subscription basis, and your subscription can be completely customized to meet your dog's individual needs. They offer a starter box at a steep discount, which allows you to try the different recipes to see what your Corgi likes best. They offer wet and dry food options in
various proteins, so there's almost guaranteed to be something perfect for your dog.
To get started, you'll fill out a survey of information about your dog, including their age, weight, and activity level. Then, Ollie will make recommendations based on your dog's needs and preferences, but you can further customize your order as you please.
They offer grain-free and grain-forward foods, allowing you to make the best decision for your dog. Some of their recipes do contain peas, though, and grain-free foods containing legumes and potatoes have shown a potential link to heart disease in dogs. It's important to discuss this with your vet before switching your dog.
Subscription plan
The starter box is discounted
Wet and dry food options
Subscriptions can be customized based on your dog's needs and preferences
They offer grain-free and grain-forward options
Some recipes contain legumes
---
2.

American Journey Active Life Formula Dry Dog Food – Best Value
While we were crazy about the Taste of the Wild choice above, there's another selection that was super close when it came to taking our top spot. And that's American Journey Active Life Formula Dry Dog Food. Not only is it healthy and nutritious, but it's the best dog food for Corgis for the money. It's definitely tough to find dog food as good as this one at its price.
The number one listed ingredient for this American Journey blend is deboned salmon. This salmon not only provides an excellent source of protein but also omega-3 and omega-6 fatty acids as well. It is, however, not grain-free. But the grains listed are not filler ingredients. As a matter of fact, the grains provided are of a much healthier nature including brown rice and flaxseed. Flaxseed in particular is a very critical ingredient in this blend for keeping your dog's coat healthy and shiny.
And while the protein count (25%) isn't as high as the Taste of the Wild, we do appreciate that it has a higher fiber count at 6% compared to Taste of the Wild's 3%. Honestly, the biggest thing that kept it out of our top spot is that it's a fish-based food. This type of formula tends to carry a very distinct, unpleasant smell with it. However, if you prefer to feed your pup a fish-based diet and are acclimated to the smell, this may easily become the number one contender for you.
Good protein level
Good fiber levels
Made with quality grains
Affordable
---
3.

Blue Buffalo Freedom Puppy Grain-Free Dry Dog Food – Best for Puppies
Looking for the best food for Corgi puppies? Another brand known for its quality dog food is Blue Buffalo. And their Freedom Puppy Grain-Free formula is no exception to how they conduct business. This blend is 100% grain-free and gluten-free and doesn't contain any filler ingredients. The number one ingredient featured is deboned chicken followed by chicken meal. The chicken is further supplemented in the blend by turkey which makes this another protein bomb.
Blue Buffalo Freedom Puppy contains 30% protein and 18% fat. This allows for your growing pup to develop good lean muscle while putting on enough fat to ensure their body has the energy it needs. And while it doesn't contain any grains, there's a 5% fiber content stemming from the addition of tapioca starch, potatoes, and flaxseed.
Blue Buffalo also ensures your pooch gets a healthy supply of omega fatty acids (both 3 and 6) through not only the flaxseed, but by added fish oil as well. This will keep their coats nice and shiny while promoting a healthy heart and top-notch brain function. However, this specialty puppy food can get to be quite expensive. And if your puppy doesn't quite like it, you're out a decent chunk of change.
Grain-free
High protein content
Good source of omega fatty acids
---
4.

Taste of the Wild High Prairie Grain-Free Dry Dog Food
There are few dog food brands out there that are trusted to be as high quality as Taste of the Wild. And in this particular blend, your Corgi can have it all without sacrificing any nutrition or flavor. The number one ingredient listed on this food is buffalo followed by lamb, chicken, and sweet potatoes. The food stays true to its word and provides a high protein content (at 32% minimum) while maintaining a grain-free formula.
And while there isn't as much fiber in this blend as there is in others, that's alright because of the addition of easily digestible fruits, vegetables, and roots. The sweet potatoes, dried chicory root, yucca, and potato proteins found within this food provide your pup with probiotic support alongside popular superfoods such as blueberries and raspberries.
And while the formula is slam-full of protein sources (including buffalo, chicken, lamb, bison, and venison), it remains relatively low-fat at only 18%. Taste of the Wild has also incorporated different omega-6 and omega-3 fatty acids in their blend. This helps to keep lean muscle on your pup while polishing and maintaining a bright, healthy coat. All-in-all, this is a top-notch dog food well-worth checking out for any Corgi parent.
Full of great protein sources
Grain-free
Packed with healthy fruits and vegetables
Good source of probiotics and easily digestible
Relatively low-fat
Plenty of omega-3 and omega-6 fatty acids
---
5.

Rachael Ray Nutrish Natural Dry Dog Food
Rachael Ray Nutrish has really started to make waves in the dog food community. It's an all-natural formula that has US-farm raised chicken as its number one ingredient and is affordable for folks from all walks of life. As far as pricing goes, it easily competes with many of the big box store brands but contains double the nutrition.
This particular blend contains a 26% protein content with 14% fat. It's not at the top of the class, but it's still a decent register. It's not grain-free, however, it doesn't contain any wheat or wheat gluten, providing a more healthy source of fiber for your pup. The blend also focuses heavily on vegetables including two American staples: peas and carrots. These two veggies in particular will provide your Corgi with most of the vitamins and minerals they need to thrive.
Rachael Ray Nutrish isn't the best at any one thing. It doesn't have the highest protein count, lowest fat, highest fiber, or most specialty nutrition. Instead, the food provides a good all-around meal that'll ensure your dog's well-being and do so at an affordable price.
Farm-raised chicken is the number one ingredient
Decent protein and fat content
Lots of veggies
Affordable
Not the best in any one category
---
6.

Hill's Science Diet Adult Small Bites Dry Dog Food
If you're into specially crafted science diets, you'll definitely appreciate Hill's Science Diet. In their Adult Small Bites formula, they've created a food geared directly towards small breeds and all of the required nutrition these pups need to be at their very best. Even the size of the kibble has been designed to allow for maximum crunchiness with minimal effort.
One thing to note, however, is the amount of filler and grains within the ingredient list. While the first ingredient is chicken, the list is immediately followed by barley, wheat, corn, sorghum, corn gluten, and soybean meal. It isn't until after all of those grains we see another protein source in the form of chicken fat. And for all of that grain and filler, there's only a 4% max fiber count.
But those fillers are needed to help act as binding agents for all of the added extra vitamins and minerals injected into this food. Hill's Science Diet easily has the highest amount of extra added vitamins and minerals, including omega-6 fatty acids, than any other brand on this list. And after the addition of the extra vitamins and minerals, the ingredient list rounds out with natural elements such as apples and broccoli. If your pup needs those extra vitamins and minerals, then Hill's Science Diet is the right way to go. Just be warned. It's far from the cheapest option on this list.
Full of vitamins and minerals
Perfect bite-sized kibble for small mouths
Lots of omega-6 fatty acids
Expensive
Low protein
Low fiber
---
7.

Merrick Grain-Free Dry Dog Food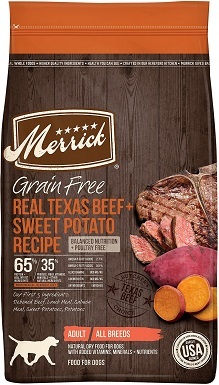 As far as our list is concerned, this is the most expensive offering here. But that doesn't mean you should dismiss it right away. It's the only beef-centric dog food on this list, which explains most of its price. As a grain-free option, Merrick Texas Beef and Sweet Potato blend has a much higher protein measure than many others, sitting at a minimum of 34% with a crude fat of 15%. This food actually has more protein and less fat than our number one pick.
However, we really wish it had some more fiber to help justify the price point. At only 3.5%, we feel that there could definitely be more. And there's not really any big focus on healthy fruits and veggies inside the blend. It's as if this meal was blended for the purpose of helping your dog beef up and eat clean.
That being said, if your dog does need to bulk up with lean muscle, Merrick is the way to go. Feeding your dog this food along with a steady exercise regimen will probably get them in some of the best shape of their lives. And if you plan on entering your Corgi into any agility contests or shows, that's exactly where they need to be.
Huge protein percentage
Low fat
Low on fiber
Low on extra nutrition
Very expensive
---
8.

Wellness Complete Health Adult Dry Dog Food
Wellness Complete Health is another expensive choice on this list. Instead of a beef-centered formula, this blend's number one ingredient is lamb — another costly base protein. However, unlike the Merrick where bulk protein is the name of the game, Wellness settles for a lower protein count in general for a higher absorption rate. They utilize multiple sources of protein, including fish and chicken, to stimulate your pup's body into accepting more of the protein despite the food only having 24% content.
It also has the lowest fat content out of any other food on this list, making it great for obese dogs. As you may have guessed from your pup's eating habits, Corgis are extremely prone to obesity. So, to help minimize that risk, a low-fat diet such as Wellness Complete Health can be a lifesaver.
However, due to a large amount of fish and mixed proteins, the food gives off a funky aroma. And some dogs might not like this. Wellness Complete often gets rejected by picky eaters. However, it's a great option if you can afford it and your dog takes well to it.
Low fat
Multiple protein sources
Good for obese pups
Fishy smell
Not good for picky eaters
Expensive
---
9.

Iams ProActive Health Adult MiniChunks Dry Dog Food
If you're looking for standard run-of-the-mill dog food, we recommend Iams ProActive Health Adult MiniChunks. The number one ingredient listed is chicken — not chicken meal, which is a good sign. And Iams has a protein content of 25% minimum and a fat content of 14%. This is better than some of the more premium brands listed above.
The blend has also been formulated with special fibers and probiotics to promote your pup's gut health and antioxidants for a much needed immune system boost. And the kibble is specially designed to better fit smaller mouths like those of your Corgi.
Where Iams falls flat is with filler ingredients — there is a bunch of whole grain, ground corn, and ground whole grain sorghum in this mix. This does little more than provide empty nutrition and a feeling of fullness in your pup. We'd rather minimize the amount of bulk filler in our dog's diet. However, the Iams ProActive Health blends come with an extremely attractive price tag which makes it a viable option if Rachael Ray Nutrish isn't available.
Cheap
Good protein and fat percentages
Full of fibers and probiotics
Bite-sized kibble for small dogs
Lots of filler ingredients
Lesser quality
---
Buyer's Guide: Selecting the Best Dog Food For Corgis
When it comes to selecting the best dog food to feed to your Corgi, there are a few different areas of concern you want to look at.
Protein
Protein is among the most essential elements that should make up your dog's diet. Your dog requires 22 different amino acids; however, they can only produce about half of them. The rest must be acquired through the food they eat.
Protein helps your pup's cells build and replicate, produce hormones, develop antibodies, and much more! The amount of protein your dog will need throughout life varies at different stages, typically requiring more when they are younger.
Fat
Having a healthy fat intake is extremely important for your dog. They provide a dense source of long-term stored energy that keeps them going throughout the day. Also, a proper balance of fat in their diet helps them to keep their nails strong, skin healthy, and coats bright and shiny.
Fiber
Fiber is absolutely essential to a dog's wellbeing and gastrointestinal health. By eating foods high in fiber, your dog can help stave off diabetes, colitis, irritable bowel syndrome, and obesity. Not only that, but fibrous foods are also high in carbohydrates, which give your pup short-term energy to do important things like play and chase the mailman.
Other Nutrition
Aside from protein, fat, and fiber, dogs require other vitamins and minerals to keep their bodies going. They need probiotics for gut health, antioxidants for their immune system, and omega fatty acids for heart, brain, and coat health. Look for a dog food that's rich in these extra nutrients. You'll typically find these in larger amounts in science diets such as Hill's above.
Grain-Free
Dogs, by nature, are carnivorous. Through the years, their domestication has led them to become more varied in their diets, but at heart, they're still meat-eaters. And this means that everything they eat needs to count. Grains, while often high in fiber, sometimes add little more than filler and fluff to a dog's diet. We recommend avoiding grains altogether or at least minimizing when possible. Grain-free blends are often more expensive than their standard counterparts.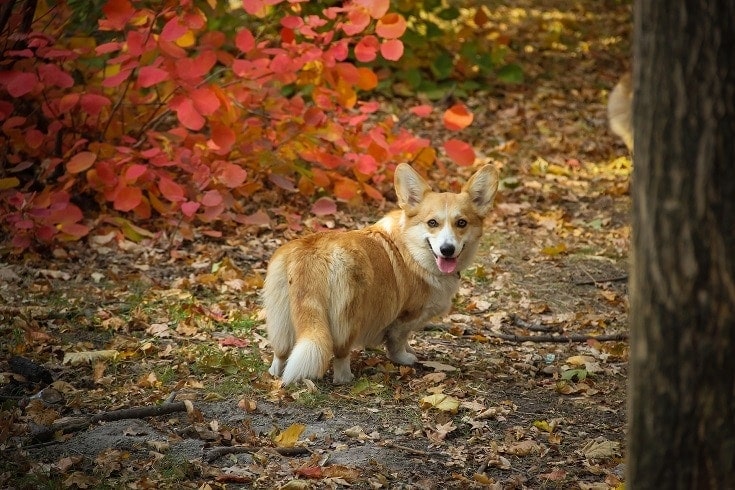 Price
You're going to want to monitor the amount of money you're spending on your pup's food. And it's not just a one-time deal either. Remember, you're going to have to feed your dog this food on a continuous basis. So, consider if you can afford their selected meal plan long-term. If you're not happy with the price, we recommend finding something a bit cheaper.

Conclusion
There's a bunch of different options out there when it comes to choosing the best dog food for your Corgi. But hopefully, these reviews have helped you cut through the competition and find the right one for your dog.
Our favorite choice goes to Ollie Fresh Dog Food. It's full of many real sources of varied protein and it's got tons of other natural resources full of that extra nutrition.
However, if you're looking for the best dog food for the money for your Corgi, check out American Journey Active Life Formula. The blend's packed full of everything your pooch needs to live a happy, healthy life at an affordable price.
---
Featured Image Credit: Michel_van_der_Vegt, Pixabay