8 Best Dog Foods for Dachshunds in 2022 – Reviews & Top Picks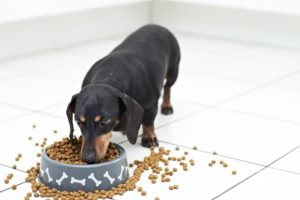 Did you know dogs have been domesticated for over 16,000 years and it wasn't until the 1860s that the first commercially prepared dog food was introduced in England? Science is focusing more on dog nutrition so we can help our canine friends feel vibrant and healthy throughout their lives.
This reviews guide was developed to help you find a dog food that will provide optimal nutrition for your Dachshund. To prevent certain health issues, we need to include certain nutrients in their diet. The seven dog foods listed here will give you a great starting point to finding the perfect dog food. Read through the buyer's guide to learn more about what to look for in the ingredients and to better understand how to provide optimal nutrition.

A Quick Comparison of Our Favorites of 2022
Rating
Image
Product
Details

Best Overall

Ollie Fresh Dog Food

Each recipe is formulated with the help of veterinarian
Ideal for dogs that are picky eaters
Specialized meal plan

Best Value

Nature's Recipe Dog Food

Affordable
Chicken based
Grain-free

Royal Canin Dachshund Dry Food

Specially formulated
Improves digestive health
Reduces plaque and tarter

Best for Puppies

Royal Canin Dachshund Dog Food

Easy to chew
Improves digestive health
Develops immune system

Blue Buffalo Life Dog Food

Grain-free
high-quality ingredients
Easy to eat
Supports joints
The 8 Best Dog Foods for Dachshunds
1.

Ollie Fresh Dog Food – Best Overall
The best overall dog food for Dachshunds is from Ollie. This is a subscription-based dog food that delivers dog food straight to your door. Ollie has a variety of different dog foods available such as fresh and baked dog foods, and a mix of both. Ollie dog food is not available to purchase in-store which means that you can only get it by subscribing to the website to have the food delivered.
Ollie requires you to complete a quiz about your dog to find out more information on their breed, dietary requirements, and any allergies before you can find a recipe on their website that is best suited for your dog.
The recipes themselves include a variety of different flavors (beef, chicken, turkey, and lamb) and textures that are each vet-formulated and contain human-grade ingredients. You get to choose a meal plan for your Dachshund while purchasing high-quality foods that are more affordable than other subscription-based dog food services.
Budget-friendly subscription service
Specialized meal plan suitable for your dog's needs
Each recipe is formulated with the help of veterinarians
Ideal for dogs that are picky eaters
Only available online through the website
---
2.

Nature's Recipe Dog Food – Best Value
Nature's Recipe is the best dog food for Dachshunds for the money because it offers plenty of nutrients within the food while staying at an affordable price. Chicken is the number-one ingredient in this mix. It is grain free with no added corn, wheat, or soy. Also, there are no artificial colors or flavors if you prefer to keep these from your dog's diet.
We like that it contains sweet potato and pumpkin, which is a flavor combination that dogs seem to love. The kibble is small and easy for your dog to chew, and the option of a 4-lb. bag is nice so the food doesn't go stale.
This formula also has antioxidants and other ingredients to help with maintaining healthy digestion, though there is no mention of probiotics, which is why this dog food did not reach the number-one spot on our list. However, dogs like the taste of this food, and it works well for dogs with allergies.
Affordable
Chicken based
Grain free
No artificial colors or flavors
Easy to chew
Antioxidants
---
3.

Royal Canin Dachshund Dry Food
For a dog food that is specially formulated for the Dachshund, look no further than the Royal Canin. It is ideal for Dachshunds older than 10 months and younger than eight years. The size of the kibble is perfect for this breed, as it's easy for them to pick up and to chew. Dachshunds love the flavor, and it will also help limit tartar formation and reduce dental plaque.
The ingredients focus on improving muscle tone, supporting bone and joint health, and promoting healthy bowel movements with odor reduction, which are common concerns to Dachshund health. It contains a moderate amount of chicken by-product as the main ingredient. On the downside, this product is not grain-free and is pricey, which is why it does not reach the first two spots on the list.
This company has been in business for over 40 years and is committed to providing healthy nutrition to all dogs by partnering with veterinarians, breeders, and other pet experts.
Specially formulated
Perfect kibble shape
A company committed to nutrition
Reduces plaque and tarter
Great for muscles
Supports bone and joints
Improve digestive health
---
4.

Royal Canin Dachshund Dog Food – Best for Puppies
The Royal Canin is formulated to meet the nutritional needs of Dachshund puppies from eight weeks to 10 months old. The kibble is just the right size for their little mouths and is easy for them to chew. Puppies love the chicken flavor.
We like that this product is made to help develop the immune system of your pup by using a mixture of antioxidants that are ideal for increasing the body's natural defenses. Bone and joint health are a priority for Dachshunds, so it is best to start offering appropriate levels of calcium and phosphorus at a young age. There is plenty of fiber and highly digestible proteins in this product to promote and support digestive health.
On the downside, this is not a grain-free formula, but the company stands by its products and offers a 100% satisfaction guarantee. This puppy food is on the pricey side but comes in a small 2.5-lb. bag that is sure to stay fresh.
Formulated for puppies
Easy to chew
Improves digestive health
Develops immune system
Great for bone and joints
Satisfaction guarantee
---
5.

Blue Buffalo Life Dog Food
Blue Buffalo is known for its high-quality ingredients. This formula is made from whitefish, which provides protein, and brown rice, for whole-grain fiber. It also includes a variety of vegetables and antioxidant-rich fruit.
It is corn, wheat, and soy free with no artificial flavors or preservatives. The size of the kibble is a perfect size for a Dachshund and is easy to chew. The company cold-forms the kibble to help maintain the potency of the ingredients.
The key benefits of this product are that it supports joint function and mobility and is ideal for dogs with higher energy needs. It is made in the U.S.A., so you know that safety and quality are high priorities for this company. On the downside, this food has a strong fishy smell that can be overpowering at times and cause your dog to have a strong odor on their breath.
High-quality ingredients
Grain free
Easy to eat
Supports joints
Meets energy needs
Kibble is cold-formed
---
6.

Taste of The Wild Dog Food
This food is ideal for small breeds like Dachshunds because the kibble is just the right size for their little mouths. The main ingredient in this product is pasture-raised venison, and it also includes the company's own special blend of probiotics that help keep the digestive tract healthy. It is a grain-free formula that uses garbanzo beans for added protein and fiber and adds other antioxidants such as peas and fruits.
We like that Taste of the Wild is a family-owned company and that the food is made in the U.S.A. with globally sourced ingredients. You won't find any fillers, preservatives, or artificial colors and flavors in this product, so you know that you are feeding your dog a nutrient-rich and highly digestible food.
Dogs like the flavor and the kibble pieces themselves aren't too hard, so it is easy for your dog to chew. This mix has 32% protein and 18% fat, which is plenty for daily requirements. On the downside, the company doesn't offer different flavors for small breed dogs.
Easy to chew
Venison is the main ingredient
Probiotics and fiber
Antioxidants
Family owned
Made in the U.S.A.
Grain and preservative free
---
7.

Wellness 89110 Health Dog Food
Wellness dog food offers complete health for small breeds, with an adult formula that contains turkey and oatmeal as the main ingredients. It does not have meat by-products, fillers, or artificial preservatives. This dog food focuses on providing enough protein for high-energy dogs, while building strong muscles. It contains omega 3 fatty acids and salmon oil to promote skin and coat health.
We like that it is grain, corn, and soy free, made in the U.S.A., and backed by a Wellness Guarantee. There are blueberries for antioxidants and flaxseed that supports digestive health. The downside of this product is the shape of the kibble. It is triangular shaped, so some dogs have had problems with the food getting caught in their esophagus, which causes them to cough.
Offers complete nutrition
No fillers
Promotes healthy skin and coat
Grain free
Contains antioxidants
Flaxseed for digestion
---
8.

Nutro Essentials Dry Dog Food
This dog food is a more affordable option for small breeds. Farm-raised chicken is the main ingredient, along with plenty of brown rice and sweet potatoes to provide whole grains and plenty of nutrients.
The formula also includes fruit and vegetables and is made from non-GMO ingredients. We like that this food helps with digestion in addition to promoting healthy skin and a soft, shiny coat. Another plus is that the company partners with farmers to source high-quality ingredients and offers a satisfaction guarantee.
There's no wheat, corn, or soy protein, and you won't find any artificial preservatives, flavors, or colors in Nutro dry dog food either. One negative aspect is that many have reported that their dog doesn't like the taste of this food and refuses to eat it.
Chicken is the main ingredient
Contains whole grains
Fruits and veggies included
No wheat, corn, or soy
No artificial flavors or colors
---
Buyer's Guide: How to Choose the Best Dog Foods for Dachshunds
You may be wondering what the best formulation of dog food is for the Dachshund. This breed has particular needs that need to be met in order for them to stay healthy and live life to the fullest. This buyer's guide will go over the basic dietary requirements for the Dachshund. However, we recommend that you follow up with your veterinarian with in-depth questions regarding your dog's nutrition needs.
Dachshunds are a high risk for spine issues, have sensitive stomachs, and need plenty of muscle strength in their legs to hold up their long bodies. Dog foods that focus on these health problems will be the most ideal for your dog.
Nutrients That Your Dachshund Requires
Protein
This is one of the most important ingredients because it is the building block for muscles. Meat and fish are both great sources of protein, though your dog can also receive protein from legumes and vegetables. In any case, the protein source should be listed first on the ingredient list, which indicates that it is the most prevalent in the food. Watch for wheat or corn being listed first because these tend to be fillers for lower quality food.
You want your dog to have plenty of protein, but you don't want to overdo it. Too much protein can lead to kidney problems. Dachshund's protein requirement for adults is 18% and 22% for puppies.
Carbohydrates
For energy, your dog needs carbohydrates that convert into glucose and are then distributed throughout the body. Complex carbohydrates take longer to break down and provide a steady supply of energy. Examples of complex carbohydrates are beans, whole grains, and sweet potatoes.
Fat
Fat is important in the diet, but you also don't want your dog to have it in high quantities or they could become overweight, which will cause a multitude of other health issues. Fat also adds flavor to the food, making it more palatable. Approximately 10-15% fat is ideal for good nutrition and a balanced diet.
Common sources of fat will be from meat and oils. Fat also provides energy and assists with the absorption of certain vitamins.
Vitamins and Minerals
You will find the highest concentration of vitamins and minerals in fruits and vegetables, which is why you will see these in the ingredients of high-quality dog food. Minerals are necessary to prevent deficiencies and help perform many body functions.
For example, Vitamin A is important for healthy hair and skin, while Vitamin E supports the immune system. Many fruits are full of antioxidants that counter the effects of free radicals in your dog's body, breaking the cycle of molecular and cellular damage. Essentially, they help maintain a strong nervous and immune system.
Providing a Balanced Diet for Your Dachshund
It all comes down to providing the correct amount of each nutrient so optimal health is achieved. This way, your little dog will be happy and enjoy life to the max. Each dog is different regarding how many calories they need, which is related to their activity level. There are many things to consider when deciding on the best food to feed your Dachshund.
Avoid Certain Ingredients
Artificial fillers, colors, and flavors can wreak havoc on your Dachshund's digestive system. They already have sensitive stomachs and can suffer from allergies, so you don't want to cause more problems.
Refined grains are considered fillers because the whole grain is what provides the correct nutrient. Meat-meals and/or byproducts can be comprised of many different parts of an animal without including much meat. These can keep the protein level high but aren't always high quality.
Cost
The price of the food has considerable weight in deciding on what product to choose for your dog. Of course, you want to provide the best, but you also have to afford it. Finding a balance between high-quality food and price can be difficult and frustrating. That said, there are affordable dog foods on the market that offer balanced nutrition.
Size and Shape of the Kibble
Dachshunds have small mouths and narrow snouts, so they need a kibble that is manageable. It needs to be small and easy to chew in order to reduce the risk of choking. Some dogs are particular about texture, so it can be a matter of finding a balance between good nutrition and a kibble that your dog actually enjoys eating.
Life Stage
Keep in mind the stage of life your dog is in, since it will affect what nutrients are needed. Puppies require more calories and other nutrients since they are growing and are high energy. Adult dogs require different nutrition than puppies, and senior Dachshunds need food that is formulated to maintain joint and eye health and is easy to chew if they suffer from poor dentition. Speaking to your veterinarian will give you an idea of what your dog may need at each age range.
Tips for optimal nutrition:
An adult Dachshund requires about 800-900 calories per day, but you also need to make sure that physical activity is part of their daily routine in order to prevent obesity.
A Dachshund puppy will need 1,000-1,200 calories per day, dependent upon their activity level.
When switching dog food brands, it is important to introduce new food slowly.
Feed your adult dog two small meals every day and your puppy four to five times per day.
Dogs are like people; they have certain flavors that are more palatable than others.
Dachshunds also have a higher risk of food allergies than other breeds.

Conclusion
Since they are susceptible to many health problems, it is important to provide high-quality food that will keep your dog in great health. Our top seven picks are highlighted in this reviews list.
Our first choice is Ollie Fresh Dog Food which has real meat as the main ingredient, along with probiotics and antioxidants that will keep your Dachshund healthy and happy. The best value is Nature's Recipe, which is an affordable and formulated dog food that provides many of the needed nutrients for a Dachshund. The third pick is the Royal Canin, which is specifically formulated to provide optimal nutrition for Dachshunds because it focuses on supporting bone health, muscle building, and maintaining a healthy digestive system.
We hope that our reviews of the best dog food for dachshunds helps you find the right dog food that tastes good to your dog while providing them optimal nutrition at a price you can afford.
---
Featured Image Credit: dogboxstudio, Shutterstock