7 Best Dog Foods for Firm Stools 2022 – Reviews & Top Picks
No, this is not the best conversation starter to have over the dinner table, but sometimes these things need to be discussed. No one likes a sloppy stool, not you, not Fido.
But diarrhea is one of the most common health problems faced by dogs. And just like if you were suffering from diarrhea, you'd probably take something for it. Thankfully, there are also steps you can take for Fido too.
Here in this guide, we are going to talk you through how feeding him the right nutrition can improve his stool status. We have created a buying guide, too, so that you understand what to look for.
We have also spent hours trawling through the internet in search of the best dog foods for firm stools, just so that you don't have to. Only seven food picks made it onto our top list, but you can be sure that they will do the job –  all with in-depth reviews to help you choose the right one for Fido.
So, take a deep breath, and let's talk all things stools.

Quick Comparison of Our Favorites – Reviews 2022
Rating
Image
Product
Details

Best Overall

Hill's Prescription Diet Gastrointestinal

Prescribed by vets
High fiber content
Gentle on GI tract

Best Value

Rachael Ray Nutrish Just 6

Great value
Free from corn
wheat
and soy
Chicken free

Best for Puppies

Taste of the Wild Pacific Stream

Grain-free option
Probiotic ingredients
Chicken and egg-free

Blue Buffalo Wilderness Adult

High-fiber content
High meat content
Probiotic ingredients

Wellness CORE Grain-Free

Protein-rich recipe
High fiber content

The 7 Best Dog Foods for Firm Stools
1.

Hill's Prescription Diet Gastrointestinal Food – Best Overall
Hill's prescription diet was formulated by a team of canine nutritionists and veterinarians to tackle the issue of gastrointestinal problems. It uses their exclusive ActivBiome technology, which is designed to work the bacteria in Fido's gut.
By doing so, it breaks everything that he eats down as naturally as possible, and it passes through his digestive system with ease. It releases postbiotics, which supports his gastrointestinal tract (GI) to break down the food he consumes.
It will encourage healthy and firm stools, reduce the risk of unhealthy stools in the future, and improve his digestive system overall.
Real chicken is still the first ingredient, and it provides an overall well-balanced diet for his nutritional needs. The fiber content in this product is 9%, and ingredients such as ground pecan shells, oats, and dried beet pulp aid in the stool firming process.
This is a prescription formula, meaning that you have to have an authorized prescription from your vet to buy this product. But for those with a super-sensitive system, it is the best product available.
Prescribed by vets
High fiber content
Gentle on GI tract
Releases postbiotics
Only available on prescription
---
2.

Rachael Ray Nutrish Just 6 Natural Food – Best Value
This is our best value option because it is the best dog food for firm stools for the money. The size of the bag is considerably large, considering how much it costs, which is great for those owners who are on a tighter budget.
It is a limited ingredient diet with just six ingredients for simple digestion. It has everything that Fido needs to firm his stools and nothing that he doesn't need. Lamb meal is the primary protein source, and it is the first ingredient, too, which is essential for his general nutritional needs. Lamb is known to be gentle on his gut.
It is a good option for those dogs who are allergic to chicken, which is the most common ingredient used in dog foods. The only reason this kibble didn't make it into the number one spot is that it has a lower fiber content (4%), which for many, is not enough to firm stools.
Thankfully, there are some dogs out there who need a lower fiber content for firmer stools. So, this makes it an excellent option for them, or those dogs who need an average level.
Great value
Free from corn, wheat, and soy
Lamb gentle on the digestive tract
Chicken free
Some might need more fiber
Omega fat ingredients limited
---
3.

Taste of the Wild Pacific Stream Food – Best for Puppies
This is the best food for puppies who are struggling with their stool and digestive health. Taste of the Wild is renowned for its gentle formulas made with probiotic ingredients. These fermentation ingredients promote friendly gut in his bacteria, which helps with regular digestion.
It has a low fiber content (3%), but this is not an issue for many dogs. Instead, it relies on a k9 specific strain of probiotic to makes his stools firmer. Dried chicory root and yucca schidigera extract are known for stool firming and reducing stool odor too.
Salmon and fish meal are the first two ingredients on this list, meaning he still gets enough protein and omega fatty acids for puppy growing power. And a variety of vitamins and minerals support his developing immune system.
It is a chicken and egg-free recipe, again, making it an excellent option for puppies with these intolerances. And it is grain-free too.
Some reviewers commented that the kibble smelt strongly of fish, but this doesn't seem to put dogs off.
Grain-free option
High-quality fish protein
Probiotic ingredients
Chicken and egg-free
Some might need more fiber
Strong fish smell
---
4.

Blue Buffalo Wilderness Adult Chicken Dry Dog Food
Blue Buffalo is known for its high fiber content, which is essential for some dogs and their digestive system and stool firming needs. The fiber content is 6%, thanks to ingredients such as peas, flaxseed, dried chicory root, and alfalfa pellets.
It lists probiotic fermentation ingredients to ensure easy digestion, as well as yucca schidigera extract for less pungent poop odor.
This kibble is also great for those who don't need their stools firming. Meaning that if you have a multi-dog household, this kibble is ideal for all, eliminating the need for buying various recipes.
The protein content the highest on this list, making this a good option for dogs who are very energetic or have a large muscle mass. And it is super tasty thanks to deboned chicken, chicken meal and fish meal.
It also has its exclusive LifeSource Bits full of nutrients that aid his digestive system to be regular and healthy. The only negative we can see here is that some reviewers found that their dogs ate around the LifeSource Bits. Thankfully most didn't.
High-fiber content
High meat content
Probiotic ingredients
Too rich for some
Some dogs eat around LifeSource Bits
---
5.

Wellness CORE Grain-Free Dry Dog Food
This formula is designed for those pooches who have had too many Scooby snacks and need to lose a few pounds. The reason this recipe is good for stool firming is that it has a very high fiber content (12%), which some dogs need for a healthy and regular digestive system.
Fiber also helps to keeps dogs feeling fuller for longer, decreasing the chances of them scavenging for more snacks. Thankfully this diet also focuses on Fido's complete nutritional needs.
It is a protein-rich recipe and provides lean proteins such as turkey and chicken. It is full of prebiotic fiber such as spinach, broccoli and kale, and those all-important probiotic fermentation ingredients. Yucca schidigera extract is listed, too.
Wellness Core is a premium product, and this recipe is very high-quality. So, you can be sure that should work wonders for his digestive system and firmer stools. But premium recipes also come with a premium price tag, so it isn't suited to all owners and budgets. If it does, this is a fantastic option.
Protein-rich recipe
High fiber content
Reduced weight formula not needed by all
More expensive than others
---
6.

Nutro Wholesome Essentials Adult Dry Dog Food
Nutro Wholesome essential is made with lamb and brown rice, which are both known to be easy to digest ingredients. This means his gut has to work less hard, which means firmer stools and less gas.
It is an excellent value recipe, and you get a lot of bang for your buck with this product too. It has a below-average protein content (22%), making it a good option for dogs who find meaty products too rich.
It is a grain inclusive diet, which makes it a better option for some dogs, as their digestive system needs the extra grainy fiber for regularity. It uses gentle grains such as brown rice, oatmeal, and chickpeas.
It has a variety of vitamins and minerals to help with regular digestion and overall health.
The only criticism we have of this product is that it does not contain as many probiotic ingredients as the other products on this list. But it is highly rated by owners of dogs with sensitivities, so this clearly isn't a concern for all dogs.
Easy to digest ingredients
Gentle lamb protein
Fewer probiotic ingredients
Relies heavily on rice
---
7.

Zignature Kangaroo Formula Bites Dry Dog Food
This is a premium recipe that is designed with the very best ingredients. The only reason that this product isn't listed higher is that it has a premium price tag, making it unsuitable for some with a tighter budget. But if you can stretch your budget, this is a fantastic option.
It is designed for smaller canines, many of whom are known to have sensitive stomachs. There are options for bigger dogs if this product is the best choice for your pup.
The primary protein ingredient is kangaroo, which is not only tasty, but it has twice the amount of vitamin B12 compared to most other meat sources. Vitamin B12 is important for digestive health, and many dog owners found that this product solved their pup's digestive issues.
It has an average fiber content (4%), but it still has fibrous ingredients such as chickpeas and lentils. It is a grain-free option that is overall, easy to digest.
Alternative kangaroo protein
Fewer probiotic ingredients
Premium price

Buyer's Guide: Selecting Best Dog Foods to Harden Stool
Here is the section where we are going to walk you through a variety of things you need to learn or think about when it comes to your dog's stools.
To understand how to rectify the runny stool situation, you need to understand what could be causing the problem in the first place.
It's important to remember that not every dog is the same. So, if your vet hasn't told you exactly how to tackle the problem, you might need to try a few options before you find the one that works for Fido.
What Causes Soft Dog Stools?
Diarrhea is the result of little no water or nutrient absorption and fecal matter passing through his intestines too quickly. There are a variety of reasons why your dog's stools arent as firm as they should be. And most of the time it is nothing to worry about.
Maybe he has eaten something that didn't agree with him, or perhaps he picked up something he shouldn't have on your recent walkies, such as bird poop or a spicy chip. It could be because he has an allergy to his food, or he is merely experiencing a little bit of stress.
Sometimes, however, it is a sign that something else is at play. It could be a symptom of a more severe problem that you need to get checked out.
When Should You Worry About Dog Diarrhea?
If he has diarrhea and it has gone on for longer than 48 hours, it's time to take him to the vet. This is a strong sign that it is more than just a tummy bug or something that he has eaten.
Diarrhea can be a sign of intestinal worms, inflammatory bowel disease, colonic ulcers, polyps, or cancer, to name just a few. The sooner you get it looked at, the sooner you can get him on the road to recovery.
If your dog is experiencing any of the following symptoms in addition to runny stools, it is vital to get him to a vet straight away:
Fever
Bloating
Vomiting
Lethargy
Mucus or blood in the stool
You might get to the vet, and they'll tell you it is because the current food that you are feeding him isn't working well. And here, it is essential to switch him to a kibble that will rectify the problem, such as the ones above.
How Firm Should Dog's Poop Be?
A firm stool is one that you can pick up in a poop bag, and it does not squish in your hands as you scoop it up. If it resembles soft ice cream that is considered to be a soft stool. If it is like soup, well, we'll say no more.
If it just happens once or twice, the likelihood is is that it is as a result of eating something he shouldn't have done. If it happened regularly, it might be because he is allergic to something you are feeding him. Or he isn't getting enough of something, such as fiber or nutrients. Or perhaps too much of something, such as fiber (yes, confusing!) or protein.
This is when you should switch his food to a gentler diet…
What Ingredients To Look Out For To Harden His Stool
Nutrition is a great way to firm up his stools if it doesn't require veterinary intervention. But, the issue here is that not all dogs are the same, and they need different things to firm up their stools.
Natural Ingredients To Harden Dog Stool
Dogs with regular soft stools usually have sensitive systems that need higher quality foods. Higher quality foods usually list natural ingredients. Natural ingredients are definitely better for a dog's digestive system, as this is the way that nature intended him to eat.
The exception is kibbles made by leading brands, such as Hills Science Diet, where scientists and veterinarians believe certain man-made ingredients are necessary. But they never use ingredients that are known to irritate digestive systems. Budget store kibbles, on the other hand, do.
Artificial preservatives, colors, or additives are known to agitate sensitive dogs, so steer clear of these ingredients. If you see ingredients such as butylated hydroxyanisole or 'Blue 2' or 'Red 40', put it back down on the shelf and move onto the next.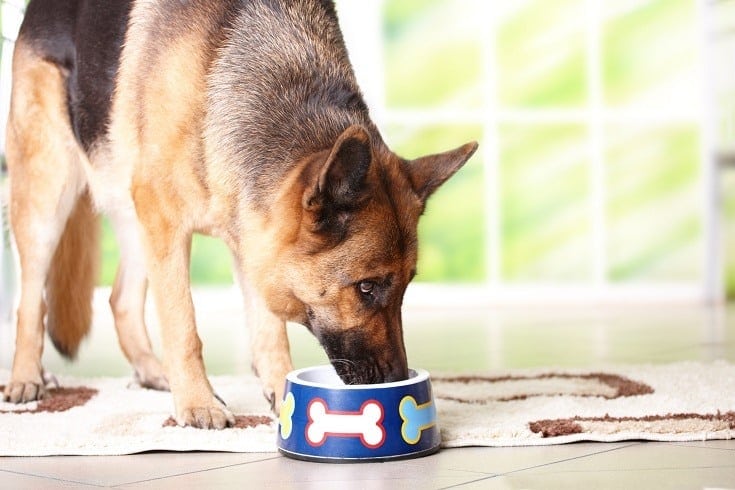 Dog Prebiotics and Probiotics
Prebiotic fibers are essential for firm stools, because they essentially add bulk to the poop, making it less runny. Prebiotic fibers are wholesome veggies, fruit, and grains, such as bananas, chickpeas, chicory root, and oatmeal. So when you are checking out the ingredient label, if you spot any of these, it's going to help toughen his poop.
To keep it simple, probiotics are the friendly bacteria that eats the prebiotic fiber. Ingredients to look out for are lactobacillus acidophilus and bifidobacterium animalis fermentation product, to name just a few. Many high-quality formulas will fortify their kibbles with these ingredients, which provide live yogurt cultures with every bite.
Fiber is a tricky one because too much and too little can wreak havoc with doggy digestive systems. And there is no way for you to calculate how much he needs.
2% to 5% is the average fiber content in most kibbles, and a high fiber diet is anything between 6% and 12%. Most dogs with runny stools need a higher fiber diet, but if you have any questions, be sure to speak to your vet, who will be able to offer you tailored advice.
Dog Protein
Some dogs are allergic to specific proteins. And you can be sure that if Fido is allergic to chicken and you give it to him, his runny stools are the least of your worries. Lamb is often used in limited ingredient diets because they are gentler to digest. So if you suspect protein is the culprit, try him on a lamb based kibble.
Sometimes, dogs can struggle to digest kibbles that are too high in protein, and as such, you should look for a kibble that provides less. Again, this is all about working out what works for Fido.
Yucca Schidigera Extract
With runny stools usually comes stinky gas, and if Fido's poop or gas is smelling funky, this could ease the burden on your nostrils. Yucca schidigera is a herbal plant that is used in pet foods to reduce the smell of your dog's poop. It can reduce the odor by up to 26%. Higher quality kibbles will list this ingredient, cheaper ones will not.
How Do You Know That It Is Working For Him?
Well, the proof is in the pudding, and when we say pudding, we mean poop. Once you feed him the new foods, follow him around when you notice he has the fidgets or watch him poop if you are out on walkies. This might sound odd, but you need to match the poop to the pooch.
If his poop is still just as runny over the next 48 hours, there is a good chance that his new food is not working. If it has firmed up slightly, there is a chance that it is. Keep an eye on his poop, and over 48 hours, or so it should start to firm up considerably.
Ultimately, all dogs are different, and he might need to kiss a few frogs before he finds his prince, as it were. The most important rule here is to listen to his needs, and follow what his body (and poop!) are telling you.

Conclusion: Best Food to Firm up Stools
Hopefully, you now understand why your dog's stools are runny, and what you can do to make them firmer. By feeding your pooch a better quality kibble that focuses on his digestive health, you are providing him better health and overall happiness.
You need to work out what works for him, and you'll certainly know about it when it isn't working for him. But when you find that perfect recipe, it will definitely be worth the trials and tribulations.
By sticking to our recommendations above, not only will you save yourself a lot of time searching through hundreds of different products, but you can be sure one of them will work for Fido. Thanks to the reviews, it's simple to choose one that suits you, and Fido, best.
Our best overall product is Hill's Prescription Gastrointestinal Biome Diet, but remember you need a vet prescription before you buy this one. And our best value for your money is Rachael Ray Nutrish Just 6 Natural formula.
Related Read: How To Keep Dog Poop From Smelling Up Your Garage: 5 Proven Methods
---
Featured Image Credit By: otsphoto, shutterstock