9 Best Dog Foods for German Shepherd Puppies in 2023 – Reviews & Top Picks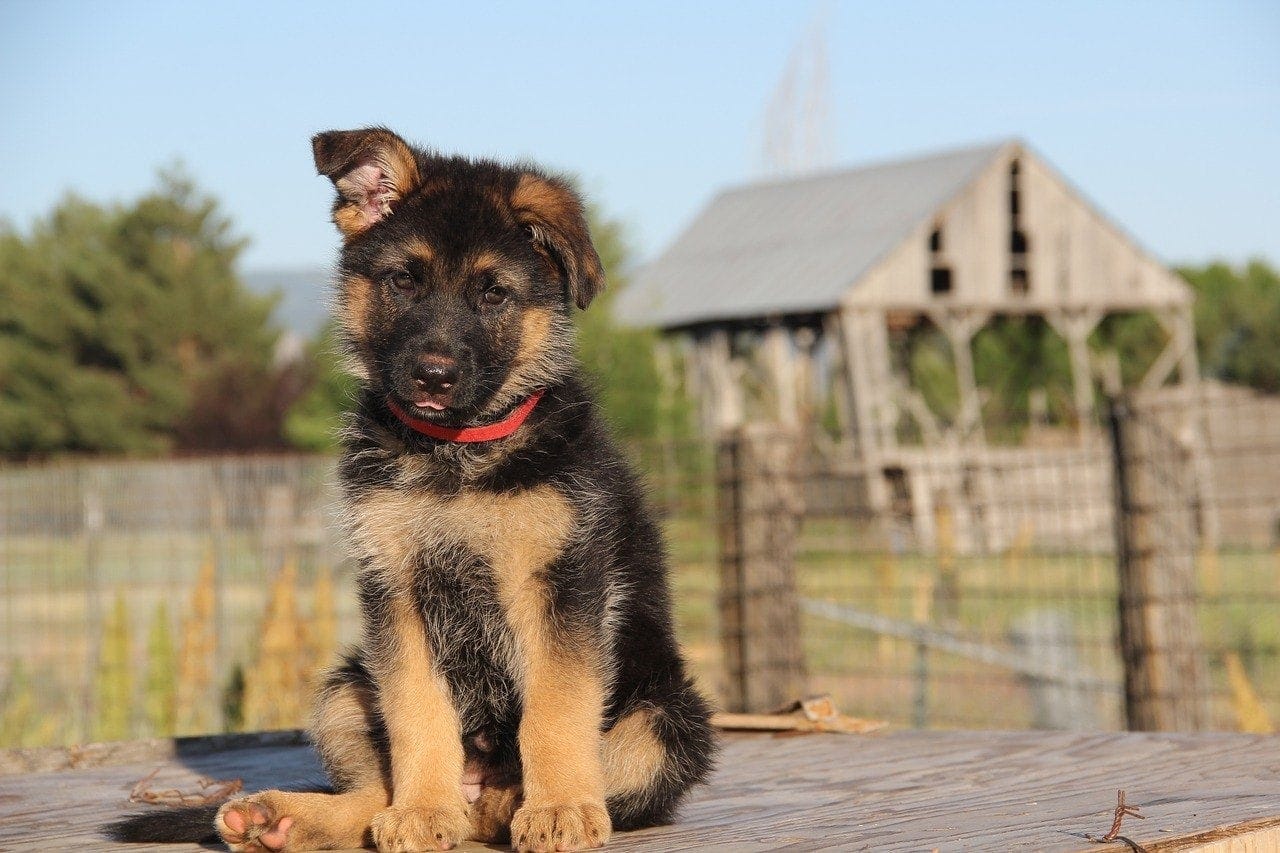 Are you tired of reading the same junk about wolves and ancient landscapes on the back of dog food bags, just waiting for them to get to the point? We were too. So, we decided to cut to the chase and collect the eight best foods for German Shepherd puppies available.
With these carefully considered reviews and our in-depth buyer's guide, you won't ever have to waste time in the dog food aisle again.
A Quick Comparison of Our Favorites in 2023
Rating
Image
Product
Details

Best Overall

The Farmer's Dog Fresh Dog Food Subscription

Safe for all life stages
Made with real meat
High protein
Click To Save 50%

+ Free Shipping!

Wellness CORE Grain-Free Puppy

Grain-free
No byproduct ingredients
Probiotic coating
Check Price

Best Value

Iams ProActive Puppy Large Breed

Kibble shape
AAFCO approved brand
Special blend of fibers and prebiotics
Check Price

Royal Canin German Shepherd Puppy

Protein blend
Balanced minerals
Vitamin and antioxidant blend
Check Price

Blue Buffalo Wilderness Puppy Grain-Free

Support for bone growth
Support for immune system
Grain-free
Check Price
The 9 Best Dog Foods for German Shepherd Puppies
1.

The Farmer's Dog Fresh Dog Food Subscription – Best Overall
The Farmer's Dog chicken recipe comes in at the top spot for our best overall pick for German Shepherd puppies. This fresh food is formulated by a team of veterinary nutritionists and comes personalized for your pup. All food from The Farmer's Dog meets the standard set by AAFCO for safety and quality.
The chicken recipe has the highest amount of protein compared to the others, making it a great choice for your active German Shepherd baby. In addition to chicken, it also contains chicken liver and some nutrient-rich vegetables like brussels sprout, bok choy, and broccoli. There is a chance the vegetable may cause a bit of gas or loose stool at first. To top off the benefits, the added fish oil is great for skin and coat health.
Not only is this food great for puppies, but it is also ideal for all life stages. The Farmer's Dog can stick with you throughout your dog's lifetime and is delivered right to your door. Like with any fresh food, it comes at a higher price and you will need to make room in the fridge or freezer.
All in all, however, we think this is the best dog food for German Shepherd puppies on the market today.
Formulated by veterinary nutritionists
Real chicken is the #1 ingredient
Meet AAFCO standards for pet food
Real, fresh ingredients delivered to your door
Slightly more expensive than kibble
---
2.

Wellness CORE Grain-Free Puppy Food
When it comes to the quality of ingredients and balanced nutrient array for a German Shepherd puppy, Wellness CORE is one of the best foods available.
All the ingredients are nutrient-dense whole foods, with nary a byproduct to be found. We love looking at an ingredient list and seeing things like chicken, turkey, bananas, apples, spinach, and sweet potatoes — and we think your dog will love it too!
Wellness CORE also contains a balanced calcium and phosphorus content to help grow healthy bones, which is extra important for puppies that will grow large like the German Shepherd. All the proteins are from lean animal sources, and it even has a probiotic coating to make it easier for sensitive little stomachs.
Furthermore, the packaging does not accost you with historical factoids and platitudes. Instead, Wellness just gets down to the business of telling you how awesome this food is.
Designed for puppies
Nutrient profile good for larger breeds
The first ingredient is deboned chicken, second is turkey meal
Full of nutrient-rich, whole foods and complete proteins
Grain-free, no byproduct ingredients
Fatty acids, minerals, and vitamins all come from whole food sources
Probiotic coating to support digestion
No artificial colors or preservatives
---
3.

Iams ProActive Health Puppy Food – Best Value
Iams is a respected and trusted brand in dog health, and we highly recommend them as the best dog food for German Shepherd puppy for the money. The value is enhanced not only by the inexpensive cost, but by the rich variety of nutrients their food so conveniently provides.
This kibble provides a complete and balanced food for larger breed puppies. Of special interest to German Shepherd puppies is the healthy lean protein from chicken and eggs, omega-3s for joints and brain development, and minerals to promote strong bone growth.
There are a few grain and byproduct ingredients in this food, but the quality is impeccable and the amounts are acceptable for most dogs.
Designed for large breed puppies
The first ingredient is chicken
Kibble shape and texture help clean teeth
Special blend of fibers and prebiotics to support digestion
AAFCO approved brand
100% satisfaction guaranteed
Inexpensive
The second, fourth, and fifth ingredients are all grain
Contains byproduct ingredients
---
4.

Royal Canin German Shepherd Puppy Food
Specially formulated for German Shepherd puppies, the Royal Canin kibble could be a great one-stop-shop for your puppy's nutrition.
Royal Canin's kibble includes things like perfectly balanced calcium and phosphorous for bone growth, antioxidants, and a proprietary blend of proteins to help your sensitive pup maintain balanced intestinal flora.
The main downside is that while Royal Canin is the most expensive kibble on our list, it also contains several grains and byproduct ingredients. We were hoping that the price meant higher quality ingredients, but Royal Canin seems to have abandoned whole foods for vitamin and mineral additives.
Designed specifically for German Shepherd puppies
Smaller-sized kibbles for puppy teeth
Protein blend to support digestion
Balanced minerals for healthy bone growth
Vitamin and antioxidant blend to support young immune systems
Some grains and byproduct ingredients
---
5.

Blue Buffalo Wilderness Puppy Food
Blue Buffalo is a well-respected brand of dog food, and their reputation for quality is due in large part to their commitment to whole food ingredients.
We love how much of the vitamins and minerals provided by this kibble come from whole foods like chicken, carrots, and sweet potatoes. Blue Buffalo does not go the quick and easy route of adding these nutrients later in the process, unlike other brands, and the finished product speaks for itself.
However, German Shepherd puppies have notoriously finicky digestive systems. While being grain-free is helpful in that respect, this blend does not contain any other special formulations to support a healthy GI tract.
It is extremely healthy, but also on the expensive side — so you may gamble and lose if your puppy has trouble digesting this kibble.
Designed for large breed puppies
The first ingredient is deboned chicken
Grain-free, no byproduct ingredients
Vitamins and minerals are mainly provided by whole foods and complete proteins
Support for bone growth, immune system, joints, and cognitive functioning
Moderately expensive
No modification to support a sensitive digestion
---
6.

Blue Buffalo Life Protection Puppy Food
Another excellent option from Blue Buffalo, this Life Protection Formula puppy food has the high-quality ingredients you can expect from all this company's food.
This chicken and brown rice puppy blend contains no byproduct ingredients, multiple lean animal proteins, and only the highest quality grains. However, this food is moderately expensive and does not specifically cater to dogs with sensitive digestive systems.
Though it is an overall healthy choice, because of the German Shepherd's tummy sensitivities, you run the risk of spending quite a bit on this food only to find that the grain blend just does not agree with them. Better to try a grain-free brand first and keep this option as a backup.
Designed for large breed puppies
The first ingredient is deboned chicken
Vitamins, minerals, and antioxidants to support the immune system
Contains only whole grains, and no by-products
Moderately expensive
No modification to support a sensitive digestion
Grains may not agree with your puppy's stomach
---
7.

Nutro Wholesome Essentials Puppy Dry Dog Food
For a slightly different choice of healthy animal protein for your pup, check out the Nutro Lamb & Rice blend. The ingredients are all high quality, but the variety of foods in this blend leaves something to be desired.
Considering that it is made almost entirely from protein, grains, and beans this brand is rather expensive. There are no whole vegetables or fruits, so many of the vitamins and minerals are provided by additives. Added vitamins are not only harder to absorb than those from whole foods, but cheaper. What gives?
Most importantly, the beans may be hard for a German Shepherd puppy to digest and lead to a variety of gastrointestinal upset. While the lamb could be a nice change for your pup, we recommend testing this kibble out in small amounts to gauge suitability for your dog.
Designed for large breed puppies
The first ingredient is deboned lamb, second is chicken meal
Only high-quality, whole grains
Whole foods supply joint support
Moderately expensive
Few whole fruits and vegetables
Contains beans and peas which may upset digestion
---
8.

Hill's Science Diet Puppy Dry Dog Food
At first glance Hill's large breed puppy formula seems like it could be comparable to food from other top brands. But upon closer consideration, you will see why this food is not a great choice for German Shepherd puppies.
Though it has good proteins, this is another brand that gets almost none of its nutrients from whole fruits or vegetables. The vitamins and minerals are mostly additives, which should drive the cost down, but for some reason Hill's charges the same amount as others using better, more expensive ingredients.
Factor that in with the fact that grains are often iffy for a German Shepherd's stomach, and we just do not see why you should spend the extra money on mediocre quality at best.
Designed for large breed puppies
First ingredient is chicken meal
No artificial colors or preservatives
Balanced minerals to support bone growth
Expensive considering quality
The second, third, and fourth ingredients are all grain
Very few whole fruits and vegetables
---
9.

Eukanuba Large Breed Puppy Dry Dog Food
The Eukanuba Large Breed puppy food is another excellent example of a food that, while technically complete and balanced, does not have the healthful ingredients to make all those nutrients available to your dog.
Besides a few good foods like chicken, fish oil, and chicken meal, this kibble is chock full of cheap grains and byproducts. It contains no whole fruits or vegetables, and most of the vitamins and minerals are additives.
German Shepherd puppy bellies are particularly sensitive to poor quality ingredients and additives. And though they advertise a special, easy-to-digest prebiotic blend on the package, there is no evidence anywhere else to substantiate this claim.
Though it may appear similar to higher quality brands at first glance, don't get tricked by the flashy promises and slightly cheaper price tag.
Designed for large breed puppies
First ingredient is chicken
Complete and balanced nutrition
Expensive considering low quality
Contains corn, wheat, and many byproduct ingredients
No whole fruits or vegetables
Advertises prebiotic blend, but no evidence to support

Buyer's Guide: Choosing the Best Puppy Food for German Shepherds
Nutrition for a German Shepherd Puppy
Canine nutrition revolves around the same basic components as human nutrition. Like us, they need a variety of protein, fats, fiber, carbohydrates, minerals, and vitamins.
The best sources of these nutrients come from whole foods, and that's because they are more bioavailable and easier for the body to absorb. Added vitamins and minerals are fine, but less effective — it's like the difference between eating an orange and taking a vitamin C pill.
Protein
Protein is an essential part of your German Shepherd puppy's diet. They need protein to grow and develop properly; to heal from injury; and to maintain nails, coat, and connective tissue.
And for the active, athletic German Shepherd Dog it is particularly important that their protein sources contain all essential amino acids. These nutrient-dense proteins are also known as "complete proteins." Eggs and lean meats are excellent sources of complete proteins for your dog.
Fat
Fat is also important to a dog's nutrition. Fat delivers vitamins to their system and is your dog's primary energy source. It also helps keep your pup's coat shiny and healthy, and their paws pads, skin, and nose flexible and resilient.
German Shepherd puppies need plenty of fuel for their active lifestyle and growing muscles, which means they need good fats. They are also a breed that is predisposed to things like joint pain, which may be greatly reduced by a healthy balance of fatty acids like omega-3 and omega-6.
Carbohydrates
Carbohydrates give your dog another type of fuel to grow up strong and happy. Complex carbohydrates take longer to digest and provide slow, steady energy. Fruits, vegetables, and whole grains are all complex carbohydrates. Simple carbohydrates, like sugars and starches, are fast and give short bursts of energy.
Your puppy will benefit more from a diet rich in complex carbs, as opposed to simple. That's because a complex carbohydrate better supports stamina and physical prowess, which the hard-working German Shepherd Dog is famous for!
Fiber
Fiber helps your dog's digestive system run smoothly. High fiber ingredients you are likely to find in kibble include rice, oats, corn, other grains, and many vegetables and fruits.
German Shepherd puppies often have finicky tummies, and high fiber ingredients can aggravate this. Finding which foods do and do not work for them may take experimentation. Cheap grains like wheat and corn are likely to be harder for your pup to digest.
Vitamins and Minerals
Vitamins and minerals are also an important part of your dog's diet. The amounts your dog needs are often small, but necessary for their body's many complex chemical processes.
Here are some important vitamins and minerals for a German Shepherd puppy:
Vitamins
Biotin
Choline
Folic acid
Vitamin A, B1 (Thiamin), B12, B2 (Riboflavin), B5 (Pantothenic acid), B6 (Pyridoxine), C, D, E, K
Minerals
Calcium
Magnesium
Phosphorus
Sulfur
A German Shepherd puppy's diet may also benefit from:
Antioxidants, for a strong immune system and eye health
Glucosamine, for joint health
Probiotics, for digestive health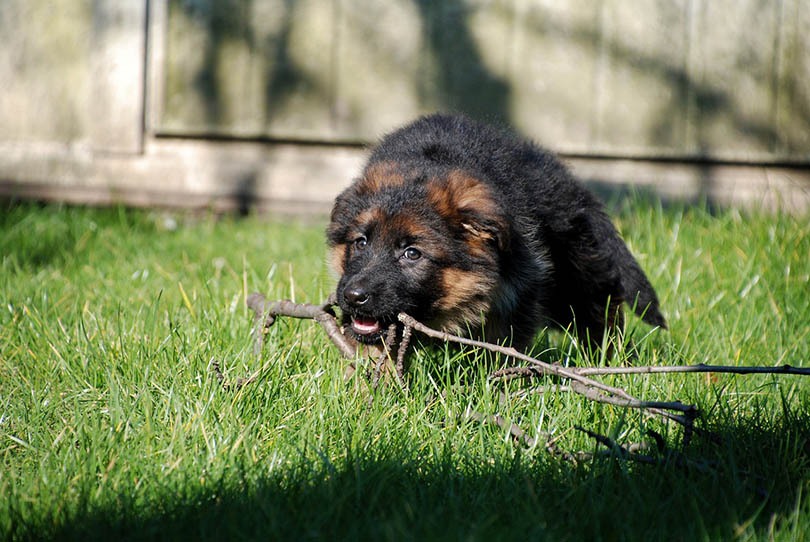 How to Identify a Quality Food for Your German Shepherd Puppy
The label of your dog food can tell a lot about the quality of the food inside. With a few tips on what to look for you'll be able to quickly see whether it's complete and balanced, what sources the nutrients come from, and if it is designed for puppies and athletic breeds like the German Shepherd.
Check if the brand is approved by the AAFCO. The Association of American Feed Control Officials is an independent organization that subjects dog foods to rigorous testing.
If a dog food package displays the AAFCO's seal of approval you know that the manufacturers have followed high standards for production quality, ingredient quality, overall nutritional value, standardized ingredient definitions, and run extensive feeding trials.
Though the exact amount of each ingredient is not listed, manufacturers must list the ingredients in order according to weight. For example, if chicken is listed first, that means the food contains more chicken by weight than any other single ingredient.
Because the German Shepherd Dog requires high-quality protein to support their powerful physique, they do better with a food that has one or two lean protein sources at the top of the ingredient list. Stay away from grain-based foods, as they won't provide your puppy with as much usable protein in addition to being harder to digest.
Though they are legally prohibited from printing false or misleading information, some manufacturers try to obscure poor quality ingredients by telling you all the special added nutrients the food has. Remember, if at least a portion of those otherwise healthy vitamins, minerals, fatty acids, and so on don't come from whole foods — you're looking at a cheaply made kibble.

Conclusion
Without a doubt, the best overall kibble for a German Shepherd puppy is The Farmer's Dog Chicken Recipe. The impressive ingredient list is full of whole foods that provide well-balanced nutrition for active pups, and the high-quality and lack of grains makes it easy to digest.
For puppy owners on a budget, you would be hard-pressed to make a better choice than Iams ProActive Health Smart Puppy Dry Dog Food. AAFCO approved, filled with whole food ingredients, specially formulated to support healthy gut flora, and the best value kibble on our list — what's not to love!
With the information that you've gained from these reviews, we are confident that you will be able to choose the best dog food for your German Shepherd puppy.
Good luck!
---
Featured image credit: M J from Pixabay