4 Best Dog Foods for Hypothyroidism — 2023 Reviews & Top Picks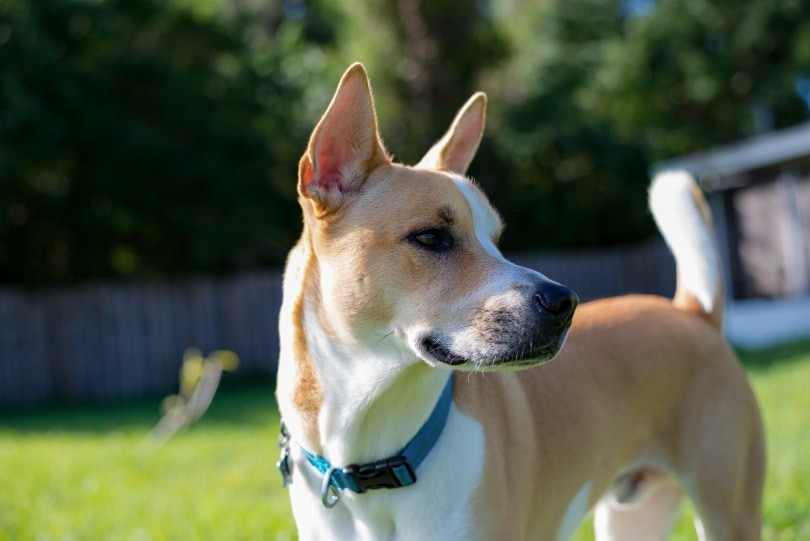 If your four-legged friend was recently diagnosed with hypothyroidism, your veterinarian may recommend switching to a more appropriate food for your dog's needs. Hypothyroidism is a condition that directly affects your dog's metabolism and energy levels, so following a healthy diet is important. Depending on your dog's symptoms, you might also need to switch to a formula for sensitive skin to alleviate itching and rashes.
Learning that your dog has a chronic condition — even one that's easily managed like hypothyroidism — is never easy. But the sooner you begin to manage your dog's symptoms, the sooner you can both get back to everyday life.
Your vet should always be the number one source for treating your dog's hypothyroidism. When it comes to choosing the right food for your pooch, though, there's a good chance you'll be making that decision on your own. To help alleviate some of the stress that comes along with caring for your best friend, we've put together reviews of some of the best dog foods for hypothyroidism.
Let's start by looking at some of our favorites:
Disclaimer: The foods reviewed here were chosen because they have certain characteristics that might help with some of the causes or consequences of this medical condition. However, they are not a medical treatment or a substitute for medical treatment. Keep in mind that each medical case is different and what works for some pets may not work for others. Your veterinarian is the right person to advise you on the best diet for your pet's individual case.

A Quick Comparison of Our Favorite Picks in 2023
Rating
Image
Product
Details

Best Overall

Tuffy's Pet Food

Easy-to-digest recipe
Made in the U.S.A.
Designed for optimal health and nutrition
Check Price

Premium Choice

Royal Canin Dog Food

Contains plenty of protein
Supports joint and bone health
Designed to keep your dog full longer
Check Price

Best for Puppies

Merrick Dog Food

Provides balanced nutrition
Very high in protein
Good for dogs with grain or gluten sensitivities
Check Price

ORIJEN Dog Food

Regionally sourced ingredients
Made in the U.S.A.
85 percent animal-based ingredients
Check Price
The 4 Best Dog Foods for Hypothyroidism
1.

Tuffy's Grain-Free Dog Food – Best Overall
If you're searching for the absolute best dog food for hypothyroidism, one of the first formulas you should try is the Tuffy's Pet Food 131643 Grain Free Dog Food. This formula offers well-rounded nutrition to keep your dog optimally healthy, regardless of their hypothyroidism symptoms.
This dog food is an especially good option for pups with food allergies. The recipe is free of grains, which can trigger issues in some dogs, and contains only a single source of protein. Plus, the fruit and vegetable blend offer antioxidants and other key nutrients.
This specific formula is designed for easy digestion, which can help ensure your dog is getting the nutrients their body needs. However, keep in mind that this is not a weight management formula. If your dog's metabolism symptoms are causing weight gain, this may not be the best option. However, all in all, we still think that this is one of the best dog foods for hypothyroidism.
Easy-to-digest recipe
Made in the U.S.A.
Designed for optimal health and nutrition
Contains additional antioxidants and vitamins
Single protein source
Limited ingredient formula helps prevent allergic reactions
Not designed for weight management
Subject to grain-free food controversy
---
2.

Royal Canin Dry Dog Food – Premium Choice
For dogs that struggle to maintain a healthy weight due to their hypothyroidism symptoms, the Royal Canin 3980742 Dry Dog Food might be a viable option. This formula is designed to support satiety, so your dog feels satisfied without overeating. Along with high levels of fiber, this dog food contains plenty of protein to help maintain your dog's muscle mass during weight loss.
If your dog needs to lose weight to be their healthiest, then you may be worried about nutritional deficiencies occurring with a restricted diet. Fortunately, this food offers a veterinarian-recommended formula that provides everything your dog needs for healthy bones, joints, and everything else.
While this food is a great option for weight management, it probably won't be the best fit for dogs with sensitive stomachs or allergies. It contains ingredients that are known as common allergy and digestive symptom triggers such as corn and chicken meal.
Despite the filling formula, weight loss isn't guaranteed with this food. You will still need to monitor your dog's food intake, exercise, and overall energy levels. However, some owners also report worryingly fast weight loss after switching to this food.
Designed to keep your dog full longer
Contains plenty of protein for maintaining muscle mass
Supports joint and bone health
Veterinarian-recommended
May contain allergy and sensitivity triggers
Can cause an unhealthy rate of weight loss
Weight loss is not guaranteed
---
3.

Merrick Grain Free Dog Food – Best for Puppies
In rare cases, puppies can also develop symptoms of hypothyroidism. While you should prioritize treating their symptoms, you also shouldn't ignore the unique nutritional needs of growing puppies and adolescent dogs. The Merrick 37002 Backcountry Grain Free Wet Dog Food is a good middle ground.
This canned food is a top choice for managing hypothyroidism symptoms because of the extremely high protein content. With 96 percent beef, this formula will help build and maintain lean muscle mass while your dog loses or maintains its weight.
While this food contains almost exclusively meat, it still provides balanced nutrition for pretty much any dog or puppy. If your dog struggles to digest grains or gluten, you'll also be happy to know that this food contains neither.
Despite the protein-rich recipe, many owners report that their dogs won't touch this food.
Very high in protein
Helps maintain healthy muscle mass
Provides balanced nutrition
Good for dogs with grain or gluten sensitivities
Many dogs dislike the smell or flavor
Subject to grain-free concerns
---
4.

ORIJEN Fit & Trim Dry Dog Food
The ORIJEN DOR4455-25 Fit & Trim Adult Dry Dog Food is our final pick for the best dog food for hypothyroidism. This premium kibble formula is packed with protein from a variety of animal sources, including organ meat, bone, and cartilage. All in all, this food boasts a recipe made up of 85 percent animal-based ingredients.
Along with offering plenty of animal-based proteins, this dry dog food is filled with healthy vegetables. Two-thirds of the ingredients that go into this food are raw or fresh, making the nutrients within this food more accessible to your dog's digestive system.
Like many other foods recommended for hypothyroidism, this food is grain-free. Because this formula is made up almost entirely of protein, it helps ensure your dog feels full and satisfied after every meal.
While many dogs love this food, others have zero interest in it. Some owners also report that their dogs became sick after eating this food.
Regionally sourced ingredients
Made in the U.S.A.
85 percent animal-based ingredients
Helps improve satiety
Not all dogs lose weight on this food
Some dogs dislike the flavor
Grain-free formula has potential risks
---
Buyer's Guide: How to Pick the Best Dog Food for Hypothyroidism
What Is Hypothyroidism?
Even after talking with your vet about your dog's condition, you might still have some questions about hypothyroidism and how it impacts your dog's day-to-day life.
Here are some common questions that every dog owner should know the answers to:
What causes hypothyroidism in dogs?
Hypothyroidism occurs when your dog's thyroid gland doesn't produce enough thyroid hormones. Like in humans, canine thyroid hormones play a major role in controlling metabolism. They also help maintain your dog's body temperature and overall health.
While the thyroid can shrink or become inflamed because of an autoimmune response, there are many potential causes of this condition. Lymphocytic thyroiditis and idiopathic atrophy are the most common disorders that trigger hypothyroidism.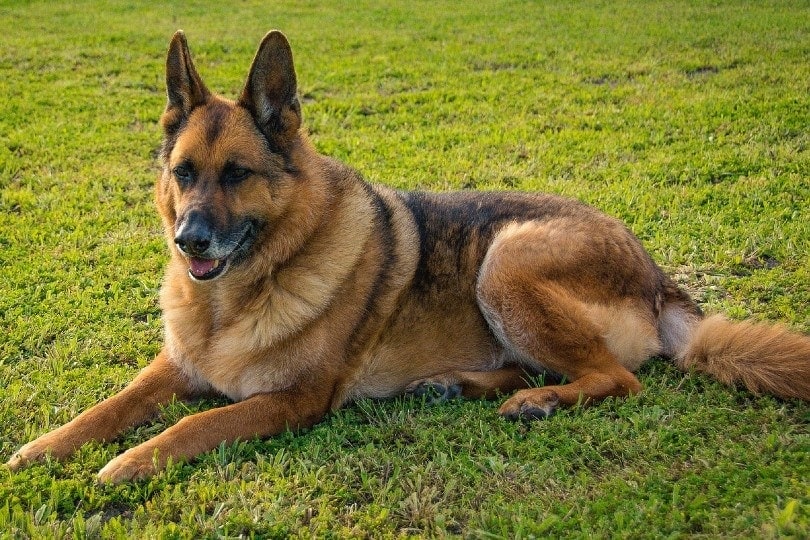 Is your dog at risk of developing hypothyroidism?
Any dog can develop hypothyroidism during its lifetime, but some dogs are predisposed to the condition.
According to the Merck Veterinary Manual, hypothyroidism most often appears in dogs at 4 to 10 years old. The condition is also most common in medium, large, and giant breeds — few toy or small breed dogs develop the condition.
When determining your dog's risk factor for developing hypothyroidism, one of the most important things to consider is their breed. The breeds most likely to develop hypothyroidism include:
Golden Retriever
Doberman Pinscher
Irish Setter
Other breeds predisposed to hypothyroidism, though to a lesser extent, include:
Miniature Schnauzer
Dachshund
Cocker Spaniel
Airedale Terrier
While neutered and spayed dogs display a higher rate of hypothyroidism, the risk generally isn't worth keeping your dog intact. If you're worried about increasing your dog's chance of developing this condition, schedule an appointment to talk to your vet.
What are the symptoms of canine hypothyroidism?
Your veterinarian is always the best resource if your dog displays signs of hypothyroidism. Here are some common symptoms to watch for:
Unexplained weight gain
Thinning coat
Slow hair growth
Lack of energy
Inability to stay warm
Dry or dull skin and fur
Skin infections
Darkening skin
This is not a complete list of hypothyroidism symptoms in canines. You should always schedule regular check-ups with your vet along with watching for these signs at home.
How is hypothyroidism diagnosed?
Your dog's vet can test for hypothyroidism with a simple blood test. This test checks the levels of thyroid hormone in your dog's blood and can easily determine if these numbers are too low.
While testing for hypothyroidism in dogs is fairly simple, your veterinarian may order multiple tests to rule out other conditions.
How is hypothyroidism treated?
Similar to something like diabetes, hypothyroidism has no permanent cure. Instead, you and your vet must work together to manage your dog's symptoms.
Along with diet and lifestyle changes, dogs with hypothyroidism are most commonly treated with synthetic hormone replacement. Hormone replacements are administered every day for the rest of the dog's life, allowing them to regain their previous energy.
While we've highlighted some of the best dog food formulas to manage canine hypothyroidism, your veterinarian should always have the final say in your dog's treatment. Diet alone isn't enough to keep hypothyroidism symptoms at bay. Obtaining a proper diagnosis and management plan is the only way to ensure your dog stays healthy and happy for years to come.
If your dog has lived with hypothyroidism for years, then you probably know everything there is to know about the condition. Still, narrowing down the perfect dog food for your pup can be a challenge.
As with any medical issue, we always urge readers to consult their trusted vet before making any changes to their pup's diet. Not only do they have the education and expertise to answer your most burning questions, but they have a better understanding of your dog's overall health.
When shopping for new food for your dog with hypothyroidism, there are a few factors you should always consider:
Protein content
Whether you're a dog or a human, protein is essential to maintaining a healthy, muscular body. For dogs with hypothyroidism, this nutrient is especially important.
While your dog needs more than just protein to stay their healthiest, you should choose a food with plenty of protein in its formula. Feeding your dog a high level of protein will help them stay full, support a healthy weight, and maintain muscle tissue.
Ensuring your dog gets adequate protein in their diet can help counteract some of hypothyroidism's metabolic symptoms. If you have questions about your dog's protein intake, your veterinarian will be able to help you determine the optimal amount for your dog's needs.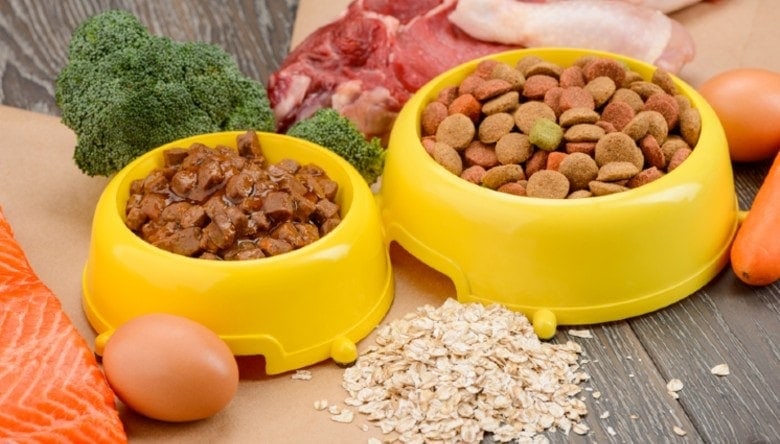 Wet vs. dry
If you're searching for dog food that will help manage your dog's hypothyroidism symptoms, one of your main concerns is probably preventing weight gain. Because hypothyroidism directly affects your dog's metabolism, feeding them a healthy, well-balanced diet is more important than ever.
The easiest way to prevent weight gain or encourage weight loss is to ensure your dog feels satisfied after eating a healthy portion. One way to do this is by feeding them food designed for increased satiety.
However, if you currently feed your dog dry food, you should also consider feeding them wet food instead. Since wet dog food contains a significant amount of moisture, it is more filling while containing far fewer calories.
Grain-inclusive vs. grain-free
As you may or may not have already heard, grain-free dog food has recently come under intense scrutiny. Based on research conducted by the FDA and other organizations, there appears to be a link between feeding dogs a grain-free diet and the development of dilated cardiomyopathy.
When dogs develop dilated cardiomyopathy, their heart loses the ability to effectively pump blood. Although this condition is well-documented in large dog breeds, the number of cases seems to be directly related to the popularity of grain-free diets.
Currently, more research needs to be completed before we know the full story about grain-free diets and how they affect our beloved pets. For now, we recommend speaking with your veterinarian before switching your dog to an entirely grain-free diet.

Conclusion
There are countless different dog food recipes on the market. However, few of these formulas are perfectly suited to managing your dog's hypothyroidism symptoms.
Our top choice is the Tuffy's Pet Food 131643 Grain Free Dog Food. This formula is easy to digest, made in the United States, and contains a single source of protein. The limited ingredient list is also a plus for dogs with allergies or sensitivities.
If your dog struggles with metabolic symptoms caused by their hypothyroidism, then try a premium food like the Royal Canin 3980742 Dry Dog Food. This food is expertly designed to improve satisfaction after meals and help your dog maintain a healthy weight. It also includes vitamins to support your dog's bone and joint health.
Last but not least, you may find yourself needing high-quality dog food for a puppy with hypothyroidism. In this case, our top suggestion is the Merrick 37002 Backcountry Grain Free Wet Dog Food. This food contains 96 percent beef, making it a great option for any dog who needs more protein in their diet.
Choosing the right food for your dog is never a simple task, but we hope our reviews have helped you sort through your seemingly endless options. At the end of the day, we share the same goal as you: Keeping your dog happy, healthy, and active regardless of what the world may throw at them.
Maybe this section should go before the products? But I left it here for you to make that call.