9 Best Dog Foods for Mastiffs in 2023 – Reviews & Top Picks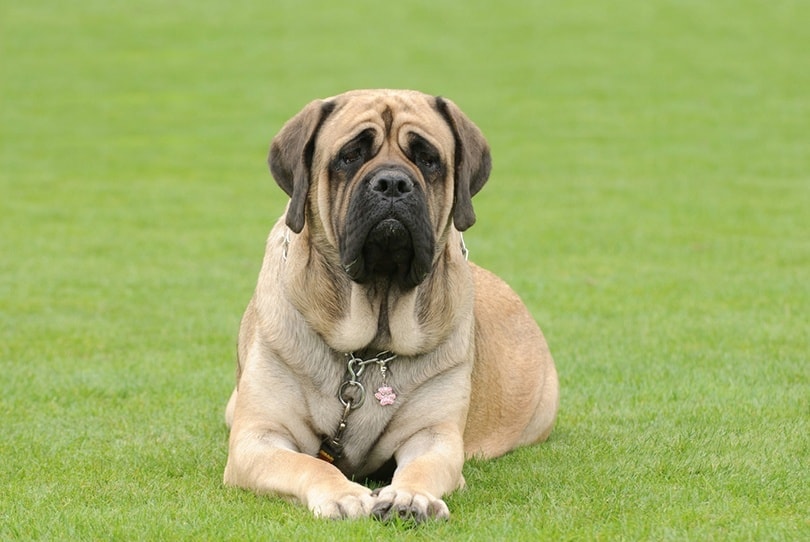 Keeping a Mastiff has advantages and disadvantages. One of the negatives to owning one of these dogs is the amount of food they eat and the importance of providing them with the right nutrition to maintain their health.
A full-grown Mastiff can weigh up to 122 pounds, but each dog will be different in their build, metabolism, and activity level, which means you have to customize your feeding plan to fit the needs of your dog. It can be a daunting task to figure out which brand of food is ideal for your dog while making sure it provides the needed nutrients to keep your dog healthy.
This review list features nine of the best dog foods for the Mastiff, discussing the pros and cons of each and offering tips and considerations to keep in mind before making your final decision.
A Quick Comparison of Our Favorites (Updated in 2023)
Rating
Image
Product
Details

Best Overall

Nom Nom Turkey Fare Recipe Fresh Dog Food

Meets AAFCO standards for all life stages
Pre-portioned for unique needs
Made from real, fresh ingredients
Click to Save 50%

+ Get Free Shipping!

Budget Buy

Blue Buffalo Large Breed

Affordable
Natural ingredients
LifeSource Bits
Check Price

Holistic Select Natural Dry

Supports bone and joint health
Natural ingredients
Plenty of antioxidants
Check Price

Royal Canin Puppy Dry

Supports bone and joints
Antioxidants included
Supports digestive health
Check Price

Diamond Naturals Premium Dry

K9 Strain probiotics
Joint support
Whole grains
Check Price
The 9 Best Dog Foods for Mastiffs
1.

Nom Nom Turkey Fare Recipe (Fresh Dog Food Subscription) — Best Overall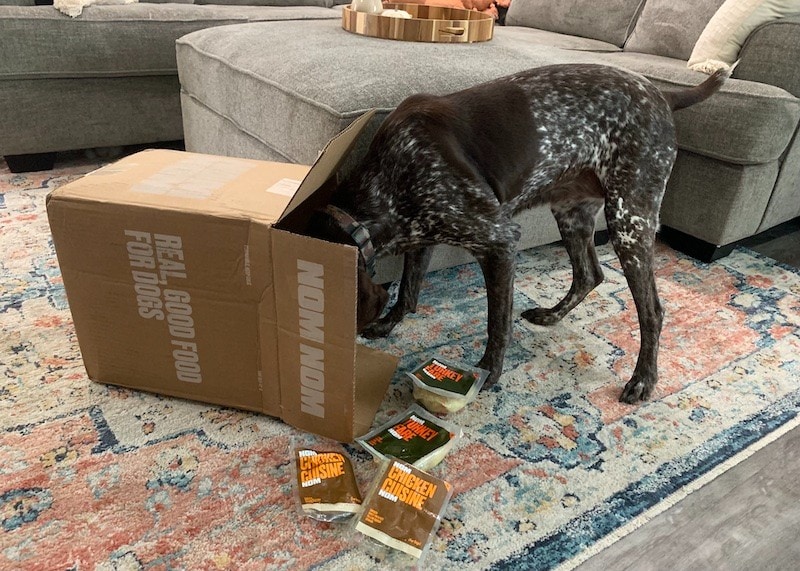 Our pick for premium choice dog food for big, lovable Mastiffs goes to Nom Nom's Turkey Fare recipe. One way to ensure your big dog is getting the nutrition they need is by providing fresh, healthy food and that's just what Nom Nom has to offer.
Nom Nom is truly a what you see is what you get kind of dog food, you don't have to question the ingredients because they are right there in front of you. All recipes are crafted by board-certified veterinarians according to AAFCO's standards for all life stages.
This recipe features fresh turkey as the first ingredient, which is a rich source of lean protein that is full of essential amino acids. Second on the list is brown rice, which can help sustain energy while being easy on the stomach. Eggs are the third ingredient listed, which is rich in protein, fat, and other nutrients.
This food also includes a mix of fresh vegetables, fish oil, and other vitamins and minerals that are essential for a healthy, vibrant life. Fresh foods like Nom Nom can be expensive when fed exclusively, especially for extra-large breeds like Mastiffs. If it doesn't fit into your budget, you can offset the cost by adding it as a topper to high-quality kibbles.
Formulated by board-certified veterinarians
Meets AAFCO standards for all life stages
Pre-portioned for unique needs
Made from real, fresh ingredients
Available in some pet stores
Expensive to feed exclusively
---
2.

Blue Buffalo 38 Large Breed Dog Food — Budget Buy
Blue Buffalo Large Breed is the best dog food for Mastiffs for the money because it is affordable while providing optimal nutrition. Natural ingredients that are enhanced with vitamins and minerals make a high-quality food that your dog will love to eat. The primary ingredient is chicken and chicken meal — Blue Buffalo does not use any chicken by-products.
Other healthy ingredients include brown rice, oatmeal, barley, and a variety of vegetables. Blue Buffalo is known for its LifeSource Bits which contain antioxidants, vitamins, and minerals for overall health. Unfortunately, some dogs don't care for the flavor of these vitamin bites and will not eat them, which is why it is in the second spot on our reviews list. But if you don't have a picky eater, it may not be an issue.
Analysis of this formula is 22% crude protein, 12% crude fat, and 6% crude fiber. There is also glucosamine and chondroitin to help keep joints and ligaments healthy in your large breed dog. Finally, Blue Buffalo contains no corn, wheat, soy, or artificial flavors and preservatives, so you know it has quality ingredients that are healthy for your Mastiff.
Specific for large breeds
Affordable
No chicken by-products
Whole-grains included
Protects joints and ligaments
No corn, wheat, or soy
Some dogs don't like the LifeSource Bits
---
3.

Holistic Select Natural Dry Dog Food
Holistic Select has formulated a grain-free recipe to meet the nutrition of dogs who weigh more than 50 pounds. It has ingredients to support joint and bone health, so it is an ideal choice for Mastiffs. Unfortunately, it is a pricey product, so we ranked it number three on this list.
It contains fruits and vegetables that provide vitamins and minerals for a healthy immune system and plenty of antioxidants to support cellular health. All ingredients are natural, and we like how this food focuses on digestive health with the addition of prebiotics, probiotics, fiber, yogurt life cultures, and digestive enzymes.
The primary protein source is chicken meal, with pork meal and chicken fat for flavor. Crude protein is 26%, crude fat is 14%, and crude fiber is 5.5%, which is plenty for your large breed dog to maintain a healthy lifestyle.
Formulated for large breeds
Supports bone and joint health
Natural ingredients
Ideal for digestive health
Plenty of antioxidants
Supports immune health
---
4.

Royal Canin Puppy Dry Dog Food
This food is made specifically for puppies who are expected to weigh between 56 to 100 pounds as adults. It uses a special blend of minerals that promote bone growth and support joints. The high amount of quality protein ensures that your puppy develops strong muscles for their large bodies.
The primary protein is chicken by-product meal, with a crude protein level of 28%. There is plenty of fat to provide energy for your growing dog at 14%. The recipe contains a blend of antioxidants and vitamins for the immune system and prebiotics for optimal digestive health. The design of the kibble makes it so your Mastiff has to chew the food thoroughly, which helps prevent bloat and improve digestion.
It is recommended to feed this food until your puppy is 15 months old, and then convert it to an adult formula. On the downside, corn and wheat are present in the formula, which may be a concern for some pet owners. However, these are sources of carbohydrates, and the food contains plenty of protein and fat.
Ideal for large breed puppies
Supports bone and joints
High in protein and fat
Antioxidants included
Plenty of essential vitamins and minerals
Supports digestive health
---
5.

Diamond Naturals Meat Recipe Premium Dry Dog Food
This chicken and rice formula from Diamond is made specifically for large breed adult dogs. It includes Diamond proprietary probiotic technology: the K9 Strain Probiotics which contains all the beneficial bacteria to maintain a healthy digestive system. Glucosamine and chondroitin are added for joint and cartilage support, while omega fatty acids work toward a healthy skin and coat.
Chicken and chicken meal are the primary ingredients, followed by whole grains and then chicken fat for flavor and energy. Diamond uses fruits and vegetables in this recipe, so all the needed nutrients that a Mastiff needs to thrive are present. There are no artificial colors, flavors, or added preservatives, nor any corn, wheat, or filler, so you know each ingredient present is geared toward optimal nutrition for your dog.
On the downside, some dogs have turned their noses at this food and don't enjoy the flavor profile.
Specific for large breeds
K9 Strain probiotics
Joint support
Promotes healthy skin and coat
No artificial ingredients or fillers
Taste not liked by all dogs
---
6.

CANIDAE Premium Dry Dog Food
Canidae offers a formula that is ideal for all life stages and all breeds and sizes. It contains chicken, turkey, lamb, and fish meals that provide high-quality protein for your Mastiff. There is no corn, wheat, or soy within this food, but you will find healthy grains such as rice, rice bran, barley, and millet.
It also includes probiotics for digestive health, antioxidants for the immune system, and fatty acids for healthy skin and coat. Crude protein equals 24%, crude fat 14.5%, and crude fiber 4%, which are adequate amounts of each to keep your dog healthy. Another great addition is glucosamine and chondroitin to help protect joints and ligaments.
On the downside, this recipe is not ideal for dogs who have food allergies or sensitivities, but if your dog doesn't have concerns, this is an ideal choice that provides plenty of healthy ingredients and optimal nutrition.
Ideal for all life stages
High-quality protein
No corn, wheat, or soy
Glucosamine and chondroitin
Not ideal for those with grain sensitivities
---
7.

Purina ONE SmartBlend Natural Adult Dry Dog Food
Purina One offers a recipe geared toward large-breed nutrition at an affordable price. It contains no fillers and provides 100% nutrition for a complete and balanced diet. It includes glucosamine to promote the joints and plenty of protein to build lean muscles so your Mastiff stays strong and healthy.
The dual defense antioxidant blend of vitamins E and A, zinc, and selenium support the immune system and encourage a shiny coat and healthy skin. Purina states that every ingredient has a purpose, and it meets AAFCO standards to provide optimal nutrition for the maintenance of adult dogs.
The recipe contains corn, corn gluten, and soybean meal, which are sources of carbohydrates, though some owners prefer not to have these ingredients in their pet's food. On the upside, dogs love the flavor profile of chicken, rice, and beef fat.
Affordable
Ideal for large breeds
Contains glucosamine
High in protein
Antioxidant blend
Contains wheat, corn, and soy
---
8.

Iams Proactive Health Dry Dog Food
Iams has created an adult large breed formula that supports healthy joints and strong bones throughout your dog's life. Chicken is the primary ingredient, and with the included egg, it provides plenty of protein to build strong muscles. L-carnitine is added to help burn fat and maintain an ideal metabolism so your dog doesn't become overweight.
Each cup contains 353 kcal, the crude protein amount is 22.5% and the fat is 12.5%, which meets the AAFCO nutrient profiles. The Proactive formula contains all the required vitamins and minerals, with no wheat, soy, or artificial preservatives. Beet pulp and whole grains promote a healthy digestive system, as well as provide energy. On the downside, this food is not ideal for dogs with food allergies or sensitivities but otherwise provides complete nutrition for those who can tolerate grains.
Suited for large breeds
Supports healthy joints and bones
L-carnitine added
No wheat, soy, or artificial ingredients
Not ideal for dogs with allergies
---
9.

Royal Canin Giant Adult Dry Dog Food
This formula from Royal Canin is ideal for Mastiffs who are older than two years and weigh more than 100 pounds. It includes an antioxidant complex for heart health and uses easy-to-digest proteins and fiber for digestive support. Glucosamine, chondroitin, and EPA, and DHA help support bones and joints, while the kibble itself is extra-large to encourage chewing so your dog doesn't eat too fast.
On the downside, it contains corn and wheat, but the nutrition of this formula is tailored to large breeds, so they receive optimal nutrition that keeps them healthy for the rest of their life. Each cup contains 427 kilocalories, and the guaranteed analysis shows that the recipe has 26% crude protein, 18% crude fat, and 3.9% crude fiber.
Antioxidant complex
Large kibble
Supports joints and bones
Buyer's Guide: Selecting the Best Dog Food for Mastiffs
This portion lists considerations to keep in mind when searching for the ideal dog food for your Mastiff. Knowing about the general nutritional requirements needed for this breed is a great starting point before considering any special dietary concerns. Here's how to choose the best food for Mastiffs:
Mastiff Nutritional Needs
The nutritional requirements will depend upon what stage of life your dog is currently in. Puppies require different amounts of nutrients compared to senior dogs. You will also need to feed your puppy more often than you would an adult. There are certain ingredients that every Mastiff requires — these are proteins, fats, calories, and micronutrients.
Protein
A diet that features a good-quality protein is ideal, such as animal protein. Whole grains and many vegetables can also provide protein, though they shouldn't be the number-one ingredient. Protein helps build muscle mass, which is a requirement to keep your dog strong and limber. Meat meals contain a higher amount of protein than fresh meat, which is why you will sometimes see both in the ingredients.
Fat
Animal fat is a common ingredient that provides energy to your dog, as well as flavor to the kibble. Fatty acids are great for healthy skin and coat, while puppies benefit from DHA (an omega-3 fatty acid), which is essential for brain and eye development. Other examples of fat are from fish oil, coconut oil, and canola oil. You don't want to provide too much fat, or your Mastiff could become overweight.
Calories
How many calories your dog needs will depend upon their activity level and metabolism. An average adult will need 20 calories per pound of body weight, which could add up to 2,000 calories for a 100-pound dog. Know how many calories are in 1 cup of food so you can feed accordingly. You can speak with your veterinarian to figure out the caloric intake if you are unsure. These needs can be different if your dog suffers from any health conditions.
Micronutrients
Calcium and phosphorus are needed for healthy bones, and the addition of glucosamine and chondroitin are important to protect the joints. It's also a good idea to include taurine to protect the heart. A well-rounded diet will include the right number of vitamins and minerals to keep the immune and digestive system functioning correctly.
Mastiff Dietary Concerns
Due to their size, Mastiffs tend to suffer from joint and bone issues and heart disease. By feeding them a good diet that supports these systems, you will help your dog stay healthy. Mastiffs can also bloat easily, so it is important to give them food that requires them to slow down when eating. Some dry foods offer larger and courser kibble to help with this.
Price
An adult Mastiff can consume up to 10 to 11 cups of food per day, so it can be expensive to feed your large dog. You will have to find a balance between providing high-quality food that meets nutritional needs and one that fits your budget. It is not an impossible task, but be aware you will be spending more money feeding a larger dog than you would otherwise.
Feeding Tips
Stick to a feeding schedule and evenly space the meals throughout the day.
It is not recommended to provide a self-feeder because they will overeat if given the chance.
A diet of at least 18% protein is ideal for maintaining muscle mass.
Puppies will need to eat more frequently.
Feed age-appropriate food that meets the nutritional needs of larger breeds.

Final Verdict
Finding the right dog food doesn't need to be a frustrating chore, as there are many options available, and we've featured great choices on this review list.
Our top pick is the Nom Nom Fresh Dog Food Turkey Fare, which uses high-quality ingredients that support all breeds of dogs throughout their lifespan. The best value is Blue Buffalo, which is formulated for large breed adult dogs, with plenty of glucosamine to protect the joints and high-quality protein to maintain healthy muscles. If the price isn't a concern, then Holistic Select is a great choice for dogs who need a grain-free diet that uses all-natural ingredients and provides a complete balanced diet specifically for large breeds.
We hope that this article provides insight into what type of food meets your expectations and fits the qualities that pertain to your dog. Feeding your dog the right food will ensure that they are healthy and fit for many years to come.
See also:
---