6 Best Dog Litter Boxes of 2022 – Guide, Reviews & Top Picks
As dog owners, we want to provide the best for our pets and manage their needs effectively. Sometimes, we have to be away from them while we are at work, or perhaps you have a senior dog who has a difficult time walking outdoors. Whatever your reason, a dog litter box can provide benefits to you and your pooch.
They are an inexpensive option, at least compared to replacing carpets or other objects that could become stained. Our review guide focuses on six of the best dog litter boxes to consider. We will go over the pros/cons of each, and we've also included a buyer's guide with useful tips for buying a litter box.
---
A Comparison of Our Favorites for 2022
Rating
Image
Product
Details

Best Overall

DoggieLawn Real Grass

Real grass
Lined base
Absorbs liquids and odors

Best Value

Nature's Miracle High-Sided

Affordable
Antimicrobial
Non-stick surface

Premium Choice

PuppyGoHere

Recycled plastic
Won't tip over easily
Easy to clean

SO PHRESH

Strong
Low-entry side
Easy to clean

Petmate Litter Pan

Deep sides
Easy to clean
No slipping
The 6 Best Dog Litter Boxes
1.

DoggieLawn Real Grass Dog Litter Box – Best Overall
This DoggieLawn is a great size for small to medium-sized dogs, as it is 24×16 inches of hydroponic grass. Dogs usually prefer real grass to fake grass and so will be happy to do their business in this litter box. It is ideal for potty-training and/or apartments, since it absorbs liquids and odors like regular grass, and the cardboard bottom is lined to prevent leaking.
We like the fact that there is no cleaning involved, except, of course, to scoop up solid waste. Otherwise, you can dispose of the grass in your compost or trash. Since it is live grass, a small amount of watering is required, but the grass should live for a couple of weeks (or longer) depending on the frequency of use.
A nice feature offered by the company is free consults during business hours regarding any training issues or concerns. You can also subscribe to receive scheduled shipments of replacement grass. DoggieLawn does offer different box sizes to accommodate larger dogs. On the downside, this becomes a pricier option if you have to replace the grass more than every two weeks.
Real grass
Absorbs liquids and odors
Lined base
Easy to clean and dispose of
Grass replacements
Free training consultations
Different sizes available
Pricey
Grass needs watering
---
2.

Nature's Miracle Dog Litter Box – Best Value
This is the best dog litter box for your money. It is 23×18.5×11 inches, which should work well for smaller pets, and it is actually made for cats – but don't be fooled by the labelling. This is a great option for your small dog. It has antimicrobial product protection with a non-stick surface that makes it easy to clean. Plus, the high sides help prevent scattering of paper pellets.
We like that Nature's Miracle offers a liner that will fit this box for even easier cleanup when the pellets need to be replaced. On the downside, it only comes in the color black, which tends to show dirt and residue. This litter box is an affordable price, but the DoggieLawn is a product that some dogs may prefer to use over a box filled with pellets, which is why Nature's Miracle isn't in the number-one spot.
Affordable
Antimicrobial
Non-stick surface
High-sides
Liner available
---
3.

PuppyGoHere Dog Litter Box – Premium Choice
Here is a litter box that is a great option for small dogs, cats, and rabbits. The size is 24x20x5 inches and comes in a multitude of colors. We like that it has a training guide to assist with training your puppy.
The grey box option is made from recycled plastic, which may result in different shades of grey. There are plenty of size options to choose from. The low-entry side is easy for puppies to get into, and since the whole box has a low center of gravity, it is nearly impossible to tip over. It is easy to clean, and you can place puppy pads or pellets inside the box.
On the negative side, it does slide around easily on hard floors, but placing a no-slip mat underneath can remedy that problem. The PuppyGoHere did not make the top two spots because it is pricier overall.
Good for small dogs
Training guide included
Recycled plastic
Won't tip over easily
Easy to clean
Why is your dog eating grass? Click here to find out!
---
4.

SO PHRESH Dog Litter Boxes
The SO PHRESH litter box is another option for indoor training for your puppy. It is strong and sturdy, measuring 19.5×23.5×5 inches. We like that it is made in the U.S.A. and has a low-entry side that is easy for puppies to enter and exit.
On the downside, the bottom is bowed, so when the dog steps into the box, it pops up and down with movement. Also, it doesn't come in a larger size if you need one for a larger dog. It is easy to clean, though, and doesn't slide easily on hard floors.
Strong
Made in the U.S.A.
Low-entry side
Easy to clean
Affordable
Bottom bows
No larger size available
Check out the top water bottles for your dog's crate here!
---
5.

Petmate Dog Litter Pan Box
The Petmate is a large litter pan with deep sides and measures 25.56×18.3×10.02. We like how deep it is to contain messes but found that it is difficult for smaller dogs to get in and out of, since there is no low-entry side available.
It is made in the U.S.A. from durable, eco-friendly plastic. We found that it is strong and easy to clean. Due to the size and weight, it does not slip around on hard floors, making it easier for dogs to get in and out.
This is a good option to use in an apartment, as it will accommodate larger dogs easily.
Large size
Deep sides
Made in the U.S.A.
Easy to clean
No slipping
Affordable
See: The top dog food for less poop!
---
6.

PS Korea Indoor Dog Litter Box
The PS Korea offers a unique design with a perforated grate at the bottom of the crate that allows the urine to flow down to the pads underneath. We like how the grate snaps into place so it doesn't come out with movement. With the high-sided walls, it contains the dog within the area so they won't accidentally make a mess on the floor.
It is ideal for small to medium-sized dogs since it is 22.5×17.77×6.1 inches. This box stays in place and does not tip over, and it is not difficult for a puppy to get in and out of. On the downside, it is not as affordable as others on this list, and the grate is difficult to clean.
Perforated grate
Three high-side walls
No slipping
Low center of gravity
Easy to get in and out
Pricey
Grate difficult to clean
See: The top grooming tables for dogs
---
Buyer's Guide:
When looking to buy the perfect dog litter box, there are a few considerations to keep in mind and questions to ask yourself. In this section, we will discuss these considerations, as well as provide useful tips that will make the process of buying a dog litter box easier.
Reasons to Purchase a Dog Litter Box
You live in an apartment with no access to grass nearby.
It is difficult for you to take your dog outside due to mobility issues.
You want to start house-training your puppy.
You want to use it during times of inclement weather.
You have a dog who has trouble controlling its bodily functions.
You have a dog who's recovering from an illness or injury.
You are away from home for most of the day.
Types of Dog Litter Boxes
Conventional Litter box
These are recognizable litter boxes, as well as those that are simple in design and use. Certain ones can be used for cats and other animals as well, but what makes this useful for a dog is the three high sidewalls and a side that is a low entry.
They are not filled with traditional litter but instead, paper pellets made out of recycled newspaper. The conventional litter box is usually more affordable and easy to clean and comes in a variety of sizes. On the downside, you will have to keep changing the pellets out so they do not become odorous from urine.
Plastic Crates
These have a floating grate along the bottom, where urine drains through onto an absorbent pad and any solid waste will sit on the top (which will have to be removed and discarded). If they have sides, they are usually not that high.
A nice thing about these is that they keep your dog's paws dry and hold the absorbent pad in place. A disadvantage is having to clean up the feces promptly so it doesn't become odorous.
Do you have a pit bull? Click here to check out the best crates for pit bulls
Real Grass
Dogs love to do their business on real grass, so these litter boxes provide a patch of live grass that is held in place by a low-walled cardboard box. The box will most likely be lined to prevent liquids from saturating the cardboard, allowing it to last longer. Certain companies will sell pieces of sod separately so you don't have to buy a whole new system each time.
You do have to water the grass to keep it lush, and it will last approximately one to two weeks, depending on how often your dog uses it. You will have to clean the grass of the solid waste, but the urine will be absorbed by the dirt. These systems tend to be on the pricier end.
Considerations
Cost: We always want to provide the best for our pets, but most of us are on a budget and need to take into account the expense of a dog litter box, as well as the continued cost of replacing grass, pellets, or absorbent pads.
Dog size: The size of your dog will determine the size of the box you need to purchase. Dogs like to circle before they go to the bathroom so they will need adequate space to move around. Most systems are ideal for small to medium-sized dogs.
Materials: You will want a system that is durable and holds up to frequent use. If you have a puppy who likes to chew, keep the type of material in mind.
Design: If you have a puppy or a smaller breed, a high-sided box may be difficult for them to get in and out of. Some designs are heavier than others so they won't slide around or if they have a lower center of gravity, they won't tip over as easily.
Ease of use: When you are dealing with dog waste, it's best for everyone involved if the system is easy to use and clean. Some surfaces are easier to wipe down than others, and with certain systems, there are options to purchase liners separately.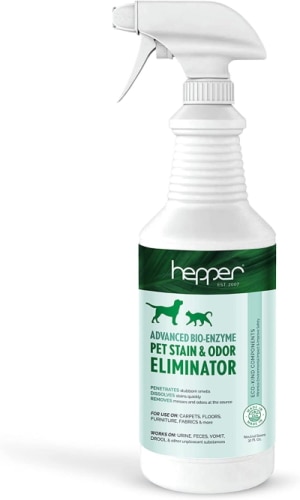 Having a pet means cleaning up smells, stains, hair, vomit, and more...and you can add to your pet clean-up routine with the Hepper Advanced Bio-Enzyme Pet Stain & Odor Eliminator Spray. It's our product, and we love it so much, we just have to share! It permanently removes the very worst smells and stains, and we offer a 100% satisfaction guarantee! Click here to get yourself a bottle!
Tips
A dog litter box should be functional, hygienic, and comfortable for your dog to use.
Consider features such as drainage holes and waste trays.
Some dogs may not like to use a litter box, especially if they were not introduced at a young age.
If your dog prefers to urinate by lifting a leg, it may miss the litter box entirely.
Training guides are beneficial when introducing a box to your dog.
Unfortunately, some dogs will eat another dog's poop, so if you have more than one pet, you will want to keep the system free of feces at all times.
Did you know the border collie, the Havanese, and the miniature schnauzer are some of the easiest dogs to train? We offer complete guides for these breeds – check them out below:

Conclusion
Even though litter boxes are typically marketed for cats, there's no reason to dismiss the idea of getting one for your dog. Litter boxes do not replace taking your dog outside, but they can be another option for when you are training your puppy or if you are gone during the day.
Our reviews list focuses on six of the best dog litter boxes. Our top choice is the DoggieLawn, offering live grass that any dog would love to use. The best value pick is the Natures Miracle, which is a traditional system that is affordable and easy to use. Our premium choice is the PuppyGoHere litter box with its low-entry side and low center of gravity — a good option if the price isn't a concern.
Our wish is to equip you with the knowledge to confidently purchase the best dog litter box for your furry friend. We hope our review list and buyer's guide decrease some of the frustration that comes with choosing a litter box that works well, is durable, and is easy to use.