20 Best Dog Movies on Netflix in 2022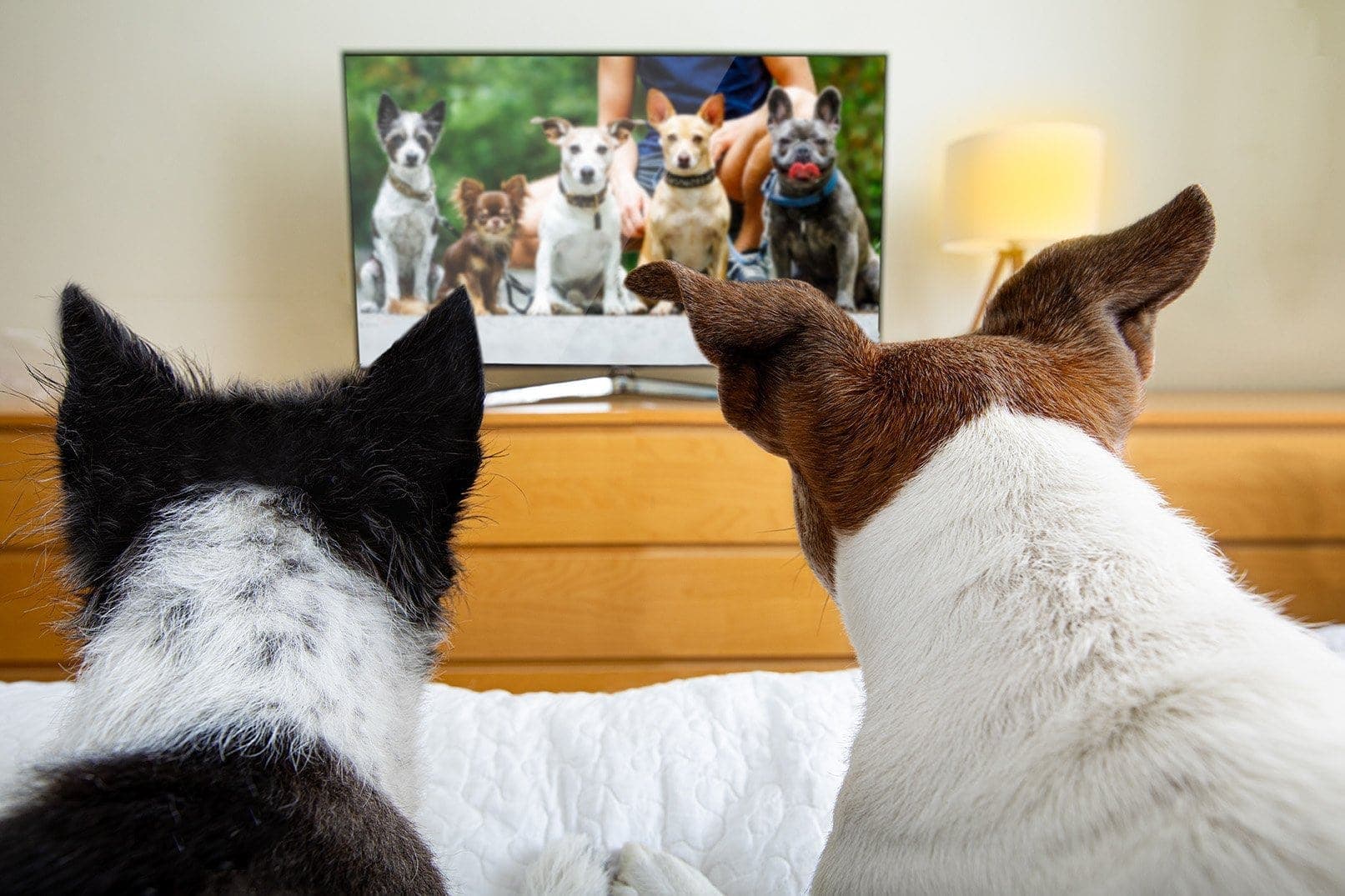 If you are looking to snuggle up with the family and watch some amazing dog movies, you have come to the right place. We love our pets, and sometimes watching movies about pets, with our pets, can really enhance the experience. We've scoured Netflix for every dog movie we could find, and we chose 20 of them that we think you'll love. We've ranked them in order from worst to best and tell you a little about each one along the way.
Join us while we review these 20 movies to see if there are any you would like to see.

The 20 Best Dog Movies
Here are the 20 movies we found in order from the worst to best.
20.

Puppy Star Christmas
First on our list of best dog movies on Netflix is Puppy Star Christmas, a song-filled pup star adventure set at Christmas time. It introduces four new dogs in this film, and they stow away on Santa's sleigh. Watch this family movie to see how these dogs save the Christmas spirit.
---
19.

Pup Star
Pup Star is a family comedy about a Yorkshire Terrier who's about to compete in a singing competition but gets separated from her owner by a dognapper. There are plenty of musical numbers and a large cast of singing and dancing dogs.
---
18.

Pup Star – World Tour
All new songs and a trip around the world help bring this comedy to life. Plenty of singing dogs prove that music is the universal language.
---
17.

Arctic Dogs
Arctic Dogs is a story of an Arctic Fox who works in a mailroom and yearns to be the Top Dog and go out on deliveries. Watch as he goes on a crazy adventure to prove he's worthy. It's an animated comedy for the entire family.
---
16.

Pup Star – Better Together
Next on our list of best dog movies on Netflix is Better Together, an actioned packed new story from Pup Star. It's a family movie packed with new songs and demonstrates the value of friendship in a tale of mistaken identity.
---
15.

Benji's Very Own Christmas Story
While Benji is a publicity tour in Switzerland, he needs to convince Kris Kringle that delivering gifts to all "his" families is the most important thing. Benji's Very Own Christmas Story is a short family movie with plenty of heart.
---
14.

Hotel for Dogs
Hotel for Dogs is a family movie based on Lois Duncan's 1971 children's book of the same name. It follows two orphans as they attempt to hide away dozens of stray dogs in an abandoned hotel. It's a family movie with plenty of humor.
---
13.

Patrick
Patrick the Pug is a movie about a young lady with a hectic lifestyle who needs to look after a spoiled Pug left to her by her deceased Grandmother. Watch as Patrick, the Pug, steals every scene. It's packed with comedy and has an important moral message.
---
12.

The Healing Powers of Dude
The Healing Powers of Dude is about an 11-year-old boy with a social anxiety disorder named Noah. As he starts middle school, he seeks out the help of a mutt named Dude. It turns out the sarcastic dog needs him just as much. This movie is an action-packed family affair with plenty of comedy.
---
11.

Benji (2018)
Next on our list of best dog movies on Netflix is Benji! Join Benji on an amazing adventure while two young schoolkids get kidnapped by some robbers, and Benji and his trust sidekick spring into action to get them back. Benji is a high action drama for the whole family that will have you laughing and biting your nails at the same time.
---
10.

The Secret Life of Pets 2
The Secret Life of Pets 2 continues the adventure where the first movie left off. This time Max faces some big changes as his owner gets married and has a child. Max befriends a rooster, and they attempt to overcome his fears. There's plenty of action in this animated family adventure, and plenty of comedy as well.
---
9.

Due Date
Due Date is a story about a high-strung man trying to get home in time for his baby's delivery, and due to a string of bad luck, he needs to take a ride from an aspiring actor and his dog. Due Date is a fun movie like the older Planes, Trains, and Automobiles. Robert Downey Jr. is in it who many of us know as Iron Man, and there are lots of hilarious hijinx.
---
8.

Pup Academy
Pup Academy is a secret world where puppies learn to be man's best friend. In this Netflix dog movie, three unlikely dogs and their owners must work together to discover the power of friendship and form an everlasting bond between humans and pets.
---
7.

All Dogs Go to Heaven
All Dogs Go to Heaven is a story about a Charlie, a German Shepherd that breaks out of a New Orleans dog pound with his friend Itchy the Daschund. They then meet up with several other animals and partake in a series of adventures. This movie is funny with lots of drama.
---
6.

White Fang (2018)
White Fang is a story based on the novel of the same name by well-known author Jack London. It follows the Wolfdog White Fan through several adventures as he lives with three different masters. White Fang is an animated adventure that you can watch in 89 languages.
---
5.

To Be of Service
To Be of Service is a dog movie on Netflix about veterans with Post Traumatic Stress Disorder (PTSD), who rely on dogs to help them return to independent living. It's a touching film that shows you a side to these servicemen and dogs you may not have seen before.
---
4.

The Stray
A true story inspires The Stray. It tells of a dog named Pluto who seemingly appears out of thin air to help a family in distress. It's heartwarming and will leave you with tears in your eyes.
---
3.

The Pick of the Litter
The Pick of the Litter follows a litter of puppies on their quest to become guide dogs for the blind. Cameras follow the dogs from day one and cover every step they take along their way. You're sure to see these dogs in a new light as you peek behind the scenes to see what goes into raising these amazing dogs.
---
2.

Dogs
Dogs is a documentary series that celebrates the bond between pets and their owners. It's a great show that makes you think about how much of an impact our pets have on our lives and how different it would be without them. Watch this series with some tissues nearby.
---
1.

Life in the Doghouse
Life in the Doghouse is our top pick for the best dog movies on Netflix, and this film tells you about Danny and Ron's Rescue. It showcases their unique approach to rescuing dogs, which has helped them save and adopt out more than 10,000 dogs. There's plenty of cute dogs, and you'll appreciate Danny and Ron's commitment to these poor animals.

Summary
We hope you have enjoyed reading over a list of great dog movies available for your viewing on Netflix. Each one has a lot of good qualities, and they are all packed with cute puppies. If you like singing, the Pup Star movies are a great place to start. There are also several animated movies that the whole family will enjoy, and the top of our list highlights the dogs and the people that take care of them.
Related Reads:
If you have found some new movies to try out, please share these 20 best movies on Netflix on Facebook and Twitter.
---
Featured Image Credit: Javier Brosch, Shutterstock